By Bruce C. Steele
For Stargirl—a Disney+ movie coming in March that celebrates the joys of being different, set in an Arizona high school—it was imperative that director Julia Hart and her team put together a youthful cast that underscores a lesson in diversity with the sheer range of their talents and backgrounds.
A D23 visit to the movie's freezing-cold winter set at a golf resort in Albuquerque, New Mexico, quickly demonstrated that the filmmakers do not disappoint on that score.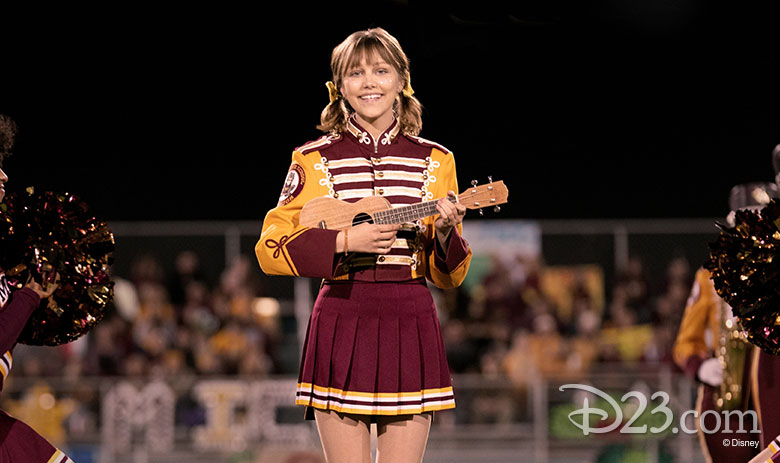 Acting in Stargirl was a dream job for all the young people in the cast. Here are just some of the charismatic performers D23 got to meet:
Grace VanderWaal. For the title role, as the ukulele-playing sometimes-cheerleader who loves creative costumes more than fitting in, Hart was blessed by the universe: After years of searching and hundreds of auditions, the producers were able to cast Grace VanderWaal, the ukulele-playing winner of America's Got Talent, who was still just 14 at the time of filming.
Stargirl "was like my dream role," Grace says during a break in filming, wearing a spectacular gown for the Winter Ball scene being shot both inside the country club and outside on the frigid golf course. "So it's kind of crazy that I'm playing her."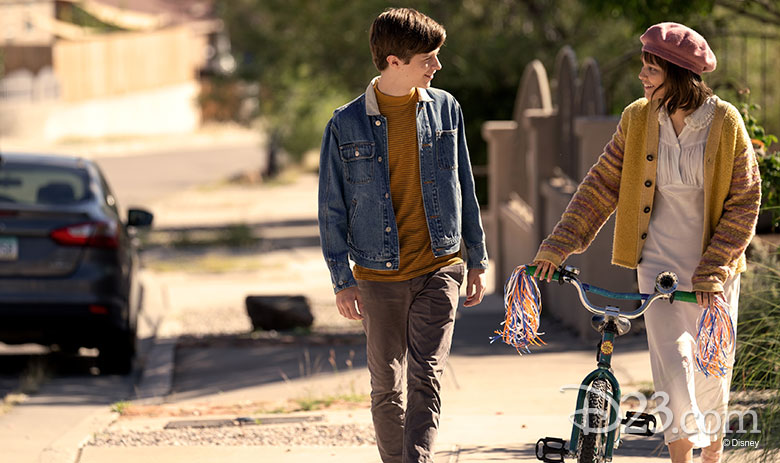 Graham Vershere. The teen actor, who lives in Vancouver, Canada, has had recurring roles on TV's Supergirl and The Good Doctor and appeared in the horror film Summer of 84. But Stargirl was more than a job for him. Playing the male lead, Leo, reinforced Vershere's hard-won real-life philosophy: "I like to stick around people who I feel like I can be myself with," he says from the set, sitting with his costume's brightly striped socks just visible above his brown Buster Brown-style shoes. "I didn't always do that, but I'm glad I do it now."
Annacheska Brown. She may be in her 20s, but Brown fits right in with the teenage performers on the set. She plays Tess, who works with Leo and his best friend, Kevin, on the high school's closed-circuit talk show, Hot Seat. Playing Tess could be a big break for Brown, whose past roles on Roswell, New Mexico and other TV shows have often been identified by names like "Mohawk Teen" and "Witch Guard #3."
On set, she's decked out in a vivid blue pant suit with a dazzling rhinestone necklace in the shape of a necktie. When she meets with D23, she recalls how the movie's depiction of the ill-treatment of outsiders reminded her of her middle school experiences in Birmingham, Alabama. "I think now more than ever it's really important for people to know that you need to be strong and who you are," she says. "Don't let societal pressures make you feel like you have to change how you're moving through this Earth."
Karan Brar. A veteran of TV series on Disney Channel (Bunk'd) and ABC (Schooled), Brar plays Leo's pal Kevin. The Washington state native was jokingly dubbed "Daddy" by the younger cast members, due to his age—then approaching 20—and experience. But among parental figures on set, Brar says director Julia Hart stood out.
"If anyone fills that role, it's Julia," he says, wearing his character's stylish Winter Ball tux. "She's really guided these actors in amazing ways—as well as me. I feel really comfortable with her making sure that we're heading in the right direction."
Artemis. The single-name phenomenon—actress, model, martial artist—who grew up in a small town in Georgia plays head cheerleader Mallory. Other than a guest shot on Vice Principals, this is her highest-profile acting role to date, and she found much of the filming "an amazing, exhilarating experience." It was particularly fun, she notes, filming the cheerleaders' dance routines, choreographed by movie dance icon Mandy Moore (La La Land). "As soon as that music comes on, it was like this adrenaline rush that came over all of us."
Collin Blackford. The Denver-based teenage actor gets a lot of the laughs in Stargirl, as his character, Benny, is obsessed with food. Blackford notes that Stargirl's message of kindness is particularly important in the age of social media, which wasn't even imagined when the novel came out in 2000. The movie, he says, "shows that one little video can really hurt someone or that one little post can change someone's life. It can happen, and I think that this film portrays it in a very realistic way."
Shelby Simmons. A public school student herself, in Virginia, Simmons recalled "the top dogs at my school" in shaping her performance as mean girl Hillari, Stargirl's nemesis. She has thought a lot of Hillari's motivations and defends her character's actions convincingly on set—wearing both her Winter Ball gown and a brown wool coat to protect against the icy weather. Hillari, she says, "doesn't come from a place of jealousy or hatred." Rather, she is just "baffled" by Stargirl's unique way of being. "She just doesn't get it."
Juliocesar Chavez. Just 15 during filming, Chavez plays Alan Ferko, a minor character in the novel who gets more attention in the film. Chavez, who grew up in Oklahoma, has a long resume of TV appearances, stretching back to a 2012 appearance on iCarly and including a recurring role on Kidding.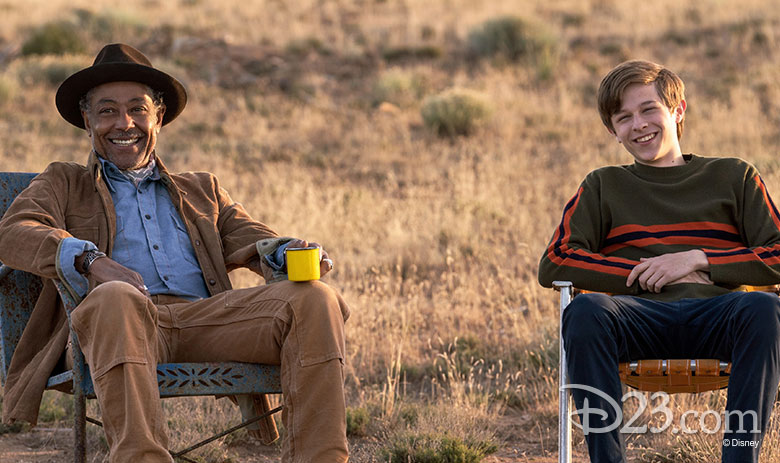 On the set of Stargirl, his favorite word is "amazing," an adjective that applies to his Winter Ball costume—including a purple velvet tux jacket—as well as director Hart and the other cast members. "Every single day is amazing and fun. The cast is amazing. The crew is amazing. Everyone is so cool and funny to hang out with—no one thinks they're better than the other. Everyone is really humble and just amazing. Every single day is a fun day for me."
On March 13 on Disney+, that fun can be shared with the rest of the world.