By Courtney Potter
An unassuming high schooler named Leo meets a free-spirited new student with an unusual name—and an unconventional celebration of kindness and individuality ensues… that's the story at the heart of Stargirl, Disney+'s colorful, music-filled new film premiering Friday, March 13, on the streaming service. And at Tuesday's world premiere, Stargirl herself, Grace VanderWaal, joined castmates including Graham Verchere, Darby Stanchfield, Shelby Simmons, and Giancarlo Esposito—as well as director/screenwriter Julia Hart, executive producer/screenwriter Jordan Horowitz, and author Jerry Spinelli (who wrote the New York Times best-selling young adult novel on which the film is based—for a red carpet fit for the AP history books.
Essential to the success of the film is Stargirl herself—and Hart knew she'd found her the minute she met VanderWaal; "I knew that Grace was my Stargirl because she is everyone's Stargirl," she joyfully explains. "But she's also really different from Stargirl, and I think it was fun for her to dig into the intricate ways in which she and Stargirl are different. But man oh man, she's Stargirl!" And for a film about today's teenagers, it was important for Hart—a former teacher—to make sure she was telling a truly genuine story…  "The world is such a complicated place," Hart admits, "and the most important thing to me was to get to tell a story about young people that portrayed them in a positive, authentic light… I have so much love for teenagers, and I've spent a lot of time with them over the years, and it was so fun and wonderful to get to make this movie with all these amazing kids."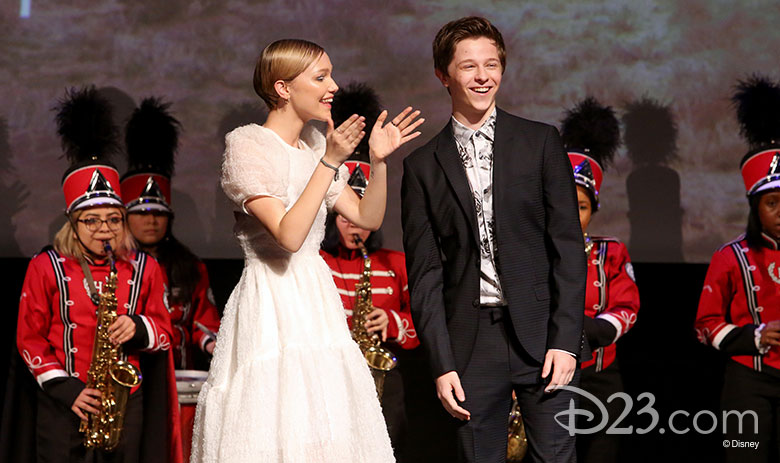 For Hart's fellow screenwriter, executive producer Horowitz—also Hart's real-life husband!—getting involved with this project was a no-brainer: "Julia read the book," he explains, "and it felt like a movie that could be about the things that we prioritize in our work, which are kindness and compassion [and] loving yourself… we have two young boys, and we try to put the ideas of this book and of the movies that we make into their lives. And there's no better way to do that, and to demonstrate that we're serious about it, then to tell stories about it."
The special nature of the film wasn't lost on its exuberant young cast, some of whom had to learn brand-new skills for their roles. Says Juliocesar Chavez, who plays Leo's Mica High School marching bandmate Alan, "I had to learn to read the bass drum music sheet, and learn how to play," he excitedly explains. "It was a fun experience, and now I know how to play the bass drum!" Meanwhile, Shelby Simmons—an actress known for her roles on Disney Channel's Andi Mack and BUNK'D, and who appears in Stargirl as antagonist Hillary—it's important for audiences to know Hillary isn't all bad. "She is not a bully! She's not a 'mean girl,'" Simmons admits. "She's deeper than that. She has a reason for being here and she's actually a really great human being."
Author (and executive producer) Jerry Spinelli is excited for Disney+ audiences to see the story from his best-selling 2000 novel come to life on screen—especially with its cadre of incredible talent. "As soon as I heard that Grace was in the ballgame [to get the role], I was rooting for her," says Spinelli. "I thought she had the right look, the right personality, and it turns out that she can act!" (VanderWaal is a singer/songwriter known for her star-making appearance on America's Got Talent.) And as for Verchere, who portrays Leo? "Graham's just how I pictured Leo," he admits.
That dynamic duo—VanderWaal and Verchere—cannot wait for audiences to see the film… certain scenes in particular. "The musical scenes were really fun to film," says Verchere, "and I think they're good!" VanderWaal agrees, even with a bit of trepidation:  "The musical scenes are what I'm most scared about," she laughingly admits, adding "[And] I think the final scenes at the very, very end, are kind of the best scenes in the entire movie… I'm most excited for people to see the end." (No spoilers, don't worry!)
Darby Stanchfield (ABC's Scandal) costars in Stargirl as Leo's mother, Gloria—and she anticipates the film's approachable message resonating with both young and young-at heart: "I hope everybody, whether they're a child or an adult, take away the message to really have the courage to be themselves—and not worry about fitting in. It's overrated, fitting in. It really is!" Giancarlo Esposito, currently starring in the Disney+ phenomenon The Mandalorian, appears in Stargirl as Archie—Leo's mentor of sorts… and adding to Stanchfield's take, he explains, "This film allows folks the opportunity, if they choose, to embrace the wonder of their dreams. And to ask their parents [and] other friends, 'Support me. Support me because this is my dream, and I need to be support to know that I can do it.' And I'm here to tell you, you can. Because [as a kid] I was told I couldn't, and here I am in front of you today."
Disney+'s Stargirl –with all its music, magic, and heart—begins streaming on March 13. Take a peek at a few more photos from the premiere, below: