By Courtney Potter
First Look at Walt Disney Animation Studios' Encanto
Here's something very cool to kick off your weekend: a first look at the latest from our pals at Walt Disney Animation Studios! They've just released a teaser trailer for Encanto… it's the tale of an extraordinary family, the Madrigals, who live hidden in the mountains of Colombia in a magical house, in a vibrant town, in a wondrous, charmed place called an Encanto.
This all-new animated feature follows Mirabel (voice of Stephanie Beatriz), an ordinary 15-year-old girl who's struggling to find her place in her family. "Mirabel is a really funny, loving character who also deeply yearns for something more," Beatriz recently said. "She's also not afraid to stand up for what she knows is right—something I love and relate to very much. I'm Colombian on my father's side, and playing this role fills me with immense pride." An avowed "Disney kid," she added, "I'd burn through my VHS tapes and adored every single magical story that the world of Disney introduced me to. I learned in those stories that anything is possible, especially if you believe in magic and the goodness rooted deep inside us all."
In the film, the magic of the Encanto has blessed every child in the family with a unique gift, from super strength to the power to heal—every child except one, that is: Mirabel. But when she discovers that the magic surrounding the Encanto is in danger, Mirabel decides that she, the only ordinary Madrigal, might just be her exceptional family's last hope.
Directed by Byron Howard and Jared Bush; co-directed by Charise Castro Smith; and produced by Clark Spencer and Yvett Merino, with all-new songs by Tony® winner and Oscar® nominee Lin-Manuel Miranda, Encanto is slated to enchant its way into theaters on November 24!
5 Fantastic Things to Watch This Weekend
Here we are, firmly planted within the month of July… and after some weekend fun in the sun, we think there's nothing better than heading inside for a spell and enjoying some quality content from around the worlds of Disney. So what can you expect? A new episode of High School Musical: The Musical: The Series (featuring the first appearance by Asher Angel); more fun from National Geographic's SHARKFEST; ABC's broadcast of The 2021 ESPYS Presented by Capital One; and lots more.
Just Announced: "Avengers: Quantum Encounter" Coming to Disney Wish
Readers of D23 will remember our recent look into all the brand-new merriment available to Disney Cruise Line guests when the Disney Wish sets sail in Summer 2022. Well, just this week, we've been privy to further details of what to expect—specifically regarding a very cool new Marvel dining adventure that guests will find on board…
"Avengers: Quantum Encounter"—first announced via a sneak peek introduced by Kevin Feige, President, Marvel Studios and Chief Creative Officer, Marvel (seen above)—is Disney Cruise Line's most ambitious dining experience ever. This exclusive Avengers adventure will assemble some of Earth's Mightiest, and tiniest, Super Heroes in a larger-than-life showcase of revolutionary quantum technology and world-class cuisine. It's more than a meal and more than a show… It's something that's never been done before in a restaurant on land or at sea!
The experience will follow Ant-Man and The Wasp as they embark on their first public speaking engagement on behalf of the Avengers. They're hosting a special presentation of the most powerful Super Hero tech, giving the audience an up-close look at holographic models, field reports, and iconic scenes from the Marvel Cinematic Universe displayed on the screens surrounding the room. The highlight is a hands-on demonstration of the latest and greatest Pym Tech, the Quantum Core, which uses cutting-edge (and highly unstable) technology to shrink and grow targets at the push of a button; a few "misfires" result in hilarious Ant-Man-style hijinks, but the real trouble begins when an unexpected villain shows up with a fearsome army in tow! Ant-Man and The Wasp will need all the help they can get to save the day—calling on Captain America, Captain Marvel, and even the brave diners of the Disney Wish for back-up.
Menus are still in development, so keep your eyes peeled for further details.
Disney+ Reveals Japanese Anime Studios Bringing Star Wars: Visions to Life
Mere days ago, at Anime Expo Lite, Disney+ announced the names of the seven Japanese anime studios bringing their unique talent and perspective to Star Wars: Visions—a collection of animated shorts from Lucasfilm that will stream exclusively on Disney+—and offered fans an exciting sneak peek; check it out, above.
The anime studios revealed are Kamikaze Douga, Geno Studio (Twin Engine), Studio Colorido (Twin Engine), Trigger, Kinema Citrus, Science Saru, and Production IG. Each studio will use their signature animation and storytelling styles to realize their own visions of the galaxy far, far away.
As a first formal foray into anime, each Star Wars: Visions short bears a unique Japanese sensibility—which, in many ways, aligns with the tone and spirit of Star Wars storytelling. From the (lightspeed) jump, stories told in the Star Wars galaxy have counted Japanese mythology and the films of legendary director Akira Kurosawa among their many influences, and these new visions will further explore that cultural heritage through the one-of-a-kind animation style and perspective of each anime studio.
Look for all episodes of Star Wars: Visions premiering on Disney+ this September.
Disney on Broadway's Live at The New Am: A Benefit Concert for The Actors Fund
The good folks over at Disney on Broadway just announced a sure-to-be-incredible benefit concert, coming up in just a few weeks' time. We've got all the news that's fit to print about Live at The New Am: A Benefit Concert for The Actors Fund—featuring Disney on Broadway faves Ashley Brown (Mary Poppins), Michael James Scott (Aladdin), Kissy Simmons (The Lion King), and Josh Strickland (Tarzan)—right here at D23.com.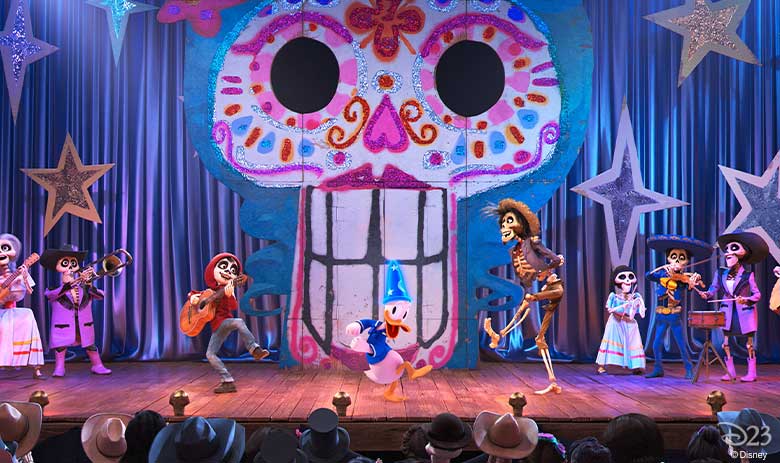 Disney and Pixar's Coco Joins Mickey's PhilharMagic on July 17
Fans of all things jubilant, listen up: Mickey's PhilharMagic will soon have a tuneful new addition! Beginning on July 17, a brand-new animated scene—anchored by the song "Un Poco Loco" from Disney and Pixar's 2017 hit Coco—will debut inside the attraction at Disney California Adventure Park and Disneyland Paris, before being added to Magic Kingdom Park later this year as part of the Walt Disney World Resort 50th anniversary celebration.
The Academy Award®-winning feature's fun, upbeat music and characters combined with the humor of Donald Duck marks the first time Disney and Pixar animators have worked on a creative venture where characters from both animation studios will be seen together onscreen. Pretty cool, right? In addition, one of the film's original composers, Germaine Franco, has produced a brand-new Coco score unique to Mickey's PhilharMagic.
Should you find yourself at one of the aforementioned Disney Parks soon, do yourself a favor and check it out!
ICYMI: You're Invited to Descendants: The Royal Wedding This August
It's sure to be the social event of the season—and luckily, we all get to attend! The wedding of Mal and King Ben from Disney's Descendants is just over the horizon, but will Hades let it go off without a hitch? For more on what you can expect from the all-new animated special Descendants: The Royal Wedding, including a "save the date" teaser trailer, click here.