By Courtney Potter
If a dream is a wish your heart makes, then Disney Cruise Line is making all of our dreams come true with today's reveal of the Disney Wish—the newest member of Disney Cruise Line's incredible fleet. Scheduled to set sail in Summer 2022, families will discover a mesmerizing new world created especially for them: a celebration of storytelling that brings to life the fantastical worlds and beloved characters at the heart of Disney, Pixar, Marvel, and Star Wars adventures like never before!
There's so much to look forward to… from adventuring with Mickey Mouse and Minnie Mouse aboard the first-ever Disney attraction at sea, to royally reveling in a brand-new theatrical dining experience with friends from Frozen… from teaming up with the Avengers at an incredible Marvel cinematic dining adventure, to the first-of-its-kind Star Wars experience on board a Disney ship… it's not hyperbole to say there's truly something for everyone. If that already sounds like the "Best Trip Ever!," you'll be excited to learn that Disney Wish bookings open to the general public beginning Thursday, May 27.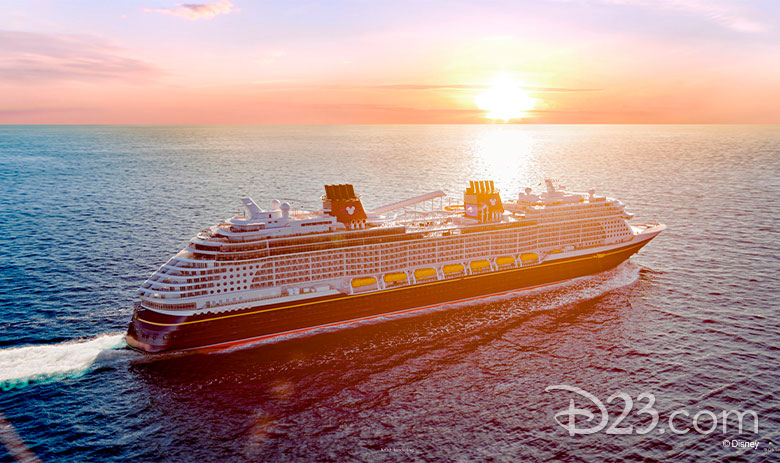 "This ship has everything that fans and families love about a Disney Cruise," said Bob Chapek, Chief Executive Officer, The Walt Disney Company, as he kicked off the ship's virtual reveal. "It's a great example of the Disney difference that sets us apart from everyone else—guaranteeing guests of all ages a phenomenal, one-of-a-kind experience… The Disney Cruise Line team, and our extraordinary Imagineers, have absolutely outdone themselves. The Disney Wish is truly magical." "We can't wait for the Disney Wish to join the Disney Cruise Line family, to deliver on our legacy of extraordinary service and an experience that's unmatched in the cruise industry," added Josh D'Amaro, chairman, Disney Parks, Experiences and Products. "Our newest ship will celebrate everything that families love about sailing with us, from the incredible dining experiences and character interactions, to dazzling shows and the crew's thoughtful attention to detail. We can't wait to welcome our guests aboard the Disney Wish as we expand the reach of our world-class fleet."
But much like the best sailors on the sea, let's reorient ourselves: D23 attended today's rollicking reveal, as well as a panel with several of Disney Cruise Line's key Wish players—and here's a bit more about what you can expect from this incredible ship.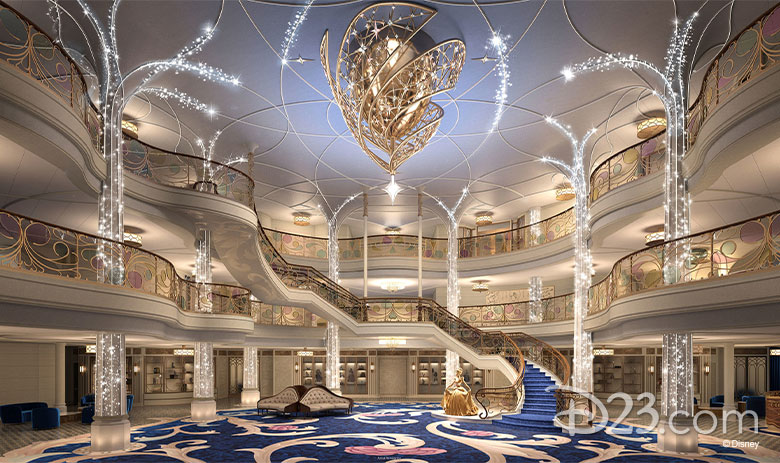 Design Distinction
The Disney Wish will feature a brand-new, distinctly Disney design concept inspired by timeless tales of wishes come true. This idea of enchantment—a theme found at the heart of so many favorite Disney tales—will manifest throughout the ship, in the form of the magical forest setting of the Walt Disney Theatre; storybook-inspired staterooms; and even the gorgeous fairytale castle-inspired Grand Hall (artist rendering seen above), where a dazzling wishing star descends from the glittering chandelier above. "The Grand Hall is our 'castle on the sea,' and we are so excited," admits Kristen Baribeau, Area Manager, Entertainment Operations, Disney Cruise Line; "Even just walking into this space, you just stop—it's absolutely gorgeous." But that's not all: "What we're so excited about," she continues, "is it's the first time we're going to have an atrium stage on the Disney Cruise Line fleet. And of course, what is a stage without bringing to life with some of our world-famous characters?… You'll see some special effects and [an] integration of technology that's helping to transform that space from day into night, with different events happening around every corner."
As far as accommodations, most of the Disney Wish's 1,254 staterooms will offer an ocean view—a full 70% of those offer a spacious verandah—and there'll be 450+ connecting doors that adjoin rooms to accommodate larger families and groups.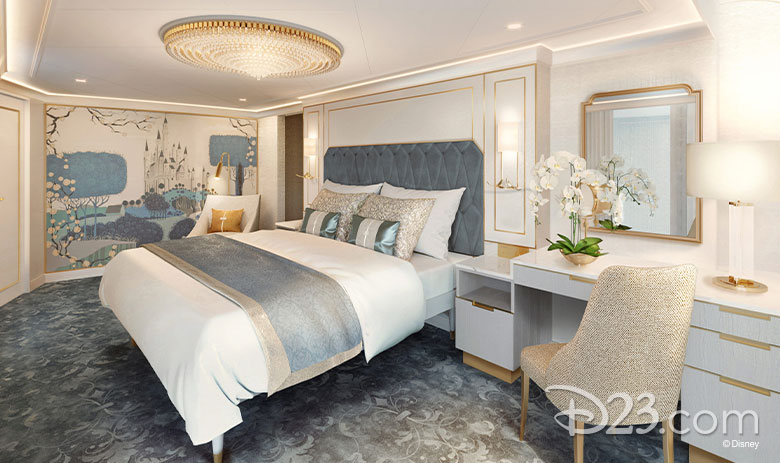 The ship will elevate its concierge experience with more than double the number of premium concierge staterooms and suites, including Disney's first-ever staterooms located above the bridge—boasting floor-to-ceiling windows that reveal awe-inspiring ocean views overlooking the bow of the ship. An exclusive lounge with private sun deck will be the perfect place for concierge guests to relax, sip a cocktail, and enjoy a premium level of dedicated service throughout the voyage. Plus, the Disney Wish will also debut four lavishly appointed royal suites (seen in photo above) that accommodate up to six guests and include extravagant details and first-class amenities. These include a pair of two-story suites, the first of their kind within the Disney fleet, which feature stunning statement pieces like an elegant spiral staircase and a spectacular two-deck-high stained-glass frieze.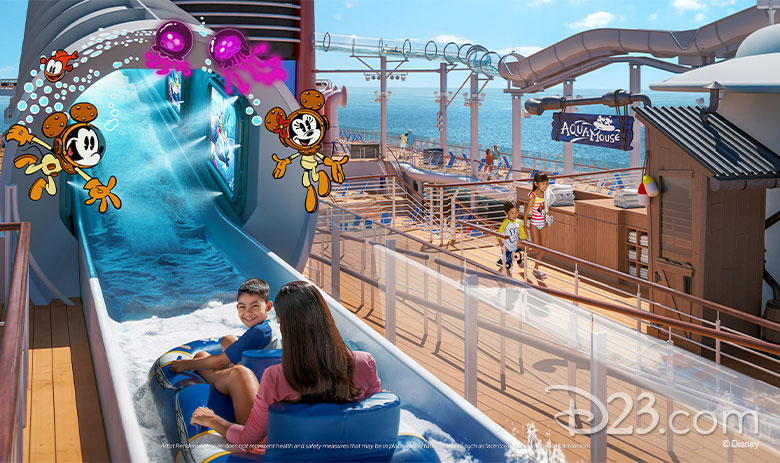 "Oh Boy!" Swimtastic Fun with Mickey Mouse
Disney Cruise Line will give fabulous new meaning to "fun in the sun" on board the Disney Wish with an incredible, brand-new Disney attraction at sea—a first of its kind anywhere on the Disney Cruise Line fleet—and three themed districts that offer dedicated space for families, children, and adults alike.
The Wonderful World of Mickey Mouse animated shorts will come to life on AquaMouse (artist rendering seen above), a new attraction featuring show scenes, lighting, and special effects! This wild water ride, where you join Mickey Mouse and Minnie Mouse in a new story called "Scuba Scramble," is sure to delight everyone in the family as they zig, zag, and zoom through 760 feet of winding tubes suspended high above the upper decks. And just wait 'til you experience it for yourself: "You could say it's going to have a splash-tacular ending!," says Pam Rawlins, Executive Producer, Walt Disney Imagineering.
In addition to AquaMouse, the area will feature a whopping six pools, spaciously staggered among tiered decks and surrounded by lounge chairs—and a fresh take on quick, casual food and beverages with a festive character twist. The little ones in your life will delight in an all-new Toy Story-themed district designed especially for families with toddlers and young children, including a splash zone, wading pool, family waterslide, and smoothie bar. And adults can indulge in sun-drenched serenity at Quiet Cove, a peaceful refuge featuring a luxurious infinity pool, poolside bar, and chic cafe.
A Veritable Culinary Cabaret
The Disney Wish will debut with three brand-new family dining concepts, ranging from theatrical entertainment to cinematic adventure to sophisticated elegance. As with every ship in the Disney Cruise Line fleet, dinner on board the Disney Wish will be so much more than a meal!
Arendelle: A Frozen Dining Adventure (artist rendering seen above) is Disney's first Frozen-themed theatrical dining experience that will bring the world of Arendelle to life through immersive live entertainment (featuring faves like Elsa, Anna, Kristoff, and Olaf) and world-class cuisine infused with Nordic influences. Worlds of Marvel is the first-ever Marvel cinematic dining adventure, where guests will play an interactive role in an action-packed Avengers mission that unfolds around them. And 1923—like D23, named for the year The Walt Disney Company was founded—is an elegant celebration of the company's legacy, paying homage to the golden age of animation and offering a tasteful tribute to its Californian colorful cultural heritage.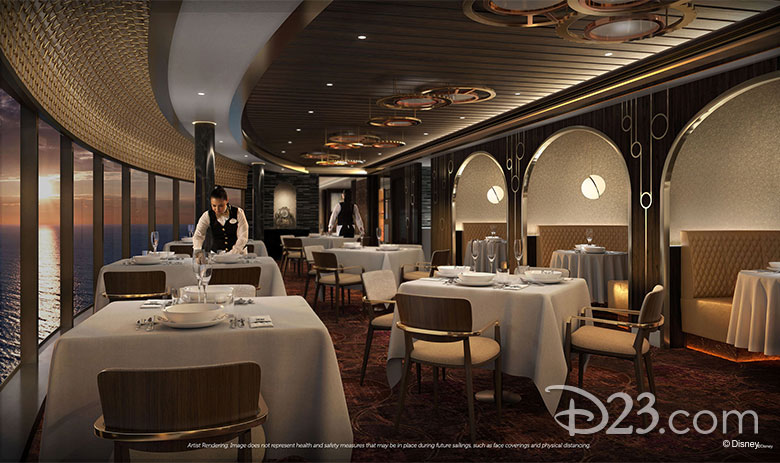 But wait, there's more: On top of the variety of dining options the Disney Wish will offer—including casual dining, specialty treats, 24-hour room service, and gourmet cafes—there are memorable premium dining options available exclusively for adults, in an elegant, upscale "suite" inspired by Walt Disney Animation Studios' Beauty and the Beast. Palo Steakhouse (artist rendering seen above) is the evolution of a Disney Cruise Line staple, in a setting inspired by Cogsworth, the animated film's majordomo-turned-enchanted-clock. "We've moved Palo into a new element," explains James Willoughby, Director, Hotel Operations, Special Projects, Disney Cruise Line. "We're infusing a modern steakhouse with Palo's rich Italian cuisine. This is fundamentally going to be the way to evolve the restaurant and keep it very much alive in our guests' hearts for years and years to come."
Additionally, Enchanté by Chef Arnaud Lallement will offer the most luxurious dining experience on board, featuring a gourmet menu crafted by the three-Michelin-starred chef; this romantic and intimate venue will evoke the dazzling spirit of the film's candelabra maitre d', Lumiere. And The Rose is a chic new lounge at the entrance of Palo Steakhouse and Enchanté. Inspired by the fateful flower at the heart of the story, The Rose will be chic setting for pre- or post-dinner cocktails.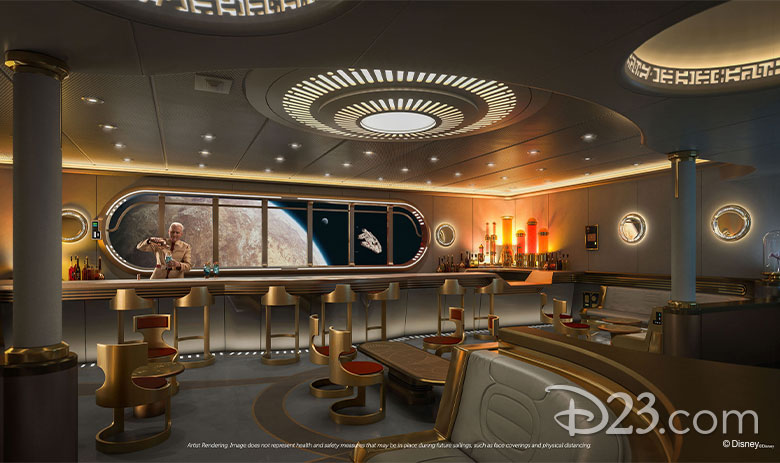 And there's one more out-of-this-galaxy addition to the Disney Wish's delectable delights: For the first time on a Disney ship, guests will embark on a space-jumping tour of the Star Wars galaxy at Star Wars: Hyperspace Lounge (artist rendering seen above), a high-end bar styled as a luxurious yacht-class spaceship. This immersive experience will be reserved for adults every evening, offering interactive tasting experiences and signature beverages inspired by destinations such as Batuu, Tatooine, and Mustafar.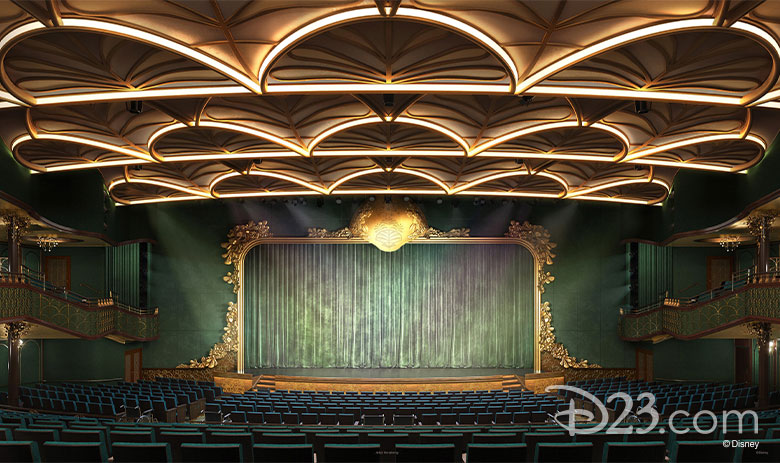 Entertainment Around Every Corner
As guests have come to expect from every ship, Disney Cruise Line is combining innovative design and technology onboard the Disney Wish to create amazing, immersive entertainment environments that will completely surround guests in storytelling in totally unique ways. The aforementioned forest-themed Walt Disney Theatre (artist rendering seen above) is an opulent show palace that will come alive with original Broadway-style stage productions developed exclusively for Disney Cruise Line—including a reimagined fan favorite, Aladdin: A Musical Spectacular, and two brand-new shows that are currently being developed. And for Disney Cruise Line guests looking to see first-run (and classic!) films on board, you'll be delighted to know that the Wonderland and Never Land Cinemas will be the Wish's intimate screening rooms—providing guests more options than ever from the worlds of Disney, Pixar, Marvel, Lucasfilm, and more.
Plus, Luna is a brand-new entertainment hub that will transition from a daytime setting for family fun into an elegant evening venue for adult-exclusive entertainment, offering a variety of live shows and interactive programming throughout the day. For those looking for more sports-oriented fun, Hero Zone is a futuristic arena where physical activity will blend with imagination via action-packed challenges and game show-style competitions for families to take on together.
Imaginations, Assemble! Fun for Kids of All Ages
Disney Cruise Line is positively chockablock with activities for kids, and the Disney Wish will be no exception. Children ages 3 to 12 will enter their favorite Disney stories via the reimagined Disney's Oceaneer Club, a real-life wonderland featuring more spaces and stories than ever before. And kids will be able to enter the club right from the Grand Hall, through a very special, totally cool "secret entrance" (yes, there is a slide involved).
Brand new to any Disney Cruise Line ship is the Walt Disney Imagineering Lab (artist rendering seen above), a first-of-its-kind opportunity for kids to discover the secrets of world-renowned Disney Imagineers with hands-on activities and inventive experiments. Kids will even get to design, and "ride," their own attraction! Meanwhile, Marvel Super Hero Academy is a high-tech Avengers headquarters where young "recruits" will train to be the next generation of Super Heroes with the help of their own heroes, like Spider-Man, Black Panther, Ant-Man, and The Wasp. And Fairytale Hall is a royal trio of activity rooms where princesses and princes will let their creativity shine at Rapunzel's Art Studio; read and act out stories at Belle's Library; and test newfound icy powers at Anna and Elsa's Sommerhus. Plus, it's a small world Nursery is still on board to take care of the littlest cruisers (6 months to 3 years), and Edge (ages 11 to 14) and Vibe (ages 14 to 17) will offer trendy hangouts and dedicated programming to tweens and teens.
Treasures Untold
As Baribeau admits, "I'm so excited, because this ship offers a space for everything, and it gives us Disney Cruise Line crew members and cast members the opportunity to dream up ways to entertain our guests in endless ways." Rawlins concurs, adding, "I think our guests are going to [thrill at] all these charming details—even when they just walk into the Grand Hall, whether or not they're coming in for the first time, greeted by Cinderella… I think our guests are going to be incredibly overwhelmed, and [will] bring the magical vacation home with them." "The spectacular fusion of all our learnings and all of the special qualities will continue into the latest ships to be launched with Disney Cruise Line fleet," adds Willoughby. "There's remarkable passion and dedication that's come from an incredible team. And that team right now is across the world. When it comes to doing the best and being the best, we are ensuring from day to day that we care about our guests."
The Disney Wish will sail its maiden voyage—a five-night cruise to Nassau, Bahamas, and Disney's private island, Castaway Cay—on June 9, 2022, followed by an inaugural season of three- and four-night cruises to the same destinations from Port Canaveral, Florida. Get ready, because bookings open on May 27!
For more information, visit disneycruise.com.