By Courtney Potter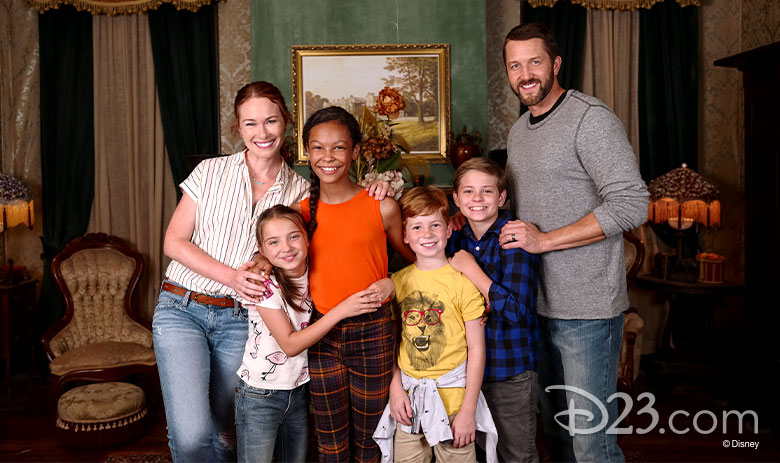 Disney Channel's Secrets of Sulphur Springs Returning for Season Two
Fabulous news, mystery fans: Disney Channel's Secrets of Sulphur Springs will be back for a second season!
Filmed and set in Louisiana, the first season of Secrets of Sulphur Springs followed 12-year-old Griffin Campbell (Preston Oliver), whose world was turned upside-down when his father, Ben (Josh Braaten), moved the family from Chicago to take ownership of an abandoned hotel property, The Tremont. Now, the family—which also includes Griffin's mother, Sarah (Kelly Frye), and his younger twin siblings, Wyatt (Landon Gordon) and Zoey (Madeleine McGraw)—live in The Tremont in hopes of restoring it to the bustling vacation destination it once was. But on the first day at his new school, Griffin hears rumors that the hotel is haunted by the ghost of Savannah (Elle Graham), a girl who disappeared decades ago. He soon meets and befriends Harper (Kyliegh Curran), a thrill-seeking classmate, and they discover a secret portal that allows them to travel back in time and uncover clues about the town mystery…
Season two will take a deeper look into Harper's family history and their connection to The Tremont. What starts as a fact-finding mission soon turns into a high-stakes adventure that could forever change her friendship with Griffin.
Wanna catch up on all the curious goings-on? Never fear: The first season of Secrets of Sulphur Springs is currently streaming on Disney+ and available in DisneyNow. And stay tuned for more new-season news as it becomes available.
5 Fantastic Things to Watch This Weekend
Hard to believe it's already the last full weekend of April—but that also means there is an avalanche of amazing content to be viewed from around the worlds of Disney… chiefly, the 93rd Oscars® will be televised on ABC this Sunday evening, and it's sure to be an awards-show affair like no other. But that's not all—Marvel Studios' The Falcon and The Winter Soldier's six-episode season comes to a close on Friday. Get your handy-dandy weekend watching guide right here.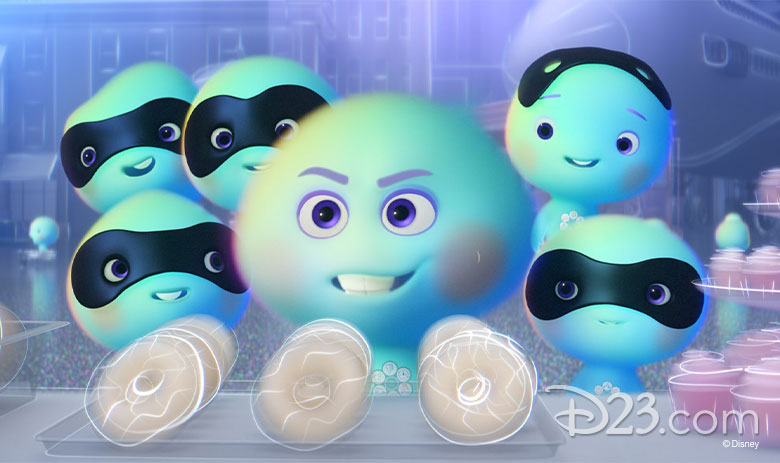 Disney and Pixar's New Short 22 vs. Earth Debuting on Disney+ April 30
Have you found yourself wondering what 22 (voiced by Tina Fey) really had against Earth in Disney and Pixar's hit Soul? Wonder no more—because 22 is coming back in a brand-new short directed by 21-year Pixar veteran Kevin Nolting…
22 vs. Earth, with Fey reprising her role, revisits the skeptical soul in The Great Before, long before she ever met Joe Gardner. As the short unfolds, 22 defies the rules of The Great Before and refuses to go to Earth, enlisting a gang of five other new souls in her attempt at rebellion. However, as the souls' activities lead to unexpected results, 22's subversive plot may actually lead to a surprising revelation about the meaning of life.
"While making Soul, we talked about the why of a new soul not wanting to live on Earth, but it didn't ultimately belong in that movie," says Nolting. "22 vs. Earth was a chance to explore some of the unanswered questions we had about why 22 was so cynical. As a fairly cynical person myself, it felt like perfect material."
Look for 22 vs. Earth streaming exclusively on Disney+ beginning Friday, April 30!
First Look at Marvel Studios' Shang Chi and The Legend of The Ten Rings
Earlier this week, just as Simu Liu—star of the highly anticipated Shang Chi and The Legend of the Ten Rings—celebrated his birthday by revealing some of the film's posters to fans on Instagram and Twitter, Marvel Studios surprised him by releasing a first-look teaser trailer for the film… and what a birthday surprise it was! See the action-packed clip for yourself, if you haven't already, above.
In the film, Liu portrays Shang-Chi, who must confront the past he thought he left behind when he is drawn into the web of the mysterious Ten Rings organization. The film also stars Tony Leung as Wenwu, Awkwafina as Katy, and Michelle Yeoh as Jiang Nan—with Fala Chen, Meng'er Zhang, Florian Munteanu, and Ronny Chieng. As Liu explained in his social posts, "It's absolutely insane to think that in just over four months, we will have a @MarvelStudios movie featuring an almost ENTIRELY Asian cast, each full of rich nuance and dimensionality. Shang Chi is more than just a movie. It is a celebration of our culture and a rallying cry for the forgotten, the unseen, and the overlooked."
Shang-Chi and The Legend of The Ten Rings is directed by Destin Daniel Cretton and produced by Kevin Feige and Jonathan Schwartz, with Louis D'Esposito, Victoria Alonso and Charles Newirth serving as executive producers. David Callaham & Destin Daniel Cretton & Andrew Lanham wrote the screenplay for the film, which opens in theaters on September 3, 2021.
One-Night-Only High School Musical: The Musical: The Series Marathon Coming to Disney Channel
Ahead of its season two premiere on Disney+, the Wildcats of High School Musical: The Musical: The Series are holding a one-night-only season one marathon on the network where the juggernaut that is High School Musical began… Disney Channel! Read more about what you can expect from this very special "homecoming" right here at D23.com.
Celebrate the Reveal of the Disney Wish with Disney Cruise Line
If a dream is a wish your heart makes, then this news is truly a dream come true… Our pals at Disney Cruise Line are getting ready to unveil never-before-released details of their fleet's newest ship, the Disney Wish—and you (yes, you!) are invited to be among the very first to learn about the incredible new spaces and experiences coming to the high seas in summer 2022. The grand unveiling, Once Upon a Disney Wish, will take place next Thursday, April 29, at 11 a.m. ET—and fans around the globe can tune in on the Disney Parks Blog! Hear from Ashley Long, one of DCL's Cruise Directors, about what you can expect from this sure-to-be-enchanting experience in the clip, above.
The special 30-minute virtual presentation, hosted by Long, will offer a sneak peek at all of the magic that awaits—including a look behind the scenes with Walt Disney Imagineers and the creative team bringing the Disney Wish to life, as well as special character appearances and some surprise performances you will not want to miss.
Make sure to click here to reserve your spot for Thursday's fun (and receive a cool DCL downloadable gift)… we'll "sea" ya there!
And ahead of next week's grand reveal, today the Disney Parks Blog shared DCL's dazzling design concept for the Disney Wish, which centers around a motif that's at the heart of so many of our most beloved Disney stories: enchantment. Enjoy a first look at how Walt Disney Imagineers have translated this concept into a design theme in a new video, below: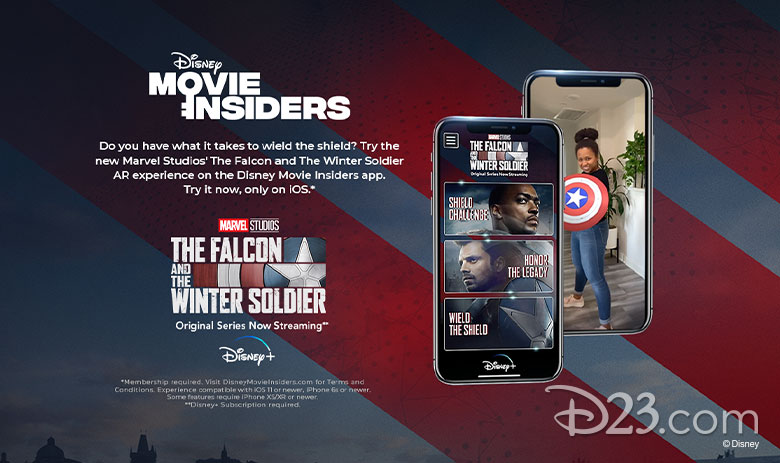 Disney Movie Insiders Mobile App Brings the Captain America Shield to You!
Feel like you've stepped inside the Marvel Cinematic Universe (MCU) with the latest from the Disney Movie Insiders mobile app! A new app update gives users the power to carry the Captain America shield for themselves… virtually, at least.
With this new unique augmented reality experience, app users can transform their space into an immersive training ground and take aim at targets; channel the power of the shield's history; and train like Captain America! After scanning the immediate area, the app automatically generates targets in the play area. The more targets hit—and the more accurate users aim—the more shields are unlocked, featuring different ones spanning the entire MCU, including the trash can Steve Rogers picks up in the alleyway of Captain America: The First Avenger as well as the upgrade seen in Avengers: Infinity War. Pretty cool, right? Another section of the app lets you snap photos with the shields unlocked in-game to share with friends on social media.
Do note that "Wield the Shield" is only available on iOS devices that are XS, XR, and newer; and "Shield Challenge" and "Honor the Legacy" are available on iOS devices, iPhone 6s and newer.