By Zach Johnson
The Marvel Cinematic Universe (MCU) is rapidly expanding on Disney+, with the eagerly awaited finale of WandaVision on March 5 and the highly anticipated premieres of The Falcon and The Winter Soldier and Loki on March 19 and June 11, respectively. At the Television Critics Association Winter Press Tour today, Kevin Feige, producer, President of Marvel Studios, and Chief Creative Officer, Marvel, previewed what's in store for Disney+.
Feige appeared remotely from the set of Ms. Marvel, debuting later this year on Disney+. He noted that Hawkeye, starring Jeremy Renner and Hailee Steinfeld, is also in production right now. "In a few weeks, we start She-Hulk, and a week or so after that, we start Moon Knight, in addition to our features," Feige revealed. "It's a very exciting time for the MCU."
Of course, a major topic of conversation was WandaVision, starring Elizabeth Olsen as Wanda Maximoff and Paul Bettany as Vision. With two episodes to go until its big finale (new episodes debut Fridays on Disney+), he promised fans should expect the unexpected. Previous surprises have included Evan Peters showing up on Wanda's doorstep and introducing himself as her twin brother, Pietro; Kathryn Hahn's nosy neighbor Agnes revealing herself to be Agatha Harkness, a witch who's been manipulating Wanda and the citizens of Westview; and Teyonah Parris' Monica Rambeau transforming into a super hero.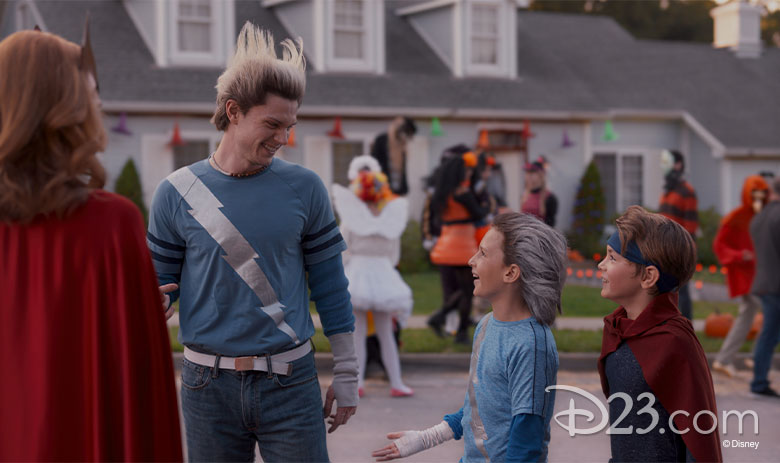 Pietro was previously played by Aaron Taylor-Johnson in the MCU, while Peters played a version of the character in the X-Men films. As for why Peters returned and not Johnson, Feige said it was "just another way that certain people were messing around with Wanda." At one point they considered bring back Johnson, but they ultimately went with Peters—an idea, Feige said, that they had pitched "relatively early on in the development process."
"There are discussions on everything at one point or another. That's one of the fun things about developing these things and blue-skying it," Feige added. "My favorite part of the process is always the very, very beginning, when we're figuring out what something could be, and the very, very end, when we're finally refining it and putting it out into the world."
WandaVision will lead directly into the feature film Doctor Strange in the Multiverse of Madness. Set for theatrical release on March 25, 2022, the sequel is being directed by Sam Raimi and stars Benedict Cumberbatch as Doctor Strange, Benedict Wong as Wong, Rachel McAdams as Christine Palmer, Chiwetel Ejiofor as Mordo, Xochitl Gomez as America Chavez—and, of course, Olsen as the Scarlet Witch. In developing WandaVision, Feige said, "There were lots of conversations with Sam Raimi, [screenwriter] Michael Waldron, and the entire Doctor Strange team. This movie needs to work for people who watched WandaVision, but more importantly, it needs to work for people who didn't. Maybe Endgame was the last time they saw Wanda, or one of the earlier movies—or maybe she's a character they're meeting for the first time. There will always be different layers of understanding, but we don't want there to be a barrier to entry. I always say when the lights go down and a movie starts, it's a clean slate; forget everything that's come before and enjoy something as its own self-contained storyline. As we make more shows, as we make more films, and as we introduce more characters, that does become harder and harder. It's something all of our writers and all of our filmmakers pay great attention to."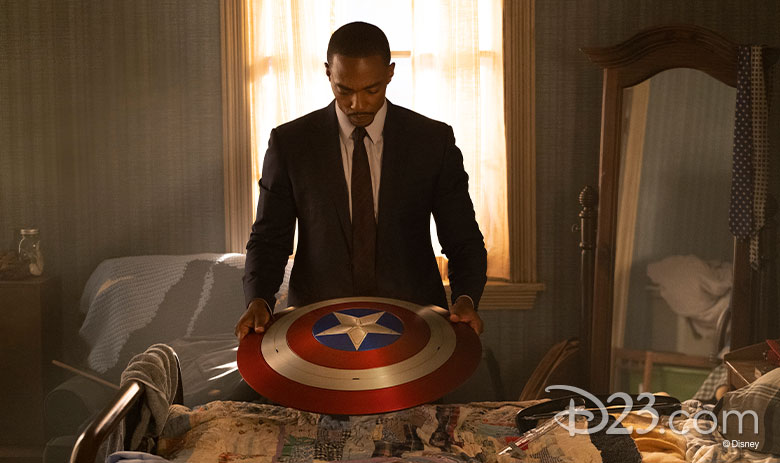 As for The Falcon and The Winter Soldier, from director Kari Skogland and head writer Malcolm Spellman, Feige said Marvel Studios had long wanted to find a project for the fan-favorite actors and characters. "Anthony Mackie and Sebastian are spectacular actors. We felt like we hadn't explored their stories or their backstories or their personal stories enough as Sam Wilson and Bucky Barnes," he explained. "It was always the thought that that we wanted to learn more about both of them… From the dailies of Civil War, seeing them interact with each other as friends of a mutual best friend in Captain America, it was a very fun dynamic. We thought, 'If we ever had that opportunity, we'd watch a whole show with the two of them.' And Disney+ finally gives us that opportunity." Mackie has described the series as a film in six parts, which is by design. "Six hours is what we've landed on as the best way to tell our stories," Feige said, "whether it's six episodes, as is the case with The Falcon and The Winter Soldier, or nine shorter episodes, as is the case with WandaVision."
It's possible that some of Marvel Studios' original series on Disney+ could return for sophomore seasons—though, at this point, it's too early to say which those might be. "The fun of the MCU is obviously all of the crossover that we can do between series between films. We'll always vary based on the story. Sometimes it will go into a season two, and sometimes it will go into a feature and then back into a series. We've announced that Ms. Marvel, after her debut on Disney+, will be going into the second Captain Marvel film," Feige said, referring to the character played by Iman Vellani. "And this is yet to be announced, but we're thinking of and planning second seasons for some upcoming series."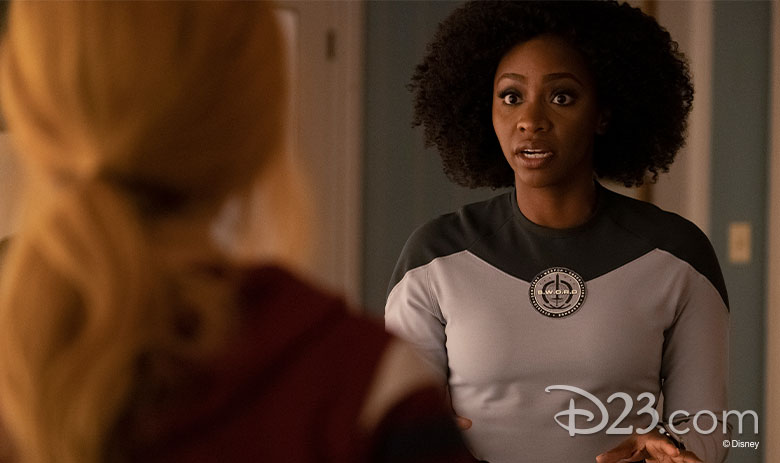 "We are developing all of these shows the way we're developing our movies. In other words, when we start with a movie, we hope there's a part two, we hope there's a part three—but we aren't factoring that into part one," Feige said. "We are trying to make something that hooks people enough and that people enjoy enough and want to revisit enough so they want to see to see the story continue. That is the way we're proceeding on television as well. I've been at Marvel for too long to say a definite 'no' or definite 'yes' to anything regarding questions about another season of WandaVision. But there are shows that we are looking at more. Some of the shows that I mentioned we're about to start filming, we are keeping in mind a structure that would lead into a season two and a season three—in a more direct way than, say, a show like WandaVision, which clearly goes into a feature. But it is new. That's part of the fun, exciting, adrenaline-boosting creativity that we're able to do thanks to Disney+, and really figure out new ways of storytelling and new ways of telling our stories. And perhaps someday we'll chart it out five seasons of a show. But really, we're focusing on delivering the best seasons we can one at a time so far."