By Courtney Potter
Liu Yifei will portray Hua Mulan in the new version of Disney's 1998 animated hit, and two fan-fave actors join the cast of Disney Channel's live-action Kim Possible movie… Read more, along with other news from around Disney, in this week's news briefs!
Live-Action Mulan Now in Production; Set to Bring Honor to Us All
We here at D23 are gazing into the future… and what's the "Reflection" we see? Why, it's actress Liu Yifei (Once Upon a Time) in the first official photo from Disney's all-new, live-action Mulan—which just started production, on locations in New Zealand and China. Liu was cast as heroine Hua Mulan after a year-long global casting search, and she joins Donnie Yen (Star Wars: Rogue One), Jason Scott Lee (Crouching Tiger, Hidden Dragon: Sword of Destiny), Yoson An (The Meg), Utkarsh Ambudkar (Pitch Perfect), Rosalind Chao (Star Trek: Deep Space Nine), and Jet Li (Lethal Weapon 4) in this epic adventure based on Disney's 1998 animated hit.
With a story steeped in the folktales of China (still taught in Chinese schools today), the film will follow the fearless young Hua Mulan as she masquerades as a man in order to fight Northern Invaders attacking China. The eldest daughter of an honored warrior, she is spirited, determined, and oh so quick on her feet… So when the Emperor issues a decree that one man per family must serve in the Imperial Army, she steps in—to take the place of her ailing father—as Hua Jun, becoming one of China's greatest warriors of all time.
Look for Mulan in U.S. theaters on March 27, 2020.
Save the Date!
Be sure to mark these upcoming Disney events on your calendar:
D23 and Walt Disney Archives


September 8, 2018


The Official Walt Disney Studios Tour—Presented by D23


September 8, 2018


D23's Magical Screening Series: Mary Poppins at Walt Disney World


September 15, 2018


D23's Magical Screening Series: Mary Poppins on the Lot


November 16-18, 2018


Destination D: Celebrating Mickey Mouse


August 23-25, 2019


D23 Expo 2019
Parks
August 17, 24, 28, 31
September 3, 7, 9, 11, 14, 16, 18, 21, 23, 25, 28, 30
October 2, 4, 5, 8, 9, 11, 12, 14, 16, 18, 19, 21, 23, 25, 26, 28, 30, 31


Mickey's Not So Scary Halloween Party at Magic Kingdom Park


September 19, 21, 24, 26, 28
October 2, 5, 9, 12, 16, 19, 23, 26, 29, 31


Mickey's Halloween Party at the Disneyland Resort




August 30-November 12, 2018




Epcot International Food & Wine Festival




September 7-October 31, 2018




Halloween Time at the Disneyland Resort




Summer 2019


Star Wars: Galaxy's Edge Opening at Disneyland Resort


Fall 2019


Star Wars: Galaxy's Edge Opening at and Walt Disney World Resort



Studios




November 2, 2018


The Nutcracker and the Four Realms opens in U.S. theaters


November 21, 2018


Ralph Breaks the Internet opens in U.S. theaters


December 25, 2018


Mary Poppins Returns opens in U.S. theaters


March 8, 2019


Marvel Studios' Captain Marvel opens in U.S. theaters


March 29, 2019


Dumbo opens in U.S. theaters


April 19, 2019


Penguins opens in U.S. theaters


June 21, 2019


Toy Story 4 opens in U.S. theaters


Television




August 10, 2018


Disney Channel Original Movie Freaky Friday premieres on Disney Channel (8–9:45 p.m. EDT/PDT)


September 21, 2018


Elena of Avalor: Song of the Sirenas premieres on Disney Junior (7–8 p.m. EDT/PDT)


November 4, 2018


Mickey's 90th Spectacular airs on ABC (8–10 p.m. EST)

This Disney Channel Original Movie Just Got Cooler… If That's Possible
Speaking of "animation getting the live-action treatment"… Some big news was recently broken during D23's fabulous Saturday Morning on the Lot event at The Walt Disney Studios in Burbank, California: Two amazing actors have joined the cast of the live-action Disney Channel Original Movie, Kim Possible—and we're pretty sure you'll recognize 'em from their stints on the original Kim Possible series. Click here to get the scoop!
Gal Gadot Takes to the Virtual Streets in Ralph Breaks the Internet
We were already agog at the sheer number of fantastic voices in Walt Disney Animation Studios' upcoming Ralph Breaks the Internet (see: almost every living Disney Princess ever!)… but just last week, we were clued into another amazing addition to the film's voice cast.
Gal Gadot (Justice League, Wonder Woman) recently revealed that she's lending her voice to a new character named Shank, a talented driver in a gritty online game called Slaughter Race. Ralph (voice of John C. Reilly) and Vanellope (voice of Sarah Silverman) encounter Shank—and her unique cohorts—when they venture to the Internet in search of a replacement part for Vanellope's game, Sugar Rush. Shank, a tough-as-nails street racer, takes her role (and her tricked-out car) very seriously… and doesn't like to lose. So when Vanellope finds herself in a street race with Shank, her Sugar Rush driving skills are put to the test—and Shank is impressed.
See and hear Shank in action—and catch a glimpse of those Disney Princesses in their "hang around the house" clothes (so adorable)—in the brand-new sneak peek trailer for Ralph Breaks the Internet, above. Look for it at a cineplex near you on November 21!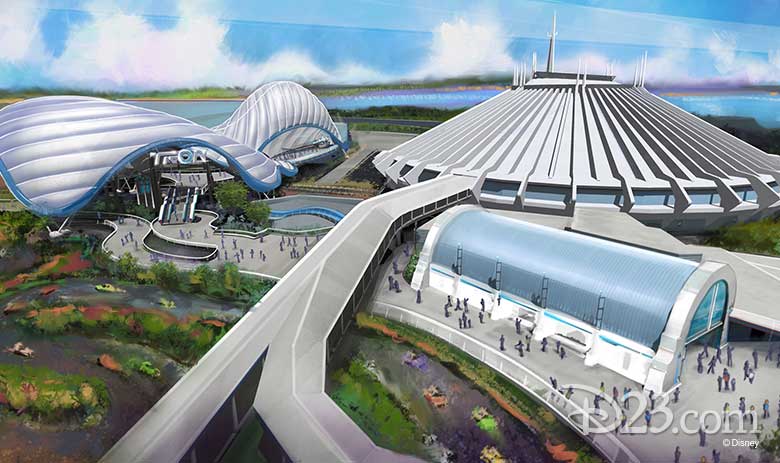 Get on the "Grid" with Updates on Upcoming Tron Attraction
If you've visited the Magic Kingdom at Walt Disney World Resort in the last few weeks, you may have noticed a new billboard located near the Storybook Circus area. (Check it out above; it's pretty "Grid"-tastic!)
Our pals over at the Disney Parks Blog revealed last summer that a new coaster-style attraction themed to the Tron films will be taking up residence at Magic Kingdom park. It's set to occupy an entirely new area next to Tomorrowland's Space Mountain—and as such, there are some modifications that had to be made as construction kicks off.
The Walt Disney World Railroad will temporarily take up residence at the Main Street Station starting in December 2018, halting its grand-circle tours of Magic Kingdom Park—but don't worry, it's only for a limited time. But during that station sojourn, guests will be able to get an up-close look at the railroad and take advantage of one-of-a-kind photo opportunities. Plus, the Tomorrowland Speedway will close for a portion of 2019 as the attraction's track is adjusted; it'll reopen as the same attraction guests know and love in Summer '19.
The new Tron attraction is set to debut just in time for Walt Disney World's 50th anniversary in 2021, and it's based on the Tron Lightcycle Power Run at Shanghai Disneyland—which is one of the most technologically advanced (not to mention exciting!) attractions ever created for a Disney park. Keep your eyes peeled for more info as the opening date draws closer…
Mal vs. Uma in All-New Descendants Short
There are so many "ways to be wicked," and a new one is coming to Disney Channel this September! Read about the latest showdown between Descendants "villain kids" Mal (Dove Cameron) and Uma (China Anne McClain)—and see the live-action short-form special's new teaser—right here at D23.com.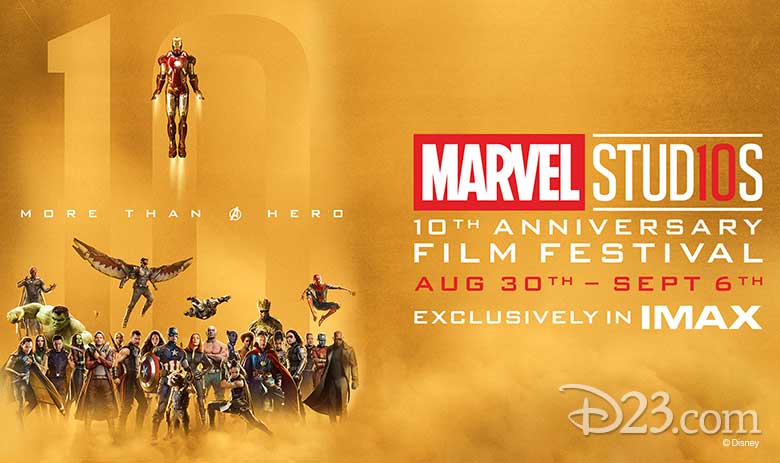 Marvel Studios Announces 10th Anniversary Film Fest
The Marvel Cinematic Universe has offered moviegoers an astonishing decade of adventure—and to celebrate, beginning this August 30, Marvel Studios will be presenting a festival chock full o' Super Hero hijinks at IMAX screens across the country! Read up on the films included; locations of the screenings; where to purchase tickets; and how you can have a say in which final two films will be shown here at D23.com.