By Andie Hagemann
Sound the alarm, because an all-new animated series is coming to Disney Junior! From Disney Branded Television, Firebuds follows a team of young first responders and their talking vehicle sidekicks. Set in a fantastical world where talking vehicles live, work, and play with the humans who drive them, Firebuds follows a boy named Bo (voiced by Declan Whaley) and his fire-engine best friend Flash (voiced by Terrence Little Gardenhigh) as they team up with their first-responder pals to help others in their community with problems big and small. Each episode is comprised of two 11-minute stories that showcase the importance of teamwork; helping fellow citizens; and volunteerism.
Firebuds premieres Wednesday, September 21, at 10:30 a.m. ET/PT with a simulcast on Disney Channel and Disney Junior—and an initial batch of episodes will be available the same day on Disney+. Read on for a peek behind the series with Emmy® Award-winning creator and executive producer Craig Gerber:
You've created several iconic series for Disney Junior, including Elena of Avalor and Sofia the First, but how did you begin your journey at The Walt Disney Company?
Craig Gerber (CG): I first started at Disney working on the Tinker Bell movies. I had been a live-action screenwriter for many years. I always loved animation when I was a kid; it was really something I fell in love with, but I couldn't draw very well, so I never thought to pursue it. In 2009, I wrote on the movie that eventually became The Pirate Fairy. While I was there, I met some other folks on the TV side—and I got the opportunity to create Sofia the First, then Elena of Avalor, and now Firebuds.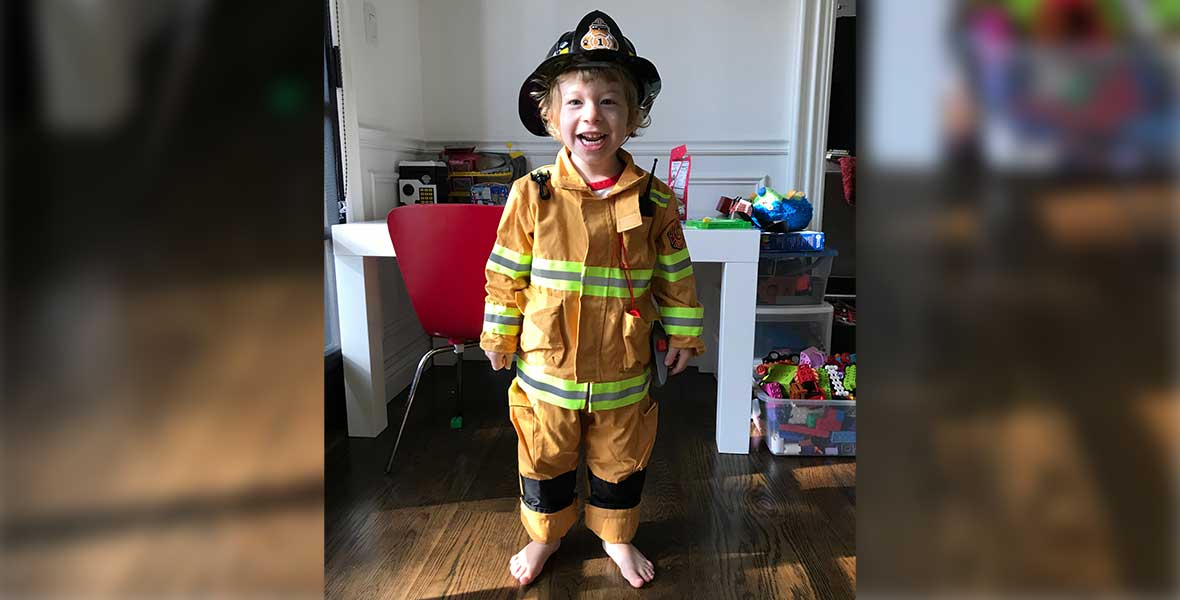 What inspired you to create Firebuds?
CG: All my children were obsessed with trash trucks, police cars, and fire trucks—especially my youngest son, who is 7 now. When he was 3 years old, he was just obsessed with fire trucks; he would dress up in a fire chief outfit, carry around a toy firetruck, and talk to it like it was his best friend. That got me thinking [about] how happy he would be if that firetruck came to life—and not an adult firetruck, but as a kid firetruck that could be his best friend—and that was the germ from which Firebuds sprung.
Who are the main characters, and how do they all tie in together?
CG: The main characters are a young boy named Bo—who is named after my youngest son, my inspiration behind the show—and a kid fire truck named Flash. Their parents are the co-fire chiefs. When Bo's dad, Chief Bill Bayani (voiced by Lou Diamond Phillips), and Flash's mom, Chief Faye Fireson (voiced by Yvette Nicole Brown), go off to fight real fires and handle real emergencies, Bo and Flash team up with their next-door neighbors to be first responders and rescuers in their neighborhood. Two of their neighbors are Violet (voiced by Vivian Vencer) and Axl the ambulance (voiced by Lily Sanfelippo), and they are the daughters of EMTs and EMVs, which in our world stands for Emergency Mechanic for Vehicles. On the other side lives the Jones family—Jaden (voiced by JeCobi Swain) and a safety-obsessed police car named Piston (voiced by Caleb Paddock). Jaden and Piston are the kids of police officers; Jaden serves as the genius inventor of the Firebudscrew, and Piston is always that character that wants everyone else to be safe no matter what they do. Together they complement each other with different skills. Bo is the planner; Flash is the heart; Violet is the medic, acrobat, and daredevil; and Axl, the ambulance, is the fastest of all the vehicles.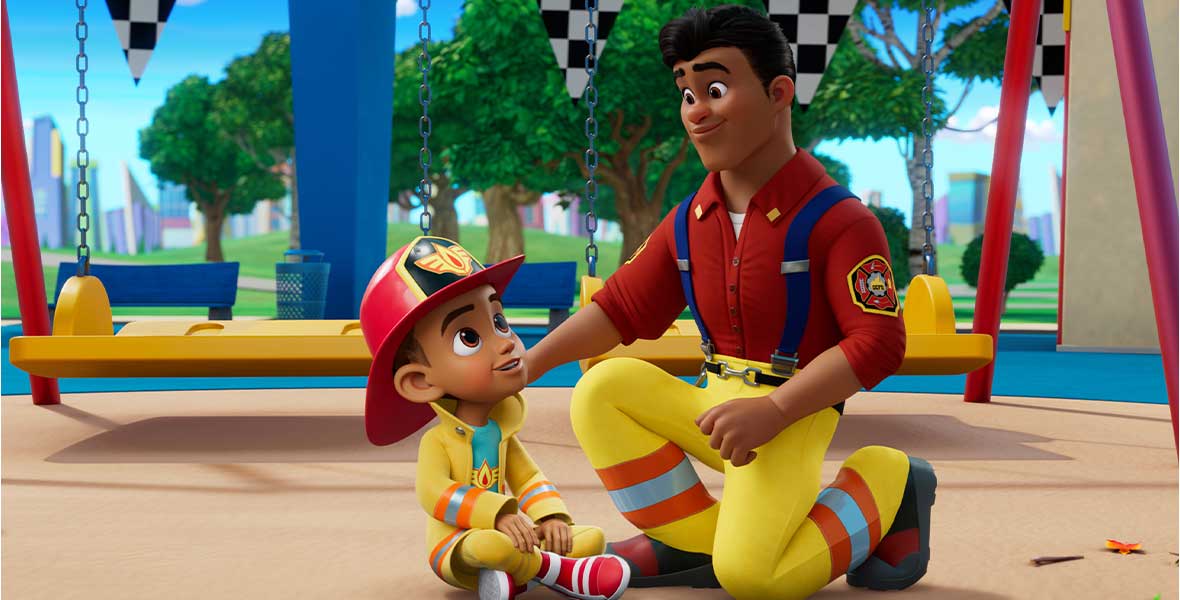 Firebuds boasts an immensely talented voice cast. How did you decide who was the right choice to bring these characters to life?
CG: This is my third show for Disney, so I've worked with a lot of voice actors. When you work with folks that you really like working with, you want to bring them back. Sometimes it's hard to find the right character that matches up with the type of voice they have. This is the first time I ever did this, but there were two characters where I had actors in mind when I started developing the characters—and those actors were Lou Diamond Phillips and Yvette Nicole Brown. I thought to myself, I want Lou to be this fire chief. And I want Yvette to be the mama fire truck chief. I knew that their voices and their personalities would match up perfectly to the lead adult characters in our show. I was so happy when they both agreed to do it.
A star-studded lineup of guest stars, including Chef José Andrés, Melissa Rauch, "Weird Al" Yankovic, and Patton Oswalt—to name a few—will stop by Gearbox Grove and Motopolis this season. How did their appearances come about?
CG: In general, I found that the folks who are celebrities that come in to do voices for us, either have children or really loved Disney. They could be out doing any number of other projects, but they come in and voice for us—so I am always very grateful that they've taken the time to help us out and lend their voice. When you're doing a show about emergency situations involving children, you have to be very careful not to have situations that are too dangerous or scary. One of the things we found when we were developing the show, that we could always go back to, is food and the idea of food-based emergencies. We knew we wanted to have a character who is a chef, and his roommate (or vehicle sidekick) is a food truck. When thinking about who we would get to voice these characters, one name sprang to mind—Chef José Andrés, because of his work with World Central Kitchen. He's become a recurring character in the show, because once he showed up, he came in to the studio with so many great ideas for other episodes. The episodes are great, because again, you don't have to worry about frightening children if you're delivering meals somewhere. One of the things I love about Firebuds is that we get to tackle subject matter and themes that directly reflect to the real world. The hope is to inspire young children to see the Firebuds putting together meals for a rescue shelter, and then go out and find a way to serve their community on their own.
Aside from Andrés' character, what is your other favorite moment from the series?
CG: I really enjoy the action-oriented rescue episodes. However, we have one episode that focuses on Violet, who is adopted and has two human moms and two vehicular dads. The episode is focused on what it is like to be a child of a first responder. She is having a very rare picnic with her parents on a very rare day off, but they get called into work and she feels really bad about that. She wonders why they always have to get called into work. While they're gone, she discovers a child car that got dinged up, and she brings that kid to the hospital where her parents are—and in doing so, she realizes the sacrifice that her parents have to make. She herself is a first responder in training, and that moment really touches my heart. I wanted to shine a light on a specific characters' family in the show, and hopefully put something out there that families of first responders can watch and relate to.