Today is, of course, Valentine's Day, the day we celebrate love—
—something Disney couples know a thing or two about. If you're feeling a little pressure to come up with a romantic way to commemorate the day with your one-and-only—or if you're just looking for something fun to do with a friend, a group, or anyone special in your life—you can relax and let these Disney couples provide some ideas. We've even added some Disney Dates boards on Pinterest to get your wheels turning! Here are our suggestions for ways to make this Valentine's Day feel just a little more magical: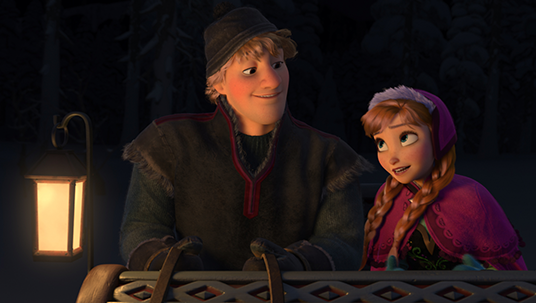 If you're inspired by Anna and Kristoff (Frozen):
Find a café with a great selection of panini and finish each other's sandwiches like Arendelle's super couple, Anna and Kristoff. (We know Hans would only have snagged the last bite for himself.) Let it go at a local rink and ice skate, or if there's snow on the ground where you live, just have a good old-fashioned snowball fight and finish your Valentine's Day with hot cocoa and extra marshmallows.
Get More Inspiration for an Anna and Kristoff date on Pinterest►
---

If you're inspired by Tiana and Naveen (The Princess and the Frog):
Even if you're nowhere near the French Quarter of New Orleans and the birthplace of jazz, you can seek out live music that makes you feel like you're "Almost There" in the Big Easy. Make the evening complete with a Cajun meal out—or prepare your own at home, with recipes for Ralph Brennan's Jazz Kitchen Shrimp and Grits and Gingerbread Beignets.
---

If you're inspired by Ralph and Vanellope (Wreck-It Ralph):
So many iconic video game characters and games were referenced in Wreck-It Ralph. Hit your local arcade and see how many of them you can play. Then live out a real-life version of Sugar Rush with a trip to a go-kart raceway. You can also enjoy another kind of sugar rush by ending your Valentine's Day on a sweet note at an old-fashioned candy store or soda fountain shop.
---

If you're inspired by Belle and the Beast (Beauty and the Beast):
Spend the afternoon strolling through your city's zoo, checking out the beauty of the beasts that reside there, some of which may have inspired the animators who brought the Beast to life on the big screen. For an evening worthy of royalty, make a reservation for dinner at a French restaurant with more courses than you usually indulge in and candelabras that remind you of Lumière, and follow up your decadent dining with fairy-tale footwork at a ballroom dancing lesson.
Get More Inspiration for a Belle and the Beast date on Pinterest►
---

If you're inspired by Pocahontas and John Smith (Pocahontas):
Take a walk in nature. Drop a pebble in the water and watch the ripples as they get larger in size. Run the hidden pine trails of the forest. Look up at how high the sycamores grow. You might just "learn things you never knew you never knew." And if you work up an appetite taking in the riches that are all around you, you might consider dinner at a restaurant that specializes in organic foods, made by folks who have the same respect for their environment and its resources that Pocahontas demonstrated in the film.
---

If you're inspired by Roger and Anita—or Pongo and Perdita (One Hundred and One Dalmatians):
Who says humans have to have all of the fun on Valentine's Day? If you already have a Valentine—and a dog—why not go on a dog-friendly hike at sunset? And if you're still searching for someone to give your (candy) heart to, take your pooch to the local dog park. If your dog has your back like Pongo had Roger's, you just might meet a kindred spirit. And with 101 Dalmatians Diamond Edition available on Blu-ray and digital HD this week, you the perfect excuse to come home and curl up on the couch with a bowl of popcorn for you—and maybe a box of Kanine Krunchies for man's best friend.
---

If you're inspired by Rapunzel and Flynn (Tangled):
Chances are your tresses aren't as long or as high-maintenance as Rapunzel's long hair, but that doesn't mean that a little pampering and personal care can't be part of a date night or day. Indulge in mani-pedis or a massage at a local spa—or try something a little different, like aromatherapy or a hot stone massage. Once you're feeling radiant and relaxed, check out the local gastropub that most reminds you of the Snuggly Duckling. Just watch out for Pub Thugs!
Get More Inspiration for a Rapunzel and Flynn date on Pinterest►
---

If you're inspired by Carl and Ellie (Up):
Frankly, we should all take inspiration from Carl and Ellie, who taught us that "Adventure is out there!"—even when you aren't necessarily aware that you're on an adventure in the first place. Earn your own "Ellie Badge" exploring parts of your city that you've never seen before. Try a new cuisine that you've always been curious to sample. Talk about visiting far-off places you someday want to venture, and start filling a jar—or savings account—to make that dream a reality. And while you're doing that, take lots of pictures and print them. Everyone has their own Adventure Book to write and the best time to start it is now.