By Beth Deitchman
Lea Michele has always loved the holidays, but perhaps never as much as this year. This summer, while the rest of us were sweltering in the heat, Michele was singing of a white Christmas—and dreaming of a tropical one.
This month, the actress and singer stars in Same Time, Next Christmas, a holiday movie from Freeform Studios premiering on ABC Thursday, December 5 (9–11 p.m. ET/PT). Michele plays Olivia Anderson, a successful young woman who spends every Christmas vacationing with her parents (played by Nia Vardalos and George Newbern) at a resort in Hawai'i, which just happens to be the fateful spot where she met her childhood sweetheart, Jeff (Charles Michael Davis), years earlier. When the pair is reunited as adults the spark between them is rekindled, but circumstances—including Olivia's new boyfriend, Gregg (Bryan Greenberg)—threaten to keep them apart.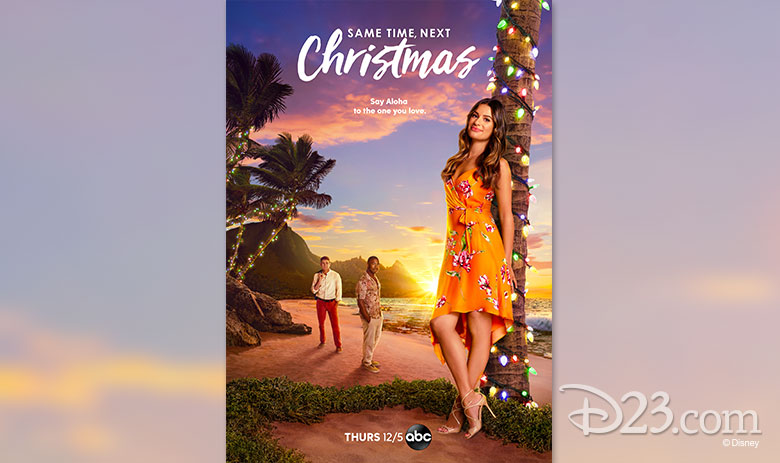 Michele was drawn to Same Time, Next Christmas because she connected with the close relationship Olivia has with her family. "I loved that there was that great sense of family in the movie, and I thought it would be such an amazing opportunity to film in Hawai'i," she shares. The production filmed throughout the island of Oahu, from the North Shore to Waikiki Beach. "I had one incredibly spectacular day filming with Charles Michael Davis where we got to have all of Waimea Falls shut down just for us," she recalls, deeming that magical day filming in the shadow of the breathtaking waterfall to be "one of the more extraordinary moments of my life."
But when it comes to Michele's dream Christmas, you're more likely to find her building a snow fort than a sandcastle. "I always travel to the East Coast to be with my mom and dad over Christmas. It's such a special time," she says. "Every year my mother makes us wear an ugly sweater that she picks out for each of us—and she always knocks it out of the park. Last year she got me a sweater with my cat's face on it, which was very special to me because she's the fifth member of our family." Michele also looks forward to her family's "slightly competitive" tradition of cooking a Christmas feast together. Everyone cooks one dish, Michele explains, and "we always end up making a delicious Christmas meal. We spend the day together, listening to great music."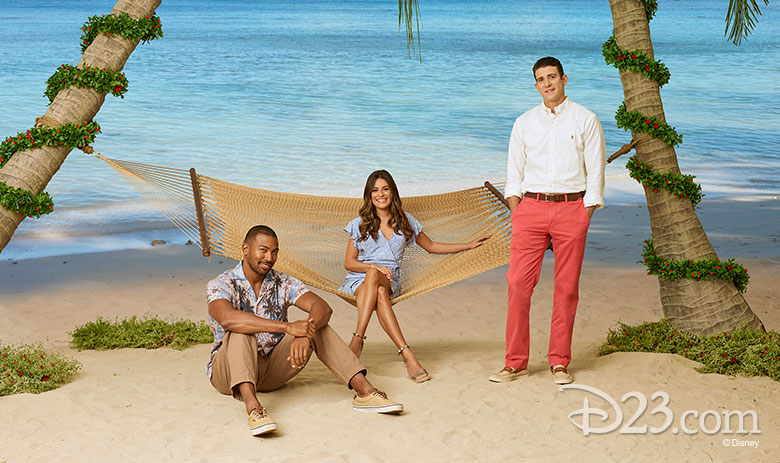 This year, Michele's new holiday album, Christmas in the City, will most definitely be in heavy rotation. The album was recorded before Michele left for Oahu, and she received the final version while on location for Same Time, Next Christmas. "I was literally sitting on the beach in Hawai'i, listening to my Christmas album, filming a Christmas movie. I am ready for the holidays this year!" she laughs.
Michele, who put her own spin on the song "Do You Want to Build a Snowman?" from Frozen for Christmas in the City, is as big a Disney fan now as she was when she was young. She becomes emotional when she recalls her first trip to Walt Disney World, when she was no more than 5 or 6 years old. "I remember taking my little autograph book and going up to Goofy, the Fairy Godmother from Cinderella, and all of the characters and asking them for their signatures," she recalls. Michele reveals that she was also an avid collector of Disney figurines (and still has them safely socked away).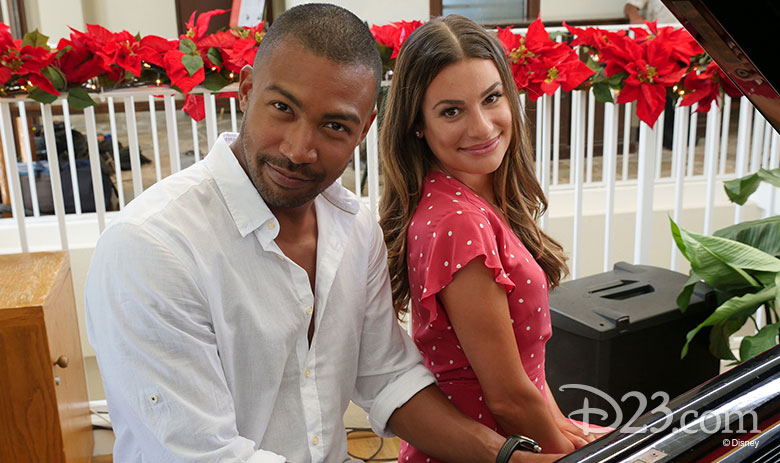 Performing as Ariel in The Little Mermaid—An Immersive Live-to-Film Concert at the famed Hollywood Bowl in May 2019 served as a full-circle moment for Michele. "The minute I walked on the stage and started to sing those first few words [of "Part of Your World"] and I just looked into the audience at all those faces of little girls that were looking up at me, it took me back to being a little girl myself," she shares. "If I could have just told myself when I was a little girl, 'Oh, just wait—you're going to be playing this character when you get older and singing this song for thousands of people.' It's crazy when you think about it."
A holiday movie marathon is also one of Michele's favorite family traditions. "I love sitting around on Christmas Day with my family, watching great Christmas movies," she says. Lucky for Disney fans, we won't have to wait until December 25 to get started. Be sure to watch Same Time, Next Christmas' December 5 premiere on ABC; tune in again when it comes to Freeform during the network's 25 Days of Christmas programming event on Wednesday, December 11 (8 p.m. ET/7 p.m. CT); or watch any time right here on ABC.com.