By Beth Deitchman
The old adage "when one door closes another opens" proves true in the case of Disney XD's new series Milo Murphy's Law, premiering tonight at 8 p.m. ET/PT. The show comes from creators/executive producers Dan Povenmire and Jeff "Swampy" Marsh—the masterminds behind the bestest, longest summer ever on Phineas and Ferb, which ran for 10 years before ending in a special finale episode last year. It was during Dan and Swampy's final days on that blockbuster series that they hit upon the idea for the new show and its title character—who Dan declared from the start to be "indefatigably optimistic."
For Milo Murphy, doors opening and closing are likely to lead to trouble—it's literally in his DNA, as the great-great-great-great grandson of the Murphy's Law namesake, who was the first to be afflicted by EHML (Extreme Hereditary Murphy's Law), the idea that anything that can go wrong… will go wrong. Milo prepares for every possibility, however, and faces adversity with boundless optimism, fearless friends, and a backpack full of supplies. The more that things go wrong for Milo, the more they go right for Disney fans.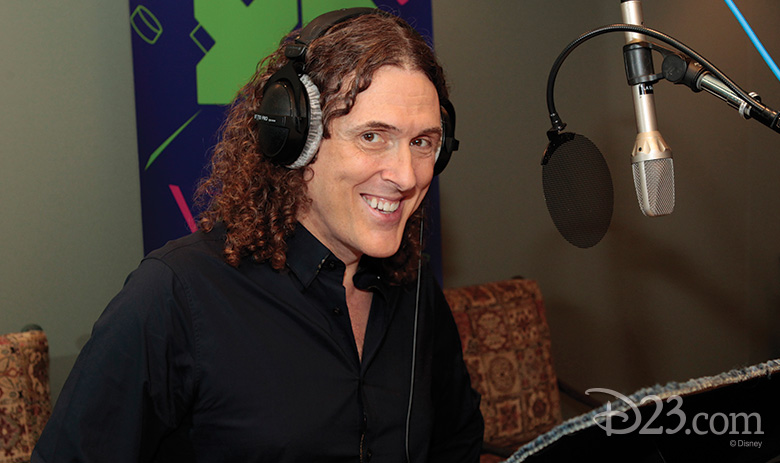 Milo is voiced by legendary satirist and Grammy®-winning recording artist Al Yankovic (who you may know by his professional moniker, "Weird Al"), and the cast includes such notables as Sabrina Carpenter (Girl Meets World) and MeKai Curtis as best friends Melissa and Zack; Ming-Na Wen (Marvel's Agents of S.H.I.E.L.D.), Christian Slater, Vanessa Williams, Sarah Chalke, Jemaine Clement, Pamela Adlon, and Dan and Swampy themselves (voicing the mysterious-sounding roles of "pistachio protectors from the future").
The series began—as all animation does—with a single sketch, of Milo. Dan shared with Swampy the drawing of the middle schooler, and the two started talking about what a show centered on a character with such a positive outlook could be. "We sat down and, in literally less than an hour, we had the whole concept of the show and the story for the pilot," Dan remembers, adding, "This [story] is about optimism in the face of enormous odds."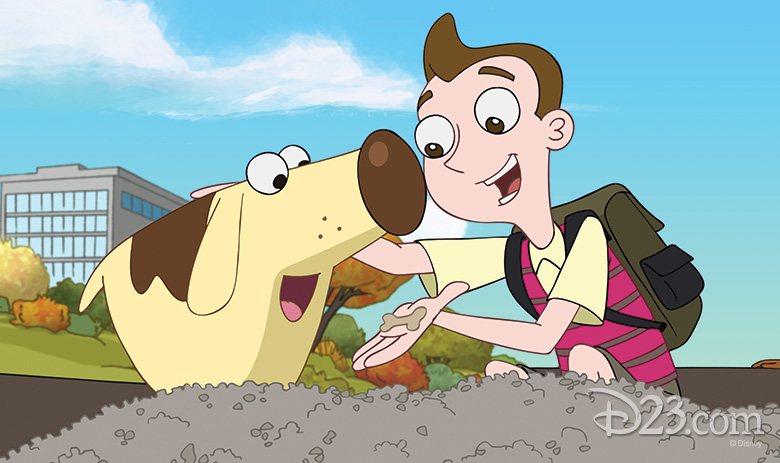 Like Phineas and Ferb before it, Milo Murphy's Law features a catchy theme song—sung by Al Yankovic—and a host of songs that take advantage of the vocal talent found in the cast. "We realized years ago that we're physically incapable of creating shows without songs," Swampy admits. And Dan adds, "We can say this: Not every single episode has a song in it, but I've just counted how many episodes we have and we have more songs than episodes."
Milo Murphy's Law will be more serialized than Phineas and Ferb was, Dan and Swampy explain, which provides an opportunity to tell a variety of stories. Swampy observes, "It's a whole different challenge. It makes us look at it as a big picture, which we never really had to do on Phineas."
"It requires a lot more index cards stuck on the wall," he jokes.
Both Dan and Swampy believe that fans of Phineas and Ferb will embrace Milo, and they're keeping those viewers in mind as they create this new series. "We've been throwing some ideas around, to do little nods to the Phineas fans," Swampy says.
In another nod to the Phineas fans, Dan and Swampy recorded a follow-up to their popular 2011 rap music video Animatin'. Enjoy "We're Gonna Do It Again" below, and watch Dan and Swampy do it again on Milo Murphy's Law, Monday nights at 8 p.m. ET/PT on Disney XD.