By Courtney Potter
The highly anticipated game gets a new trailer, and Disney Junior's upcoming animated series releases a first image… See more, along with other news from around Disney, in this week's news briefs!
Kingdom Hearts 3: New Trailer and Official Release Date!
This week, gaming fans are gathering at the Los Angeles Convention Center for the annual E3 Expo—the world's premiere event for computer and video games and all their related products. And the whole shebang kicked off with a Disney-related announcement…
During the big Microsoft Xbox E3 2018 briefing (and then continuing with game developer Square Enix's event) on Monday, June 11, the much-anticipated Kingdom Hearts 3 revealed a brand-new trailer! Check it out, above—and you'll see that the game's characters (Sora, Donald, and Goofy) are heading to several brand-new worlds from hit Disney animated films, including Frozen, Wreck-It Ralph, and Hercules. Plus, you can catch Sora's new Keyblade's transformations as he battles against the Heartless.
Additionally, the game confirmed what fans have been waiting for—a January 29, 2019, release date on Xbox One and Sony PlayStation® 4. That means we've got about six months to prepare for the fun… and we cannot wait!
Save the Date!
Be sure to mark these upcoming Disney events on your calendar:
D23 and Walt Disney Archives


June 14, 2018


Enjoy Complimentary Tickets to a Special Screening of Disney•Pixar's Incredibles 2


June 23, 2018


D23's Magical Screening Series: Robin Hood on the Lot


June 24, 2018


D23's Incredible Mixer in Altamonte Springs, Florida


June 24, 2018


D23 Celebrates the Opening of Pixar Pier/a>


June 29, 2018


Lunch with Disney Legend: Burny Mattinson


June 30, 2018


D23's Magical Screening Series: Robin Hood at Walt Disney World


July 13, 2018


D23 Member Mixer—Seattle


November 16-18, 2018


Destination D: Celebrating Mickey Mouse


August 23-25, 2019


D23 Expo 2019
Parks


June 23, 2018




Pixar Pier opens at Disney California Adventure




June 30, 2018




Toy Story Land opens at Disney's Hollywood Studios


August 17, 24, 28, 31
September 3, 7, 9, 11, 14, 16, 18, 21, 23, 25, 28, 30
October 2, 4, 5, 8, 9, 11, 12, 14, 16, 18, 19, 21, 23, 25, 26, 28, 30, 31


Mickey's Not So Scary Halloween Party at Magic Kingdom Park




August 30-November 12, 2018




Epcot International Food & Wine Festival




September 7-October 31, 2018




Halloween Time at the Disneyland Resort




Summer 2019


Star Wars: Galaxy's Edge Opening at Disneyland Resort


Fall 2019


Star Wars: Galaxy's Edge Opening at and Walt Disney World Resort



Studios




June 15, 2018


Incredibles 2 opens in U.S. theaters


July 6, 2018


Marvel Studios' Ant-Man and the Wasp opens in U.S. theaters opens in U.S. theaters


August 3, 2018


Disney's Christopher Robin opens in U.S. theaters


November 2, 2018


The Nutcracker and the Four Realms opens in U.S. theaters


December 19, 2018


Mary Poppins Returns opens in U.S. theaters


Television




June 18, 2018


Big City Greens premieres on Disney Channel (9:30 a.m. ET/PT)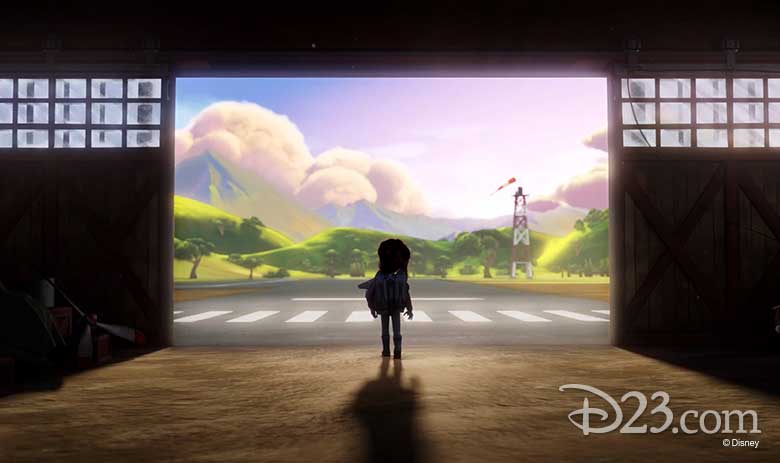 First Look at Disney Junior's The Rocketeer
Fans of Disney's 1991 adventure The Rocketeer (hey, that's us!), take heed: We have a very special first look at Disney Junior's highly anticipated animated series of the same name. Just this week, at the Annecy International Animated Film Festival, Nancy Kanter (Executive Vice President, Content and Creative Strategy, Disney Channels Worldwide, and General Manager, Disney Junior Worldwide) showed those in attendance the intriguing image above… and now you get to see it too!
Inspired by Dave Stevens' popular comic book series, Disney Junior's The Rocketeer follows Kit, a young girl who receives a surprise package on her birthday revealing she's next in line to become the Rocketeer, a legendary superhero who has the ability to fly with the help of a rocket-powered jet pack. Armed with her cool new gear and secret identity, Kit is ready to take flight and save the day with her gadget-minded best friend, Tesh, and airplane mechanic uncle, Ambrose, who join in on her epic adventures. The series is executive-produced by Nicole Dubuc (Transformers: Rescue Bots) and is slated to debut in 2019.
Here's a Sneak Peek at the New Play Disney Parks App
Visiting a Disney Park soon and looking for something fun to fill the time whilst waiting to check out your favorite attraction? Never fear—you'll soon have a fabulous new app to keep you company! The all-new Play Disney Parks App is now available for pre-order, from both the Apple App Store and the Google Play Store.
The Play Disney Parks app will allow guests to play with family and friends while waiting in line for some favorite attractions. There's something for everyone to enjoy, from activities that interact with select attraction queues to games that bring favorite Disney stories to life in immersive new ways. Guests can also earn and share digital collectibles when they receive themed achievements, earned for experiences both in the app and across the Disney parks. And with the Disney trivia feature, pals can band together to see if they have what it takes to become Disney "trivia masters," discovering unique facts about their favorite parks.
Look for more information on Play Disney Parks as we get closer to its summer launch…
New Treasures Inside Pirates of the Caribbean at Disneyland Park
Recent guests at Disneyland park may have noticed that the beloved attraction Pirates of the Caribbean was in the midst of refurbishment. Good news, though: It's back, better than ever, and ready for summer!
A new scene—familiar to guests who've visited the attraction Walt Disney World Resort or Disneyland Paris—has been added… and it's there you'll find that swashbuckling buccaneer Redd having "switched sides," becoming a pirate who's set on pillaging the town's rum supply. But that's not all; an entirely original bit of magic has been cooked up by the folks at Walt Disney Imagineering (WDI).
Get a peek at everything that's fresh inside Pirates via this great new video (featuring WDI Art Director Kim Irvine) from our pals at the Disneyland Resort, above.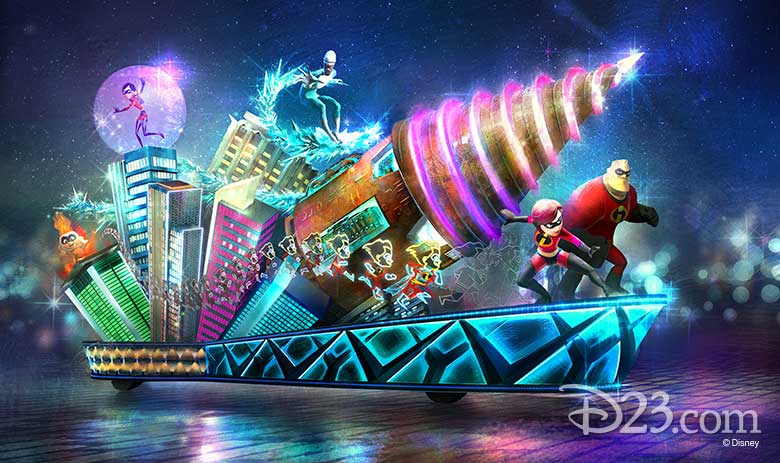 Get Incredible with Paint the Night at Disney California Adventure
Speaking of "new experiences at Disneyland Resort," here's another one you can't miss! Staring June 23, a brand-new float inspired by The Incredibles and Incredibles 2 will be joining the shimmering Paint the Night parade, which is currently dazzling Disney California Adventure park as part of the limited-time Pixar Fest celebration. Read more about it right here at D23.com.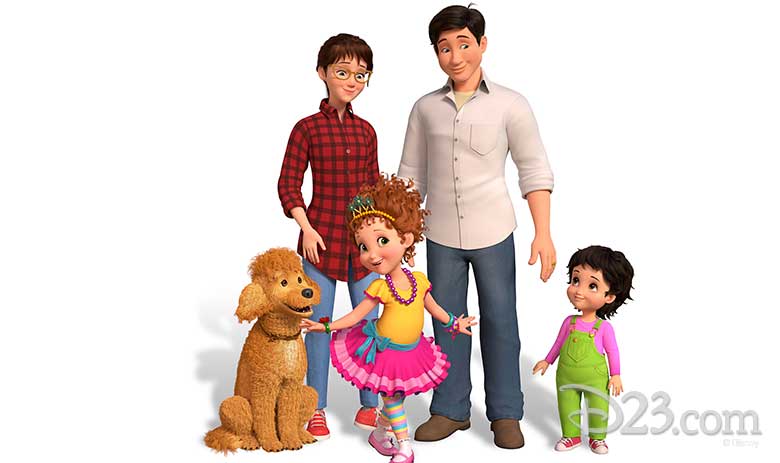 Fancy Nancy To Return for Second Season on Disney Junior
Ready to get fancy? A second season of Disney Junior's Fancy Nancy—based on the New York Times bestselling book series—has been ordered… with the series premiere still a month away!
The animated family comedy follows six-year-old Nancy, a high-spirited young lady whose zest and enthusiasm for all that is exquisite (including language, nature, art, and even color) transforms the ordinary into the extraordinary. The voice cast includes Alyson Hannigan (How I Met Your Mother) and Rob Riggle (The Daily Show) as Nancy's parents, Claire and Doug; Mia Sinclair Jenness (Broadway's Matilda) as Nancy; and Spencer Moss (Chicago P.D.) as sister JoJo—plus amazing recurring guest voice cast members Christine Baranski (The Good Life), George Wendt (Cheers), Kal Penn (Designated Survivor), and Tatyana Ali (The Fresh Prince of Bel-Air), among others.
Excited to experience what the magnificent world has to offer, Nancy uses ingenuity and resourcefulness to exemplify that even if life doesn't always go as planned, it's important to make the most of each day and encourage others to do the same. Look for Fancy Nancy beginning Friday, July 13, on Disney Junior, the DisneyNOW app, and Disney Junior VOD.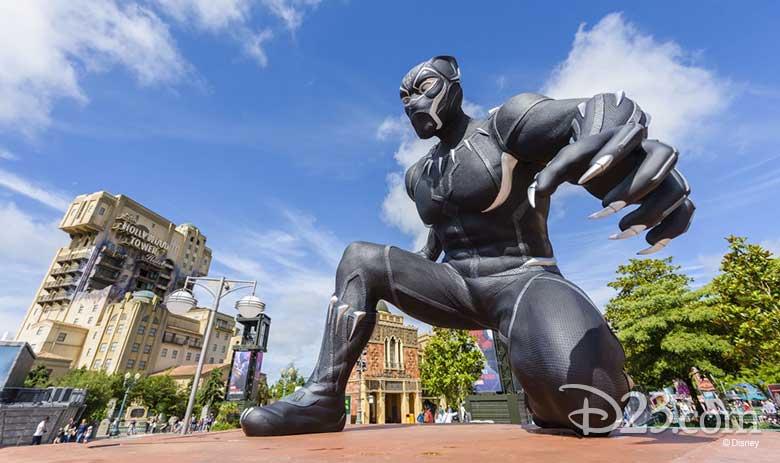 Marvel Summer of Super Heroes Debuting at Disneyland Paris
If you're traveling "across the pond" this summer, look for something new and "Marvel-ous" at Disneyland Paris, as part of the resort's big 25th anniversary celebration. Favorite Marvel characters—including Black Panther, Iron Man, Thor, and Black Widow—are now appearing across the park as part of the Marvel Summer of Super Heroes! Find out more here.