By Jocelyn Buhlman
The Paint the Night parade made its dazzling return to Disneyland Resort this summer when the fan-favorite lit up Disney California Adventure as part of the limited-time Pixar Fest celebration. This parade has delighted fans since its debut during Disneyland's 60th anniversary in 2016, and now it is about to glow a little brighter.
On June 23, a brand-new float will make its super debut—inspired by Disney•Pixar's The Incredibles and Incredibles 2. The Parr family and their pal Frozone will be saving the day—or should we say night— with high-tech, pop-art effects.
Guest will enjoy the float featuring a riveting battle against The Underminer, in a sequence set in between the events of The Incredibles and Incredibles 2. Special effects in the float include: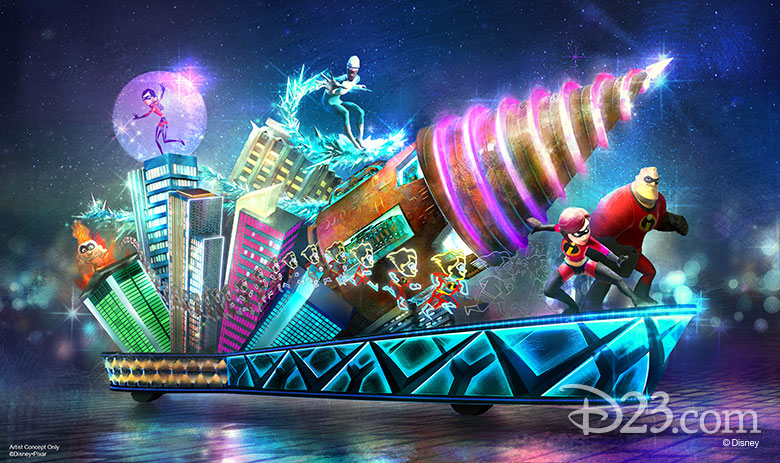 A special, custom-built persistence-of-vision (POV) globe to depict Violet Parr using her super powers to surround herself with a "force field." This is the first and largest POV globe ever to be installed on a Disney parade float.
An innovative system of 64 individually lit frames, to depict Dash's super-human speed, captured through flashes as he races in circles around the float.
Brand-new super suits for Mr. Incredible and Mrs. Incredible, along with their pal Frozone. The suits have been installed and wired by hand and are fully programmable to be in sync with the music and the float lighting.
This super float joins Paint the Night this summer during Pixar Fest, the limited-time celebration happening now through September 3. Pixar Pier will also welcome guests at Disney California Adventure park beginning June 23.