By Nicole Nalty
Pixar Pier was announced at D23 Expo this summer, and next year the transformed land will make its debut at Disney California Adventure park with newly themed attractions, entertainment, foods, and merchandise. Our friends at the Disney Parks Blog have just shared more information about the upcoming enhancements (and you can read even more in the latest issue of Disney twenty-three!). Here's what you can expect to see when Pixar Pier opens in summer 2018.
New Neighborhoods
The permanent area will include four new neighborhoods inspired by favorite Disney•Pixar stories: The Incredibles take on the first new neighborhood with the thrilling Incredicoaster, a permanent transformation of California Screamin', with a mid-century-modern-style loading area, new character moments, and a new look for ride vehicles. California Screamin' will close on January 8 to make its Incredible transformation. Then, head over to the Toy Story-inspired neighborhood, where you'll find the fan-favorite Toy Story Mania!. On the western side of the boardwalk, an Inside Out-inspired neighborhood will come to life with a new family-friendly attraction, scheduled to open at a later date. The final neighborhood will be a celebration of many favorite Pixar stories––Mickey's Fun Wheel will keep its iconic face on the Paradise Bay side and the gondolas will feature different Pixar characters. All of the midway games will be inspired by Pixar characters and join the existing Bullseye Stallion Stampede game at Games of the Boardwalk. Mickey's Fun Wheel, Games of the Boardwalk, and Sideshow Shirts will close on January 8.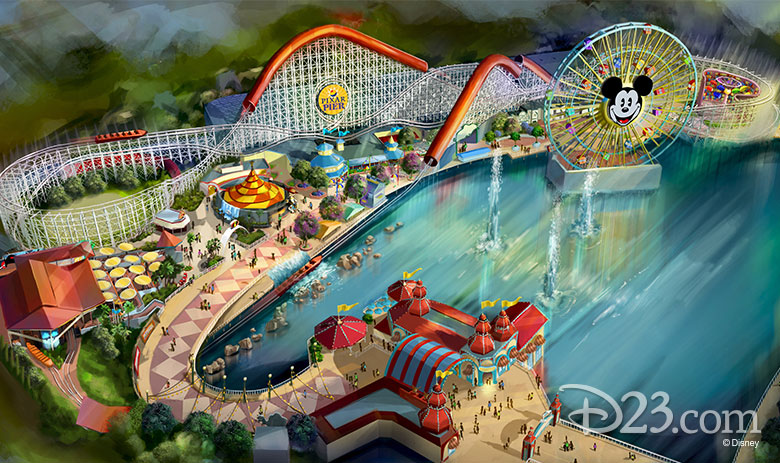 New Eats
Ariel's Grotto restaurant and the Cove Bar will be transformed into a new lounge and grill, with both locations closing January 8––Cove Bar will reopen briefly in April before closing again for its permanent transformation.
New Land
On the other side of the lagoon, Paradise Gardens, Silly Symphony Swings, Jumpin' Jellyfish, Goofy's Sky School, Golden Zephyr and The Little Mermaid ~ Ariel's Undersea Adventure will be part of a new land called Paradise Park.
Pixar Pier will open during Pixar Fest, a limited-time celebration beginning April 13.
Stay tuned for more exciting updates from Pixar Pier!