By Beth Deitchman
Before Star took on The Forces of Evil. Before Rapunzel took her first swing of a frying pan. Before Elena of Avalor broke out of that amulet. There was a "basic average girl… here to save the world." When Kim Possible premiered on Disney Channel—15 years ago today, on June 7, 2002—she was a very different kind of hero, especially compared to most other animated series—including those from Disney Television Animation, which at the time was producing a number of shows based on films like Hercules and Lilo and Stitch or on classic characters, like Goofy. In fact, Kim Possible creators Mark McCorkle and Bob Schooley came to Disney as writers for the Goof Troop series in 1992.
When Disney Channel asked McCorkle and Schooley—a writing team who met while working at a Pennsylvania theme park in 1981—to develop an original animated series, the two fathers of daughters were excited to create a new kind of hero that would appeal to both girls and boys. It was important to McCorkle and Schooley that the series felt real. Kim's acumen for action was to be treated as "no big deal" by her fellow high school students, and the comedy was to feel contemporary. "We made the decision early on that everybody knows what she does and nobody really cares, because it's high school and they have their own priorities. What you do outside of high school doesn't matter," Schooley explains.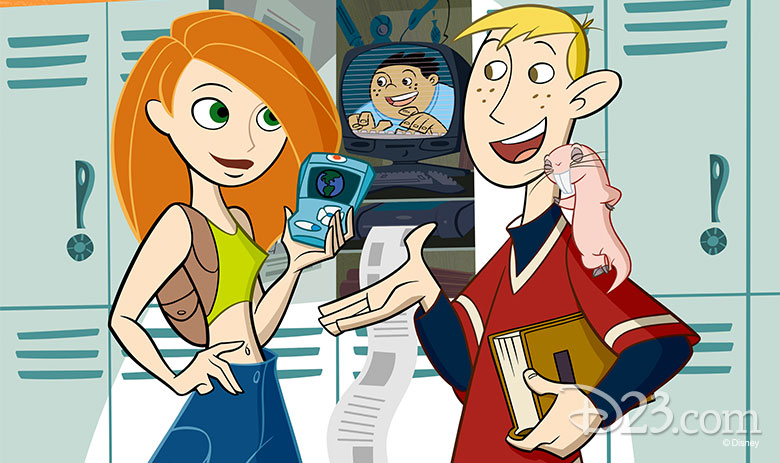 The basic premise came together quickly. How quickly? "We usually hate puns. We're the most anti-pun people in the world," McCorkle remembers. "But one day, we were coming back from lunch and stepping into the elevator and I said, 'Kim Possible. She can do anything.'"
Schooley says he barely missed a beat: "I said, 'Ron Stoppable. He can't.'"
"That was the fastest development of a series we've ever had," McCorkle says.
Right from the beginning, McCorkle and Schooley were focused on the chemistry between Kim and Ron. "From the first episode, we knew that's where it was going, and it was just a matter of how we could get there very slowly and teasingly," Schooley says, and they assumed that the couple's happily-ever-after would take place at the end of the 2005 Disney Channel Original Movie Kim Possible: So the Drama. But the show had such a strong following, it was renewed for a fourth season. McCorkle and Schooley were surprised, but appreciated the opportunity to continue Kim and Ron's story as that of a power couple. The self-described "nerds" confess that they originally identified with Ron, but they changed their minds as time went on. "We came to realize that [with Ron] we just created a funny character. Drakken was us," McCorkle laughs, referencing Kim's most determined adversary, who was impatient and somewhat oblivious and always bested by youth.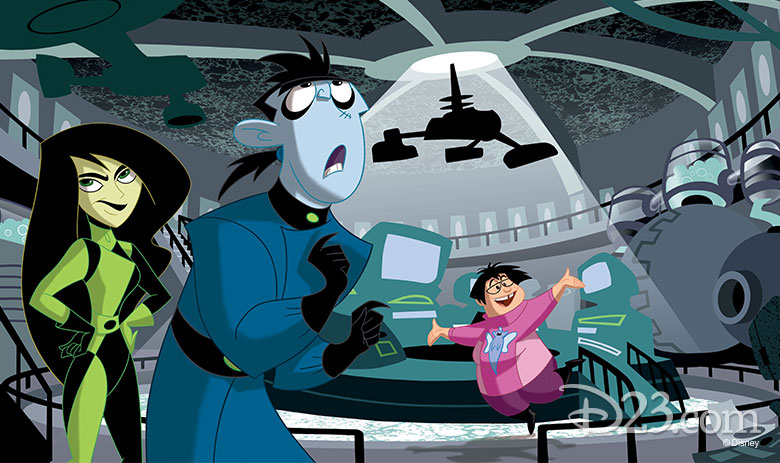 "I think one of the reasons why Kim Possible endures is that kids just identify with those characters as real," Schooley says. "I think part of Disney storytelling is those characters transcend in terms that make you forget they're cartoons and you start engaging with them as if they're real people. And I think a lot of people had somebody on that show that they identified with because of the way they were portrayed."
Adds McCorkle, "There's always heart."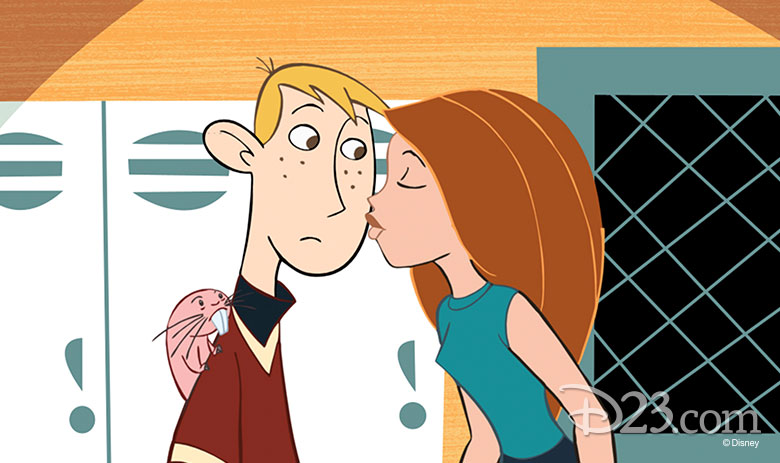 There's also guaranteed to be tremendous heart in McCorkle and Schooley's next series for Disney—the upcoming series Big Hero 6 The Series, which continues the story of Walt Disney Animation Studios' Oscar®-winning film Big Hero 6. The series, which picks up immediately after the events of the movie, is so eagerly anticipated it's already been picked up for a second season in advance of its fall debut on Disney XD. We couldn't help but wonder how Kim and Ron might fit into this new group of teens committed to saving the world, led by Hiro and his huggable robot Baymax, along with the no-nonsense Go Go, quirky scientist Honey Lemon, control freak Wasabi, and fanboy Fred.
"Kim is this weird hybrid of Honey Lemon and Go Go. A lot of times, with Ron, she was pretty sarcastic. But she did have a very positive attitude," McCorkle says. Schooley theorizes that Ron and Fred are definitely cut from the same cloth, and McCorkle quickly points out, "No good would come of that."
McCorkle and Schooley still hear from fans all around the world who would love to see more of Kim's adventures, and they're accustomed to running into cosplay "Kim Possibles" at conventions. Plus, there's that theme song… "Call me, beep me, if you want reach me…" Schooley acknowledges, "Every now and then you'll hear it somewhere. The ringtone lives on."
And so does our love for Kim Possible—even 15 years later.