By Nicole Carroll, Walt Disney Archives
Anyone familiar with Walt Disney has probably heard that one of his favorite foods was chili. Simply put, Walt was a Midwestern boy and had a Midwestern appetite; he stuck to familiar "meat and potatoes" dishes. So, of course, Walt liked his chili. As his wife Lillian recalled, "He liked basic foods. He loved chili." Walt would eat this favorite food at high-end restaurants like the iconic Chasen's in Beverly Hills, but was equally happy eating it at home. His quick, no-fuss, at-home preference? A mixture of Gebhardt's and Dennison's canned chili.
In addition to the canned variety, Walt enjoyed fresh chili at home and at the Disney studio Commissary. The two chili and beans recipes seen here both come from a file in the Walt Disney Archives marked, "Walt's Favorite Foods." Although the exact dates are unknown, one recipe is marked revised on March 25, 1958. Based on the ingredients in the other, namely the chopped suet, we can determine that is the earlier recipe. Suet is a raw, hard fat that's part of beef or mutton and later was often replaced by ground beef, as seen in the revised recipe. The other clue that hints at the first recipe being earlier? It called for more spices. Walt famously preferred milder foods and the second recipe reflected those preferences. The main part of the recipe calls for less spice, but at the bottom there's an option for making it spicier. It is likely that this revised recipe not only accounted for the then-newer and more popular usage of ground beef, but Walt's personal tastes.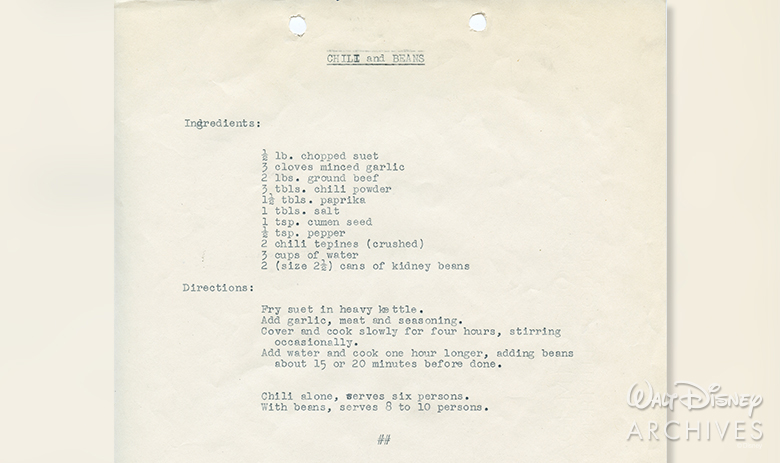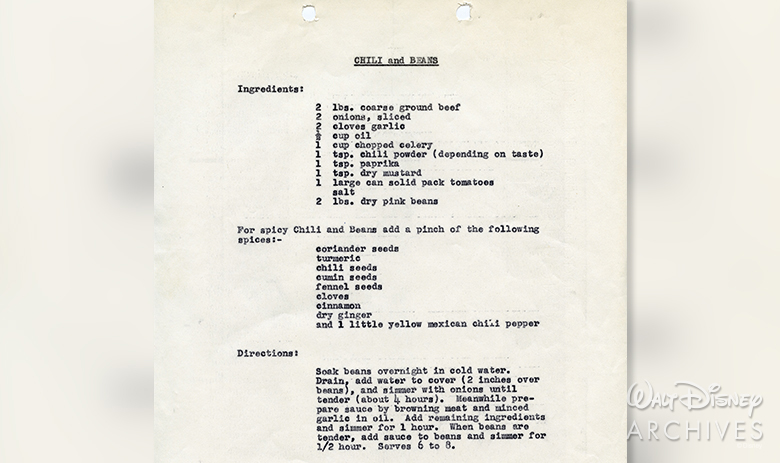 Today, chili still plays an important role in Disney company culture and heritage. It can be enjoyed by Guests at Disney Parks and Resorts around the world and by employees at the Disney studio Commissary in Burbank, where Walt's Famous Chili is on the menu daily!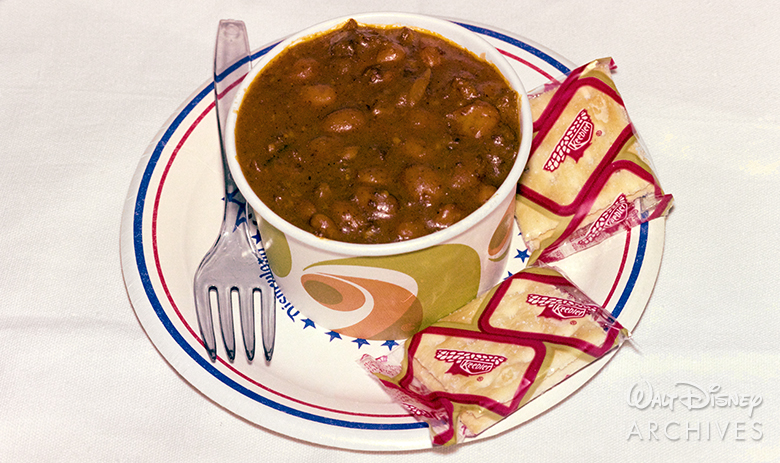 Next time you're planning dinner, why not try Walt's recipe? And if you don't feel like making chili from scratch, you can still "eat like Walt" by cracking open your favorite canned variety! No matter what chili you have, be sure to serve it with plenty of crackers. Walt was often guilty of eating chili at the studio Commissary, then forgetting crackers and crumbs in his pockets only to be discovered when his clothes were sent out for dry cleaning.
For more information on Walt's favorite foods and some favorites from around Disneyland Park, check out Eat Like Walt: The Wonderful World of Disney Food by Marcy Smothers. Marcy spent countless hours poring over the Walt Disney Archives' most delicious (and enlightening) collections to understand Walt, food, and its history at Disneyland Park. I recently had the opportunity to talk to Marcy about her book and time spent researching in the Archives. The most surprising thing she learned? "Walt often ate at home on a TV stand with his family," wrote Smothers. "I was really interested in where Walt ate when he wasn't eating at the Commissary or at a restaurant." She was pleasantly surprised to learn that Walt—ever the family man—could typically be found eating at home in front of the television. Smothers shares many endearing stories surrounding the Disney family dinnertime in her book, including this one looking at how meals were planned: "Lillian arranged with Walt's secretary to call and report what Walt had for lunch, 'because when he didn't like the dinner, he often used the excuse he had it for lunch.'"
After the success of Eat Like Walt, Smothers' next book project is called A Walk in the Park with Walt Disney. She describes it as "a guide to Disneyland told in Walt's words and those that worked alongside him."
We hope you've enjoyed this toast to Walt! Prepare your chili and beans, fill your pockets with crackers, and raise your scotch mist (Walt's drink of choice)! If you choose to try out the recipes above, be sure to share photos of your creations using the hashtags #waltdisneyarchives and #eatlikewalt!