By Courtney Potter
Disney and Pixar's Turning Red—Official Trailer and Music News
Growing up is a beast… Disney and Pixar's Turning Red introduces Mei Lee (voice of Rosalie Chiang), a confident, dorky 13-year-old torn between staying her mother's dutiful daughter and the chaos of adolescence. Her protective, if not slightly overbearing, mother Ming (voice of Sandra Oh), is never far from her daughter—an unfortunate reality for the teenager. And as if changes to her interests, relationships, and body weren't enough, whenever Mei gets too excited (which is practically ALWAYS), she "poofs" into a giant red panda! Check out the adorable just-released trailer, above.
Joining Chiang and Oh are Orion Lee as the voice of Mei's dad, Jin, and Wai Ching Ho as the voice of Grandma. Mei's tightknit group of friends are voiced by Ava Morse as Miriam, Maitreyi Ramakrishnan as Priya, and Hyein Park as Abby; Tristan Allerick Chen voices classmate Tyler, and Addie Chandler lends his voice to Mei's secret crush, Devon.
But wait, there's more: Turning Red will feature Pixar's first-ever "boy band," 4*Town—performing songs written especially for the animated feature by Grammy®-winning superstars Billie Eilish and FINNEAS. The group's harmonies will be provided by Jordan Fisher, Grayson Villanueva, Josh Levi, Topher Ngo, and Finneas O'Connell.
Look for Turning Red in U.S. theaters beginning March 11, 2022!
5 Fantastic Things to Watch This Weekend
Just as we're winding down from the excitement of Disney+ Day, the streaming service is debuting a few more supremely nifty things beginning this very weekend… chiefly, Adventures Thru The Walt Disney Archives, the new documentary from director John Gleim. What else can you expect from around the worlds of Disney? The kickoff of season two of Hulu's The Great; the 2021 American Music Awards on ABC; and much more.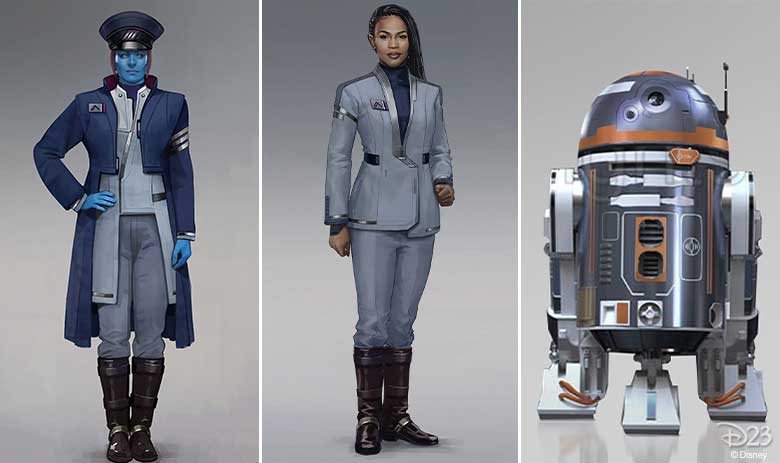 New Characters Joining Star Wars: Galactic Starcruiser
Lightspeed to excitement! Reservations are now open for Star Wars: Galactic Starcruiser, the first-of-its-kind, two-night immersive vacation experience in a galaxy far, far away. Debuting this March at Walt Disney World Resort, this Star Wars adventure will make guests the heroes of their own stories as they tour the galaxy aboard the amazing Halcyon starcruiser.
Throughout the voyage, guests will see, feel, and live Star Wars—which includes the possibility of meeting heroes of the Resistance like Rey and Chewbacca, or encountering the malevolent Kylo Ren of the First Order. But the starcruiser also brings with it a bunch of characters new to the Star Wars galaxy… ones created especially for this experience!
Among the new folks you'll meet are Captain Riyola Keevan, a charismatic and trustworthy leader who will guide your voyage aboard the Halcyon; Cruise Director Lenka Mok, a joyful soul (and the captain's right hand) who wants to make sure your trip is an adventure; SK-62O, an astromech droid who acts as Mok's assistant cruise director; Sammie the Mechanic, an enthusiastic new crew member who's eager to prove himself; D3-O9, a droid who runs the ship's logistics; and First Order Lt. Harman Croy, who's on special assignment aboard the Halcyon to root out and expose any Resistance fighters who are rumored to be aboard the ship.
Stay tuned for more Star Wars: Galactic Starcruiser news at we speed ever closer to its debut on March 1, 2022…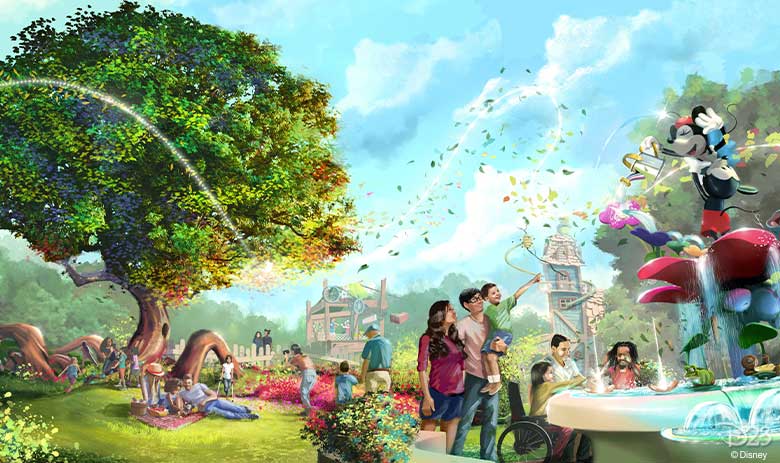 Mickey's Toontown at Disneyland Park to Be Reimagined in 2023
As announced earlier this week by Josh D'Amaro, Chairman of Disney Parks, Experiences and Products, an ambitious reimagining of Mickey's Toontown in Disneyland park will debut in early 2023, alongside the colorful new attraction Mickey & Minnie's Runaway Railway!
Building on the legacy of Mickey's Toontown, Imagineers are working hard to create all-new experiences so families and young kids can have more opportunities to play together inside Disneyland park. Mickey's Toontown will transform into a vibrant symphony of sights, sounds, and sensations; focusing on the families of today and their young children, Mickey's Toontown will soon feature all-new play experiences, as well as lush, open, grassy play spaces for everyone to unplug.
One of the new areas coming to Mickey's Toontown will be CenTOONial Park, the first space guests will see when they enter the land. This natural space will be anchored by two interactive experiences. At the center of CenTOONial Park will be a fountain, designed for lots of fun play, which will also become a central icon for Mickey's Toontown; as its base, water tables will offer fun and frolic to kids and kids at heart. And at night, the fountain will be brought to life in a unique spectacle. Meanwhile, a nearby dreaming tree will be inspired by the tree a young Walt Disney would daydream under in his hometown.
Look for more info on this fun-tastic Mickey's Toontown reimagining in the weeks and months ahead.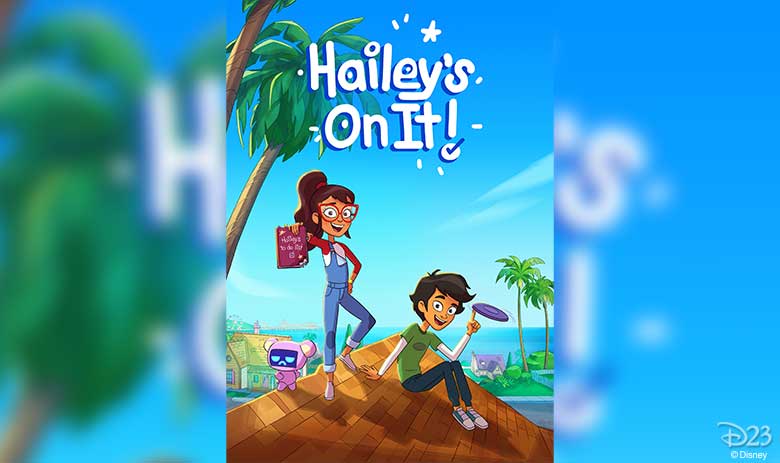 Hailey's On It! Coming Soon from Disney Branded Television
News for animation fans: Disney Branded Television has greenlit Hailey's On It!, an original animated comedy-adventure series created and executive produced by longtime writing and producing partners Devin Bunje and Nick Stanto. Auli'i Cravalho (Disney's Moana) voices the title character, Hailey; with Manny Jacinto (The Good Place) as Scott, Hailey's best friend; and Gary Anthony Williams (Star Wars Rebels) as Beta, an artificially intelligent operating system from the future.
Hailey's On It! follows Hailey Banks, a risk-averse but resourceful teenager on a mission to complete every item on her long list of challenging (and sometimes impractical) tasks in order to save the world. Hailey will be pushed outside her comfort zone to discover the greatness within as she systematically conquers her fears, whether she is winning a sand-building competition, wrestling a honey badger, eating a raw onion, or facing her ever-growing and complicated feelings toward her best friend, Scott.
Produced by Disney Television Animation, Hailey's On It! is slated to debut in 2023.
Hulu's How I Met Your Father Announces Premiere Date
The good folks over at Hulu just announced that their new original series, How I Met Your Father, will premiere on Tuesday, January 18, 2022. The cast helped Hulu break the big news in the fun clip, above.
Set in the near future, Sophie (Hilary Duff) tells her son the story of how she met his father: a story that catapults viewers back to the year 2021, where Sophie and her close-knit group of friends are in the midst of figuring out who they are, what they want out of life, and how to fall in love in the age of dating apps and limitless options.
In addition to Duff, the series stars Christopher Lowell, Francia Raisa, Tom Ainsley, Tien Tran, and Suraj Sharma; Kim Cattrall, Daniel Augustin, Ashley Reyes, and Josh Peck will have recurring roles.
ICYMI: A Joyous Encanto Journey for Kai Martinez
Kai Martinez began her Encanto journey as an assistant choreographer, working alongside Jamal Sims (2019's live-action Aladdin), then segued into an unexpected role—that of "animation consultant"—using her Colombian roots to help add lots of great authenticity to the animated feature. Hear from Martinez directly in D23.com's recent Q&A!