By Courtney Potter
Walt Disney Animations Studios' Encanto—following an extraordinary family and the magic their wondrous house in Colombia provides—is only weeks away, and the excitement is truly palpable. In the studios' milestone 60th animated feature, the Madrigal clan lives deep in the Colombian mountains in a wondrous, charmed place called an Encanto. The magic of the Encanto has blessed every child in the Madrigal family with a unique gift, from super strength to the power to heal… well, every child except 15-year-old Mirabel (voice of Brooklyn Nine-Nine's Stephanie Beatriz). But when she discovers that the magic surrounding their Encanto is in danger, Mirabel decides that she might just be her family's last hope. Featuring all-new songs by Tony® Award winner and Oscar® nominee Lin-Manuel Miranda, Encanto is directed by Jared Bush and Byron Howard, and co-directed by Charise Castro Smith.
D23 recently sat down for a delightful chat with a member of Encanto's incredible filmmaking team, animation reference consultant Kai Martinez. Read on for a peek inside her unique experience, and some favorite memories:
On how Martinez got involved with the making of Encanto in the first place:
"I've worked with Encanto's choreographer, Jamal Sims, in the past," explains the Los Angeles-based professional dancer (and choreographer in her own right). "When he joined this project, he wanted to make sure the movement was authentic. He knows I'm Colombian American, so he actually called me last year, around Thanksgiving. I just happened to be visiting my parents at the time—it was my first time traveling [since the beginning of the COVID-19 pandemic]—and I remember I was up in my room and I got the call, and I came down the stairs crying. My parents were like, 'What's happening?!' But it was just so special. I live in California, and they live in Georgia, so to be able to share that moment with my parents was everything."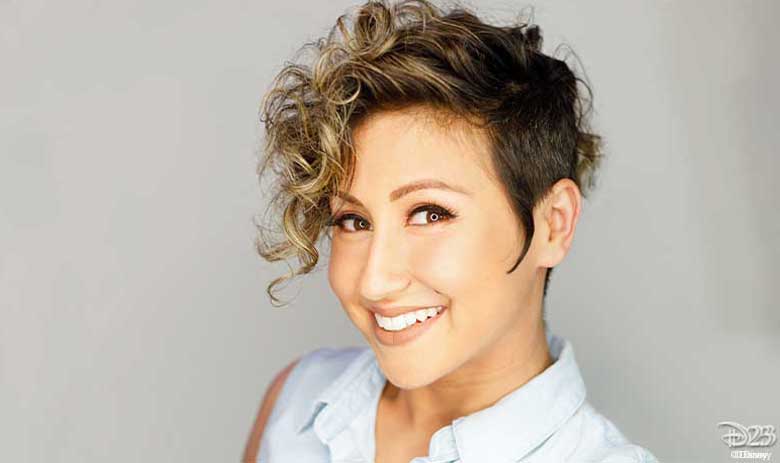 On what it was like helping Sims create the movement for animated characters:
As a newcomer to the world of animation, "The whole journey was very new and exciting," Martinez admits. "We were learning new things the whole way. First of all, working with storyboards and layout, in a digital world… but we were in a dance studio, which is just big open space, [so] we had to use our imaginations to recreate in our minds the different scenes in the film. It's very vibrant, very colorful, there's so much going on—it was so much fun for us. We're artists, we love to play and we love to create, so that was great. And then working with Lin-Manuel [Miranda]'s music—I mean, to hear his voice on the demos was so fun!"
On how her work on the film shifted into a different gear:
"It was a surprise!" remembers Martinez, chuckling. "I was brought in as an assistant choreographer and dancer, and during [the project]—I believe it was the first number we worked on, a song called 'We Don't Talk About Bruno'—Jamal asked me if I'd be interested in coming in as a consultant, because on top of being a dancer and choreographer, as I mentioned, I'm also Colombian. It just felt like the right fit, to help with the authenticity of the animation as well. So, of course I agreed! I was a little scared, just because I didn't know what I was getting myself into—but the animation team were so gracious in bringing me in and teaching me their ways and guiding me throughout the process. I never felt alone; I never felt like I was in the dark."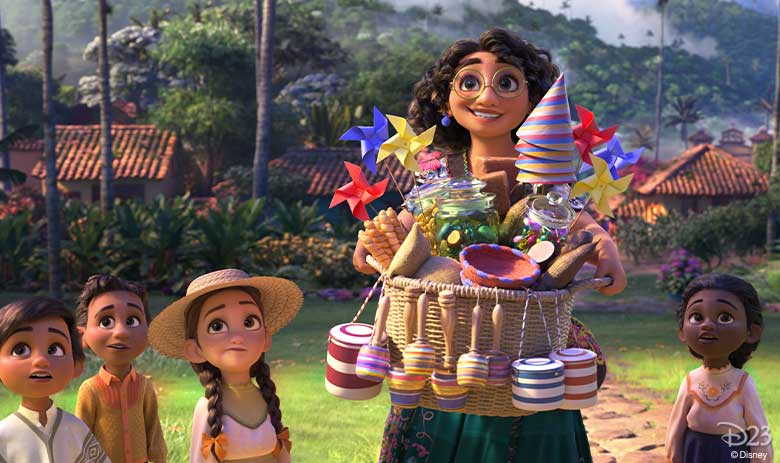 On the opportunity to learn from the filmmakers, and what it's meant to her own career:
"I had the honor of being able to sit in on meetings with Jared [Bush] and Byron [Howard] and Charise [Castro Smith]— the whole team—and I looked at it as a masterclass. We were on Zoom, so I kinda felt like I could 'hide' in there," she adds, laughing. "But you know, I learned so much about everything being intentional—the minute details of the expressions; how an eyebrow shift can change the whole expression of a character. I mean, I was already attentive to detail, but even more so now. Knowing how a tiny shift can really change your whole message."
On a favorite memory from the production process (although it's quite hard to choose!):
"When the dancers and I saw ourselves in these characters for the first time," Martinez admits. "It was in a rehearsal and we had no idea it was happening. And then [some of the animators] brought in a layout clip; we didn't know what a layout was [initially]… So it's not even the finished animation, but they were so excited about what they saw in our 'one-take' [choreography reference video] that they gave it a little extra love; to learn that now really warms my heart. But when we saw that, it was like, wow, we're real! We all started crying. It really spoke to the child in each one of us. And I remember one of the dancers said, 'I've always wanted to be a cartoon.' He's been a professional dancer for many years! And we knew that this was bigger than us at that moment. We knew that this was for the next generation of kids—that this was a film that would be bigger than us, and outlive all of us."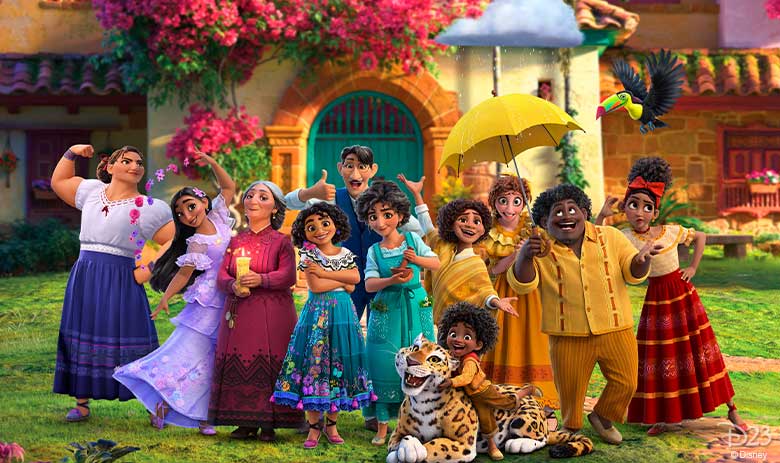 On what Martinez will ultimately take away from her experience with Encanto:
"It's such an honor," she states. "It was everything that I could have imagined it to be—and more. It really was. Everyone, top to bottom, was so nice and gracious. And my experience with Walt Disney Animation, and the whole Disney company, has been incredible… I'm really proud of the work that we all did on this film. It was a labor of love, and a truly collaborative effort. And the respect that was received and given, I will take with me forever. I know that anyone who watches this film is just going to feel the love from this [filmmaking] 'family'—because everyone sprinkled a piece of their own family into it. So I just can't wait for everyone to see it!"
Experience Walt Disney Animation Studios' Encanto when it debuts in U.S. theaters on Wednesday, November 24!