By Zach Johnson
This Friday, you're invited to attend the most anticipated social event of the season!
In Descendants: The Royal Wedding, an all-new animated special premiering after the Disney Channel Original Movie Spin, happily ever after is finally about to begin for Mal (voice of Dove Cameron) and King Ben (voice of Mitchell Hope)… or so they think. Taking a page out of Maleficent's playbook, Hades (voice of Cheyenne Jackson) shows up to their wedding, adding a dash of drama to his daughter's big day. "Listen, he likes attention," Jackson tells D23 with a smirk. "I think his intentions are always good, but he loves drama, and he loves pomp and circumstance, and he loves to keep people guessing."
Since fans last saw him onscreen in Descendants 3, Hades has "softened a little bit," adds Jackson. "But he still likes to maintain his edge. Hades is a drama queen. What can I say?"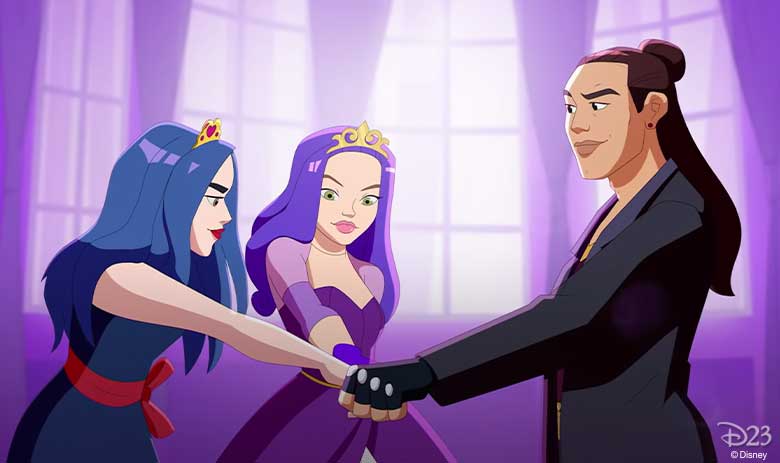 Thankfully, Mal can count on fellow VKs like Evie (voice of Sofia Carson) and Jay (Booboo Stewart) when the going gets tough. "Jay, he's trying to manage," says Stewart. "Dealing with weddings isn't his forte, but he's trying to keep everything in check as well as he can." Mal and Ben have overcome countless obstacles over the course of their relationship, so it's almost fitting—poetic, even—that their wedding doesn't go according to plan. Says Stewart, "I think it's going to be very satisfying for the fans to see it all to come together."
Also reprising their roles in the animated special are Sarah Jeffery as Audrey, Melanie Paxson as Fairy Godmother, China Anne McClain as Uma, Jedidiah Goodacre as Chad, Anna Cathcart as Dizzy, Dan Payne as Beast, and Bobby Moynihan as Dude the Dog. The absence of VK Carlos, played by the late Cameron Boyce, will be acknowledged in the storyline, and Boyce's memory will be honored in the telecast.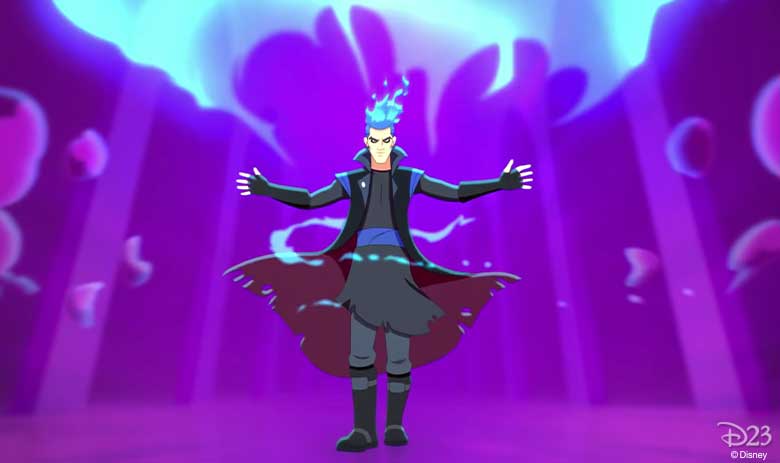 Although Stewart had seen a version of Jay animated in the short-form series Descendants: Wicked World, Descendants: The Royal Wedding marks the first time Jackson saw his character animated. "The fact that we were animated was kind of a surprise, because there was a different incarnation at one point where we were going to shoot it live-action, and then it went away," Jackson reveals. "Once it came back to animation, I thought, 'Oh! Great! There are different things you can do as an animated movie.' They sent me a couple of early renderings, and it's interesting to see what the artists pick up on when they're trying to capture you as a character. Mine was, like, all about eyebrows. I just thought it was fun. I showed my kids and they thought it was really, really cool, and it was fun for me." Stewart loves the hand-drawn aesthetic used in Descendants: The Royal Wedding. "The specific style is very classic, which I think is really cool," he says. "It reminds me of the original Disney classics. It's really nice that they would do that for us, and I think it speaks to what we've been able to do with Disney and to how we've represented these characters."
Descendants: The Royal Wedding features a new original song, which was one of the most exciting elements for Jackson. "As you know, in Descendants, music is such an integral part of everything. We remember all of the catchy songs, all of the great hooks, all of the great modulations, all of the great, great melodies. So, if you're only going to have one big song, it's got to be a good one. And this one is so good. Everybody gets a chance to shine, and it sticks in your head. It feels like an homage to all of the big Descendants songs, but it also feels new in a way. And it's surprisingly emotional. I had goosebumps on my goosebumps!"