By Zach Johnson
There were thrills and chills aplenty on Dancing with the Stars last night!
To bring "Horror Night" to life on ABC, the couples performed fang-tastic numbers inspired by hit horror films. Host Tyra Banks looked fa-boo-lous as ever in two couture costumes, and judges Len Goodman, Derek Hough, Carrie Ann Inaba, and Bruno Tonioli got into the spooky sartorial spirit! Of course, we were dying to interview the couples on "Horror Night," and they were happy to divulge every devilish detail with us after the show!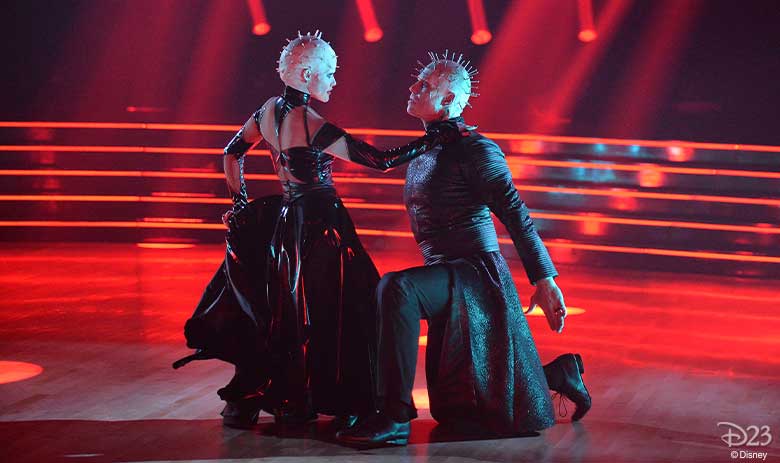 The Miz and pro Witney Carson kicked off the episode with a Paso Doble routine to RAIGN's "Wicked Games," inspired by Hellraiser. They earned 34/40 points, in addition to high praise for embodying the character of Pinhead. "I was the first one here," The Miz said. "It took five hours of makeup." Carson called the makeup artists "truly incredible," despite being scared of Pinhead. "It's my worst nightmare," Carson admitted, "but I'm glad I did it!"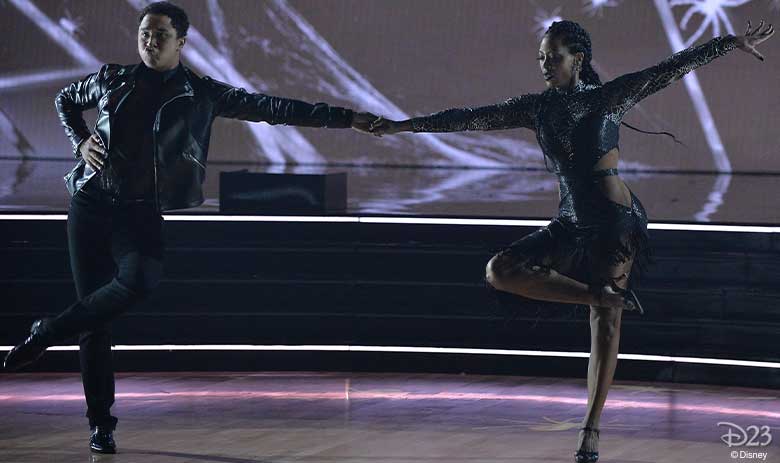 Next up were Kenya Moore and pro Brandon Armstrong, who earned 32/40 points for their Arachnophobia-inspired Argentine Tango. Tonioli called it "beautiful and deadly," telling Moore, "You can wrap me in your web anytime!" Unfortunately, the couple found themselves in the bottom two at the end of "Horror Night" and were ultimately eliminated.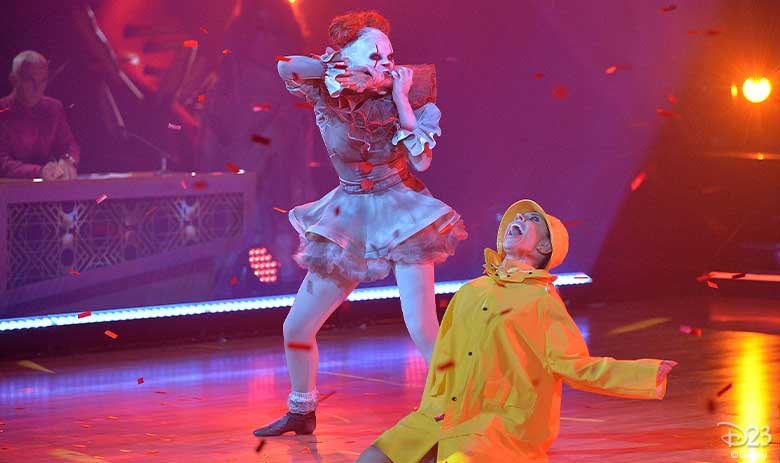 JoJo Siwa and pro Jenna Johnson performed third, dancing Jazz to "Anything Goes" by District 78 featuring Patrice Covington. Siwa's turn as Pennywise from the movie It prompted a "scared" Goodman to joke, "I'm so glad I've got on my rubber underpants!" For the second consecutive week, Siwa and Johnson earned a score of 40/40 points. "I don't think I've ever gotten two perfect scores in a row, so this is a moment I want to remember forever," Johnson said after the show. "It's pretty surreal. I'm so, so grateful and so happy." Siwa joked she was "literally on the moon right now," but added she's trying to remain focused on the task at hand. "These perfect scores obviously add pressure for us again next week because we want to get another perfect score," she said. "But I think that in both of our heads, we just want to do our best. With whatever style we have, we want to make it as amazing as possible. And if the scores line up to be four 10s again, then that's just a bonus."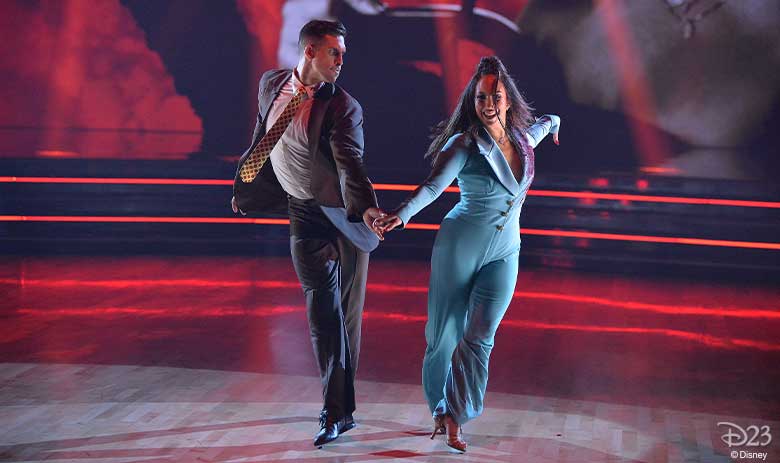 Cody Rigsby and pro Cheryl Burke earned their first nines of the season after dancing the Cha Cha to Kim Petras' "There Will Be Blood," inspired by the movie American Psycho. Hough called it their "best dance" yet—and the other judges agreed, giving them 36/40 points. "We've been working hard. We feel good," Rigsby said after the show. "The hard work is paying off. We took all of those notes from last week and we really applied them." With "Horror Night" behind him, he is excited for "Queen Night" on November 1. "As a queen, I am very much a Queen fan," he said. "I'm so excited to honor another queer man."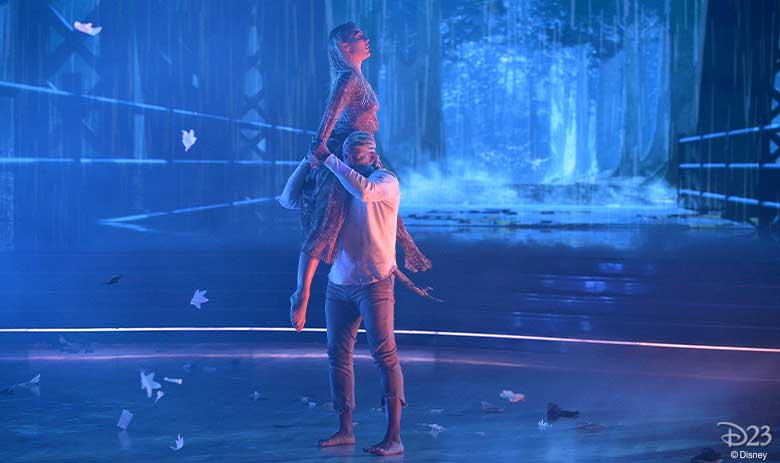 Following Rigsby and Burke's performance, Jimmie Allen and pro Emma Slater danced a Contemporary routine to Daniel Jang's "Say Something," inspired by the film A Quiet Place. Both Allen and Slater shed a few tears after their performance, which Tonioli said went beyond dancing: "You captured the essence of the movie, which actually is a love story." The powerful piece earned the couple their first 10s of the season and a score of 38/40 points. With each movement, Slater explained, "It was like time stood still. Your heart races and you can really feel every second of time in slow-mo." As for why he teared up at the end, Allen admitted he was thinking about his wife and three kids. "I'm a softie," he said. "All of my emotions come out, and I've cried on the show so much. Why not keep it going?"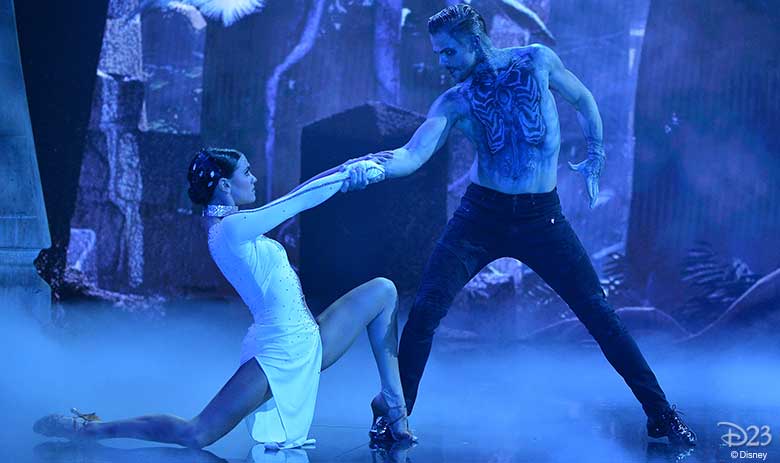 Following a "Tango of the Dead" performance from Hough and girlfriend Hayley Erbert—his first on the show since winning an Emmy® Award for choreographing and performing an elaborate routine in season 29—Olivia Jade and pro Val Chmerkovskiy danced the Paso Doble to "Beggin'" by Måneskin, inspired by The Purge. After landing in the bottom two last week, they were determined to wow the judges—and they did, earning 36/40 points!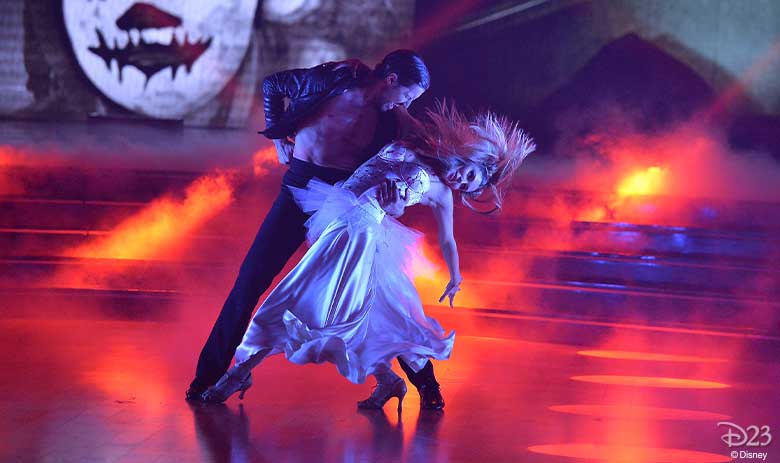 Receiving four nines made Chmerkovskiy so happy he had to sing about it! "It felt so great," he sang. "So, so great!" The feeling was mutual, with Jade telling D23, "Being in the bottom two is not very fun… I'm having the best time during this process, so I never want it to end." Jade added that her "main priority" is making Chmerkovskiy proud: "He deserves to be here… and we made it another week, which is really exciting. I just hope that it continues."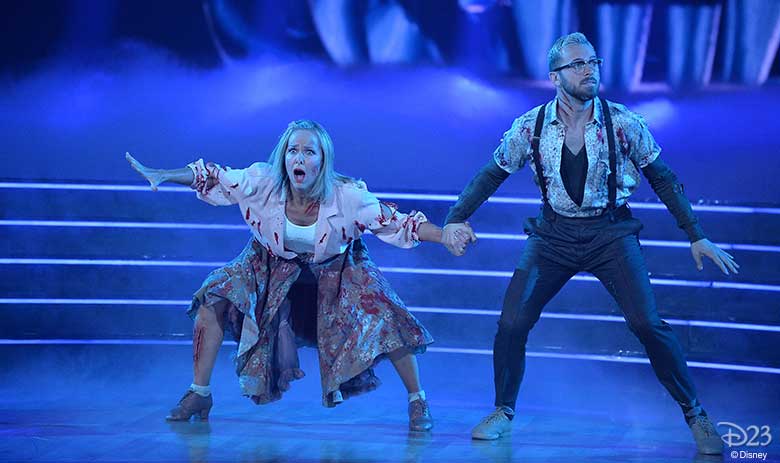 Melora Hardin and pro Artem Chigvintsev were the next couple to perform, doing a Jive routine to Elvis Presley's "Hound Dog." The number was inspired by the 1983 film Cujo, which starred Hardin's father. He cheered her on from the audience, along with her mom. "My parents are amazing," Hardin said after the show. "They are the reason I am who I am… I'm very grateful for everything they've given me." Hardin and Chigvintsev received 34/40 points from the judges, and plan to take their critiques to heart going into "Queen Night." Said Chigvintsev, "We're going to try our best to come back and be better and do better."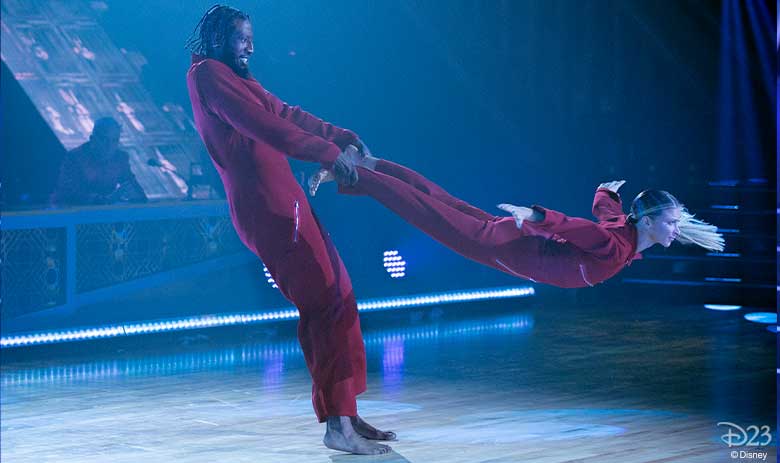 Next, Iman Shumpert and pro Daniella Karagach earned their first perfect score of the season for their Us-inspired Contemporary routine, set to the song "I Got 5 on It (Tethered Mix from Us)" by Luniz featuring Michael Marshall. Hough was so impressed by the couple's performance that he jumped out of his chair and onto the table in what Banks described as a "Tom Cruise moment." Hough told the couple, "That was something people will watch over and over and over again!' Shumpert was so proud of their results, in fact, that he carried one of the judges' 10 paddles into his interview! "I took one home with me," he said. "It felt good!" During their rehearsals, Karagach added, "I didn't even think about a perfect score, to be honest. I just wanted a good performance." According to Shumpert, "This was a fun week for us. The song, the movie inspiration—everything about it was fun. We could really get into character. That was exciting enough to take us through the week."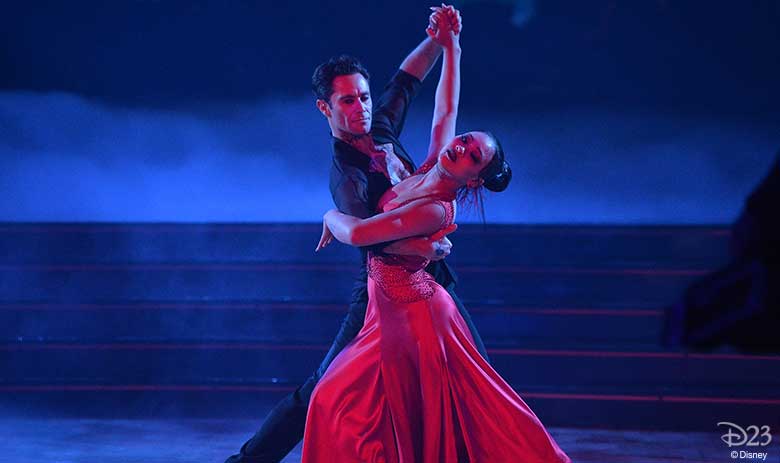 After Suni Lee and pro Sasha Farber danced the Tango to Ed Sheeran's "Bad Habits," inspired by The Vampire Diaries, she received a surprise video message from series star Nina Dobrev. "I love her!" Lee told D23 after the show. "She's my favorite person to ever watch on The Vampire Diaries. I've seen it so many times." It was a highlight for Lee and Farber, who—despite receiving a score of 36/40 points—found themselves in the bottom two. They were saved by Hough, Inaba, and Tonioli, with Goodman revealing he, too, would have saved them had it come down to a tie. "It was crazy," Lee said. "I definitely didn't expect to be in the bottom two, and I am very thankful that I am still in the competition."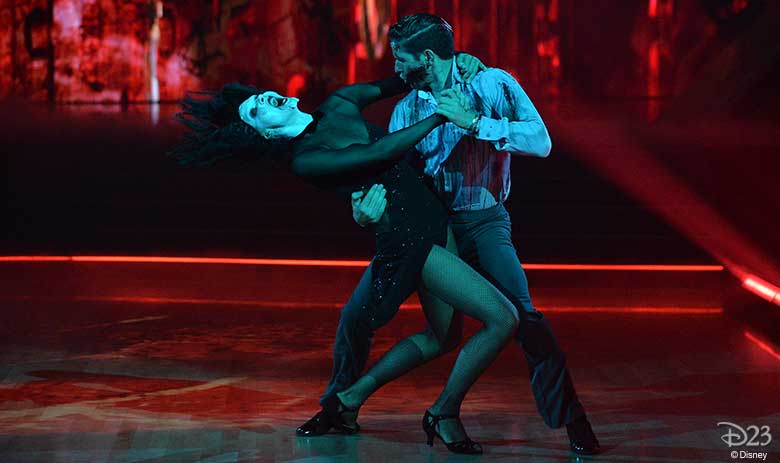 Closing out the night were Amanda Kloots and pro Alan Bersten, who danced the Argentine Tango to "Paint It, Black" by Ciara. The number was inspired by the movie Saw, with Kloots wearing facial prosthetics and heavy makeup to embody the character Jigsaw. "Oh, I'm not wearing any makeup. This is normal," Kloots joked with D23 after she and Bersten earned a score of 38/40 points. In truth, she said, "This was a bit of a process. I filmed The Talk in the morning and then I got here at around 12:30, so we started a lot later than everybody else. I sat right down in the chair, and three hours later, I looked like this. They finished touching me up after dress rehearsal. I was not expecting this full-on look; I thought it was just cheeks and chin, but they started putting a whole face on! I've never worn prosthetics like this, and I've never looked as creepy as this. So, it was good. It's cool!"
Dancing with the Stars returns with "Queen Night" next Monday at 8 p.m. on ABC.