By Jocelyn Buhlman and Zach Johnson
"Disney Night" is easily our favorite episode of Dancing with the Stars each season—so when we found out the Emmy® Award-winning series had planned a special two-night "Disney Week" event for its milestone 30th season, you can imagine how excited we were!
The magic began a few days before the show, when we exclusively announced the song choices and dance styles for both nights. So, when "Disney Heroes" night rolled around Monday, we knew we were in for something special—and not just because all 13 couples were required to add the Mickey Dance Challenge into their routine, no matter the style!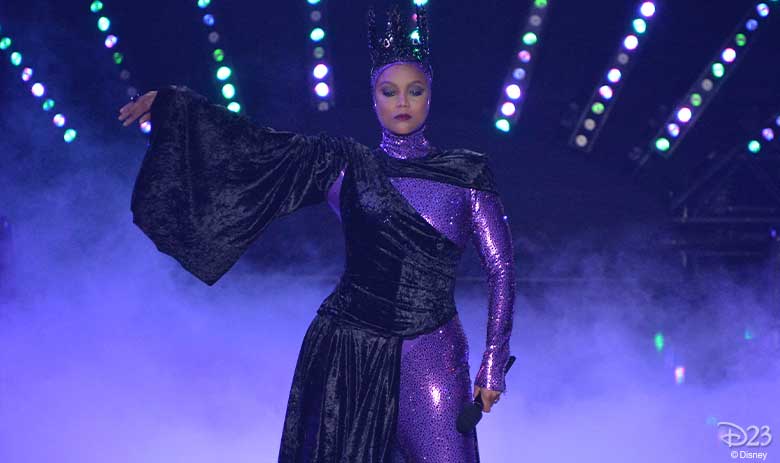 Host and executive producer Tyra Banks went all out, rocking two distinctly Disney-inspired costumes per night. The couples were just as spirited, recreating iconic looks from beloved films spanning decades of Disney magic, including Beauty and the Beast, Coco, Hocus Pocus, The Incredibles, and Mulan (to name just a few of our personal favorites). In an exciting twist, Banks announced at the end of Monday's show that no one would be eliminated—meaning all 13 couples would return to the ballroom for Tuesday's episode!
In another twist (a fittingly wicked one, if you ask us), Banks announced at the top of Tuesday's show that the episode would end in a double elimination. The news clearly lit a fire under everyone's feet, as many couples went on to earn their highest scores to date. Of course, it also helped that "Disney Week" provided additional inspiration for each couple. "Disney characters are so strong, so beautiful, and so ingrained in us that it gives you exactly what each character demands," judge Bruno Tonioli told us after Tuesday's show. "It gives an impetus to deliver a great performance, because we all love and adore Disney."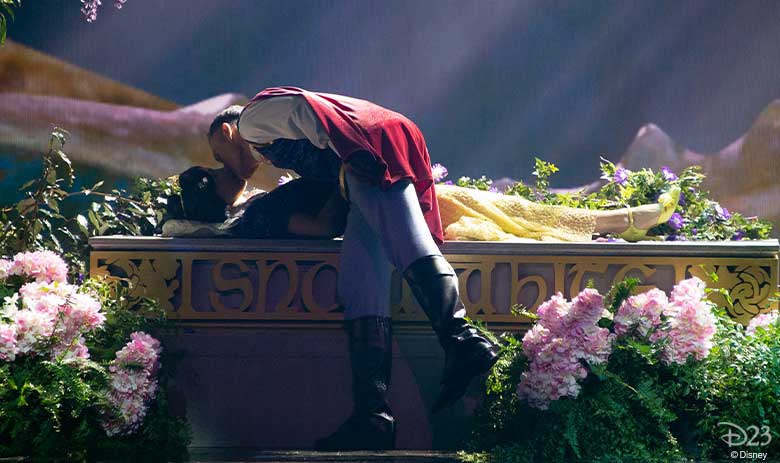 Sadly, after dancing the waltz to "Someday My Prince Will Come" from Snow White and the Seven Dwarfs on Monday and dancing the Paso Doble to "He's a Pirate" from Pirates of the Caribbean: The Curse of the Black Pearl on Tuesday, Brian Austin Green and pro Sharna Burgess were the first to be eliminated. That left two couples in jeopardy: Matt James and pro Lindsay Arnold, and Kenya Moore and pro Brandon Armstrong. Ultimately, with the judges split, head judge Len Goodman made the decision to save Moore and Armstrong before "Grease Night" airs Monday, October 18, at 8 p.m. ET/PT on ABC. "Over the five weeks, Kenya danced maybe a little bit better than Matt," Goodman reasoned. "And over the five weeks, she got a total of 33 points from me, while he got a total of 29."
Judge Derek Hough added, "It was dance quality versus performance quality. I think Matt definitely had the better performance quality, but then Kenya has been more consistent with her dancing. It really could have gone either way, which is why it came down to Len."
The magic of Disney was still in the air as we interviewed some of the couples who advanced to next week's episode. So, how did they feel about "Disney Week?" Read on!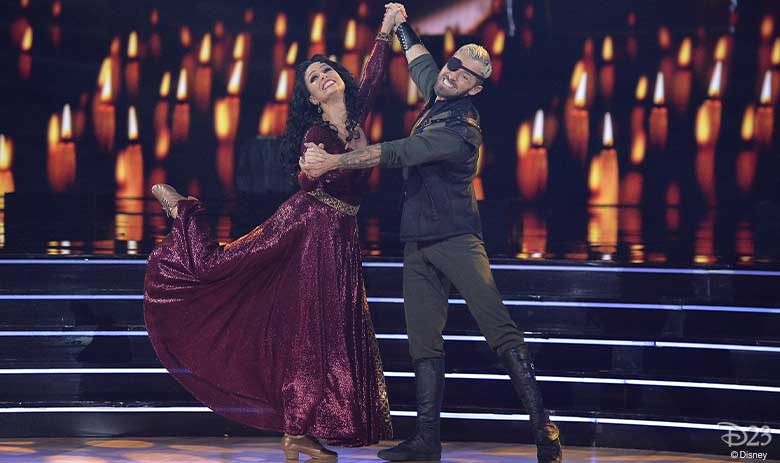 Melora Hardin and pro Artem Chigvintsev ("Disney Week" Score: 73/80)
After dancing a Quickstep to "I Wan'na Be Like You (2016)" from The Jungle Book for "Disney Heroes" night, Hardin and Chigvintsev danced Jazz to Tangled's "Mother Knows Best" with a twist—they were dancing to a version of the song that Hardin had sung herself! "That was actually a super fun part of it," Hardin said of the performance. While for others, having to dance to your own singing might be nerve-wracking, Hardin was delighted at the opportunity, describing it as, "The perfect amalgamation of the three talents that I have: the singing the acting, and the dancing!"
Hardin and Chigvintsev definitely cast their spell on the judges—judge Goodman said that the performance, "Had wit. It had charm. It was truly delightful," before awarding the couple the first 10 of the season! Thanks to that 10, Hardin and Chigvintsev took the lead for "Disney Week," having the highest combined scores of any couple. While they were excited to reach this score milestone, they know it sets a high bar for future performances. "Going forward, you need to do better, and improve and be better," Chigvintsev explained, "It's gonna be challenging transition."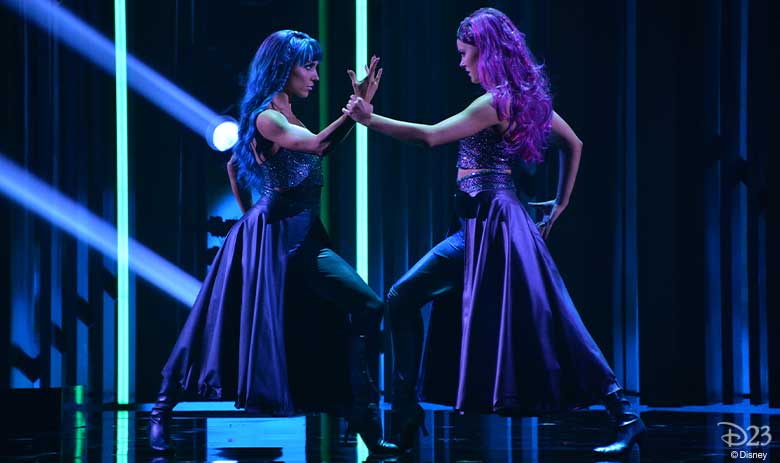 JoJo Siwa and pro Jenna Johnson ("Disney Week" Score: 70/80)
"Last night we had to be in love, and tonight we had to kill!" Siwa joked of her two "Disney Week" performances. The couple turned the dance floor into a fairy tale for "Disney Heroes" night, with an enchanting Viennese Waltz to "A Dream Is a Wish Your Heart Makes" from Cinderella, casting Johnson as Cinderella to Siwa's Prince Charming. Last night, the tables were turned, with the two dancing a fierce Paso Doble to "Ways to Be
Wicked" from Descendants 2. Judge Tonioli described them as, "My feuding beauties, equally strong, equally gifted," before saying, "It really was like watching two super villains battling for supremacy, and you both won. A Paso Doble like no other!"
Both "Disney Heroes" and "Disney Villains" night brought first times for the couple. Professional dancer Johnson said, "I finally got my princess moment!" during the Viennese Waltz, calling the moment "so epic!" While she was able to live a real-life Cinderella story, Siwa faced a different challenge for "Disney Villians" night. The pop star is well-known for her positive, bubbly personality—but for her Paso Doble, she had to channel her wicked side. "I love seeing this side of Jojo," Johnson said, "because I get to see her like bubbly, sweet self all the time. To see her with this intensity in her eyes—I was a little bit nervous, but I loved it!"
No matter if they were being heroic or villainous, the couple agreed that "Disney Week" has a special kind of magic: "I just think Disney is so timeless," Johnson explained, "All of the movies are perfect for somebody in any phase of their life. And I think that's where that magical feeling comes from, is that there's an emotional connection wherever you're at in your life."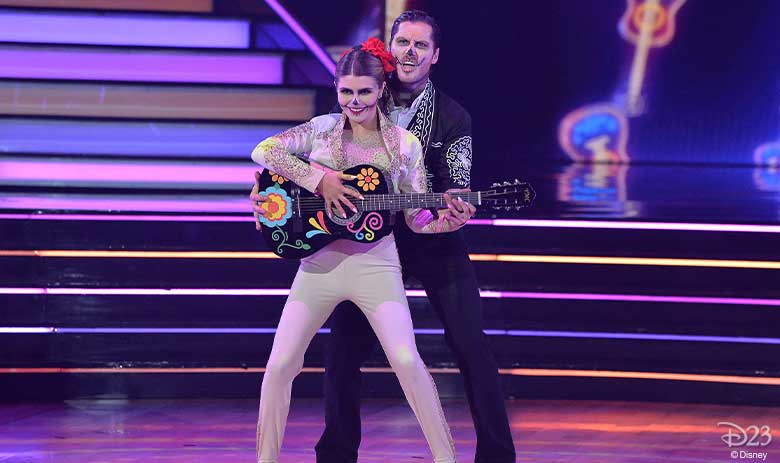 Olivia Jade and pro Val Chmerkovskiy ("Disney Week" Score: 70/80)
First up for the couple was a Samba routine to "I Just Can't Wait to Be King" from The Lion King, followed by a jazz routine to "Remember Me" from Coco. Hough told Jade she "is becoming one of my favorite performers on the show," while judge Carrie Ann Inaba said the "the chemistry and the trust" between Jade and Chmerkovskiy is "going to take you so far." Getting such positive feedback means the world to Jade. "If you work so hard on a performance and you really try your best every week, it's the most rewarding thing to hear any sort of compliment after," she told us. "But there's also something to be said for constructive criticism, because you want to take in everything. I don't want to get ahead of myself, because I know starting tomorrow, it's a brand-new week and a brand-new dance."
Still, Jade said she loved bringing The Lion King to life in the Dancing with the Stars ballroom. "I related to 'Disney Heroes' night more—not because I think I'm a hero by any means, but just because of the relationship. I think we got to embrace the Nala/Simba vibe. That's genuinely how I feel about Val. He is such a good mentor; he's the strong one, getting me through things. That was a highlight. But I also had a lot of fun being a villain."
Their strong showing in the competition thus far is only the beginning, Chmerkovskiy added. "We're on a mission every week," he said. "We want to do our best, and we want to prove ourselves in this competition. I want to prove myself as a dancer, as a coach, as a partner—and she wants to prove herself as a as a dancer, as a partner, and as a performer."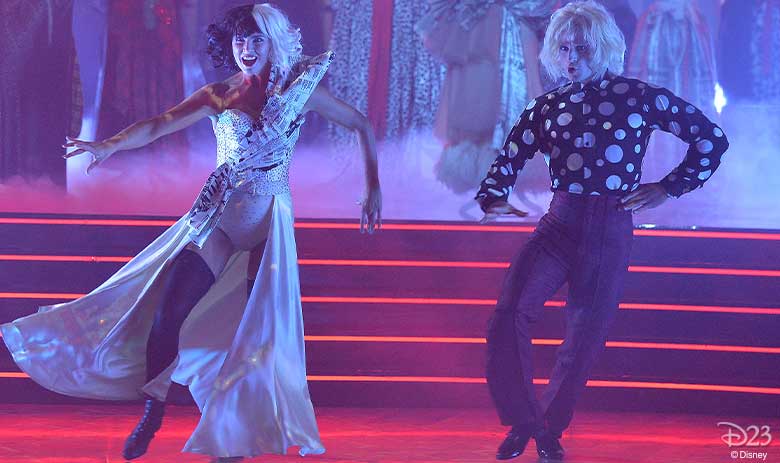 Amanda Kloots and pro Alan Bersten ("Disney Week" Score: 68/80)
Tonilio called Kloots an "effortless, easy, natural" performer after her Rumba routine to "You'll Be in My Heart" from Tarzan. She and Bersten closed out "Disney Villains" night with a devilish Paso Doble to "Call Me Cruella" from Cruella. "This may have been my favorite week so far," Kloots told us Tuesday night, with Bersten describing it as "magical."
Kloots said she identified more with embodying Cruella, "even though it's so not me!" In fact, she said, "I actually identified with her more after I watched the movie Cruella. I don't know what it was, but I just felt like I understood her. As I watched the movie, I was like, 'I cannot wait to play her and dance to this song.'" Bersten, meanwhile, said he "probably looked a little bit better as Tarzan. It was so much fun." However, he added with a laugh, "I'm not going to lie: my head hurts from the wigs. I cannot wait for this wig to come off!"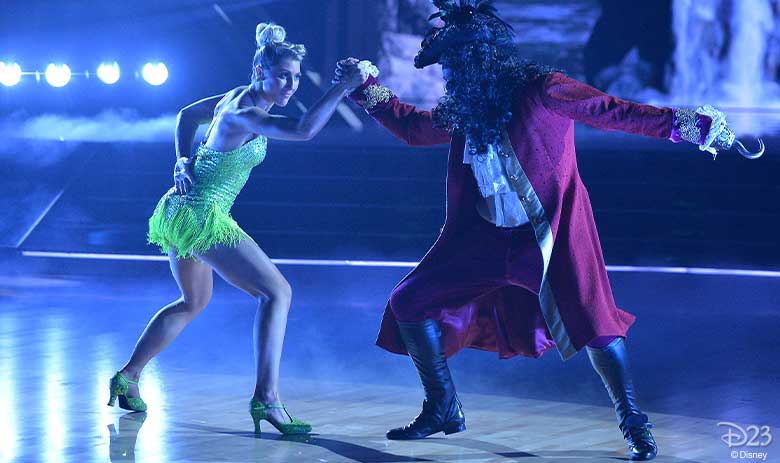 Jimmie Allen and pro Emma Slater ("Disney Week" Score: 67/80)
The couple earned a score of 30/40 on "Disney Heroes" night for their Paso Doble routine set to Mulan's "I'll Make a Man Out of You." At the end of the episode, they also received two bonus points for winning the Mickey Dance Challenge! "It paid off!" Slater said after the show. "Yay!" Inspired by Peter Pan, they opened "Disney Villains" night, performing a Jazz routine to Billie Eilish's "Bad Guy," with Allen dressed as Captain Hook and Slater dressed as Tinker Bell. They earned their first nines of the season from three of the judges.
"I was honestly so happy," Slater told us after the show. "There's a big sense of relief when you finish a performance and it was to the best of your ability. I often think that when Jimmie goes and performs during the actual show, it's the best he's ever performed it, and tonight was no exception with his performance. He really comes alive when it's time to go."
"I loved being Tinker Bell," Slater added, "and I loved him as Hook."
An admitted "Disney nerd," Allen said he related to Mulan and Captain Hook equally. "There's something I love about Mulan's confidence and courage, but there's something I love about Captain Hook's self-assurance," he explained. "He's OK with being who he is, and I think we can all learn something from that, even though he's a villainous character."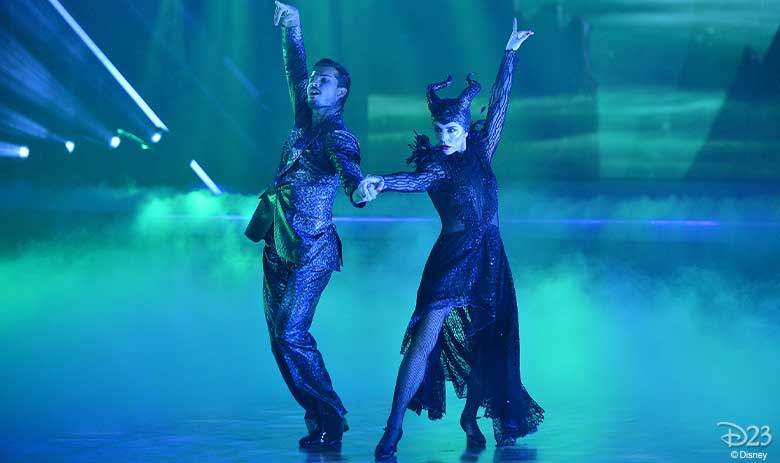 Melanie C. and pro Gleb Savchenko ("Disney Week" Score: 66/80)
"I think the combination of Dancing with the Stars and Disney is so great," Melanie C. told us Monday after nailing a Jazz routine to "Step in Time" from Mary Poppins. "It's great family entertainment, and there's so much variety between the dances and the characters."
The Spice Girls singer said she was excited for Savchenko to "bring the fire"—literally—when he dressed up a dragon for "Disney Villains" night. They danced the Viennese Waltz to "Once Upon a Dream" from Maleficent, with Melanie C. embodying the Mistress of Evil. Getting to play both Mary Poppins and Maleficent during "Disney Week" is a huge deal, she added: "I think I got possibly the best two female characters you could ask for, right?"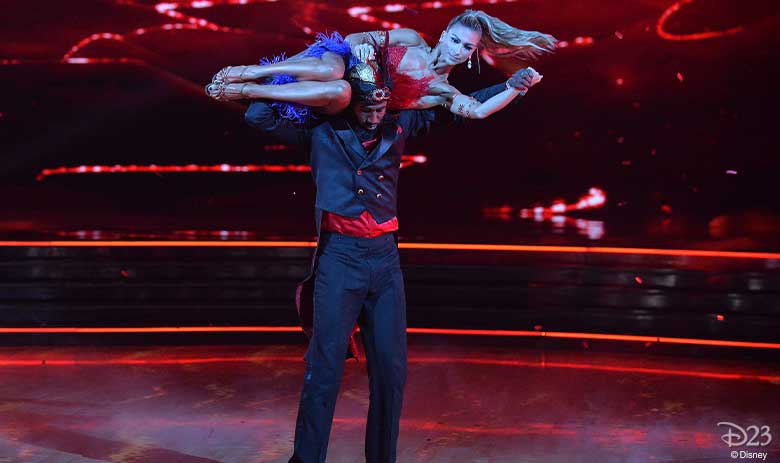 Iman Shumpert and pro Daniella Karagach ("Disney Week" Score: 63/80)
While their "Disney Heroes" dance was a cool the Foxtrot to "Let It Go" from Frozen, Shumpert and Karagach heated up the dance floor for "Disney Villains" night with an Argentine Tango to "Arabian Nights" from Aladdin that cast Shumpert as Jafar and Karagach as the parrot Iago. Karagach really channeled her inner avian—the performance featured several impressive lifts that left judge Hough "speechless," and was described by judge Tonioli as "a feat of magical strength!"
While the lifts looked effortless on the ballroom floor, it was thanks to the couple's hard work behind the scenes. "I knew it was gonna be tough," Shumpert said, "And was like, 'I don't care! If it looks good, we're doing it!'" The impressive moves paid off—the couple earned their highest score so far, getting a 33/40 from the judges.
The high score wasn't the only special part of the dance—the movie Aladdin holds a personal connection for Shumpert, who actually has a tattoo of the magic lamp. He describes the movie as, "my childhood," but jokes that in his childhood daydreams of the film, "I was never Jafar! So, this is the breath fresh air."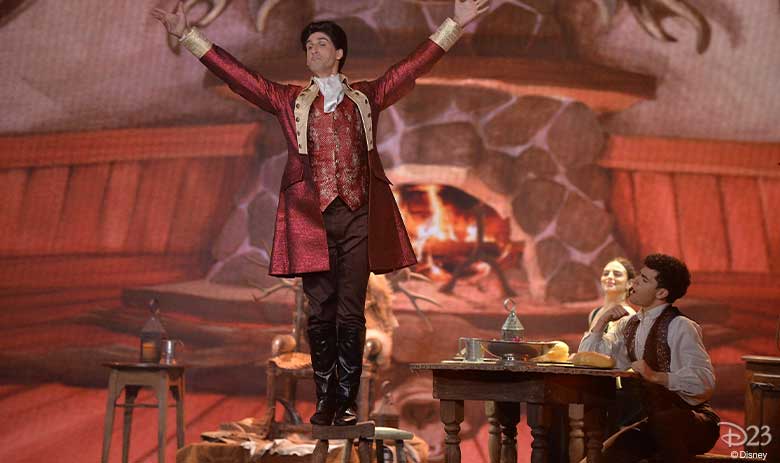 Cody Rigsby and pro Cheryl Burke ("Disney Week" Score: 58/80)
No one Viennese Waltzes like Gaston! Rigsby and Burke took a theatrical turn for their "Disney Villains" night dance with their performance of "Gaston" from Beauty and the Beast complete with backup dancers and props! "We didn't know that we were having backup dancers until about 2 p.m." explained Burke, but the couple was happy to have such an immersive scenario for their dance. "It really helps you kind of like feel the fantasy and feel the magic of Disney," Rigsby said.
As a lifelong Beauty and the Beast fan, Rigsby recalled how the film was the very first VHS he received: "I remember that I got in that big, plastic case that you like, pop open." His passion for the material was especially needed, given the unique challenge that the couple faced: They only had two days of in-person rehearsal, due to the couple having to quarantine away from each other during most of the rehearsal period. "Cody was determined to learn both dances as quick as possible, so that when we did see each other It wasn't like having to start over again," Burke explained.
Despite the challenges of video conference dance rehearsals, Rigsby gave a performance that judge Inaba described as, "bold, polished, and so animated." For Rigsby, transforming into Gaston was easy, thanks to the magic of "Disney Week": "You're just automatically transported to these songs you know and love, and that essence of being a kid."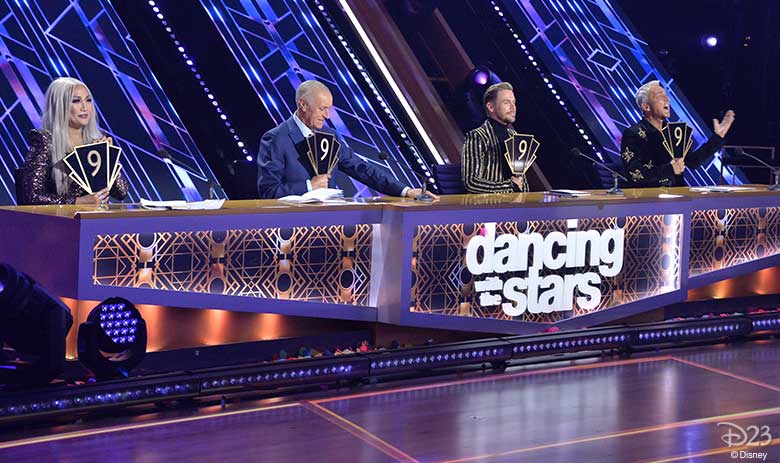 No matter how people react to the judges' critiques or the elimination results, Hough said they appreciate everyone's feedback. "It's good if there are honest complaints, because it means people care and people are invested, right?" he told us. "It's OK. In fact, we welcome that. With all the nines and the eights tonight, I was kind of looking around, like, 'Yo… do I give another nine?' But then something magical would happen; it's a feeling that you get, where you're just like, 'Oh, that was a moment. That was a really special moment.'"
Inaba added, "As judges, we must trust our own senses. We all judge from slightly different perspectives. We all have different backgrounds. We all have different areas of expertise. We're looking for different things. That's what gives them the challenge, right? So, it's up to them; otherwise, this would be easy. It's not easy, to be honest. But we respect and love all of them and we never want to see anybody go home because we want them to do well."