By Zach Johnson
Dancing with the Stars' "Disney Week" is off to a shimmering start!
Monday's episode was inspired by "Disney Heroes," with the 13 couples performing choreographed routines to songs from hit films such as Aladdin, Frozen, The Lion King, Moana, and Tarzan. Melora Hardin and pro Artem Chigvintsev earned the top score, earning 36/40 points from judges Len Goodman, Derek Hough, Carrie Ann Inaba, and Bruno Tonioli for their Quickstep to "I Wan'na Be Like You (2016)" from The Jungle Book.
In a magical twist, host and executive producer Tyra Banks announced at the end of the episode that no couples would be eliminated—meaning everyone will return to the ballroom tonight at 8 p.m. ET/PT on ABC to perform "Disney Villains"-inspired numbers!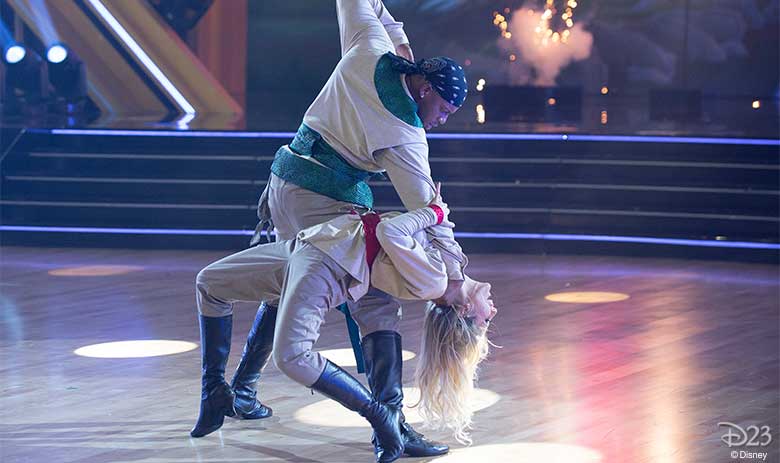 After Monday's show, we chatted with two of the 13 couples—Jimmie Allen and pro Emma Slater and Melanie C. and pro Gleb Savchenko—to get an exclusive peek inside the magic of "Disney Week." Allen said that all along, he'd been anticipating this special two-night event. "If I'm being honest, I'm a Disney nerd. My love for Disney is what got me through," Allen admitted. "I'm exhausted from dancing and touring; my body is tired. But it's Disney!"
Allen isn't just any "Disney nerd," as he also confessed to visiting Walt Disney World Resort 82 times in nine years! "My first time ever going was 2012, because we couldn't afford it when I was younger," he said. "I actually picked up two extra jobs and saved money for a year and a half so I could take my mom and two sisters. We went there for a week and hit all the parks. Ever since, I go every Christmas, every Thanksgiving, every Flower & Garden Festival, every Food & Wine Festival, every Easter, every New Year's Eve."
The country artist channeled his passion for Disney into his performance of "I'll Make a Man Out of You" from Mulan on "Disney Heroes" night, earning him and Slater a score of 30/40. "He gets nervous before each dance, and I can feel it," Slater explained. "But then when he gets onto the floor, he turns into this performer. He's a natural. For instance, Jimmie picked this song himself. He sang it the entire dance—absolutely everywhere! I think it really helped him commit more to the movement, so it was a really good choice."
To their surprise, Allen and Slater received two bonus points from the judges for their inventive take on the "Mickey Mouse Challenge"—a set of moves each couple had to incorporate into their routine, no matter the dance style. "It was quite tricky, being a Paso Doble," explained Slater. Inspired by Mulan's action sequences, she decided to slow it down. Luckily, Slater said, Allen "absolutely nailed it. He defined each of the movements."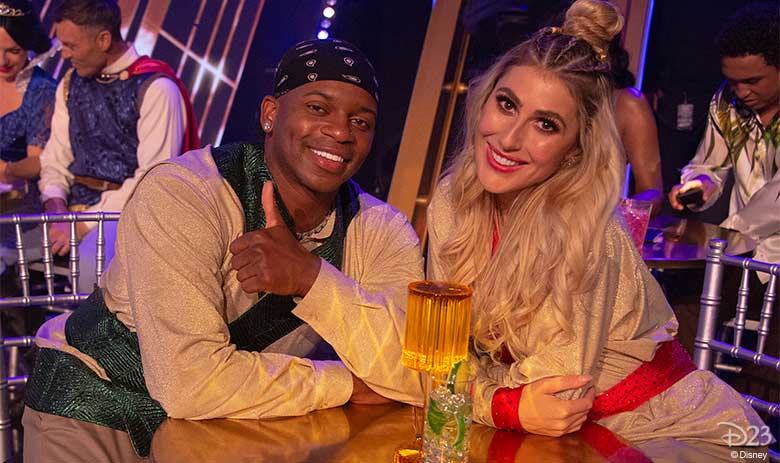 Allen and Slater will open "Disney Villains" night by dancing Jazz to "Bad Guy" by Billie Eilish, inspired by Peter Pan. "I dance with a hook on the whole time," Allen said. "The whole time!" It's a design detail worthy of "some publicity," Slater joked. "He dances with a hook on his left hand—and we do three lifts! I did at one point ask the producers, 'Does he need to dance with it the whole time?' They said, 'Yes, we would love to have that happen.' We said 'no problem'—even though I was secretly like, 'This is going to be a problem!' We strategically placed the hook in certain places so that it won't get caught on my dress or my hair. But believe me, he is dancing! This isn't like a slow Jazz; he is dancing his tush off!"
Initially, Slater had planned to dress up as Smee, but when cameras roll Tuesday night, she'll be in costume as none other than Tinker Bell. "I really wanted a bounce board for him to be a villain against," she said of Allen, who will dress up as Captain Hook. "We turned the whole dance into sort of like a fight challenge/showdown/dance-off situation."
Allen said he will be channeling the "confidence" of Captain Hook on "Disney Villains" night. "Even though he loses time and time again, his self-belief is like no other," he said with a laugh. "Captain Hook is delusional. He has this confidence and borderline arrogance to him, so that's the attitude I'm going to take into the dance. And even though he always loses, his delivery in every moment makes you think there's a chance he could pull this off."
Speaking of pulling things off, Melanie C. and Savchenko were riding high after their Jazz performance of "Step in Time" from Mary Poppins earned them a score of 31/40 on "Disney Heroes" night—their best score yet. Goodman called it "enchanting" and compared it to Disneyland itself, while Hough paid them the ultimate compliment, saying Disney Legend Dick Van Dyke would have "loved it." As Melanie C. told us after the show, "We'd both been watching 'Step in Time' from the movie, and I'm just in awe of Dick Van Dyke and the choreo and the characterization of it all. That was high praise, indeed! We had so much fun with this dance. It was hard: we had props, it was super quick, and it was super physical. But when we saw the set and we got into the costumes, and then after we got to watch it back, we were like, 'Wow!' We felt like we were on Broadway. It was a really special night for us."
Because "Disney Week" is a rare two-night event—part of Dancing with the Stars' milestone 30th season—that means each couple had to learn two dances in one week. No easy task! "I always start by asking myself: 'What can Melanie do?'" Savchenko said. "She's very athletic, so I thought, 'OK, we should do a cartwheel. But can she do a one-handed cartwheel?' It's nice to show different sides of what she can do, from a Tango to a Foxtrot to a Cha Cha." Audiences will get to see a different—and wickeder—side of Melanie C. on "Disney Villains" night, when she and Savchenko dance the Viennese Waltz to "Once Upon a Dream" from Maleficent. "What's so exciting about our choice of Hero and Villain is that they are worlds apart," Melanie C. explained. "All the fun and energy and uplifting of tonight, I really want to show the opposite of that tomorrow—the darkness and the moodiness and the drama. I'm equally excited about tomorrow, but in a very different way."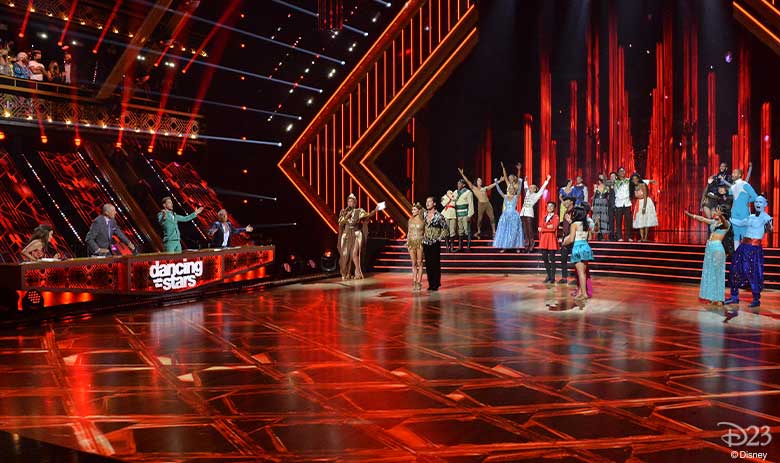 Savchenko described their "Once Upon a Dream" routine as "dark, powerful, and sexy." To choreograph and teach two dances in three days is "really hard," he added, "but I'm excited to play two different characters and get into that zone." He will play a dragon, while Melanie C. will dress up as Maleficent. "I think I got possibly the best two female characters you could ask for, right?" she said. "I'm really happy, and the song is beautiful. I've told my makeup artist I want to look like Angelina Jolie… she said she'll do her best!"
Melanie C. will no doubt do her best, just as she's done week after week. Although relocating to the U.S. to film Dancing with the Stars has been hard at times, she said, "I really wouldn't change it for the world. I love the show. I'm such a big fan of the show here in the U.S. and the U.K. And also, I love being in America. America has been great to me and the Spice Girls; we always had so much fun working here. To be back is really special."
Dancing with the Stars' "Disney Villains" episode airs tonight at 8 p.m. ET/PT on ABC.