By Courtney Potter
One of the most memorable elements of Disney•Pixar's 2004 animated hit The Incredibles (besides its hilarious characters and action-packed adventure!) was its "mid-century modern" aesthetic; from the cars and the clothing to the architecture of the Parrs' hometown of Municiberg, it was a look that—combined with distinct nods to the future—was truly unique. And with Incredibles 2, that attention to detail continues with… well, incredible results!
Case in point: the unparalleled styling of the Incredibles 2 characters. Whether it was Helen Parr/Elastigirl (voice of Holly Hunter), genius inventor Evelyn Deavor (voice of Catherine Keener), fashion icon Edna Mode (voice of Brad Bird), or a background "actor" walking the Municiberg streets, the artists at Disney•Pixar paid special attention to every person you see on screen. D23 was lucky enough to hear from several of these amazing artists—character & costume designer Deanna Marsigliese; shading art director & costume designer Bryn Imagire; and character tailoring lead Fran Kalal—during a recent visit to Pixar Animation Studios in Emeryville, California, about what went into making special clothing for a very special project.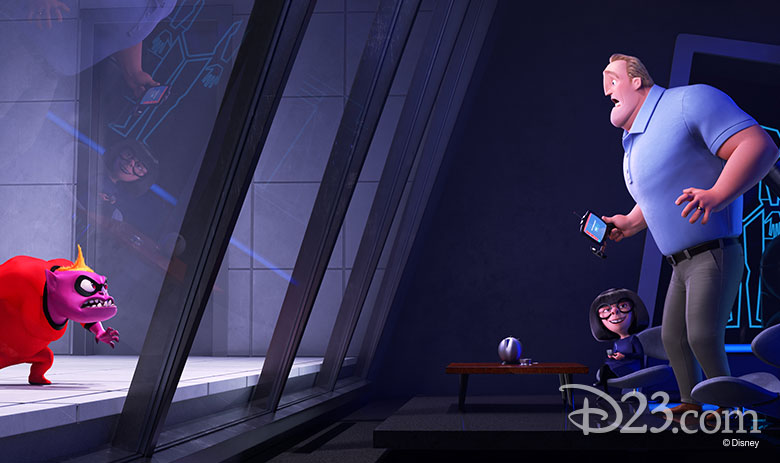 On creating a fashion line for Edna Mode…
One of Marsigliese's first assignments was creating an entire line of clothing "designed" by fan-favorite Edna Mode—a line that (as it doesn't appear in the final film) became a study in her inimitable character. As Marsigliese explains, "I looked back to the original Incredibles artwork, and got a sense of Edna's personal style—her iconic dress and also the interior [of her house]. And one thing that was very clear, and she states in that first film, is that she likes to be bold and dramatic. But knowing this would only get me so far… What was another known quality that I could pull from? That Edna is a 'woman of the now,' she doesn't look back—and her 'now' is a very mid-century world… But I also knew she would have the guts to really reinvent it. So I started to research designers like Schiaparelli, [who] in the 1950s was completely ahead of her time; she used a lot of surrealist elements, a lot of fun surprises, and that was very inspiring for me."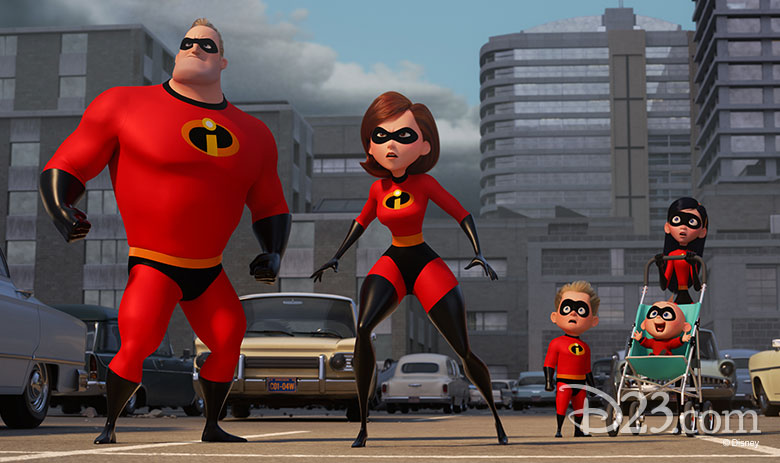 On updating the look for characters created 14 years ago…
"The original Super suits were 'shaded' as fabric onto the bodies of the characters," says Imagire. "With the new suits, Fran [Kalal] and her team actually made these garments from patterns, so they can have a fabric texture and they don't stretch around as much… With Helen/Elastigirl, for instance, she's helping to bring back Supers. For this movie, it felt like Mary Tyler Moore, Marilyn Monroe, and Audrey Hepburn were great examples because they feel strong, career-minded, and fabulous at the same time… We looked at vintage wet suits, and because she has to be a running around in the dark—and be a little bit more 'conspicuous' in this film—we made the colors darker… For Violet, because she's rebellious, I felt like the 1950s shape wasn't really her style—so we went more towards cut-off jeans and sneakers and sweaters that seemed more in her character."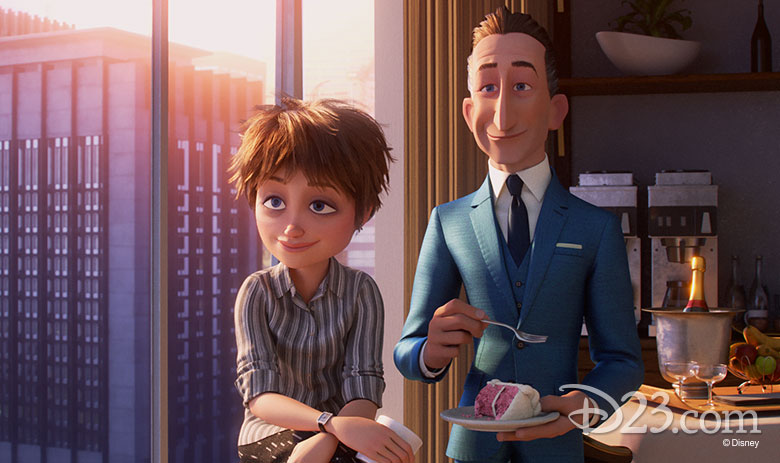 On the notions behind Evelyn Deavor's looks…
Continues Imagire, "For inspiration for Evelyn, [director] Brad Bird asked me to look at [singers] Patti Smith, Laurie Anderson, Annie Lennox, and [actress] Diane Keaton. He wanted Evelyn to feel bohemian. She's a designer [herself]—she works a lot, so she couldn't be hindered by her clothes. I also looked at the 1960s British Vogue fashion spread of [model] Jean Shrimpton, because I felt like it was an iconic time where fashion was changing from the '50s to the '60s."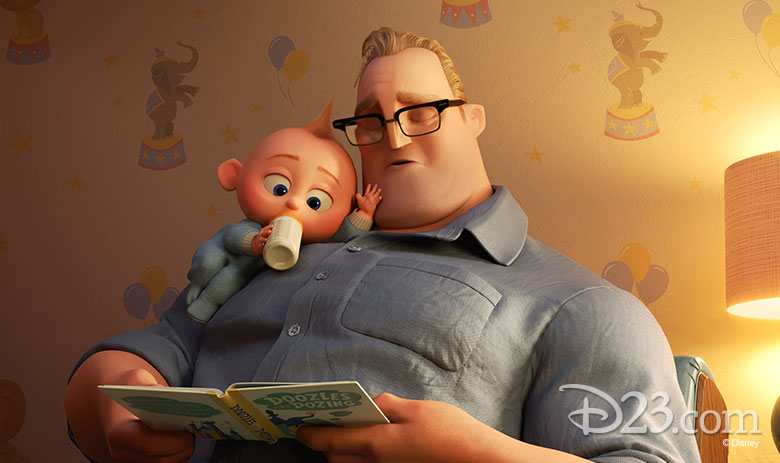 On why "practical" isn't necessarily boring…
"[Being practical] is full of really cool challenges," admits Marsigliese. "And it's really centered around being clever and efficient. This is especially true when we talk about background characters. Why? Because there are hundreds of men, women, and children, and they all have to be dressed… The tone is very 'mid-century modern'-inspired—with departures. We do add modern twists, but this was the platform… I really wanted to look at what made 1950s day-to-day wear iconic. So I studied a lot of 'home sew' patterns, and I used them to better understand the aspects of mid-century day wear… Perfectly tailored fit was the most defining quality I found… So what we wanted to do is find a look that's iconic and stylish but simple—that falls back, and doesn't detract from the principal action on the screen."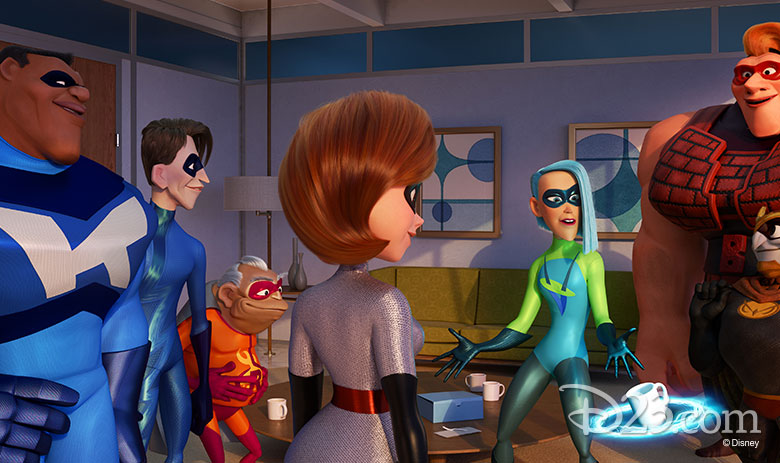 On how character tailoring brings it all together…
"I lead a team of people who take what we know about fashion and art to construct the outfits on the computer," says Kalal, "and what we know about math and science to make those outfits move correctly. So we take the designs from our amazing character artists and costume designers and then we realize them… For the background males, we made 12 unique garments and refit them to six different body types, [which created] 72 uniquely costumed characters… [And for the] females, they had 20 unique garments with seven body types with colored hair variations, creating another 64 uniquely costumed characters! With the detailed research and feedback from Deanna and Bryn, we were able to achieve that true authenticity in a mid-century look."
See the colorful costumes of Incredibles 2 in action in a cineplex near you!