By Courtney Potter
Ready to get incredible? In advance of Incredibles 2's June 15 release, D23 heard some memorable behind-the-scenes tidbits from filmmakers and cast.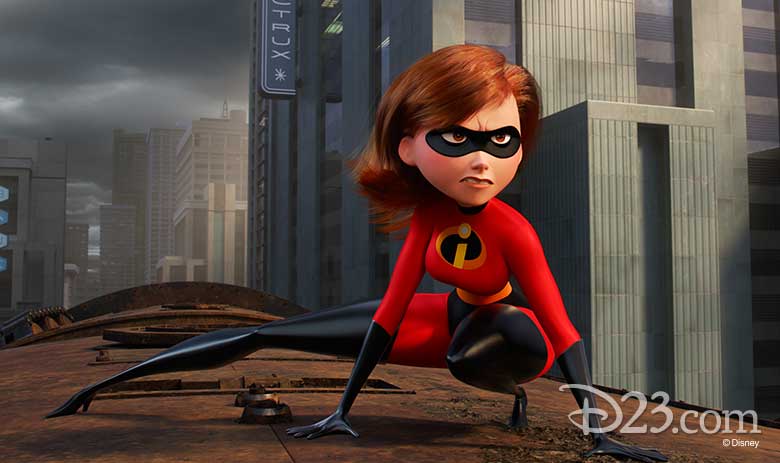 In Disney•Pixar's Incredibles 2, Helen Parr (voice of Holly Hunter), otherwise known as Elastigirl, is called upon to help bring Supers back, while husband Bob (voice of Craig T. Nelson)—aka Mr. Incredible— navigates the day-to-day heroics of "normal" life at home. But when a brilliant new villain hatches a dangerous plot that only the Incredibles can overcome, they've gotta do it… together! Just a few days ago, D23 made our own return trip to Municiberg—actually, it was the film's press conference in Los Angeles, California—to hear some behind-the-scenes tidbits from the filmmakers and stars themselves!
Director Brad Bird and producers John Walker and Nicole Grindle gathered members of the film's voice cast—including Nelson, Hunter, Samuel L. Jackson (Lucius Best/Frozone), Sarah Vowell (Violet), Sophia Bush (Voyd), Bob Odenkirk (Winston Deavor), and Catherine Keener (Evelyn Deavor)—to share stories from the making of the film and why it's so, well, incredible.
Here are five of the most irresistible moments: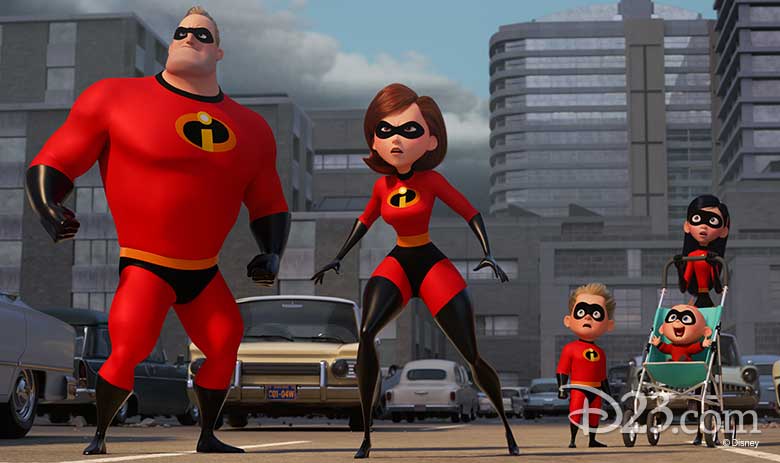 Director Brad Bird on why they set Incredibles 2 immediately after the events of 2004's The Incredibles…
"I just thought it was kind of bold and weird," explains Bird. "Because I think people take the time that passes very literally. And they think that linearly, the characters should have aged. But if they age, their superpowers don't reflect the part of life that they're in and their role in the family… I realized that what excited me about the idea [of The Incredibles] in the first place was not the Supers. It was that it was about the family dynamic, and people's roles in different parts of their lives. And Supers—[that] genre is like a twist of lemon that you squeeze on top. It's not what the movie is about… Families are a continent of fresh opportunities, because they're so universal."
Craig T. Nelson on finding out Bob Parr's "mission" in the film …
"I found out that I'm going to be helping save the family, and Bob is going to learn how to be a better dad and he's going to learn about these kids," Nelson says. "And then the process started when we were recording. It was just so much fun. The stuff I did with Violet and Jack-Jack and that whole discovery. And then Dash. And then having to deal with Elastigirl out there doing what I want to do, and being able to give her the encouragement, let her know that everything is OK. It was just a lot of fun. I'm so honored to be a part of it."
Holly Hunter on working with Brad Bird, and character discoveries…
"[Brad] is the screenplay," says Hunter. "He was my walking encyclopedia. He was my instruction manual. It was a while before I truly realized what I was really going to get to do in the movie. And I was really thrilled. But it was like a retroactive thrill, because [it was] over a period of months before I started gleefully singing during our recording sessions about how great my part was. But to me, it was just really fun. And I don't think that this is a message movie in any way… [the current climate] happens to be serendipitously reflected in this particular movie [with Elastigirl's journey]. But at the same time, it's character revelation—period. Everybody is having revelations, including Jack-Jack. All the characters are revelations to the audience and to themselves. So I'm no exception, as Elastigirl."
Sarah Vowell telling Holly Hunter about her favorite scene in Incredibles 2…
"I like that one scene with [Helen and Bob], early on in the film, where you go outside to talk because you're both out of a job," Vowell explains. "And it happens to everyone. Your house just got like blown up by a super villain. And you're like, 'Where are we going to live? What are we going to do for money?' And there is shared love there. But also just that shared worry that is a really grown-up, affecting, beautiful scene between the two of you."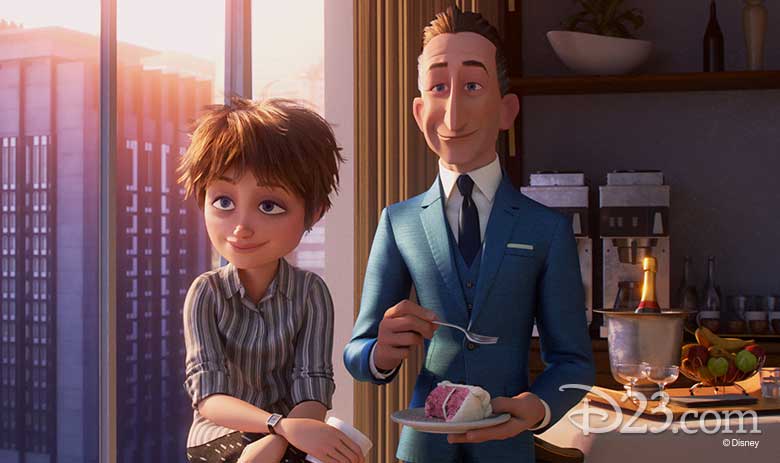 Bob Odenkirk on seeing Incredibles 2 for the first time…
"I loved it," Odenkirk admits. "I've been knocked out by the visuals in this film. And I'd only seen little moments from it in the course of recording. So to see it in big beautiful color on the giant screen, I knew it was going to be amazing—and it is beyond all expectations. I feel like somehow there's new technology that [the filmmakers] aren't telling us about! Because it's got such richness and depth that was a great treat… I'm amazed at Brad's talent as a writer and director and orchestrator of story. There's like five movies in this movie—and they all work together to throw each other into relief and make each other better."
Don't miss Disney•Pixar's Incredibles 2, in U.S. theaters June 15!