By Courtney Potter
Director Brad Bird and producers John Walker and Nicole Grindle offer up some super-exciting tidbits about Disney•Pixar's highly anticipated sequel.
You'll want to gather the family and get those super suits out of storage for this summer's most anticipated animated adventure… Over a decade after bursting onto the scene with the coolest powers and lots of heart in 2004's The Incredibles, the Parr clan—and their pals, fellow super Frozone and über-stylist Edna Mode—are back in Incredibles 2, leaping into U.S. theaters on June 15. This time 'round, it's Helen (voice of Holly Hunter) who's called on to lead a campaign to bring Supers back to the fore, while Bob (voice of Craig T. Nelson) navigates the day-to-day heroics of "normal" life at home with Violet (voice of Sarah Vowell), Dash (voice of Huck Milner), and baby Jack-Jack—the adorable kidlet whose super powers are just about to be discovered! The mission is derailed, however, when a new villain emerges with a brilliant and dangerous plot that threatens just about everything. Joining our favorite Supers are Samuel L. Jackson as Lucius Best/Frozone; Brad Bird as Edna; Bob Odenkirk as millionaire businessman (and super Super fan) Winston Deavor; Catherine Keener as Winston's genius sister Evelyn Deavor; Jonathan Banks as Rick Dicker; Sophia Bush as Voyd, a "wannabe" Super; and Isabella Rossellini as an influential ambassador who wants to advocate for Supers around the globe.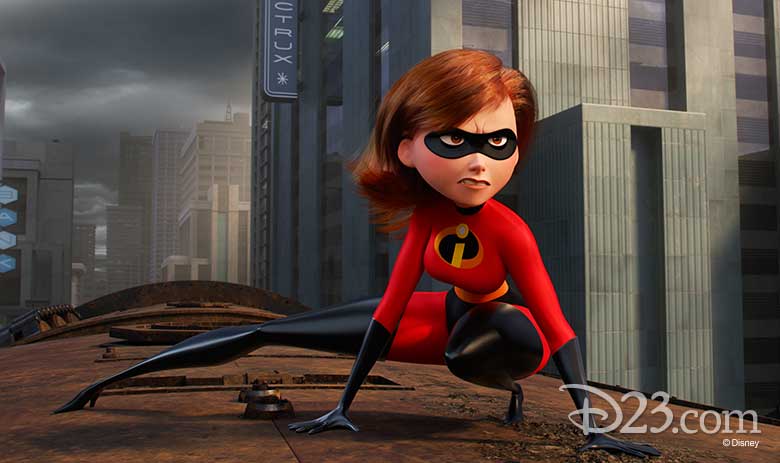 Recently, D23 was lucky enough to visit Pixar Animation Studios in Emeryville, CA, and hear from Incredibles 2 director (and the hilarious voice of Edna) Brad Bird, who helmed the original 2004 hit—as well as producers John Walker and Nicole Grindle—about the film… how it developed; what audiences can expect; some interesting trivia tidbits; and what makes the whole Incredibles world so very super.
D23: Why did you decide to set Incredibles 2 just moments after the finale of the 2004 film?
Brad Bird: "When I was first starting to work on the project, long before Pixar or anything like that—it was even before The Iron Giant [Bird's 1999 animated film]—I went to a comic book shop and thought, 'I've got to think up new powers.' After about a half an hour, I realized every power has been done by somebody, somewhere. Even if it's only 100 self-published issues in Ohio. Right after that, I had a little epiphany: I realized I'm not very interested in the powers. That's not the part that interests me. What interests me is the idea of having a family, and having there being a reason to hide the powers. And once I had that insight into what I wanted to do, I picked the powers based on who they were in the family. I played with traditional archetypes: Men are expected to be strong, so I had Bob have super strength. Mothers are pulled in a million different directions, so I had Helen be elastic. Teenagers are insecure and defensive, so I had Violet have force fields and invisibility. Ten-year-olds are energy balls that can't be stopped. And babies are unknown… So that idea changes if you age the characters up—and the insight into those periods of your life and those particular perspectives disappears once you age them up."
D23: This film had a slightly condensed production schedule—can you speak about that process?
Bird: "Shifting [premiere dates] has happened a number of times at Pixar. The Incredibles was supposed to be after Cars. [But] our reels came together a little earlier than Cars did, so we moved up. The same situation happened here. That was a challenge for us, but the studio is three times bigger than it was during The Incredibles. So we could actually, theoretically, get the movie made—and that is what came to pass."
Nicole Grindle: "Having worked here on a number of films, I can tell you when there's that kind of schedule intensity, people really rise to the occasion, and I sometimes think they do even better work."
D23: Were there any challenges, story-wise?
Bird: "It's distracting to think about pleasing an audience that has no real definition; it's old, it's young, it's east, west, north, south… The better way to think about it is, I'm going into a darkened movie theater, the curtains are opening—what do I want to see? If you ask that question of yourself, you're always connecting with the person that wants to be told a story. I feel comfortable answering that question. You want the characters to feel consistent. You want the world to feel consistent. But you don't want to be able to know what's going to happen next. So that's the challenge—and it's not an easy challenge to meet. It definitely is your job if you're making films."
John Walker: "Yeah—and the fact that we took 14 years to do it suggests that we took the challenge seriously!"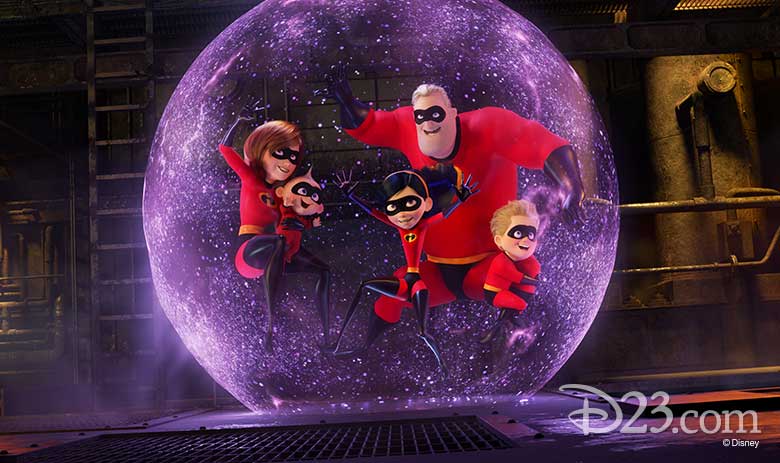 D23: What was it like reuniting with the voice cast? And what about some of the new additions?
Bird: "There's no weak link… When I was an animator, I really hoped that I would have a good soundtrack to animate to because what takes an actor five seconds to say may take an animator three weeks to animate. And they have to listen to that dialogue over and over and over… So, I try to collect the kind of soundtracks that I would want if I were an animator, and all of our actors delivered!
"We're always trying to juice it up. I love our voice cast and I loved returning to working with Holly and Craig and Sarah; and we have a new Dash, Huck Milner, who is amazing—every bit as good as the first Dash… Of the new actors, Bob Odenkirk and Catherine Keener and Sophia Bush just kick it out through the roof."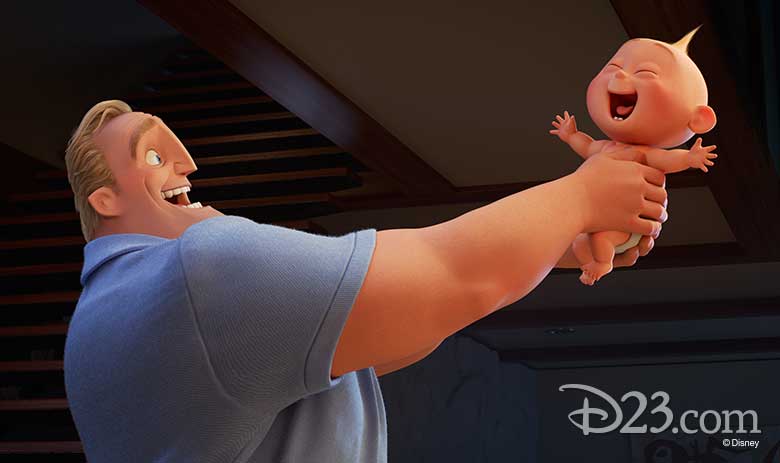 D23: Can you talk a bit about baby Jack-Jack, and his newfound Super-ness?
Bird: "We try to treat this very unrealistic world—try to pepper in realism in terms of what people think, how they react to having powers. Jack-Jack is presented as a baby, so what interests him is what interests a baby. He never understands what's going on, and can't anticipate the villain's move or whatever. It's more like 'That's shiny! I like that! This makes me angry! I want to go there!' It's those kinds of emotions—and then you build the super powers around that. So he's still a baby, even though he has these powers that he only has limited control over."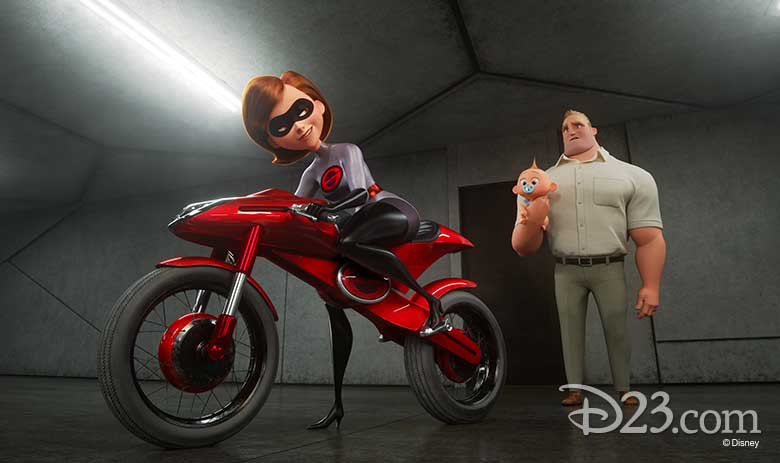 D23: Are there thoughts you hope audiences come away with, after seeing the film?
Bird: "It explores a lot of ideas. The most important mission of the first movie was to entertain the heck out of people, and the second thing was, 'Oh, we have some other things we'd like to comment on—some of them are the roles of men and women, fathers and mothers; how teenagers view the world; what mid-life crisis [might look like]'… We have things [in Incredibles 2] that again explore the roles of men and women, the importance of fathers participating, the importance of allowing women to also express themselves through work … That parenting is a heroic act… It's more like, you create something that hopefully is fun and entertaining and then put little ideas here and there that add dimension to it."
Don't miss the further adventures of the Parr family and all their super pals when Incredibles 2 premieres at a cineplex near you this summer!