By Courtney Potter
Over the years, Disney•Pixar has created charming animated shorts to usher in their features. Several have gone on to win the Academy Award® for Best Short Film (Animated), including Geri's Game, For the Birds, and Piper—and all of them have delighted audiences the world over. Thankfully, Disney•Pixar's latest, Bao, is no exception to that joyful legacy—it's a heartwarming, humorous, and (dare we say) mouth-watering slice-of-life look at a devoted mother and her pride-and-joy… who just happens to be a dumpling!
Directed by Domee Shi, a story artist at Pixar Animation Studios, Bao follows an aging Chinese mom who—after suffering from a major case of "empty nest syndrome"—gets another chance at motherhood when one of her dumplings ("bao" in Chinese) springs to life as a lively, giggly dumpling boy. Mom excitedly welcomes this new bundle of joy into her life, but Dumpling starts growing up fast… and Mom must come to the bittersweet revelation that nothing stays cute and small forever. It's a look at the ups and downs of a parent-child relationship told through the vibrant, tasty lens of Domee's childhood in the Chinese immigrant community of Toronto, Canada. And it'll invite audiences for a taste ahead of Disney•Pixar's Incredibles 2, beginning June 15.
"When you watch Bao, we hope that you will feel like you do when you're at your mom's house—feeling cozy and safe and loved."—Rona Liu
D23 was lucky enough to hear from Shi—as well as Bao producer Becky Neiman-Cobb and production designer Rona Liu—during a recent trip to Pixar's Emeryville, California, headquarters. Read on for some inside scoop on what makes Bao so deliciously distinctive!
On Shi's novel childhood, and how it helped her "cook up" Bao…
"We were a small immigrant family from China, living in Toronto, and my dad worked away from home a lot," explains Shi. "So I spent a lot of my childhood and teen-hood with my mom. We did everything together—we ate together; we commuted to work and school together; we even vacationed together… and when I started to grow up, it was hard for her to let go. In fact, she'd often hold me close and say, 'Oh, I wish I could put you back in my stomach, so I knew exactly where you were at all times!' And that love of a mom who learns to let go of her little 'dumpling' was the spark that became the heart of the short. But I wasn't just inspired by my relationship with my mom. I was inspired by her. She's a dumpling queen—growing up, she'd always make dumplings for me from scratch. And as with a lot of parents out there, food was how my mom showed her love for me… I made sure to involve her as much as possible in the research for Bao. I'd bring her in to do dumpling-making demos for the whole crew. And she still hasn't seen the final short yet, but she's very happy about the 'Cultural Consultant' credit!"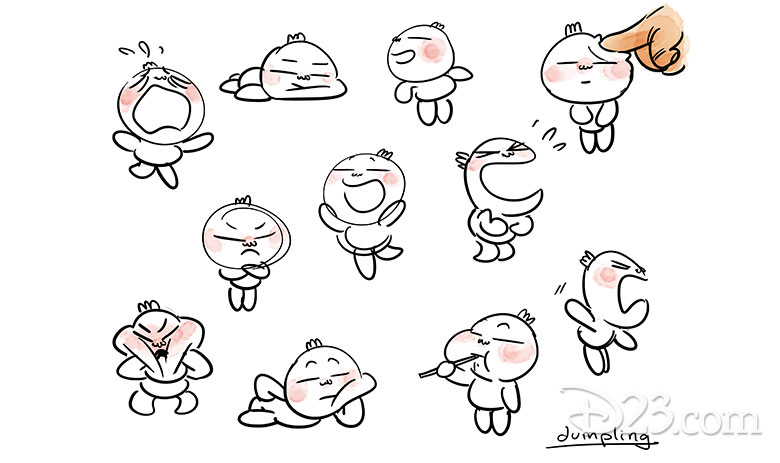 On the timetable of bringing Bao to the screen…
"It was January of 2014, and I had been working as a story artist for about two years on Inside Out," Shi says. "Pixar was my first gig out of school and I was having a blast. But at the same time I was feeling that itch to really make something of my own. Something that was me… I was working late in my office one night and I decided then and there that I was going to make an animated short, on my own, outside of Pixar." And choosing a subject was easy: "At the time, my No. 1 obsession in life outside of animation was food… I felt like it was a universal pleasure that everyone can relate to." Eventually, though, it became clear that Pixar might just be the right place to shape her new dream: "I initially pitched the story to Pete Docter, the director of Inside Out, just to get his feedback on it. But his response was so positive that it encouraged me to pitch Bao, with two other ideas, to the studio itself. And through Pete's support and feedback, Bao got green-lit in 2015 as the next Pixar theatrical short."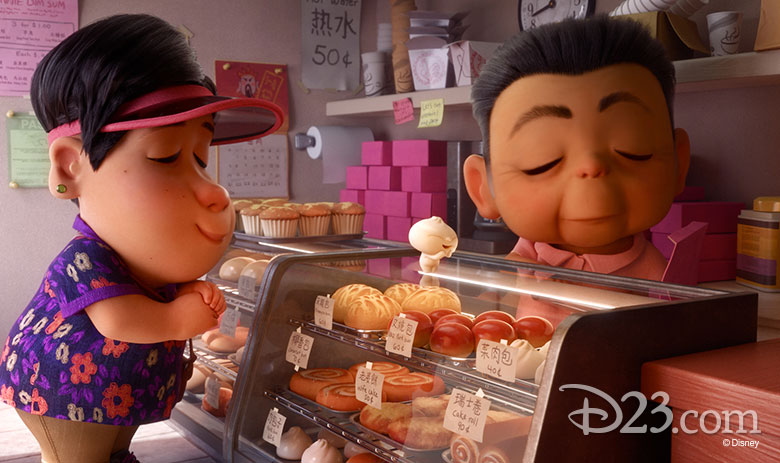 On the short's unique visual style…
"I was heavily influenced by Japanese animation," admits Shi, "[including] the visual style of [the Japanese animated feature] My Neighbors the Yamadas… I love how squishy the characters looked and how 'pushed' their expressions are." Adds Liu, "We knew that this film had to look and feel very, very cute. And that's because growing up, [Domee and I] were also both influenced by Chinese folk art. The characters in Chinese folk art are often very simple and very graphic… [The artists] tended to remove things like the neck and the joints to make the characters feel rounder and cuter. That kind of simplified approach is actually deep-rooted in Asian art… making a film in CG, we knew we can't do exactly that, but we still wanted to borrow that kind of philosophy and keep the focus on the characters as much as possible."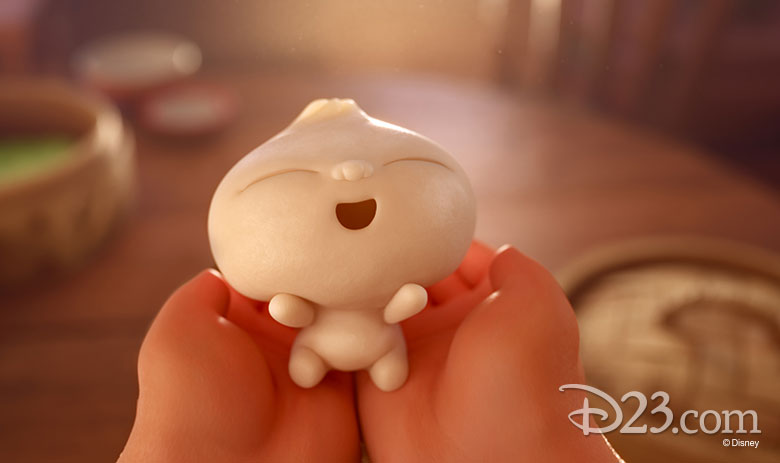 On producer Neiman-Cobb's role, and her very special addition to the short's development…
"The producer oversees the crew, budget, staffing—all to ensure that the director's vision is met on screen," Neiman-Cobb explains. "For the shorts, we're often strategizing how to staff and schedule a crew to work within the windows of the feature productions going on at the studio. I also worked closely with Domee, attending all director reviews. I love that I get to be a sounding board for her as we move through the pipeline. I also had a very personal connection to this short: During the production of Bao, I had my own baby 'bao'—and instantly, my understanding of our main character, Mom, grew immensely. I became the resident expert on all things baby. Baby sounds, baby giggles, baby cheeks. I had the real thing at home to cross-check our work!"
On what the team hopes audiences take home…
Admits Shi, "We want the short to be fun to watch for [audiences], but also an accurate portrayal of a Chinese mom's life. And I think the Bao crew did an amazing job of both." "We represent a crew of people that helped bring this story to life," continues Neiman-Cobb. "We learned how to make dumplings together. We ate dumplings together. We did tai chi together. Everything we did was in service of the story." And ultimately, says Liu, "When you watch Bao, we hope that you will feel like you do when you're at your mom's house—feeling cozy and safe and loved."
Don't miss Disney•Pixar's Bao, premiering ahead of Incredibles 2 in U.S. theaters beginning June 15!