By Charles Price
Trader Sam's Halloween Tiki Mugs have grown in popularity every Halloween Season at the Disneyland Resort and Walt Disney World Resort since the first "Mahaloween" in 2014. Creating these fun and detailed tiki mugs is a collaborative process. Here, we explore that process with two Cast Members on the Disneyland Creative Design Team, Marcus Gonzalez (Product Development Manager) and Tim Wollweber (Senior Graphic Designer).
Gonzalez and Wollweber both share a love of tiki. Marcus: "Growing up in Anaheim in the '70s, my initial interest in tiki began with Kono Hawaii (a Hawai'ian-Japanese tropical themed restaurant in Santa Ana)." Tim: "I've always been fond of tiki, enjoying the simplistic, block style." Their passion for tiki is complemented by their mutual admiration in working together.
Fun Fact: The first Halloween Tiki Mug, the Zombie head with the Green interior glaze, is based off Disney Legend Blaine Gibson's original sculpt design of the Hatbox Ghost.
When deciding what characters and style to develop for Trader Sam's Halloween Tiki Mugs in Anaheim and Orlando, the creative design team looks at a common Disney connection both coasts share, such as Haunted Mansion.
Gonzalez: "At the development stage, I encourage the Novelty team, my artists, and WDI (Walt Disney Imagineering) to throw out ideas, taking into account the season it's slated to release and how it can have a touch of Disney." Sometimes the process happens organically, such as Gonzalez and Wollweber riffing on ideas during a Mahaloween Tiki Mug signing. Gonzalez then picks a few design concepts and whittles it down with his team to the strongest idea. Once they land on a concept, Gonzalez (or Wollweber) will sketch up a few rough ideas and consult with the team and then send it through the approval process.
The Research process varies for each Halloween Tiki Mug. The team tends to conduct extensive research on a subject, genre, and medium to build a great backstory. Gonzalez: "Even if the Guests don't fully know the backstory, fleshing it out helps make the product more grounded and interesting."
Gonzalez draws design inspiration from a multitude of sources, from his Mayan/Yucateco/Mexican culture, his love of movies, comic books, and, of course, with tiki, he draws from his childhood. Gonzalez: "In the '70s, every restaurant and bar had to have a signature mug. One of my favorite memories is getting a glass boot filled with chocolate milk at the BonaVista Lounge at the top of the Crowne Plaza Hotel. I drank out of that boot every day. And that boot was the impetus to how we develop novelties: a Guest thinks it's so cool, they can't wait to take it home."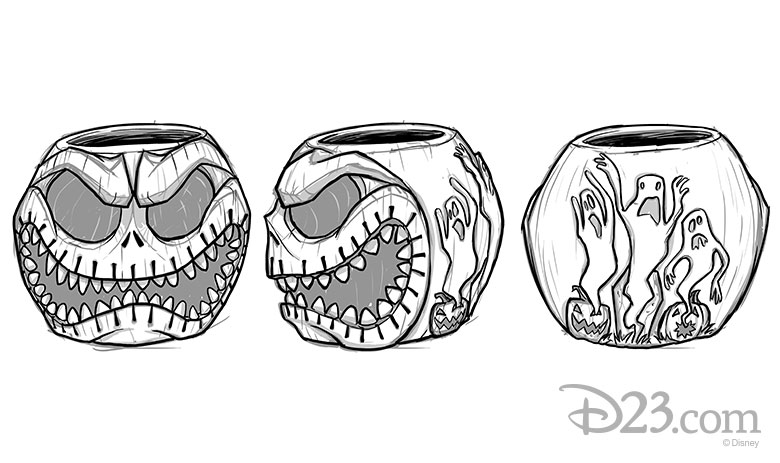 Fun Fact: 2015's Jack-o'-Lantern's shark style teeth that wrap all the way around the mug are a common element in numerous tiki mugs.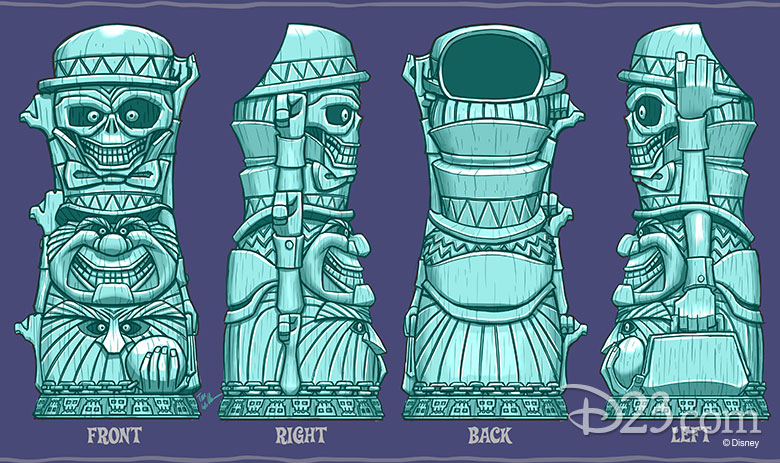 One of the biggest design challenges is figuring out how to get style to mesh with the character. Wollweber: "I always start out referencing tiki images from [Disney Legends] Rolly Crump and Marc Davis to make a design feel correct. When I start pushing styles together, neat things happen." For the Hitchhiking Ghosts Tiki Mug, the pair tried different approaches: a literal take, a rigged and bent-over version to give the illusion of the ghosts' leaning, and even a Haunted Mansion Tiki Stein, before landing on the stacked totem pole style.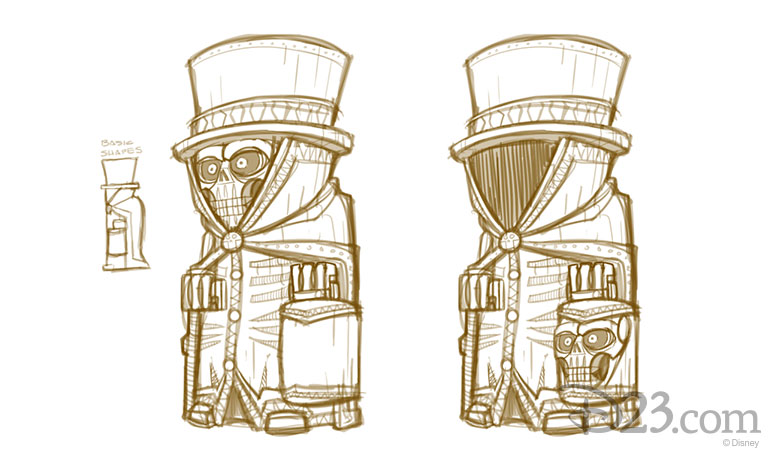 Tim: "For the Hatbox Ghost design, I kept throwing shapes until he came together. Once I turned the character, I realized nothing was on the back. How do I sculpt this? After doing some research, I came up with the Memento Mori Gravestone from the Mansion on his backside. It was an organic process."
Gonzalez: "The average time from the idea to finished product on the shelf is between 15 and 18 months. Starting with concept, approvals, 3D sculpt making, glaze reviews and testing, including mold making, bisque production, glazing and finishing, and finally shipping to each Trader Sam's location."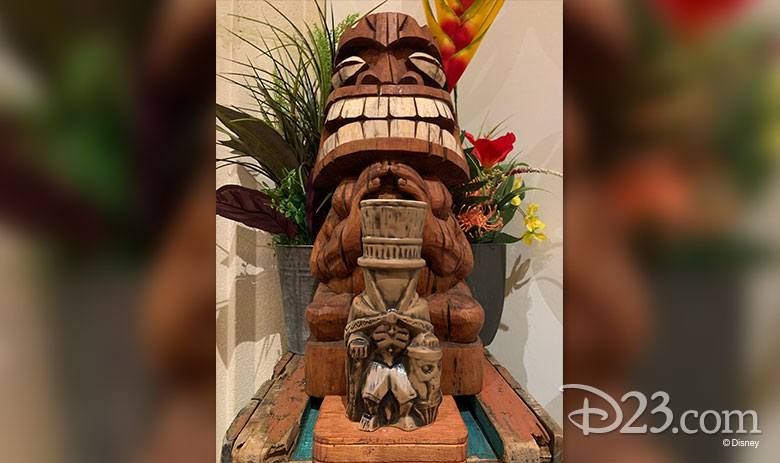 The creative process always brings new challenges and discoveries, but the most gratifying discovery they made while designing Tiki Mugs, according to Gonzalez: "That our fans love them!" And thanks to that love and scare, Disney Halloween Tiki Mugs are as popular as ever!