By Zach Johnson
Tonight at 8 p.m. ET/PT on ABC, the Emmy® Award-winning Live in Front of a Studio Audience will make its highly anticipated return with a third iteration, featuring live reenactments of the hit series The Facts of Life and Diff'rent Strokes. The one-night-only special features an all-star lineup and reunites executive producers Norman Lear, Jimmy Kimmel, Brent Miller, Kerry Washington, Will Ferrell, Justin Theroux, and Jim Burrows.
As was true for the first two iterations, the creative team have assembled an impressive cast. Starring in The Facts of Life are Jennifer Aniston as Blair, Gabrielle Union as Tootie, Allison Tolman as Natalie, and Kathryn Hahn as Jo, with Jon Stewart taking on a mystery role. Starring in Diff'rent Strokes are John Lithgow as Mr. Drummond, Kevin Hart as Arnold, and Damon Wayans as Willis. Ann Dowd will star as Mrs. Garrett in both live reenactments.
"For the most part, we keep these [casts] a secret…" Kimmel said last week during ABC's Midseason's Greetings virtual press conference. "Occasionally word gets out amongst agents or publicists, and we do get solicitations from actors; it's good to know who wants to do it and who's interested. But we keep the parts very, very quiet. We keep the shows very quiet. So, in general, we have the casting done before anybody even knows about it."
Sometimes, the casting choices are obvious. "We do a lot of talking about who would be best for each role. I don't think there is anyone in the world who could play Arnold Drummond other than Kevin Hart," said Kimmel with Lear saying he "couldn't agree more." The cast has palpable chemistry, they added. "The two table reads have been fabulous," said Lear, with Miller adding, "They proved that Jimmy was spot on with his [idea for this]."
The executive producers encourage each actor to "bring their own thing" to their roles, Miller said, rather than simply to recreate what the original actor in each show did. "Jamie Foxx, for example, in our past one, he really wanted to go after Sherman Hemsley and take on that presence," Miller said. "Whereas with someone like Marisa Tomei, she had on her own version of who Edith was. So, I think that we encourage all the actors creatively, as do [directors] Jimmy Burrows and Pam Fryman, to have fun with it and just have a good time."
There will be additional guest stars in the special, but their names are being kept under wraps so as not to spoil the fun. "I know that's a little bit of a disappointment—but isn't it more fun [this way]?" Kimmel said. "Don't you want your presents wrapped on Christmas?"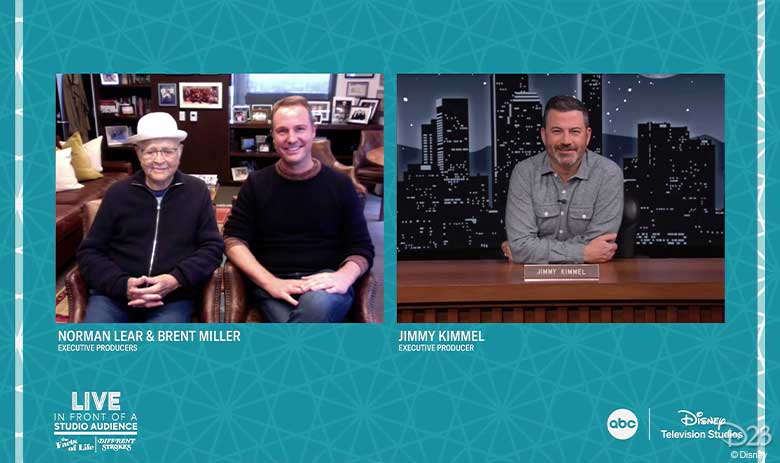 For Kimmel, the Live in Front of a Studio Audience specials are more than just a passion project—they're a way of honoring many of Lear's programs that colored his childhood. "I remember watching these shows in syndication; that's really where I got a big dose of them," he said. "They would run back-to-back on my local Channel 5 affiliate in Las Vegas. It was just like part of my day. I'd come home from school, and I had a very busy schedule of TV shows to watch." Kimmel was such a fan of Diff'rent Strokes that he later bought memorabilia from one of its stars. "Many years ago, Gary Coleman was selling a pair of his pants on eBay, and I purchased them from him," Kimmel recalled. "They hung in our studio for around 10 years—much like a championship pennant would at a baseball stadium. So, I just love the whole thing. Those shows really were like my babysitter, and they had so much to do with why I love television. To me, the most magical thing, really, is to be on the set—because for the most part, the only original character in this production is the set, which our set builders duplicated exactly. It has such artistry, and what they can do in such a short period of time is so amazing. When you walk onto that set, it really is overwhelming."
The special will be also available Wednesday on demand and on Hulu.