By Zach Johnson
Mother knows best… most of the time, anyway.
The new sitcom Call Your Mother, premiering tonight at 9:30|8:30c on ABC, follows Jean Raines (Kyra Sedgwick), an empty nester in Iowa who wonders how she ended up alone while her kids, Jackie (Rachel Sennott) and Freddie (Joey Bragg), live their best lives thousands of miles away in California. She wants to reconnect with her family, but as she reinserts herself into their lives, they realize they might need her more than they thought.
The series was partly inspired by creator and executive producer Kari Lizer's own life. "I am an empty nester. My three kids have left me in the dust, so that part is true," Lizer said in jest during a special Q&A after the series' virtual premiere. "The only part that's not true is I haven't traveled and chased them around the world… only because they wouldn't let me!"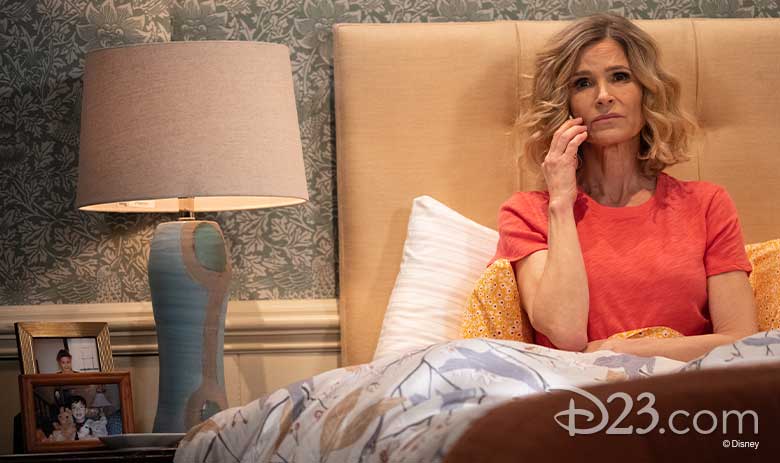 Sedgwick, who has two adult children with husband Kevin Bacon, said she could easily relate to her character. "I honestly think that if someone said you were going to have to be a mom for the rest of your life—not just the first 18 years of their life, but your whole life—that you would be thinking about them, worrying about them, wondering how they're doing, wanting to talk to them, and wanting to hang out with them your whole life, I really think you might actually think twice about children," she admitted. "It's like you have this child and you are everything to this child. And then, if you do your job right, you get fired and they leave you. I have a good relationship with my kids, so I can really relate to that: wanting to be closer to them. I mean, you birthed them! You want to hang out with them."
"I'm constantly having to redefine my relationships with my adult children," Sedgwick continued. "The stuff I could say or could do when they were 8, 10, 12, 14, 16—even 20—is not stuff I can do now. I need to zip my lip a lot and just wait for them to ask for my advice or my thoughts—for feedback of any kind, frankly. Having to navigate that is interesting."
Similarly, Bragg (of Disney Channel's Liv and Maddie fame), said his role "fit like a glove."
"We were so simpatico, me and Freddie," Bragg said. "There's a bit where Freddie took Spanish I three times, and that was such a specific sitcom-y joke, but I actually, legitimately had to take Spanish I three times in high school and failed! It was one of those things where I read the script and said, 'This is this is too weird.' So, me and Freddie got along perfectly."
When Jean travels to California to surprise Freddie, she discovers his life is more in order than she had given him credit for. He has a nice apartment, a blossoming career, and a "bae" named Celia (Emma Caymares). Perhaps Freddie isn't the child Jean needs to worry most about after all. Likewise, there's a lot more to Freddie's girlfriend than meets the eye.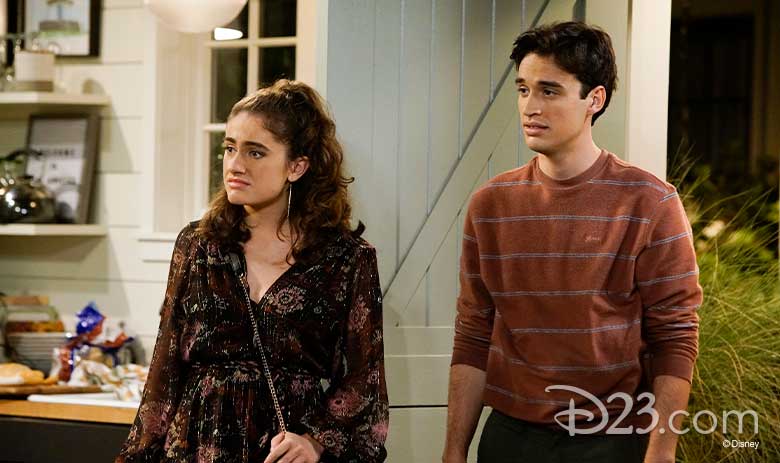 "It's funny because when I first started, I was like, 'I'm nothing like Celia. She's a social media influencer. She's very vain.' The first week that we were shooting, I was in the shower thinking about it and I was like, 'Oh, my God. I am Celia. I am her!'" Caymares said with a laugh. "She's so honest and she's very savvy. She knows who she is, she knows what she wants, and on the surface, you might think that she's this vapid 'look queen,' but she is a true queen. I really have started to relate to her in a lot of ways. She's kind of Emma without a filter. She just says what she thinks. And I'm like that, but I'm much more of a people pleaser. Celia is not a people pleaser—she is a Celia pleaser! And I really love that about her."
Ironically, it's Jackie—fresh off a breakup and dating a much older man—who concerns Jean. As it turns out, the lives Jean had envisioned for her kids were quite the opposite. Even worse? Despite living in the same city, the siblings haven't been talking to each other.
"I really connect to Jackie's journey and the balance of being put together for everybody else while you're falling apart yourself," said Sennott. Luckily, Jackie is now living with a new roommate, Lane (Austin Crute), who forms an instant connection with Jean—and who, over time, will help Jackie to pick up the pieces of her life. "Lane is a very eccentric, outspoken gay boy from the Midwest who wasn't really allowed to express himself in the way that he naturally flows, which I can kind of relate to," said Crute. "I'm from Atlanta, Georgia. I grew up in the church and my dad is a pastor. I was 'lowkey homo,' as Lane calls it, in my circle… He moved out to L.A. and he's discovering his identity in L.A., just like Jean is—and that's where Lane and Jean connect. They're finding themselves in this new place."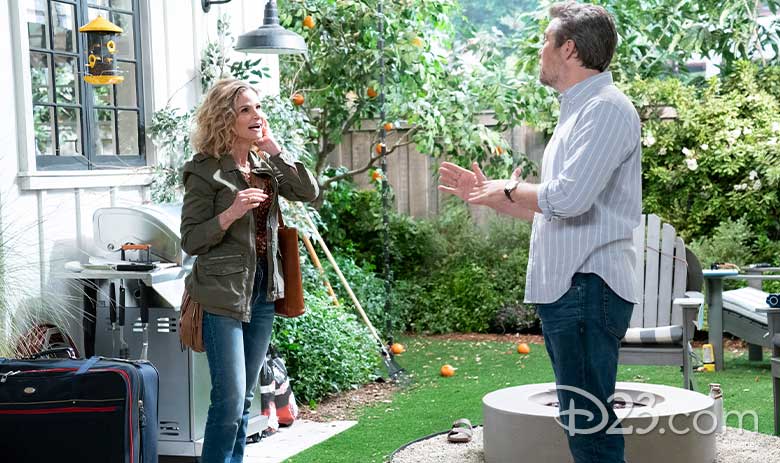 As Jean struggles to wrap her head around the unearthed developments in her kids' lives, she finds comfort in Danny (Patrick Brammall), who is renting his in-law suite to her while navigating a recent separation from his wife. "He's just doing whatever he needs to do to get ahead to make it through, and I really do relate to that," Brammall said. "I've only been in America for five years, and you do whatever is in front of you to make your way through."
That's all anyone can do—and it's something Jean, Jackie, and Freddie will soon learn. "When Jean decides to stay by the end of the first episode, then it's like, 'Where does she go from here?'" Sedgwick said. "She realizes she has to branch out a little bit; it can't just be about the kids. She's been a widow for a really long time, and that seems like the norm; that's OK and doable… Suddenly, it's like, 'Well, maybe there's a different version of that.'"
Wondering what you're supposed to be doing with your life is something "people in their 50s and in their 20s have in common," said Lizer. "I hope that what resonates is that these are people who really care about each other. We're at a time where people are feeling really disconnected. The state of the world and this pandemic has left us all feeling isolated. This is a show about people who feel like they've lost their connection to one another. It's a show about people trying to find each other again, and to feel connected to one another, and to create new connections with each other. They're finding a community with each other…. Speaking for myself, I'm feeling a little bruised and a little tender right now—and I am ready to watch, write, and be part of something that makes me feel good."