From October 1 to November 2, 2014, Disneyland Paris is the place to be to meet the Halloween gang of Disney Villains.
What's New at Disney Parks for Halloween 2014 ►
Every day, Maleficent will bring together the Disney Villains in a cheerfully ominous atmosphere, promising Disneyland Paris guests encounters to die (laughing) for. The Sleeping Beauty Castle Courtyard will be transformed to welcome the good Disney Villains who will take mischievous pleasure in taking over Disney's Halloween Festival.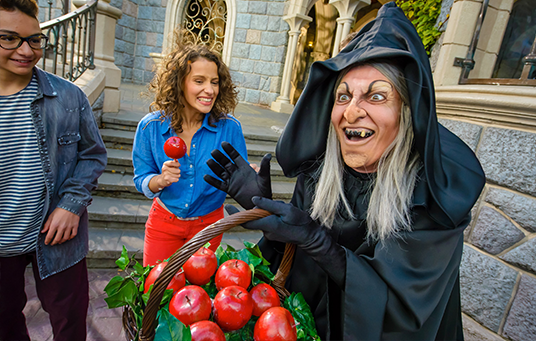 And that's not all! During this delightfully frightening month, ghosts and Disney's Funky Pumpkins will take possession of Main Street, U.S.A., astonishing pumpkins will take over the flowerbeds in Central Plaza, and Frontierland will be transformed into an autumn garden where sunflowers and pumpkins will take center stage.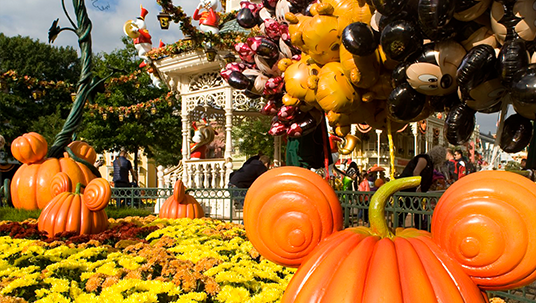 Finally, Mickey and friends will offer guests a special Harvest festival-themed cavalcade, not far from Minnie's Halloween Costume Corner or the incredible candy-making machine invented by greedy Goofy, all designed to ensure Disney's Halloween Festival is a laugh a minute!

Maleficent's Court
This year, Maleficent will cast a spell on the Sleeping Beauty Castle and the Disneyland Park and will invite some of the Disney Villains to join her in the Castle Courtyard. Maleficent, surrounded by her friends, the Disney Villains, will take over the place—it has now been invaded by imposing brambles, which guests will be able to pose in front of, next to the Disney Villains. That is how huge brambles mysteriously appear in the Castle Courtyard. Shaped like the famous horns of Maleficent herself, these brambles form the outline of an imposing dragon. As night falls, the bramble will take on a more disquieting look, immersing guests in a universe of bright, unsettling colors.

Mickey's Halloween Celebration
To celebrate Halloween and to provide guests with a unique party, Mickey and friends will offer guests a cavalcade specially dedicated to the Harvest festival, and have naturally been inspired by the autumn and Harvest theme. Several times a day, Mickey and friends will parade in front of Sleeping Beauty Castle and along Main Street, U.S.A., surrounded by dancers wearing autumn colors.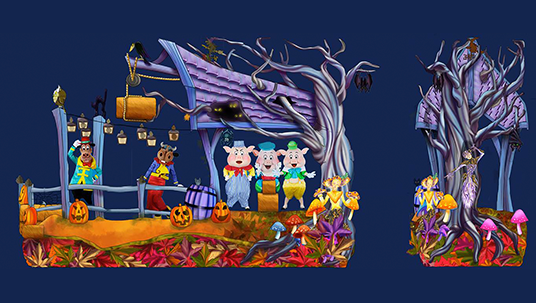 This year, the lovely Daisy will open the cavalcade. The Three Little Pigs and Horace will join Mickey's Halloween Celebration on their brand new float "Raise the Rafters!" Surrounded by owls, black cats, spiders, and bats, the Three Little Pigs, Horace, and Clarabelle will dance to country music in front of their farm. A tree and an enchanted mushroom will come to life as if by magic.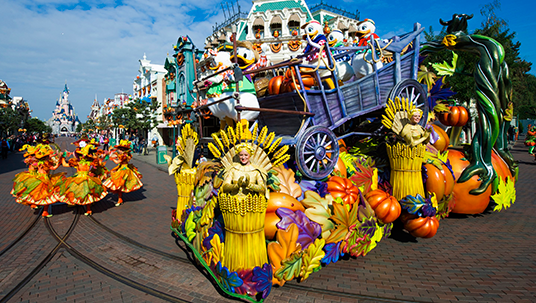 As for the Disney Characters, they will be showing off their most stunning seasonal costumes. Donald will explore the wonders of autumn in a world made of straw and pumpkins, together with his inseparable nephews Huey, Dewey, and Louie. Meanwhile, Uncle Scrooge will bring up the rear, determined to keep careful watch over a strange pumpkin that appears to be worth its weight in gold…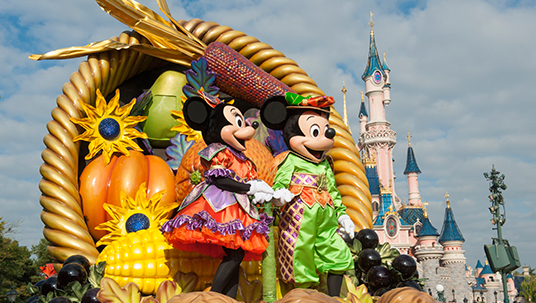 Mickey and Minnie pay homage to the Harvest season from their huge horn of plenty, filled with autumn leaves, fruits, and pumpkins. Behind them, Chip and Dale, accompanied by the charming Clarice, have taken advantage of the Harvest to steal and hoard as many hazelnuts as they can lay their hands on!

Ghosts invade Disneyland Park
The ghosts of the former residents of Main Street, U.S.A. will use Halloween as the perfect opportunity to make their grand appearance. Delighted to be able to make an appearance during Disney's Halloween Festival, they will take over Main Street, U.S.A., trying to blend into the scenery. The park's apprentice ghost hunters will be invited to unmask them, armed with their cameras.

Halloween Costume Corner
Passionate about sewing and fashion, Minnie will invite guests to discover her amazing sewing workshop—specially created for Halloween—an extravagant, colorful world where everyone is encouraged to let their imagination run wild. Minnie, in her fabulous Halloween-inspired dress will no doubt jump at the opportunity to pose with her admirers.

Goofy Bonbons
Halloween would not be the same without bonbons and spells. For that reason, Goofy has designed and created a truly amazing candy-making machine to dazzle those with a sweet tooth, young and old! Fans of bonbons and Goofy will not miss the opportunity to stop in front of this astonishing machine. Goofy might even join them to make sure everything is in good working order. A moment to treasure and a chance for everyone to persuade him to share his confectionery secrets!

Jack and Sally's Cemetery
The famous couple created by Tim Burton will be at Disneyland Paris during Halloween for a mortally enchanting encounter. The set recreates the universe of the film The Nightmare Before Christmas, and Jack and Sally—in person—will welcome those courageous enough to meet them. A reproduction inspired by the universe of Tim Burton, Jack and Sally's Cemetery is a unique place.

Disney's Halloween Party
The now famous Disney's Halloween Party will be held on October 31 in Disneyland, a unique experience to share with family or friends from 8.30 p.m. to 1 a.m. Disneyland Park will reopen its doors after dark and guests will see it as they have never seen it before—in a more mysterious atmosphere than ever, with unexpected animations, terrifyingly delicious surprises, and a "hellish" atmosphere. The moon will bring out the ghosts, Disney Villains, and other creatures for the party, who are all ready to play their tricks around the most mysterious of places. After enjoying the many attractions Disneyland Park has to offer, guests will be able to immerse themselves in the magical extravaganza of the Disney Dreams nighttime show.