Ginnifer Goodwin is an animal. We mean, she voices an animal in the new Walt Disney Animation Studios film Zootopia. As Officer Judy Hopps, the first bunny on the Zootopia police force, Goodwin is determined to make her mark—something Goodwin (a D23 Charter Member!) has been doing since she stepped into the enchanted world of Once Upon a Time as Snow White. In the Spring 2016 issue of Disney twenty-three, we sat down and spoke with the actress, married to Josh Dallas (Once Upon a Time's Prince Charming) and soon-to-be mother of two (their second son is due later this spring). Here, in this D23 Member-exclusive web extra, we talk more about the movie, D23, and the chances of Judy showing up in Storybrooke.
There's a moment in the film where Judy thinks about throwing in the towel. As an actor in Hollywood, did you ever have a moment like that?
Ginnifer Goodwin (GG): Oh, a million. But I think Judy and I are very much alike in that we have never taken our rejections personally, which, I think, is why we've both been successful in our chosen field. You know, Judy's rejection was by "the man," and she never thought of it, in my opinion, as her being inadequate. It was that there was just so much up against her. But instead, it just inspired her to step up—her inspiration reignited.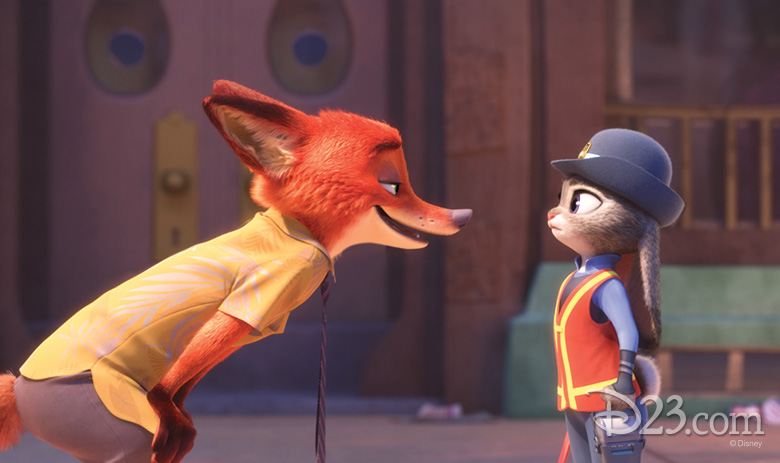 So there was never a moment where you said "I'm packing up and moving back East"?
GG: No. I've gone broke a couple of times, and that was kind of scary. I remember one of the times I went broke because I refused to take anything in which I didn't believe. It's not that I was saying no to all the things that were being thrown at me, but I just was really holding on to my dream of doing a certain quality of work. So there were some really huge dry spells. I remember calling my mother at one point, and I just said, "I don't have any money, so I don't know how to stay here." And she said, "Well, you have a lot of friends, and they all have couches. And you might have to sleep on a couple of those couches, but you are going to make this work." And, like, that's all it took for me to keep at it.
What do you think the overall message of Zootopia is?
GG: I feel like there are a couple of underlying and very profound themes. But I love that Judy believes that anyone can be anything. It's not about the things you're born with. It's what you make of your life. She puts it far more succinctly but, in general, that's what I would say it's about for me.
How does it make you feel to know there's going to be tons of Judy merchandise out there?
GG: I mean I can't wait to buy everything. My poor sons are going to be bunnified. Like, everything in their life is going to be Judy Hopps! But I'm blown away. We were sent the Once Upon a Time "Pop" dolls, and there's the Once Upon a Time Barbie-esque dolls. We gave some of them to family for a stocking stuffer, and my sister just took me by the shoulder, and she was like, "You realize you're a doll?" It does not feel commonplace. Like, I recognize that it's bananas.
What did you enjoy about D23 overall?
GG: Oh, my gosh. Well, first of all, I need to tell you that my son is obsessed with the magazine, and he goes through and identifies the characters, which kind of blows my mind because he's never seen anything on a screen before. He just knows from us going to the park and reading books and things. [I was a member] before I was involved with anything Disney professionally. I loved doing things like going to the Arclight. [Editor's Note: In 2010, D23 partnered with Arclight Cinemas in Southern California to screen Disney movies.] I won one of the trivia contests there! D23 is a club of celebration of my favorite subject matter.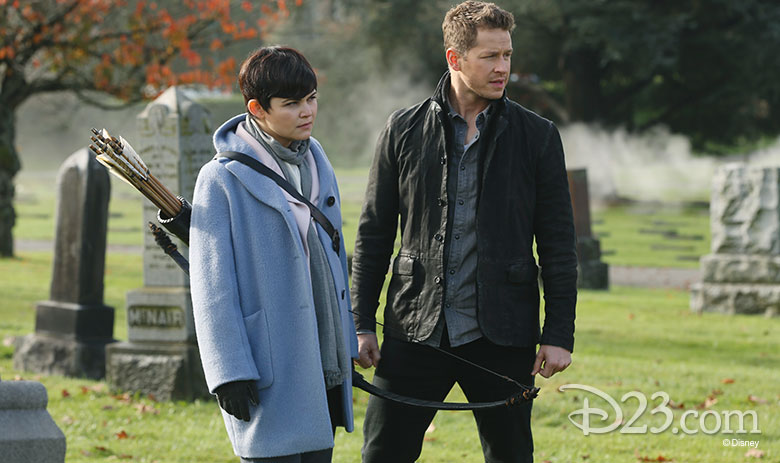 Have you had a chat with the Once Upon a Time producers about getting Judy onto the show?
GG: [Laughs] I don't know how we would do that. I also think that I would have problems if I wasn't asked to play her! Like, if suddenly Judy was cast I don't know what I would do.
Maybe it could be a real bunny like in Once Upon a Time in Wonderland?
GG: Right. Fair enough. If she had a voice, I hope I'd be cast as her voice.
Mary Margaret would be, "You sound a lot like me!"
GG: Yeah, right? People keep asking me what kind of voice I do [for Judy]. I'm like, "I don't do voices." I don't even know what that means. They all just sound like me. All my characters just sound like me.