By Jim Frye
Great movies need great villains. Marvel Studios' original Thor film gave us one of our most memorable—and beloved—villains ever to terrorize the Marvel Cinematic Universe: Loki, God of Mischief, brother of Thor, and an über troublemaker. Played by Tom Hiddleston, Loki quickly became a fan favorite, helped, in large part, by his sympathetic and complex family history—adopted into a royal family but never equal to his older brother, Thor. Fueled by jealousy, rage, and hurt, Loki mounted an all-out assault on Earth in 2012's Marvel Studios blockbuster Marvel's The Avengers. Who can forget his unceremonious pounding by the Hulk, where he was swung and smashed around by his ankles? Ouch.
Fans rejoice, because Loki is back in Marvel Studios' Thor: Ragnarok, bringing with him all the wit, humor and mischief he's known for, although, perhaps, not quite as much treachery this time. This third offering from the Thor franchise is a fresh, funny take on the classic Norse royal family, giving us new villains to fight and old family squabbles to settle. As Marvel Studios President and Producer Kevin Feige explains, "Thor's supporting characters, his villain roster, and the family drama that comes between Loki and Odin really gives us some of the richest story lines with any of the Marvel characters. With a third Thor adventure, we wanted to do something very, very different from Thor: The Dark World, with new characters, new villains and new locations for this new adventure. We love surprising audiences with how the tone of a franchise can change."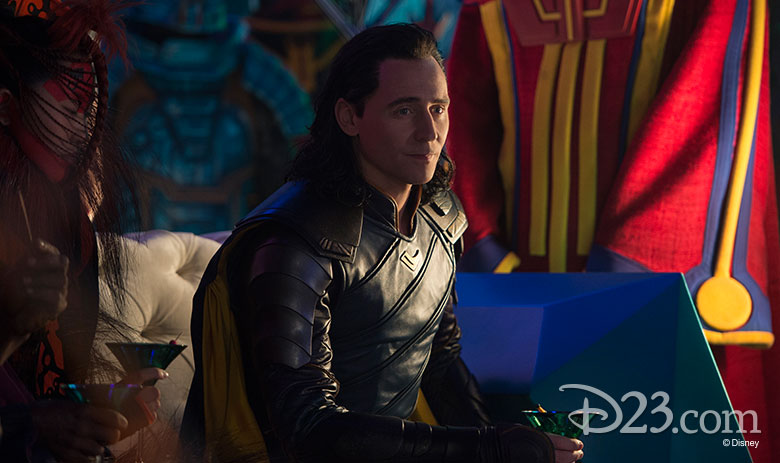 LOKI
The situation: Disguised as his father, Odin, Loki has taken over Asgard as its king. However, when Hela makes her terrifying grand entrance, Loki must use his silver tongue and skill with a blade to battle for his own survival.
Hiddleston describes Loki as a mercurial character. "I've spent six or seven years of my life trying to get to the bottom of what exactly it is that he wants," he says. "When he seems to get close to what he wants—power, acceptance, belonging—he changes direction. I think that is the thing that keeps him interesting in a way. He's cunning and transformative and changeable, and will do everything he can to survive. He's the trickster. He's the God of Mischief."
He adds, "When I put on the costume, the makeup, and wig for the first time for this film and looked in the mirror, I thought to myself, 'Wow, there he is.' It was like seeing an old friend. It was good to see him, in a way. I feel like I know him."
Of course, it all comes back to the rivalry and strained relationship between Thor and Loki, a Shakespearean struggle of epic proportions. "For Thor and Loki, the stakes are so high in this story," says Hiddleston. "All of the things that have anchored them to their own reality are gone. They are completely out of their depth, out of their element. I like the idea that Thor and Loki, the protagonist and the antagonist, these eternally warring brothers, are thrown into hot water together and have to somehow overcome their differences, or at least acknowledge their differences, to try to save Asgard."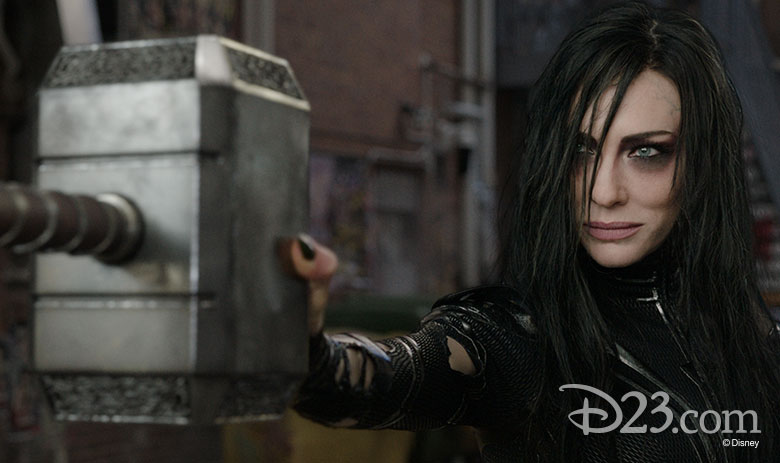 HELA
The situation: Hela's power is unlike anything else in the Nine Realms. Armed with the ability to unleash unlimited weapons in astounding and deadly ways, Hela is now back to seek vengeance on those who cast her out. With a mysterious and savage army at her side, Hela intends to usher in a new era of cold brutality for Asgard and the universe at large.
Portrayed by Oscar®-winning actress Cate Blanchett, Hela is the first lead female villain in the Marvel Cinematic Universe and casts a large and fearsome shadow across Asgard. She even manages to destroy Thor's beloved hammer. "I got a call from my agent who said that Kevin Feige wanted to send me a package," says Blanchett. "I was trying to play cool, but I was so excited because you don't get offered these things very often. Then after doing a little bit of research, I realized that there hadn't yet been a female villainess in one of the Marvel movies before. I felt the role could be really exciting."
Bringing Hela to life on screen was a collaboration between Blanchett and the director, Taika Waititi. "I liked that Taika was really open to all the possibilities of her," says Blanchett. "We agreed that we didn't want her to be predictable, and we were open to the random sides of her. She's not simply sinister. She also sometimes doesn't want to kill people. There's a bit of mischief in there and playfulness."
"She's destroyed the idea of your typical villain," says Waititi. "She's not only strong and all of that and beautiful but she's also funny. And she's also flawed. She has layers; she's tormented. She's got a lot more going on than some of the more typical villains that you see in these kinds of films. She's not just about taking over the world or owning the universe; she wants something that I think a lot of people can relate to—recognition."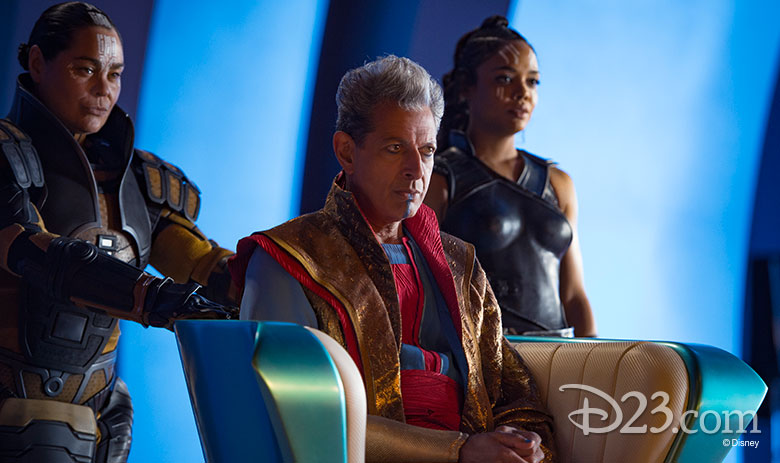 GRANDMASTER
The situation: The Grandmaster controls an incredible gladiatorial contest in which Thor and other powerful beings from throughout the cosmos face off in spectacular and deadly combat. There is no contender the Grandmaster covets more than the champion of the arena, the Incredible Hulk.
Jeff Goldblum's trademark humor is on full display as the Grandmaster, the egomaniacal overseer of the games matching Thor against the Hulk. And in a movie full of enjoyable characters and equally enjoyable villains, Goldblum still manages to stand out. "Taika had the vision for Jeff Goldblum, and it was just perfect," says executive producer Brad Winderbaum. "He's musical; he's whimsical. He's got a strong presence while still being hilariously funny. He plays in this alien world really well."
Goldblum, who has had bigger-than-life roles in films such as Jurassic Park and Independence Day, relished the chance to tackle such a complex character. "The Grandmaster has a storied journey that has gone on for decades," says Goldblum. "He has been involved in pitting people against each other in games of life or death. He is the ruler of the planet Sakaar. What seems to interest him most is having fun."
When asked to describe his character in three words, Goldblum said, "That's good. I like any kind of game," he says. "Let's see, the Grandmaster in three words—spontaneous, playful, mercurial."
All the foes and friends–both old and new—engage the battle of Thor: Ragnarok November 3.