By Beth Deitchman
Mickey and his friends are racing into all-new adventures in Disney Junior's new animated series, Mickey and the Roadster Racers, which features Disney details that fans of all ages are sure to appreciate. The series premieres this Sunday, January 15, in a special simulcast on Disney Junior and Disney Channel at 9 a.m. EST.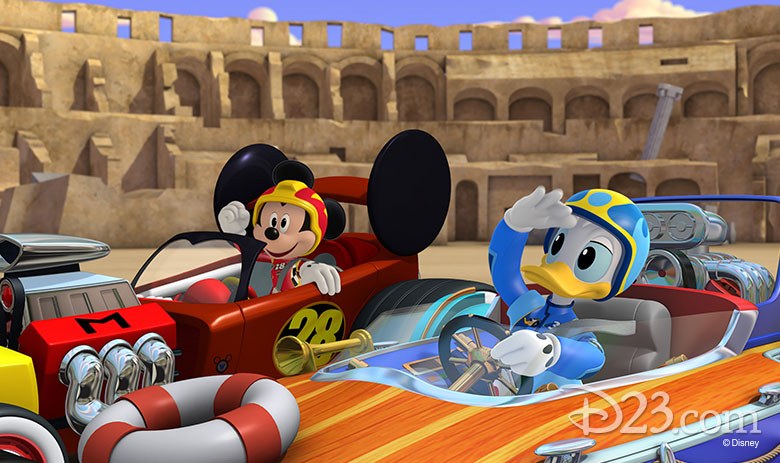 Executive producer Rob LaDuca and co-executive producer and supervising story editor Mark Seidenberg are lifelong Disney fans who can trace their own Disney roots back to Adventures of the Gummi Bears, the first-ever animated TV series from Disney Television Animation. D23 spoke with the pair about Mickey and the Roadster Racers, which takes the gang and their unique transforming cars on humorous high-spirited races around the globe and back home in Hot Dog Hills. LaDuca and Seidenberg led the creative team for Mickey Mouse Clubhouse, and for the new series they've created a bustling mini-metropolis for the gang. Hot Dog Hills boasts a racetrack, a busy downtown area, and a freeway system—the Big Ears Freeway—that's a not-so-hidden Mickey when seen from above. "We started out by designing the garage, and then took a little bit from Toontown, took a little bit from classic Mickey shorts and kind of put it all together," LaDuca says.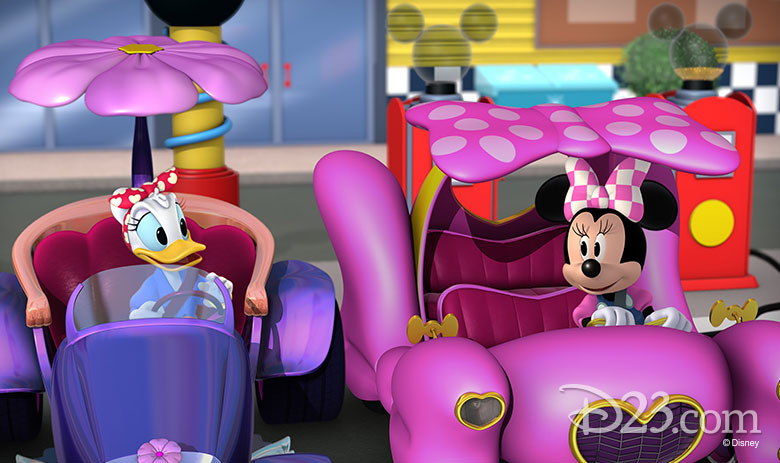 To create vehicles that are as unique as their drivers, the creative team looked at famed car collections, including those of legendary car "Kustomizer" George Barris, the man behind the original Batmobile, the Munster Koach, and KITT from the series Knight Rider; and legendary car collector (and comic) Jay Leno, who also voices the loquacious racing announcer, Billy Beagle, in the series. "We gave Mickey the classic hot rod, made from a Model T, like in Walt's day," LaDuca explains. Goofy's car, not surprisingly, is an offbeat one in the form of a bathtub (with a working showerhead!); sailor Donald drives a boat on wheels; Daisy's purple car coordinates perfectly with her style; and Minnie's elegant car was inspired by a bow. "The design comes from a French car from the 1930s, the Delahaye," LaDuca explains.
Like all the best racecars, the Fab Five (plus Pete) drive cars with significant numbers, some of which have a little Disney history behind them: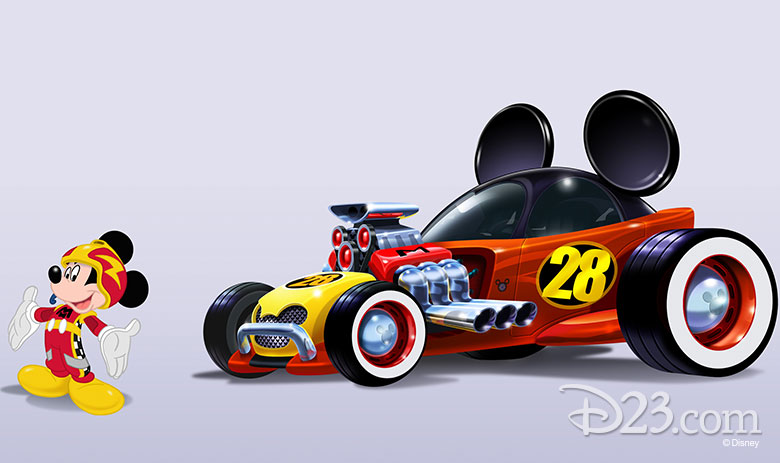 Mickey Mouse: No. 28
This is an easy one for Disney fans, who all remember that Mickey made his on-screen debut in Steamboat Willie on November 18, 1928.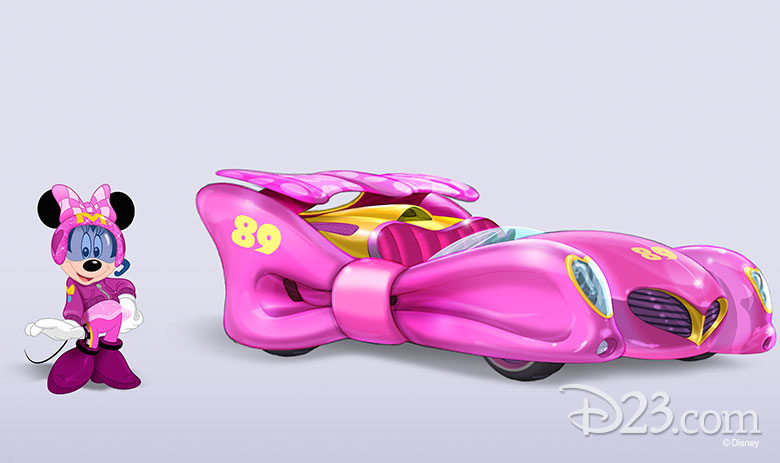 Minnie Mouse: No. 89
Art Director Sy Thomas chose this number to represent that it's been 89 years since we first met Minnie in Steamboat Willie, as well.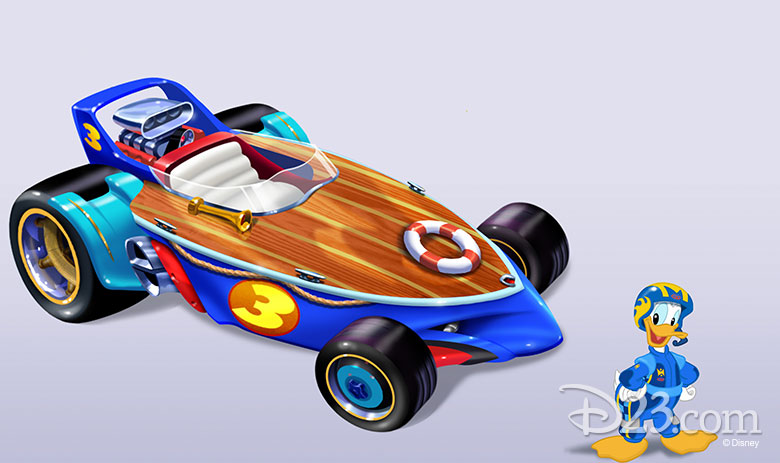 Donald Duck: No. 3
Donald may be one of the "Fab Five" but he's also a proud member of the Three Caballeros.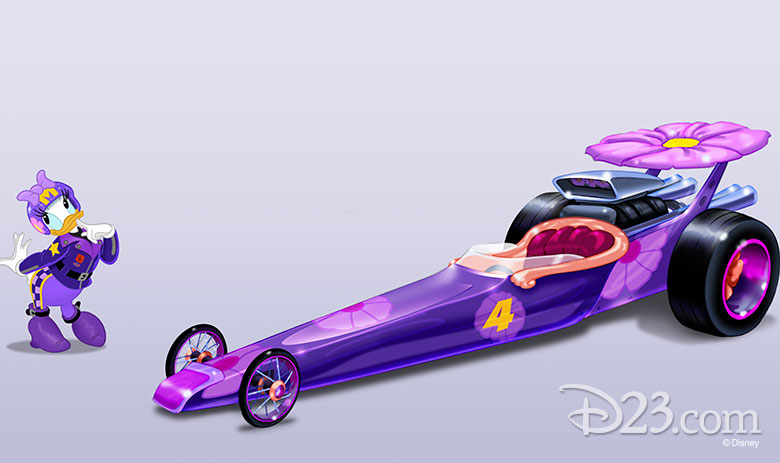 Daisy Duck: No. 4
A number chosen for Daisy in honor of her four best friends, Minnnie, Mickey, Donald, and Goofy.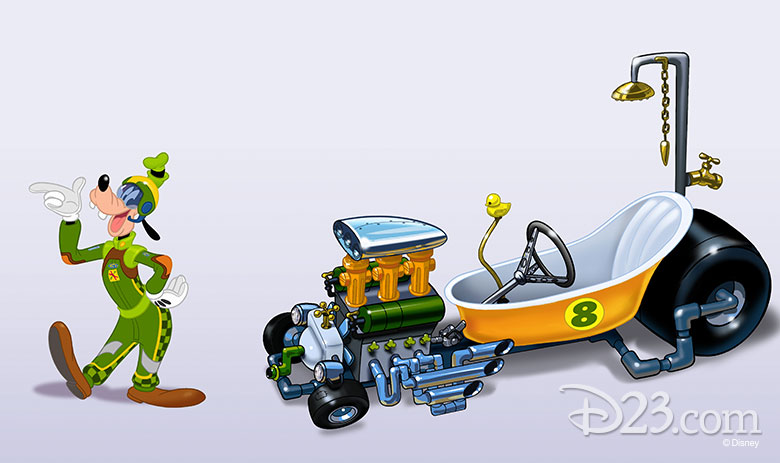 Goofy: No. 8
You've heard the phrase "crazy eights"—that's kind of goofy, but Goofy drives the No. 8 roadster racer because he's always behind the eight-ball.
Pete: No. 9
Mickey's nemesis since Steamboat Willie, Pete keeps coming back around to try to best our hero, Mickey. The No. 9 represents the nine lives of a cat.
Legendary NASCAR drivers Jimmie Johnson, Danica Patrick, and Jeff Gordon have zoomed into the recording studio to lend their voices to new characters; and Tim Gunn—beloved by kids and families as the voice of Baileywick on Sofia the First and as the supportive mentor to aspiring designers on Project Runway—goes against character to play the curmudgeonly world-famous travel writer Robbie Roberts.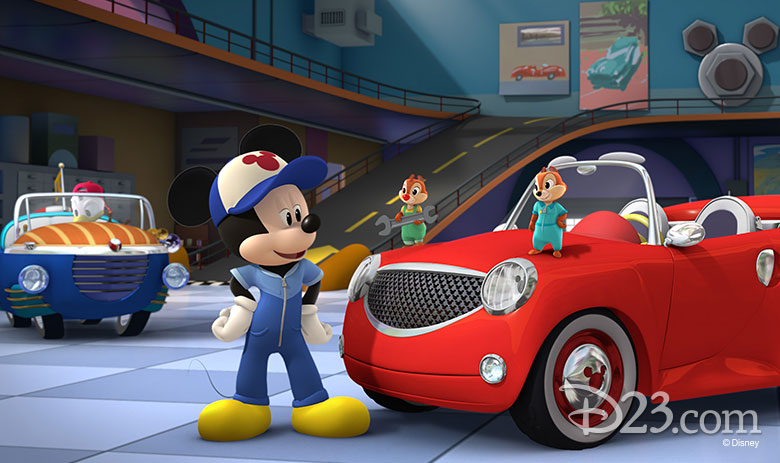 The characters may be racing around exotic locales like Paris and Hawai'i, but wherever Mickey and friends find themselves in Mickey and the Roadster Racers, the themes of sportsmanship, teamwork, loyalty, and friendship are always strong. "We really want to continue the heritage of Mickey being the most positive, optimistic character," Seidenburg says. "He's everybody's best friend. Kids and their families really respond to that, and we can put him in any situation and Mickey's going to find the solution—he's going to find the rainbow under every cloud."