By Courtney Potter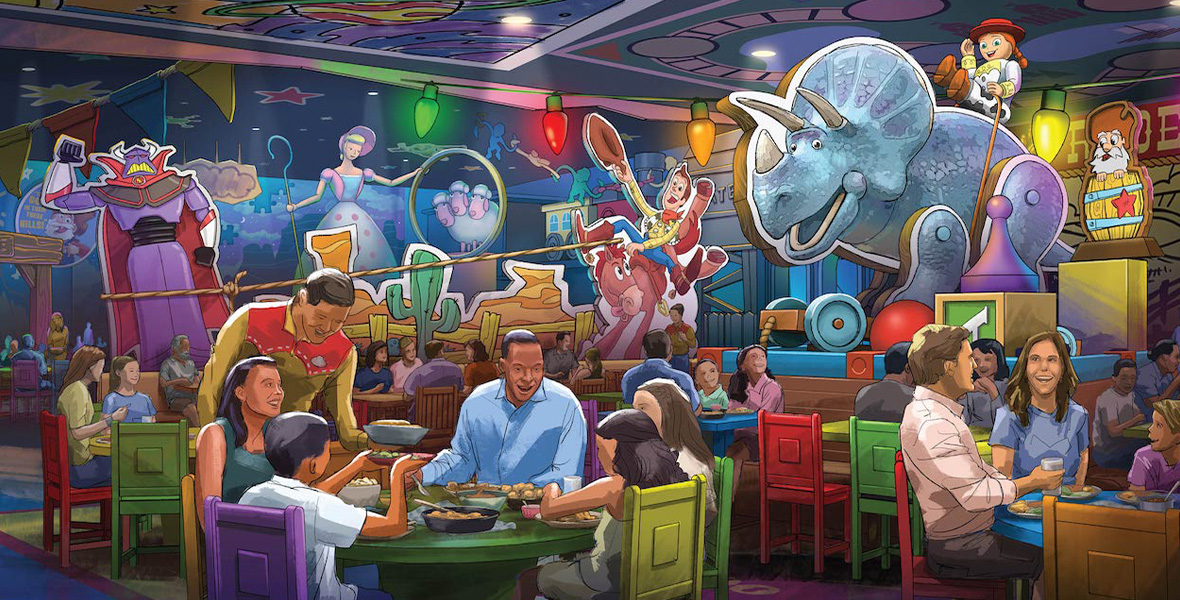 New Playset and Roundup Rodeo BBQ Debuting at Toy Story Land in 2022
Attention all honorary toys: After rollicking through a ride on Toy Story Mania! at the Walt Disney World Resort's Toy Story Land (and making sure there's no snakes in yer boots!), you'll soon be treated to a whole new experience—later this year—that is filled to the brim with fun. Andy discovered Jessie's Trading Post playset tucked away in the attic and is bringing it downstairs to set up shop. It's full of the coolest toys and finest souvenirs handpicked by the rootinest, tootinest cowgirl.
Meanwhile, also coming in 2022 to Andy's backyard is the previously announced Roundup Rodeo BBQ restaurant. In this unique, family-friendly dining experience, guests will enjoy delicious barbecue fare while surrounded by a kaleidoscope of toys, games, and playsets that Andy has brought together to create his one-of-a-kind rodeo.
Stepping into the lobby and waiting area, guests experience firsthand what it feels like to be one of Andy's honorary toys before progressing into two larger dining room spaces where Andy's rodeo takes place. There, the rodeo will be in full swing, with Western town and train station playsets mixing with surprising, playful details—including some fan-favorite Pixar characters as they've never been seen before!
Stay tuned for more info as we "yeehaw!" ever closer to these Toy Story Land openings…
5 Fantastic Things to Watch This Weekend
We're still in the throes of winter here in the ol' Northern Hemisphere—so if you'd rather stay inside this weekend (where it's toasty warm and there are snacks; always important!), let us help you find some fun things to watch from around the worlds of Disney. Mrs. Doubtfire starring Disney Legend Robin Williams? Sounds like a blast! A Bob's Burgers marathon? Don't mind if we do! Find out how to watch these (and more) by clicking here.
Marvel Studios' Moon Knight Premieres Official Trailer
Earlier this week, Disney+ debuted an exciting trailer for the upcoming Marvel Studios series Moon Knightduring Halftime of the NFL Super Wild Card matchup between the Arizona Cardinals and Los Angeles Rams. Take a gander at the thrilling clip, above.
Moon Knight follows Steven Grant (Oscar Isaac), a mild-mannered gift-shop employee, who becomes plagued with blackouts and memories of another life. Steven soon discovers he has dissociative identity disorder—and shares a body with mercenary Marc Spector. As Steven/Marc's enemies converge upon them, they must navigate their complex identities while thrust into a deadly mystery among the powerful gods of Egypt. (How's that for an intriguing plot?!)
Moon Knight stars Isaac, Ethan Hawke, and May Calamawy. Directed by Mohamed Diab and the team of Justin Benson & Aaron Moorhead, look for the series to start streaming exclusively on Disney+ beginning Wednesday, March 30.
National Geographic Documentary Films' Torn: Coming Soon to Disney+
Director Max Lowe and producer Chris Murphy comes National Geographic Documentary Film's Torn, which gets its streaming premiere on Disney+ next month.
On October 5, 1999, Alex Lowe was tragically lost alongside cameraman and fellow climber David Bridges in a deadly avalanche on the slopes of the Tibetan mountain Shishapangma. Miraculously, Alex's best friend and climbing partner, renowned mountaineer Conrad Anker, survived the avalanche. After the tragedy, Anker fell in love with Alex's widow, Jennifer; married her; and stepped in to help raise Alex and Jennifer's three sons. In 2016, 17 years after their deaths, Alex and Bridges' bodies were discovered—and the Lowe family journeyed to the remote Himalayan mountains to recover the men's remains.
In the powerful and deeply moving Torn, Max examines the long-buried feelings that the discovery unearthed for him and his family members. Weaving together archival footage of Alex's spellbinding adventures, revealing home movies and emotional interviews with Jennifer and sons Sam, Isaac, and Conrad, Max challenges long-held family myths and questions his own beliefs as he creates an insightful examination of fatherhood, love, loss, and resilience—all set against the high-stakes world of professional mountain climbing.
The film, which had its world premiere at the 2021 Telluride Film Festival and won the award for Best Feature Film at BANFF, captures the Lowe-Ankers' intense personal journey through love and loss. Find it on Disney+ beginning Friday, February 4.
This High School Musical: The Musical: The Series News Is Really Cool…
…and we mean that literally. Just this week, our pals over at Disney+ announced that not only are several new actors—as well as some fantastic guest stars—joining the cast of High School Musical: The Musical: The Series as it sets its third season inside a drama-rific sleepaway camp, but they also revealed what musical the talented triple-threats will be taking on at said camp: Frozen! Read up on all the latest updates right here at D23.com.
New Trailer for The Wonderful Winter of Mickey Mouse
Here's some more chilly fun to look forward to: Disney+ has released the trailer for The Wonderful Winter of Mickey Mouse, launching the second season of The Wonderful World of Mickey Mouse.
The animated series spotlights the endearing, adventurous, and comedic antics of Mickey Mouse, Disney's No. 1 star, and is geared towards kids, families, and fans of all ages. It's produced by Disney Television Animation with Emmy® Award-winning artist and director Paul Rudish serving as executive producer and supervising director. Christopher Willis, the Emmy-nominated composer of the Mickey Mouse shorts, also provides the music for this series.This second installment consists of four extended-length specials that are themed to each season—winter, spring, summer, and autumn. The Wonderful Winter of Mickey Mouse kicks things off when it premieres Friday, February 18, exclusively on Disney+.
ICYMI: Jonathan Freeman Reflects on a Remarkable Run in Disney's Aladdin on Broadway
Can you imagine portraying a fan-favorite character from creation, through animation, and then onto the live theatrical stage? It doesn't happen very often—but it did happen to Tony®-nominated actor Jonathan Freeman, who voiced Jafar in the 1992 animated hit and then originated the role in the musical version on Broadway. Before he takes his final bow Sunday, hear from Freeman directly in this exclusive interview with D23.com.