By Jocelyn Buhlman
For the young (and young at heart), toys are the tools to create grand stories and epic adventures. Your favorite characters can relive their famous tales or begin new ones, impossible ones—stories you've only seen in the depths of your imagination. Garrett Sander, a lifelong Disney fan with an epic toy collection to boot, is now living his own epic adventure as Principal Designer of Disney's new Sweet Seams collectible line. These "sew cute" dolls feature favorite Disney characters in special environments designed to inspire your next toybox adventure. Learn more about the Sweet Seams dolls here—but first, hear from Sander about his creative process, and how it feels to go from Disney toy superfan to doll designer!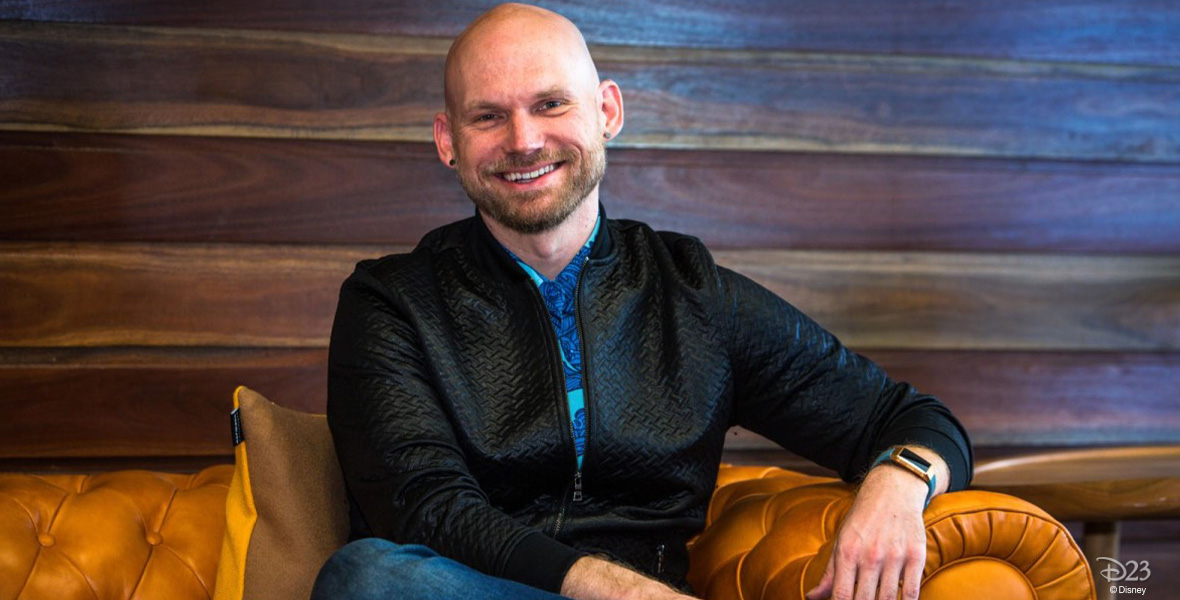 D23: The Official Disney Fan Club: Can you tell us a little bit about how you chose the specific Disney characters featured in this line?
Garrett Sander (GS): What was great about the Sweet Seams line is that we're able to tap into the breadth of the Disney portfolio. This allows us to get a lot of different characters in there and really showcase the world of Disney. So, we have Disney Princesses, but we also have Pixar characters. We wanted to find a balance. I mean, I love the Disney Princesses, but there's also so many other great characters in the portfolio, we wanted to be able to showcase all of them and create this Sweet Seams world that—while we know they can't always play together, the characters can live in the same world [and] in the same style together. And you can collect this really fun new style for all of the products.
D23: What inspired the aesthetic design of the dolls?
GS: We were really inspired by animatics in animation, so like that "sketchy" kind of look. If you look at the prints on the fabric of the dolls, you can actually see some of the sketch lines. We left some of the sketch lines in the print in the way that their fabrics look and the way that their faces are done. It almost feels like every one is hand drawn, if you will. We wanted to make sure that it felt like this little thing that somebody made for you—these cute little plush dolls. On the back, all of them have a silver stitch sealing them closed, and we like to say that's the "touch" of Disney magic!
We really wanted to create something that we hadn't seen out there, for all of these characters. While plush has been done before, we wanted these to feel handmade. They have these cute little knot limbs that actually have a loop on one side, so they can hold hands. And they have little knot feet, so their shoes will pop on and off the knots on the bottom.
D23: How did you decide where these dolls would "live" in these vessels?
GS: Originally, it was going to be all beds. But when we were thinking about it, we wanted to be able to create a world and make scenes where your character is doing something. For example, Ariel is at her vanity getting ready for the day, or Mickey has his car so he can zoom around town. It was creating these little vignettes so you can start building out the world of Sweet Seams.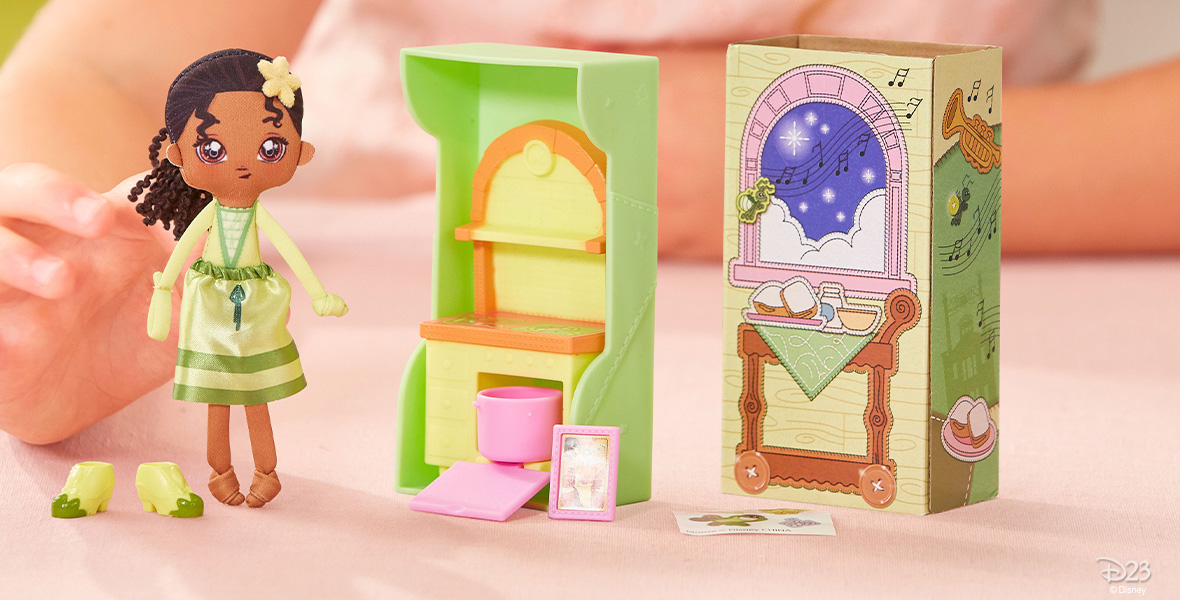 D23: Was the concept of the vessels part of the plan from the start, or did that develop later in the process?
GS: The initial idea was to make it so you're getting a doll and a playset together. We wanted it to be like a peek into their world. It's a moment in time that you're getting to see [for] these Disney characters. There's a sleeve on the outside of the box that has a scene printed on it, so when you set everything up you can complete the play. For example, in Tiana's little kitchen, there's a window looking outside, and she's got her little beignet sitting on the cart. That way you can create this fun scene and set it up. Then, when you're done, you put it all back inside too. We know storage is really nice and you can keep everything in one spot. We wanted to use everything that we could, that comes in the box, to create as much fun as possible.
D23: It seems like you've really like thought through both how collectors will display the dolls, but also how kids will play with them. How do you get into that head space of the customer?
GS: I think once you start the product, you ask yourself, "Okay, we want to make these characters!" And then you think, "How do we want the consumer to experience the product? What can we put in that would be really fun?" Because we know, a lot of times, kids like to use the toy to tell the stories of the characters. So, you want to make sure there's the ability to do that. But then, what are the other fun things that you can put in? So just by adding the loop to the hands, the dolls can hold hands together. Then [we] made sure the shoes were easy to get on and off, because it is fun to dress up your dolls; you could swap out shoes if you want. All the girls basically have skirts or shorts, and you could trade outfits if you want. So, there's a little bit of fashion play in there, too. We try to put as much play into these little plush toys [and] with our vessels as possible, so you're getting to get this complete "play in a box" and it all stores inside, too.
D23: There are some rarer characters featured in this line. How did you decide to include them?
GS: We looked a lot at the different properties for Disney, and I also had to pick some of my favorites! I love Herculesfrom the '90s, and that we're seeing a big '90s explosion too, so we wanted to pull from those really popular properties from that era. We thought that Megara was a really great example to use. She's a really fun character: she's spunky, she's her own woman, and she's not this "damsel in distress." We thought it was a great character to feature in the line. We want the line to appeal to Disney collectors as well as kids, so there's a little bit of something in there for everyone.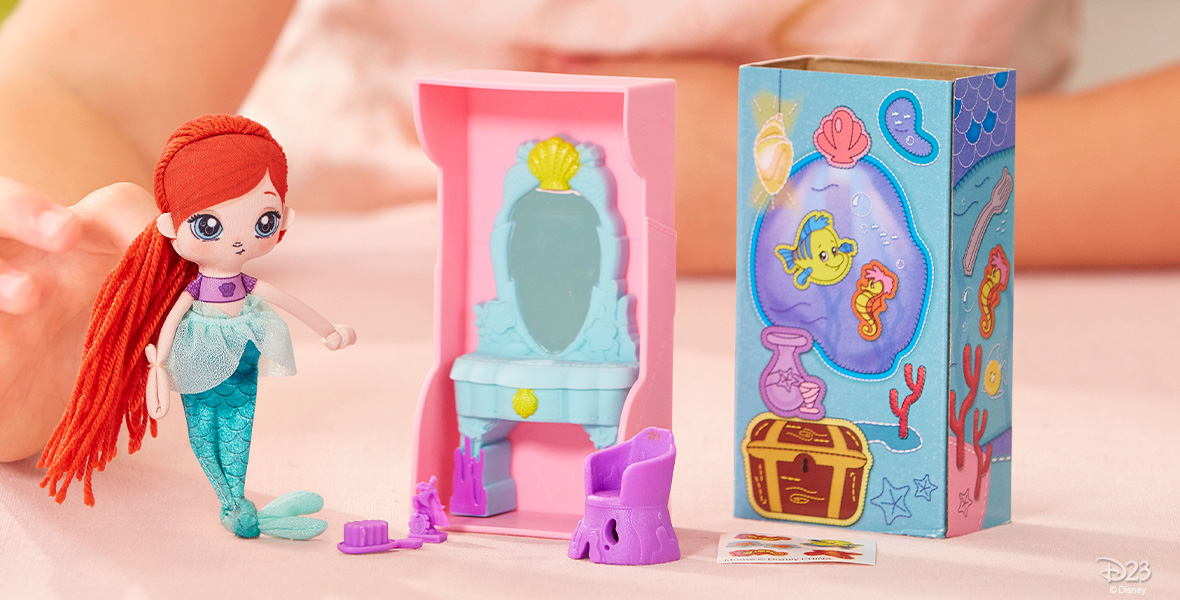 D23: Are there any hidden details or Easter eggs that fans should look for?
GS: I think the fun thing is that there is an "unboxing" experience. When you open the box up, you find your doll and they all come with a vessel. Some have a vanity; some have beds. And as you explore around, you find a hidden compartment in each and there's accessories inside. For example, in Ariel's scene, you find her plush doll, and you find her cute little seashell vanity—but when you open up the vanity, you find inside that she has a little "dinglehopper" brush and a mini version of the statue of Eric that she has from her grotto. We try to incorporate some of those fun details from the movies…
D23: Is there a Disney character that you'd love to include in a future line?
GS: I mean, I would love for us to get to do the villains! I think it'd be fun! They're sort of the "not -so-Sweet Seams" characters, and a personal favorite of mine. And I'd love to do Yzma! I love The Emperor's New Groove; it's one of my favorite movies, and Yzma is one of my favorite villains. I'd love to be able to do her in this form—I think it'd be really fun.