By Zach Johnson
A new star-packed Forky Asks a Question short arrived on Disney+ today. "What is Love?" features four living legends reprising their roles from Pixar Animation Studios' Toy Story 4: Mel Brooks as Melephant Brooks, Carol Burnett as Chairol Burnett, Carl Reiner as Carl Reineroceros, and Disney Legend Betty White as Bitey White. Fans first met the quirky quartet when Woody was moping in Bonnie's closet over being forgotten.
"They have these little roles in Toy Story 4, but I wanted to work with them—and I wanted them to shine!" says Forky Asks a Question writer and director Bob Peterson. "I thought, 'Wouldn't it be fun if they—as more experienced people—could teach Forky about love?'" Adds producer Mark Nielsen, "We get the chance to go a lot deeper into these characters and their relationships with each other in this really, really funny short."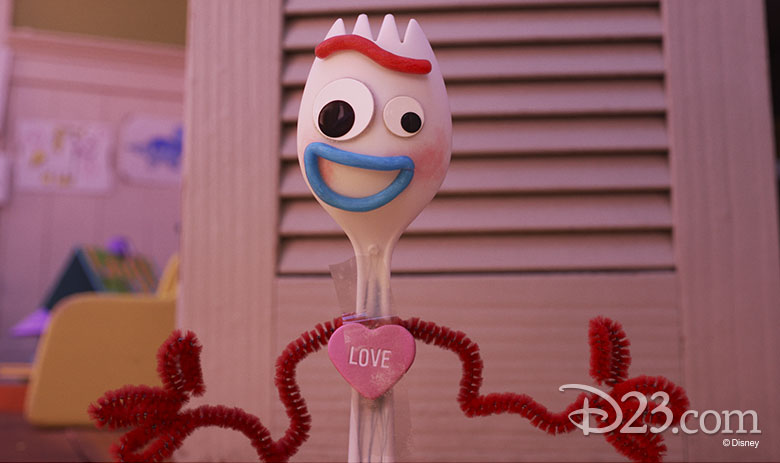 The story takes place just before Forky (voice of Tony Hale) meets his true love, as seen in the Toy Story 4 epilogue. "This is right after the toys come back," Peterson says, "but a lot of the questions were built around who I wanted Forky to be paired with."
Peterson calls "What Is Love?" his favorite short, since he got to fulfill a childhood dream of working with his "comedy heroes." Calling it a "surreal" experience, he adds, "I got to record Carol Burnett on one day, and I'm telling her what I would like… and there she was, Carol Burnett! I felt like I was 5 years old in my jammies watching TV. And then the next day it was Betty and Carl. We went to his house and recorded there, and then we did Mel—all in one day! It was amazing. It's hard to pick a favorite, but that's it."
Want more Disney+ news? Click here to stay up-to-date with what's streaming!