By D23 Team
On July 24, 1966, Walt Disney opened the first major new land to Disneyland since its debut in 1955. Since then, New Orleans Square has become home to fan-favorite attractions like Pirates of the Caribbean and Haunted Mansion, delicious eats (Mickey beignets and a mint julep, anyone?), and an amazing atmosphere, from the Jambalaya Jazz band to the wonderful waterfront views.
Here at D23, we're always looking for those special Disney details – the little nooks and crannies that add an extra touch of pixie dust to the already immersive experience that is visiting a Disney theme park. In celebration of New Orleans Square's 50th anniversary, read on for favorite Disney details from this magical corner of Disneyland.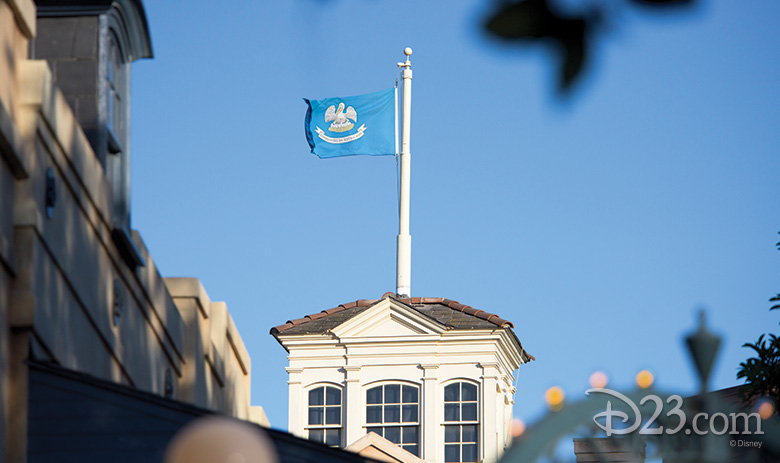 There's so much to see on the streets of New Orleans Square, but don't forget to look up! You'll see the Louisiana State flag flying over Royal Street.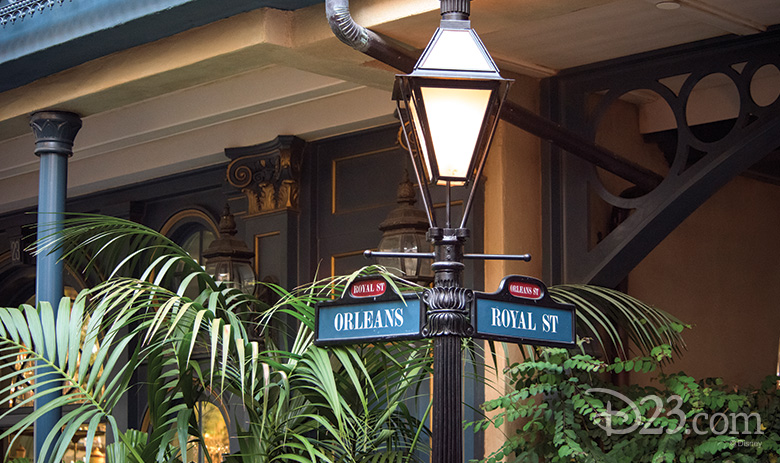 If you ever get lost in the charming boutiques and quiet spaces of New Orleans, just look to this street sign! New Orleans Square is one of few places in a Disney theme park where streets are named. New Orleans Square is (appropriately) comprised of four streets: Royal Street, Orleans Street, Front Street, and Esplanade Street.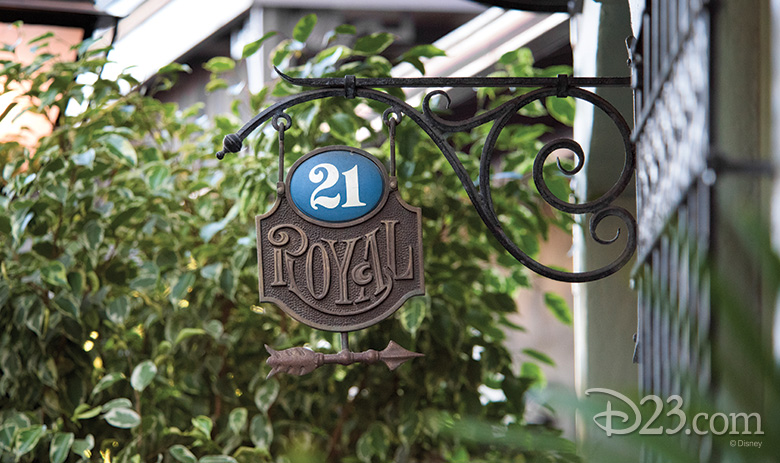 Even fewer than street names in New Orleans Square are street addresses! 21 Royal Street is one of just a few street addresses in the land, including, of course…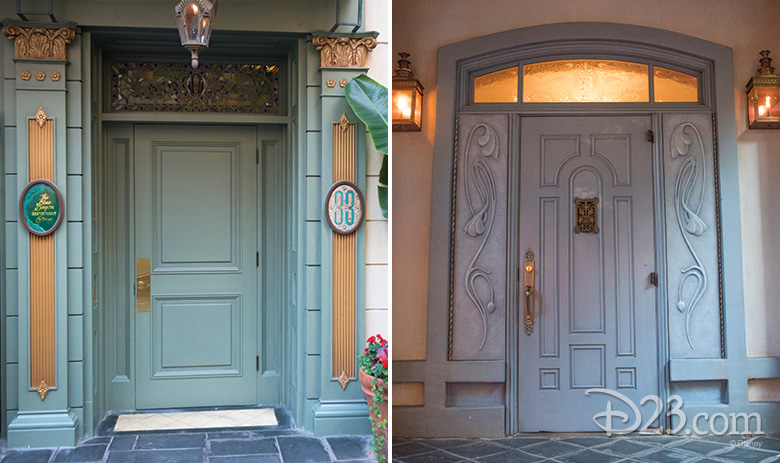 The famous 33 Royal Street (pictured left)! Previously home to the member-exclusive Club 33, a private restaurant inspired by the private suites and lounges Walt Disney visited during the 1964-1965 New York World's Fair, the green door has been shrouded in mystery for many years. After an expansion in 2014, the club's entrance has moved to 33 Orleans Street (pictured right). Dining at Club 33 is on many Disney fans' bucket lists – check out our D23 Member-exclusive tour from 2012 HERE.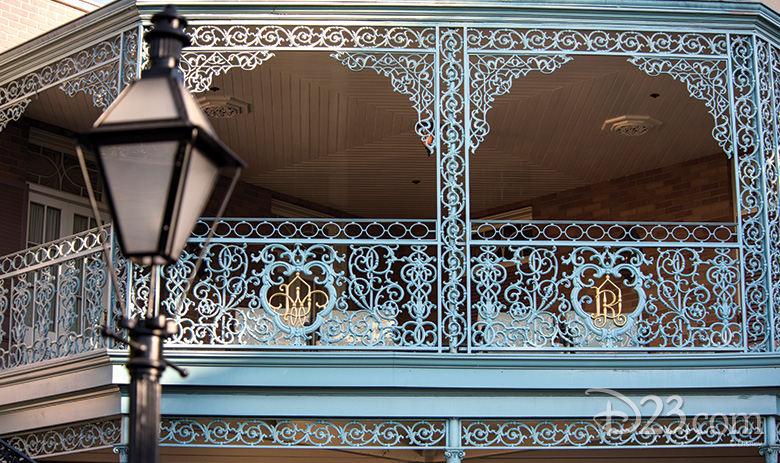 Another elusive area of New Orleans Square, tucked away above Pirates of the Caribbean, is the Disneyland Dream Suite. Originally intended to be a private apartment for Walt and Roy Disney and their families, the Disneyland Dream Suite was completed in 2008. The suite is absolutely stunning and chock-full of Disney details. But, for those just passing by, you'll be able to see one of these fun details from outside! Take a close look at the railing on the suite's balcony—you'll see the initials "WD" and "RD" (for Walt Disney and Roy Disney, respectively) hidden in the wrought-iron. D23 Members were able to explore the Disneyland Dream Suite during an exclusive event in 2012 – click HERE to see images from inside the secluded suite.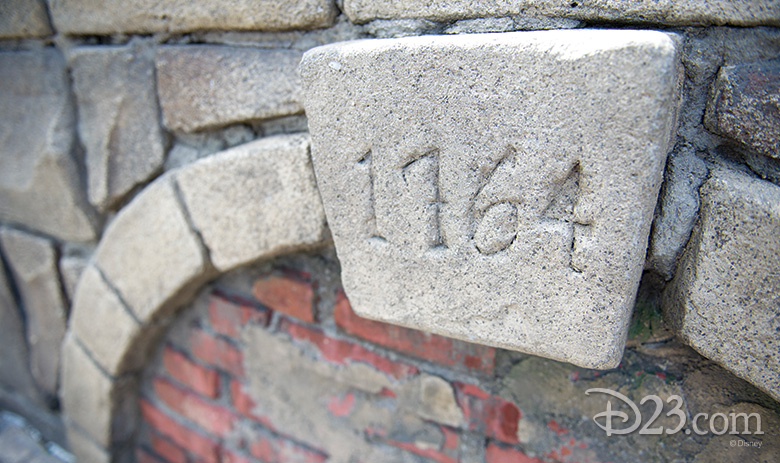 This mysterious "1764" can be found along the walkway facing Rivers of America. The bricked up hole and engraved "1764″ have always kept guests wondering about the story behind it. It was built during a refurbishment to prepare the riverfront for viewing of the nighttime spectacular, Fantasmic! There have been many theories about its meaning, but it's merely an atmospheric design saluting the heritage of New Orleans. The French ceded New Orleans to the Spanish in 1763 in the Treaty of Paris, with the Spanish taking over in 1764. The Spanish influence over the next 35 years redefined the look of New Orleans, introducing the Spanish-inspired archways, ornate balconies, grand public buildings and the now-familiar courtyards—all elements associated with the French Quarter. Also in 1764, the first four Acadian families (Canadians expelled from Canada who became known as "Cajuns") arrived in New Orleans, beginning a major influence on the distinctive language and culture of the city.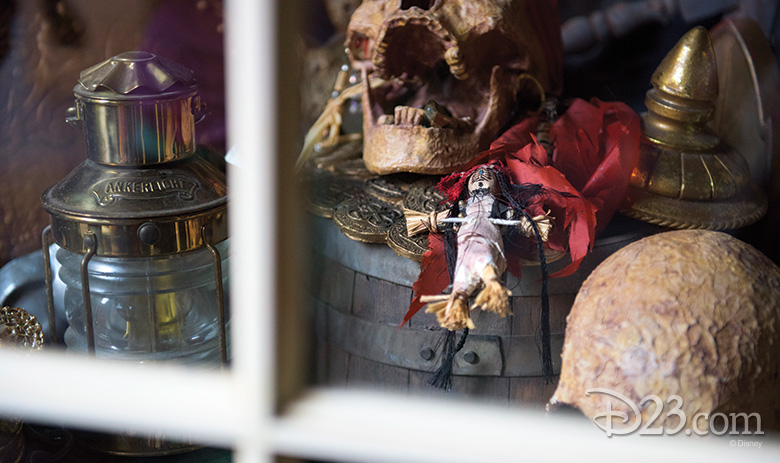 After riding the legendary Pirates of the Caribbean attraction, have you ever taken a close look at the Pieces of Eight shop window on the right while exiting to Royal Street? If you have, you may have noticed an eerily adorable voodoo doll that looks just like a certain pirate Captain we all know and love. Fans may recognize it as Captain Jack Sparrow styled with the face paint he wore when escaping the natives in Pirates of the Caribbean: Dead Man's Chest (2006). Maybe the voodoo doll is their way of getting back at Captain Jack.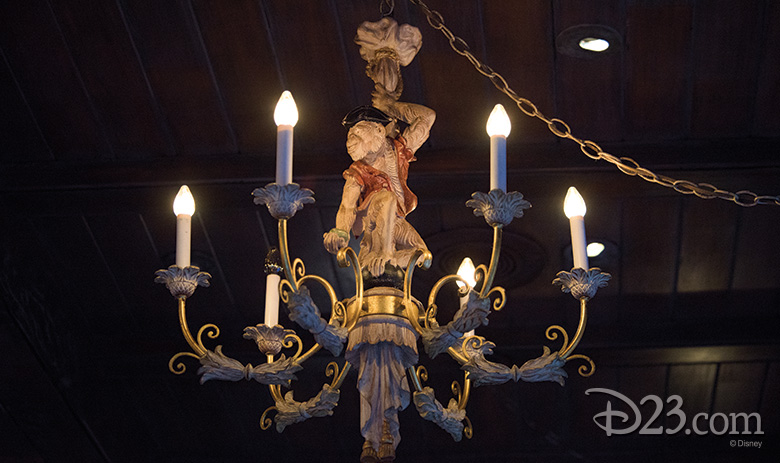 Speaking of Pieces of Eight, this pirate shop is definitely worth an extensive visit. It is filled with fun knick knacks and wonderful theming that really make you feel the phrase, "a pirate's life for me." While "hanging" around Pieces of Eight, you might look up above the cash register and notice this classic chandelier with a white pirate monkey offering you some of his treasure. We love that there's a striking resemblance to a certain monkey they call Jack from the Pirates of the Caribbean films.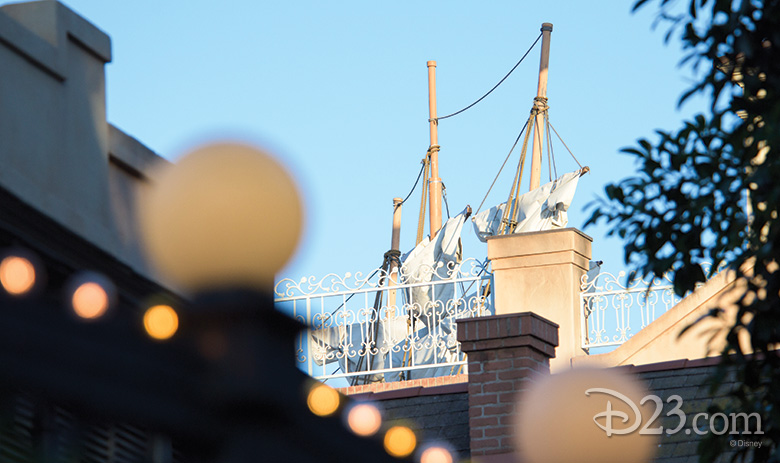 New Orleans is a port city, and one of the thematic elements that helps tell that story at New Orleans Square are the intriguing sailing ship masts peeking out above the rooftops. Seeing those masts gives the feeling that there might be more to explore and draws you deeper into the area. However, this Disney detail was not always part of the New Orleans Square roofline. One of the defining concept renderings for New Orleans Square by Imagineering artist Herbert Ryman showed the masts of a tall sailing ship framed by the rooftops, appearing as if a tall ship was just entering the Port of New Orleans. In the 1990s, Imagineers added masts to the roofline of New Orleans Square, making the skyline appear just as Ryman had envisioned it years before.