By Jocelyn Buhlman
This past weekend, fans made the hyperspace jump to the Anaheim Convention Center for four cosmically cool days of Star Wars Celebration. Since fans, Force users, Rebels, bounty hunters, and more had not been able to gather together for three years, the convention was filled with the Force—and joy! Besides allowing Star Wars fans to honor the franchise that has changed their lives, the weekend was full of epic announcements and can't-miss moments from some of the most anticipated parts of the Star Wars galaxy. Check out our favorite reveals, trailer drops, and panels from Star Wars Celebration below:
Thursday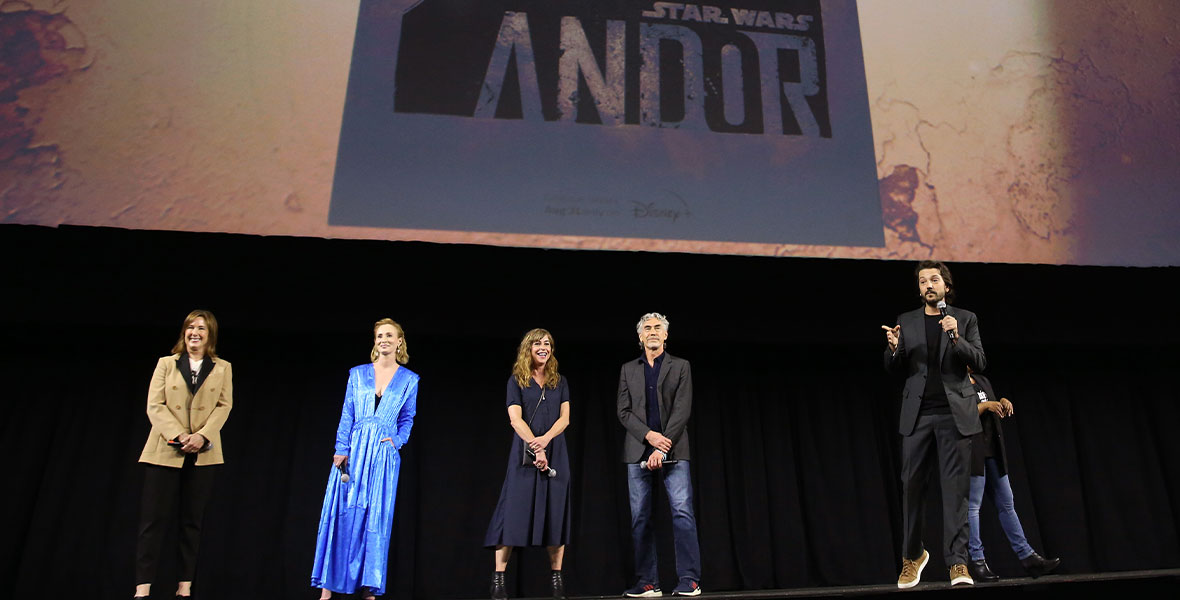 Lucasfilm's Studio Showcase
On the first day of Star Wars Celebration, fans gathered in the Celebration Stage full of anticipation for the latest news on Lucasfilm's upcoming series and films. You can read our full recap of the panel here, highlights of which include debuts of new trailers for Andor and Willow, plus the announcement of Star Wars: Skeleton Crew and the confirmation that the upcoming Indiana Jones film is close to finished in production.
The High Republic: For Light and Life
Diving into the world of Star Wars in the time before the Skywalker Saga, Star Wars: The High Republiccontinues to expand the galaxy far, far away in new and exciting ways. Attendees of the panel got sneak peeks at phase II of High Republic, which goes back 150 years before the start of Phase I, to an age of exploration for the galaxy where much of the technology with which we've become familiar isn't the same. "This is a point in time where this area of space is very much unknown to the Republic and not everything is necessarily tied together as closely," said High Republic author Claudia Gray.
Part of the Phase II reveals included the debut of new cover and concept art, including a sneak peek at the not-yet-final cover for Convergence by Zoriada Cordova, the cover for Quest of the Hidden City by George Mann, the cover of The High Republic: The Blade by Charles Soule and Marco Castiello, and a look inside The Art of the High Republic book. The concept art shown included imagery of Yoda, Marchion Ro, and Ember.
Plus, the High Republic comics are diving into Phase II with upcoming titles including the Dark Horse miniseries The Nameless Terror by George Mann, with art by Eduardo Mello and Ornella Savarese, as well a new run of Marvel's Star Wars: The High Republic by Cavan Scott, with art by Ario Anindito.
D23 Galactic Disco Night
After a successful day of lightspeed jumping from panel to panel and adventuring around the show floor, the grooviest Star Wars fans headed to the House of Blues: Anaheim in their most Coruscant chic clothes, giving Lando Calrissian himself a run for his money in the funkiest fits the galaxy's ever seen while they boogied like a Wookiee on the dance floor! D23 Members had the chance to meet iconic Star Wars characters, play games for a bounty of prizes, and cut a rug like a Kaminoan to sets from DJ Mamabear and Mayer Hawthorne.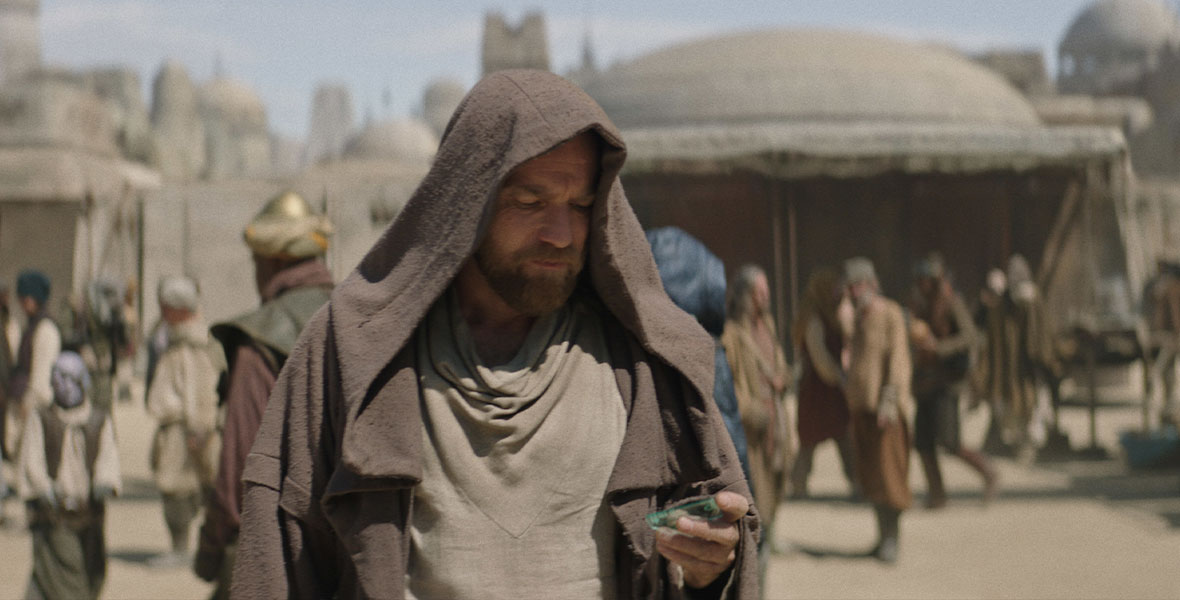 Obi-Wan Kenobi Star Wars Celebration Fan Event
For those less interested in wretched hives of scum and villainy (and disco), fans gathered back at the Celebration Stage for a very special fan event—the red carpet premiere of the Obi-Wan Kenobi series! Attended by stars Ewan McGregor, Hayden Christensen, Moses Ingram, Bonnie Piesse, Rupert Friend, director/executive producer Deborah Chow, executive producer Joby Harold, and more cast and crew from the series, the event featured a surprise premiere of the first two episodes of the highly anticipated limited series, which also debuted early that night on Disney+.
Friday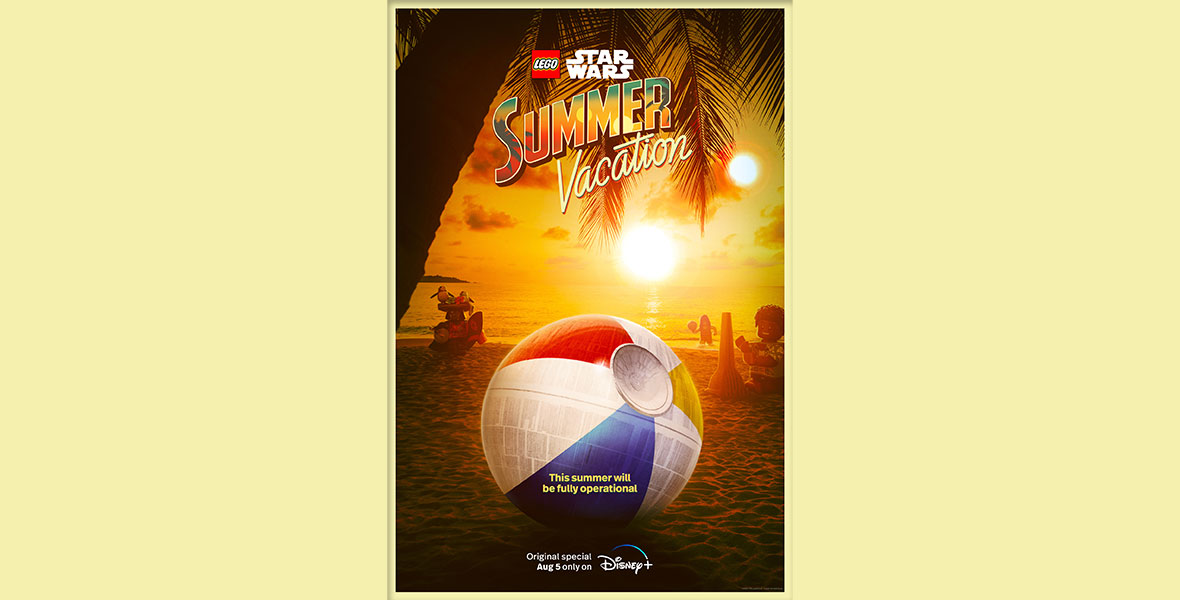 The Summer of LEGO Star Wars
Mousequerade host extraordinaire Yvette Nicole Brown led panelists Jill Wilfert, Jason Cosler, and Jens Kronvold Frederiksen of LEGO, and Douglas Reilly, Josh Rimes, Leland Chee, David Shayne, and Chris Gollaher of Lucasfilm, who represented Consumer Products, Games and Animation in a panel discussion showcasing what the LEGO Star Wars team was building to for fans to enjoy this summer.
Your summer plans might involve fewer barbecues and more bricks—LEGO bricks, that is—thanks to LEGO® Star Wars Summer Vacation, an all-new animated special, premiering August 5, 2022, exclusively on Disney+. Starring the wizard of wackiness himself, "Weird Al" Yankovic, and the panel's host Yvette Nicole Brown, the special will also feature other returning cast members from previous LEGO® Star Wars specials.
Set shortly after Star Wars: The Rise of Skywalker, LEGO® Star Wars Summer Vacation follows Finn as he arranges a surprise vacation for his friends Rey, Poe, Rose, Chewie, BB-8, R2-D2, and C-3PO aboard—of course—the ultra-luxurious Galactic Starcruiser, the Halcyon. Finn's plan to have one last hurrah together quickly goes awry when he's separated from the group. Tune in this summer to find out what kind of intergalactic goofiness he'll discover on his adventure!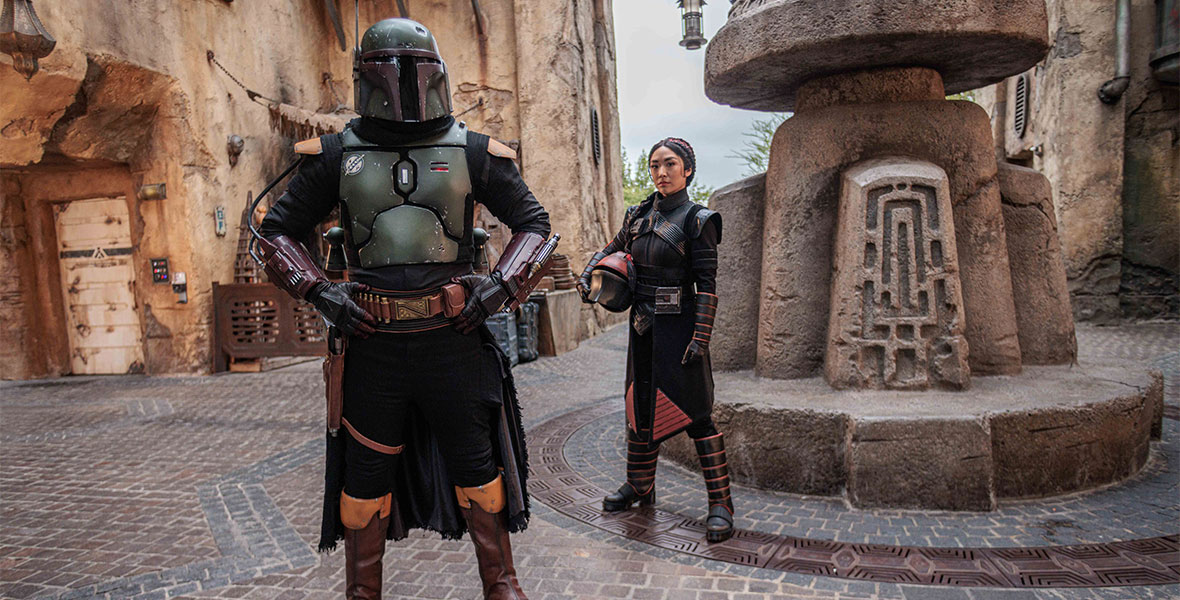 From a Galaxy Far, Far Away to a Disney Park Near You
Friday afternoon marked two major panels for Disney Parks fans—the first exploring the collaborations between Lucasfilm and Disney around the world. The panel featured Imagineers Scott Trowbridge, Asa Kalama, and Ann Morrow Johnson, retired Imagineer Tony Baxter, and Lucasfilm's Matt Martin. Beyond journeying through experiences like Captain EO, Star Tours, and Star Wars: Hyperspace lounge, our friends at Disney Parks made some exciting reveals—such as announcing that Boba Fett and Fennec Shand are now exploring Star Wars: Galaxy's Edge at Disneyland!
35 Years of Star Tours with D23
Artoo, lightspeed to Endor! Our second panel about Disney Parks zeroed in on the attraction that started Lucasfilm and Disney's collaborations: Star Tours! While we didn't have a StarSpeeder handy, we were still able to transport our audience through the history of Star Tours during our first ever panel at Star WarsCelebration. Captained by Star Wars: The Clone Wars' Ashley Eckstein, our panel dived into the past with a look back at the 1987 Star Tours with panelists Tony Baxter, Lucasfilm's Dennis Muren, and Imagineer (and creator of Captain RX-24 himself!) Chris Runco. After treating our audience to the ENTIRE original Star Tours film, we made the hyperspace jump to 2011 and Star Tours: The Adventures Continue, featuring Imagineer Meghan Short and VFX Supervisor Bill George.
Saturday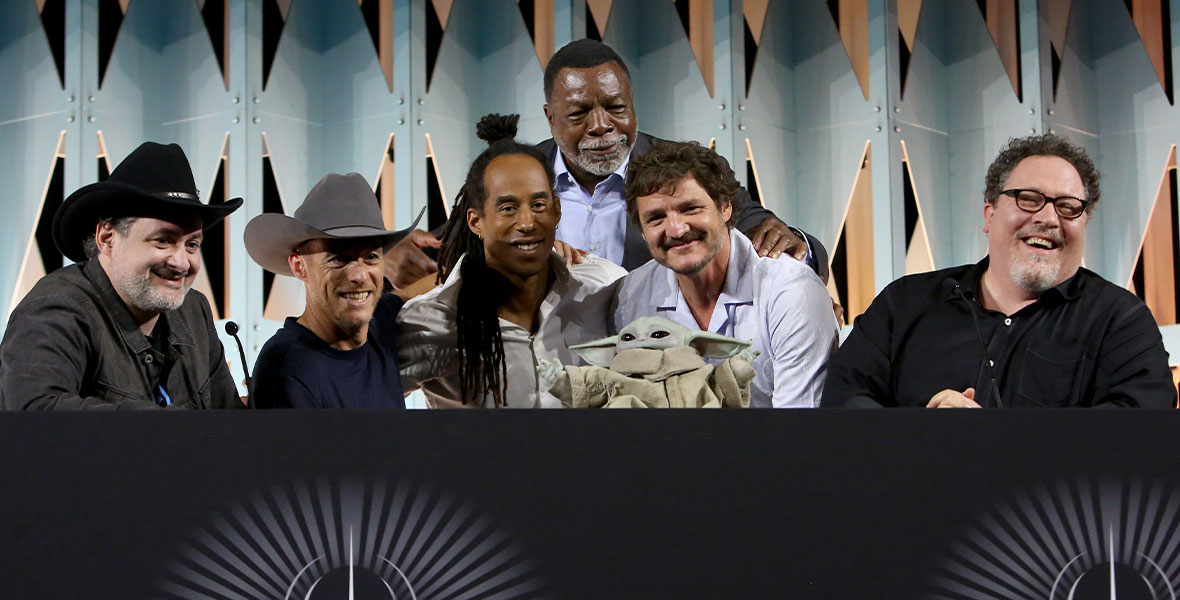 Mando+: A Conversation with Jon Favreau & Dave Filoni
Mandalorian masterminds Jon Favreau and Dave Filoni took to the Celebration Stage for Mando+: A Conversation with Jon Favreau & Dave Filoni, moderated by Ash Crossan of Screenrant. A cantina's worth of guests joined in the fun, include Pedro Pascal, Brendan Wayne, Lateef Crowder, Giancarlo Esposito, Emily Swallow, Carl Weathers, Temuera Morrison, Katee Sackhoff, Rick Famuyiwa, and Rosario Dawson. In the CUTEST turn of events ever, fans were also surprised by the Star Wars Celebration debut of Grogu himself! Beyond special appearances, the panel also discussed of season three of the series, including revealing that Rick Famuyiwa will executive produce "The Mandalorian," Season Three. An exclusive sneak peek of the season was shared with the crowd—and that's just where the fun began!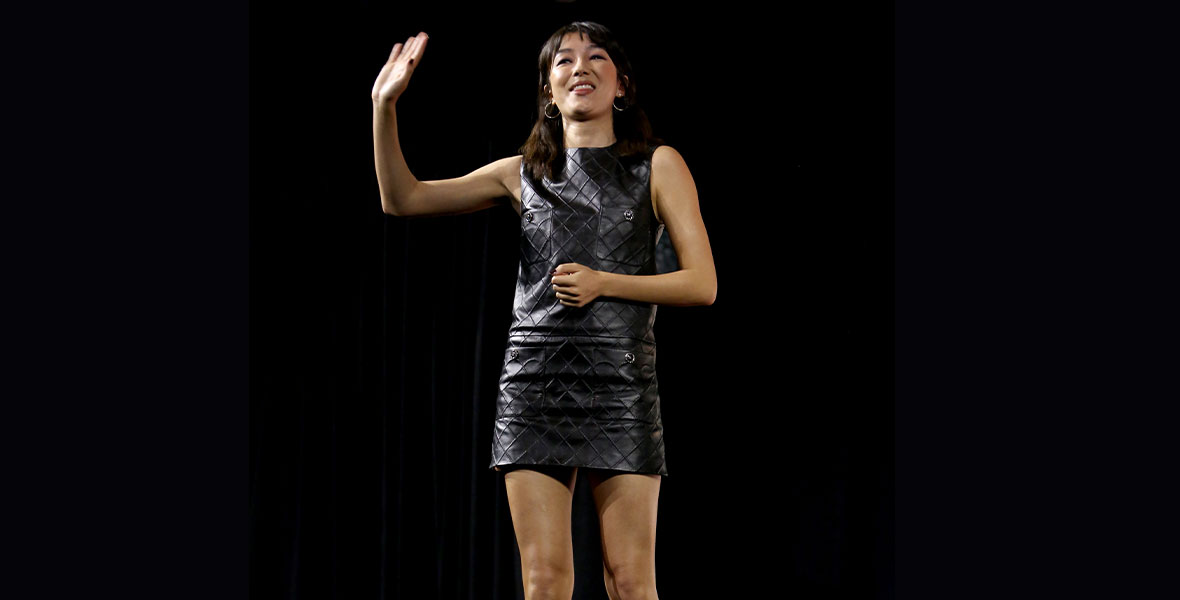 In a surprise turn of events, the audience also got a major update on the Ahsoka series, including a look at early footage of the series… and a major reveal that Natasha Liu Bordizzo will be portraying fan-favorite character Sabine Wren in her live action Star Wars debut!
Both Ahsoka and The Mandalorian season three will stream exclusively on Disney+ in 2023.
Tales of The Jedi
Host Amy Radcliffe chatted with special guest Dave Filoni about Star Wars: Tales of the Jedi, an anthology of six all-new animated shorts that premieres this Fall on Disney+. Filoni revealed that the anthology will feature some of our favorite Force users from the Star Wars prequel era, including Ahsoka and Count Dooku. The Ahsoka awesomeness continues with a teaser trailer and the premiere short in the series, featuring a very young Ahsoka Tano and her mother.
Sunday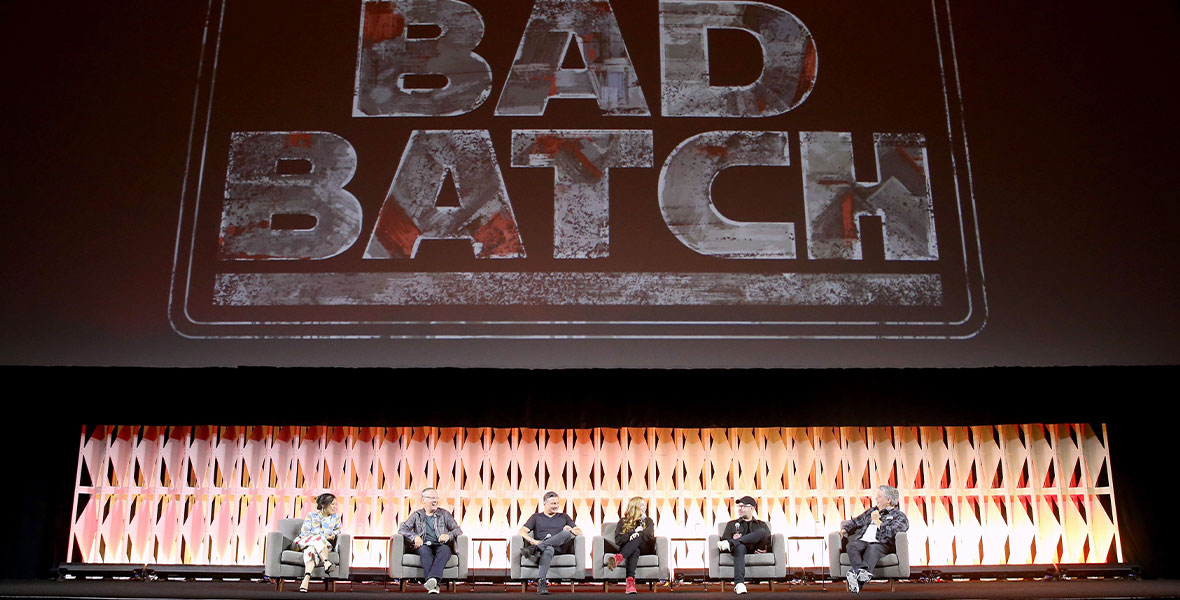 Star Wars: The Bad Batch Season 2
The final day of the convention called for one more look ahead at the future of Star Wars—namely, the next season of the Disney+ animated series, Star Wars: The Bad Batch. Featuring supervising director Brad Rau, executive producer and head writer Jen Corbett, story editor Matt Michnovetz, and actors Dee Bradley Baker (voice of ALL of the Bad Batch) and Michelle Ang (the voice of Omega), panelists shared insight on season two before revealing a clip from the first episode and a teaser trailer. The second season of Star Wars: The Bad Batch will premiere this fall exclusively on Disney+.
Thanks to everyone who joined us for our out-of-this-world Star Wars Celebration festivities. Whether you were at the Anaheim Convention Center or livestreaming the events from a distant planet, we hope you felt the power of the Force this weekend and are looking forward to a new galaxy of Star Wars fun!