By Jocelyn Buhlman
Star Wars Celebration 2022 is bustling full of aliens, rebels, and the occasional droid, all coming together at the Anaheim Convention Center to celebration the iconic franchise that has shaped so many of our hearts and minds. Across the way from the convention center is Disneyland Resort—and Star Wars: Galaxy's Edge. So, naturally the Happiest Place on Earth is top-of-mind for many of the fans enjoying their out-of-this-world weekend at Star Wars Celebration. Luckily for them (and any Disney Parks fan!), Star Wars Celebration hosted the "From a Galaxy Far, Far Away to a Disney Park Near You" panel today to share some exciting new developments about Star Wars at Disney Parks.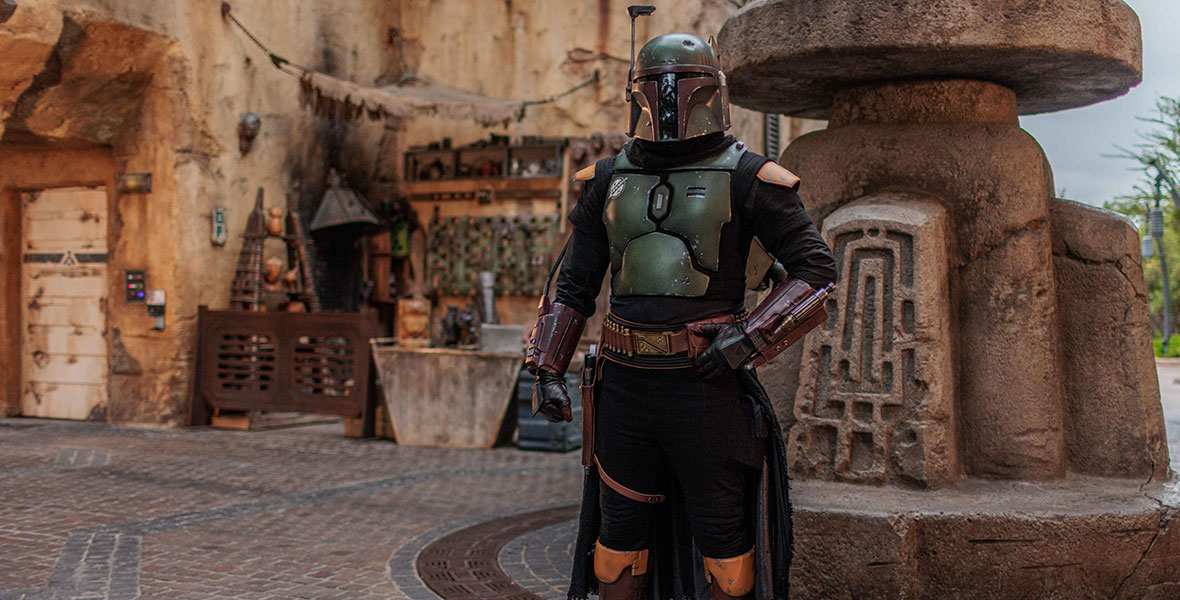 One of the stand-out moments of any Star Wars: Galaxy Edge visit is getting to meet your favorite characters—and more will be arriving at the land tomorrow! The legendary bounty hunter Boba Fett and mercenary Fennec Shand will soon stake a claim in Star Wars: Galaxy's Edge at Disneyland Park, starting May 28. Keep a sharp eye out for these two troublemakers hiding in the shadows around Black Spire outpost.
If you were enthralled watching watching Boba Fett reinvent himself on the Disney+ series The Book of Boba Fett, alongside Fennec Shand, you'll be excited to see a new part of their journey! The duo is full of surprises as they navigate the galaxy's underworld on the sands of Tatooine—and now you'll get to experience a previously untold part of their story that takes them to the planet Batuu and Black Spire Outpost, a destination long familiar with bounty hunters and even more colorful characters.
Now, we know what you're thinking: "When do we get to meet Grogu?!" The adorable child who stole our hearts from the first two seasons of The Mandalorian will be headed to Star Wars: Galaxy's Edge at a later date, along with Din Djarin—a.k.a the Mandalorian! To bide your time until you can meet this fan-favorite duo, keep up with Mando, Grogu, and their journey together with the first two seasons of The Mandalorian on Disney+.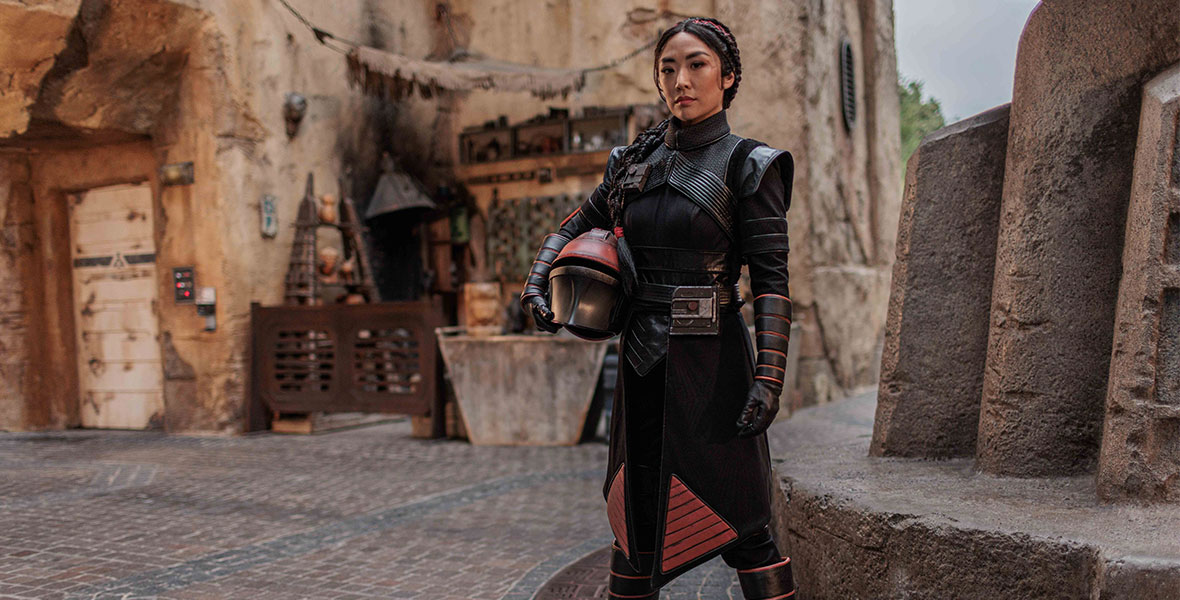 Since Star Wars: Galaxy's Edge opened in 2019, Star Wars storytelling has experienced a galactic expansion to include many new characters and stories across a wide range of settings. Now, Star Wars: Galaxy's Edge is likewise expanding the stories guests can encounter when visiting. Having been designed from the outset to connect with a broad range of Star Wars storytelling, Black Spire Outpost has played a role in many of these stories stretching over thousands of years. And while, up to now, most of those story connections have been shared through media and publishing, you'll soon have an opportunity to connect with those stories with the immersive detail and authenticity that Star Wars: Galaxy's Edge was designed to deliver.
Disney Parks is committed to the long history of Batuu and the collection of amazing characters who inhabit the outpost, including legacy characters and original characters. With the ever-expanding galaxy of the Star Wars universe, we as visitors may be able to experience different stories throughout Star Wars history—but the characters on Batuu cannot. They will remain in their specific story and timeline and won't intersect with other characters or stories that would not be appropriate for their time and place.
Stay tuned to D23.com for more news about Star Wars: Galaxy's Edge as it breaks, and may the Force be with you on your next adventure!