By Alison Stateman
It's almost here, the moment you've been waiting for—four beloved nighttime spectaculars are coming back to Disneyland Resort!
As daylight fades on April 22, the Main Street Electrical Parade, Disneyland Forever fireworks, and World of Color will bring even more spectacular magic to Disneyland Park and Disney California Adventure Park. What's more, the Main Street Electrical Parade, a guest favorite since its debut in 1972, returns with a new grand finale to celebrate its 50th anniversary! On the heels of these illuminating offerings, Fantasmic! —Disney's longest-running nighttime show—will return to Disneyland on May 28.
Of course, no trip or special event at Disney Parks would be complete without specialty wares and scrumptious munchies to enjoy while you "ooh and ahh" at all the pageantry. From the Parade Macaron at Jolly Holiday Bakery Café to the Light-up Elliott Dragon Premium Bucket, edible embodiments of these illuminated must-sees bring their enchantments to the plate for you to indulge in!
To help you make the most of these colorful evenings, we've compiled a list all the things you can eat, see, and do to celebrate with help from our friends at Disney Parks.
Disneyland Park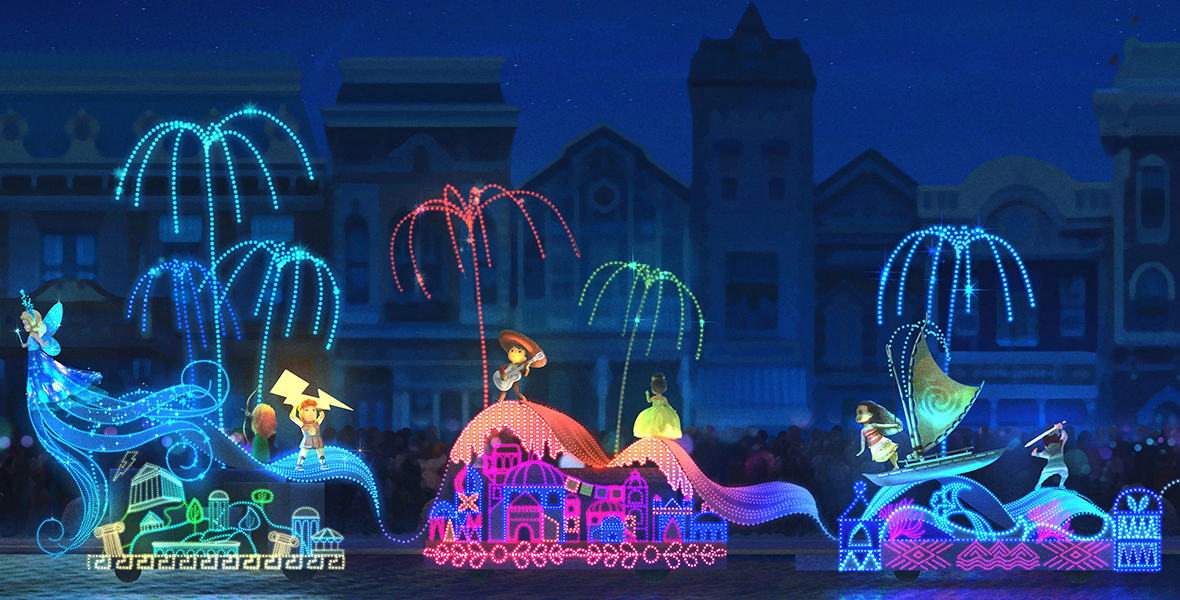 The triumphant return of the Main Street Electrical Parade will feature long-treasured floats, such as the classic Casey Jr. train and drum unit and Elliott the Dragon, and the familiar strains of the electro-synthe-magnetic musical score based on "Baroque Hoedown" by Jean-Jacques Perrey and Gershon Kingsley.
In honor of the cavalcade's 50th anniversary, Disney Live Entertainment introduced a magnificent, all-new grand finale that celebrates the theme of togetherness.
The seven-segment, 118-foot float draws inspiration from the original design of classic Main Street Electrical Parade floats and Mary Blair's one-of-a-kind art style on "it's a small world."
In a nod to the parade's storied heritage, the finale will also feature the return of the Blue Fairy from Pinocchio and a unique 19-foot-tall representation of Sleeping Beauty Castle.
Scenes from more than a dozen Walt Disney Animation Studios and Pixar Animation Studios films are depicted in thousands of twinkling lights in one of the grandest sequences in the parade's history. Beloved characters and scenes from classic and contemporary stories such as Encanto, The Jungle Book, The Princess and the Frog, Raya and the Last Dragon, and Aladdin are sure to delight guests of all ages.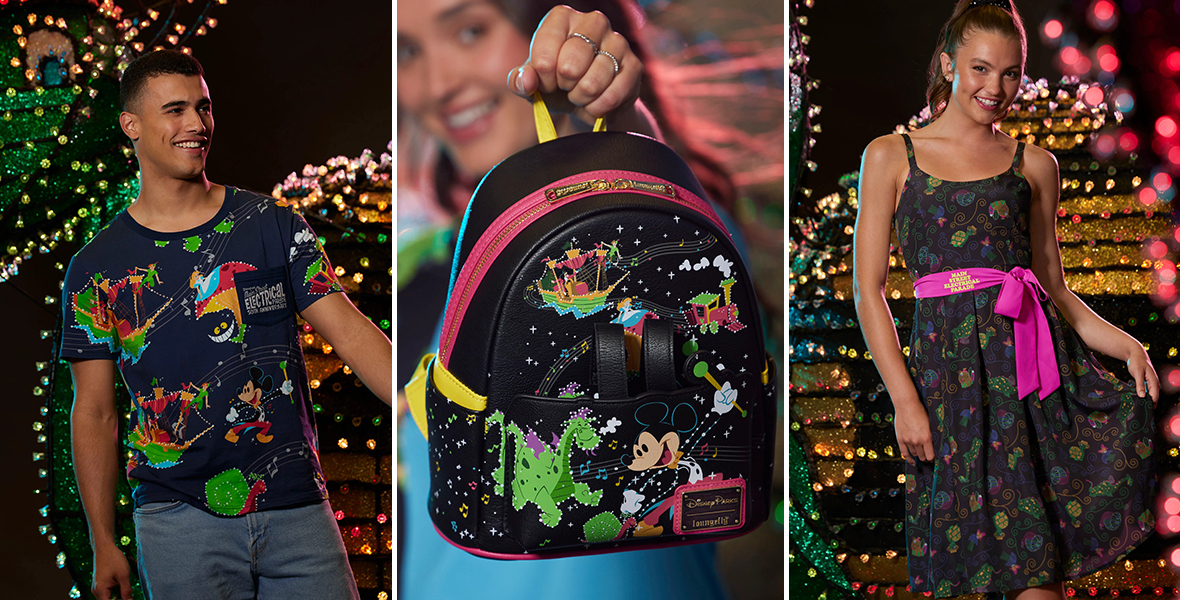 For those who like to wear their adoration on their sleeves, eye-catching new merchandise dedicated to the parade is available at Disneyland and shopDisney. These include options that, quite fittingly, feature glowing ink such as an all-over print T-shirt and leggings. Or choose a dress with glow-in-the-dark accents featuring Elliott the Dragon and a bright pink sash in salute to the timeless spectacle. Accessories include an ear headband and a mini backpack by Loungefly perfect for toting all your park essentials.
Parkgoers will also be treated to the Disneyland Forever fireworks spectacular — a street-to-sky celebration filled with sparkling pyrotechnics and immersive projections that envelop guests in a breathtaking journey with surprising special effects. Main Street, U.S.A., and a few other spots in Disneyland become a magical canvas, transporting guests from an Anaheim orange grove into the worlds of timeless Disney and Pixar stories. Disneyland Forever also features two original songs: the theme "Live the Magic," and the inspiring closing song "Kiss Goodnight," written by Richard M. Sherman.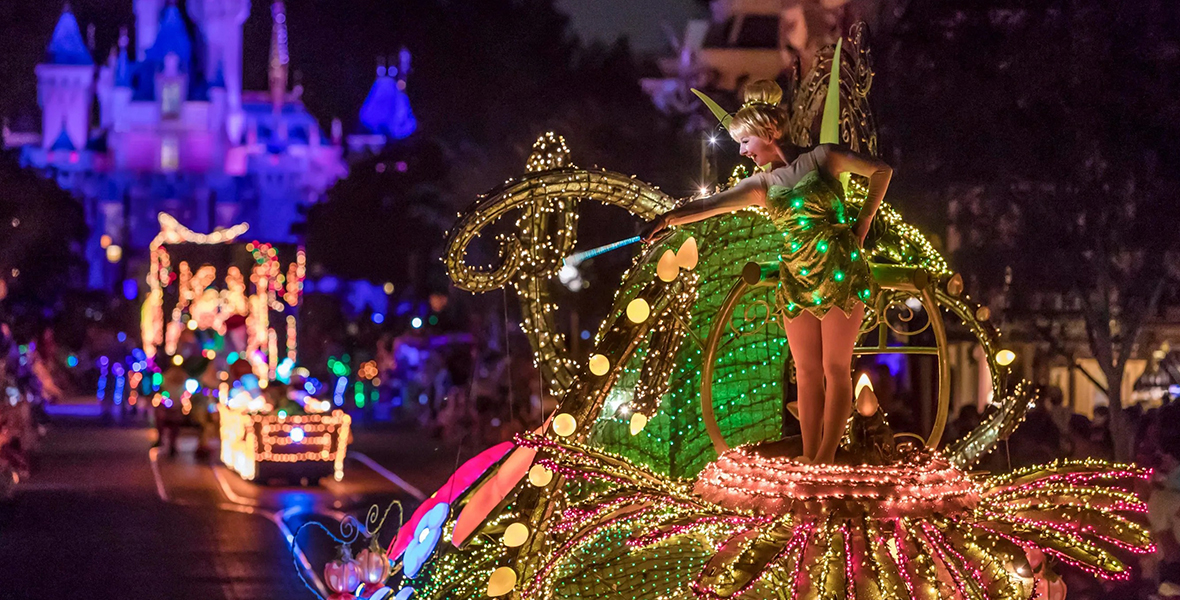 Don't dawdle! The Main Street Electrical Parade and Disneyland Forever fireworks extravaganza are being presented for a limited time. Disneyland Forever will ignite the night from Fridays through Sundays with Mickey's Mix Magic projections-only show scheduled Mondays through Thursdays. Disneyland Forever fireworks will then run nightly in the summer.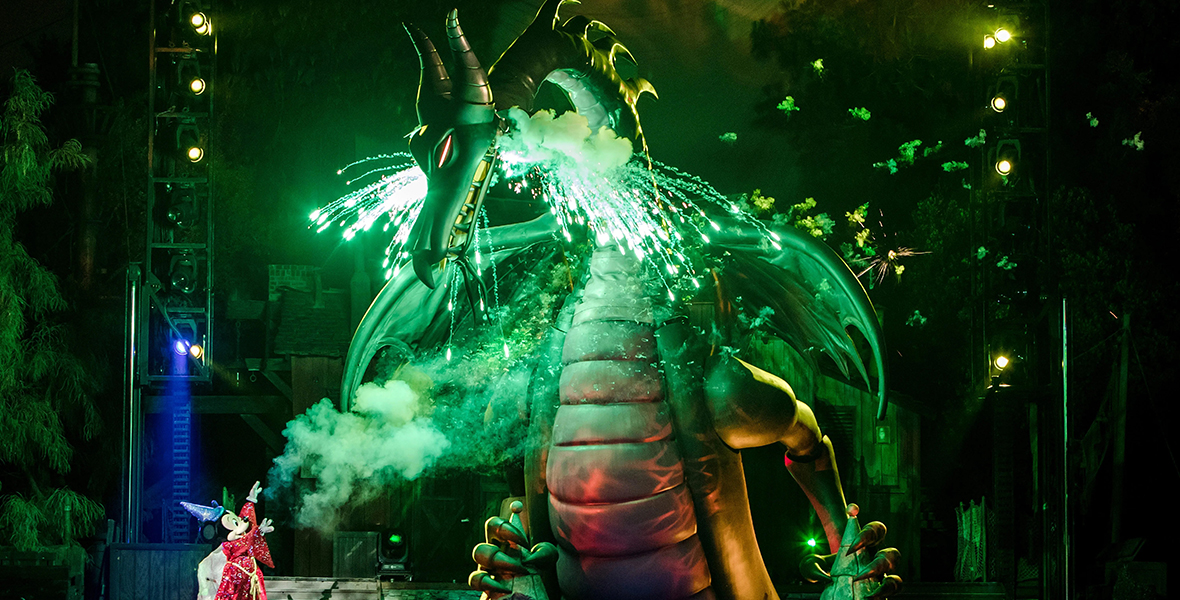 Following these spectaculars, Fantasmic! returns to Disneyland on May 28. Celebrating its 30th anniversary, Fantasmic! offers an emotional extravaganza of colorful Disney animated film images, choreographed to an exciting musical score and highlighted by the 45-foot-tall, fire-breathing Maleficent dragon. The waters of the Rivers of America come alive as Mickey Mouse dreams he is the Sorcerer's Apprentice and faces some of Disney's most dastardly villains, using the power of his imagination to save the day. Along the way, fantastic events and images as seen in Disney films—including Fantasia, The Jungle Book, Pirates of the Caribbean, and more—come to life with live performers, character appearances, enhanced special effects, and pyrotechnics.
Foodies can find a bevy of yummy options, from a dining package (with reserved viewing of the parade) at the Plaza Inn to sweet and savory offerings throughout Disneyland Resort, to satisfy cravings while taking in all the electrifying sights and scenes.
Plaza Inn
Parade Confetti Bundt Cake: Confetti cake with blue sopapilla filling, cream cheese glaze, and Main Street Electrical Parade chocolate décor (New)
Main Street Electrical Parade Dining Package: Plaza Inn fried chicken, smoky mac 'n' cheese, oven-roasted carrots, baby wedge salad, Mickey-shaped corn bread, and berry cheesecake (Only available with purchase of the dining package) (Kids option also available)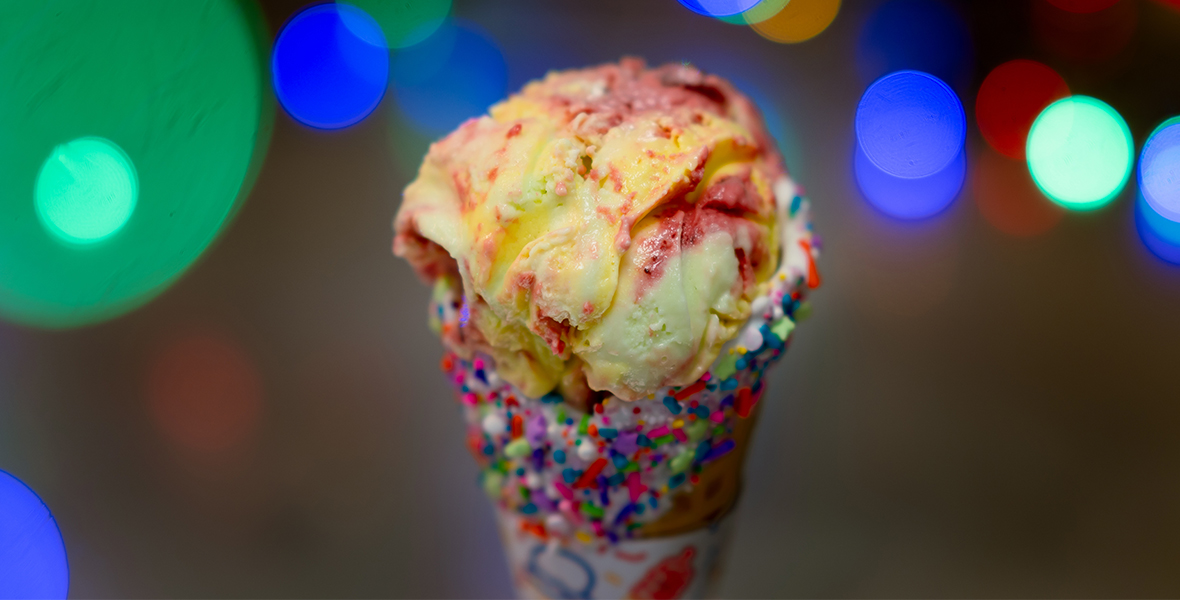 Gibson Girl Ice Cream Parlor hosted by Dreyer's (Available on mobile order)
Uni-cone: Banana, cherry, and pistachio ice cream in a white chocolate-dipped waffle cone with fantasy sprinkles
Hub Churro Cart
Blueberry Looks Good on You: Blueberry-flavored sugar-dusted churro (New)
Blueberry Cheesecake Dipping Sauce: Blueberry fruit topping with cream cheese icing (New)
Fantasyland Theatre and Small World Popcorn Carts
Electric Sweet & Salty Popcorn: Colorful sweet kettle corn combined with butter-flavored popcorn (New)
Fantasyland and Small World Churro Carts
Electric Sprinkle Dip: Citrus buttercream frosting with sprinkles (New)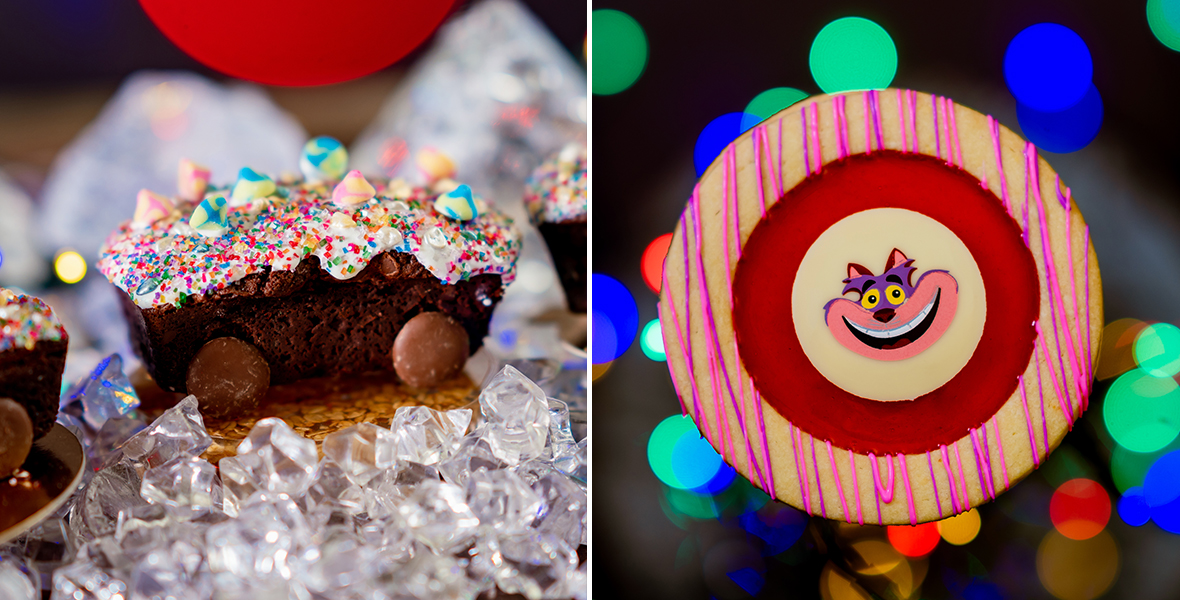 Jolly Holiday Bakery Cafe (Available on mobile order)
Parade Macaron: Yellow macaron filled with honey buttercream and lemon curd topped with rainbow sprinkles and Main Street Electrical Parade drum decoration (New)

Mine Cart Brownie: White chocolate-dipped dark chocolate brownie topped with sugar gems

Linzer Cookie: Citrus shortbread linzer cookie with strawberry glaze
Refreshment Corner Hosted by Coca-Cola (Available on mobile order)
Electric Relish Dog: All-beef hot dog, bacon, mustard cheese sauce, electric relish, and sport peppers served with a choice of a Cuties mandarin orange or small bag of chips (New)
Firefly Chips: Corn chips topped with chili, cheddar, Monterey Jack, and jalapeños
Red Rose Taverne hosted by Minute Maid (available on Mobile Order)
Pineapple Night Light: Fresh pineapple purée and Sprite with a glow cube (New)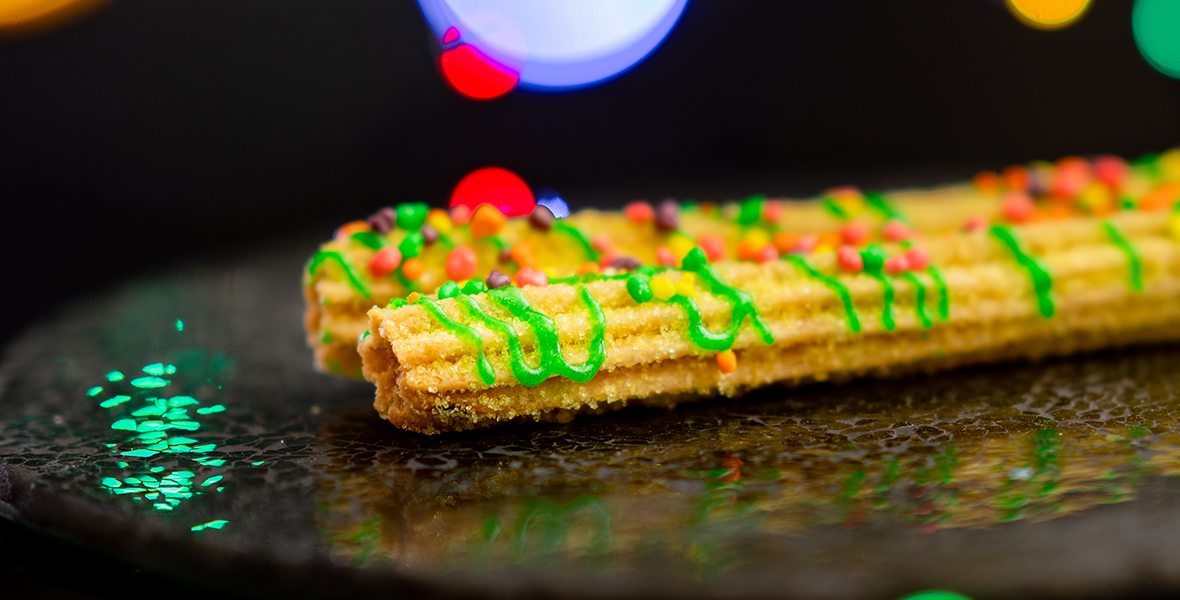 Town Square Churro Cart
Parade Dreams: Colorful sugar-dusted churro with fruit drizzle garnished with rainbow candy (New)
Town Square Popcorn Cart
Electric Pop: Brightly colored kettle corn (New)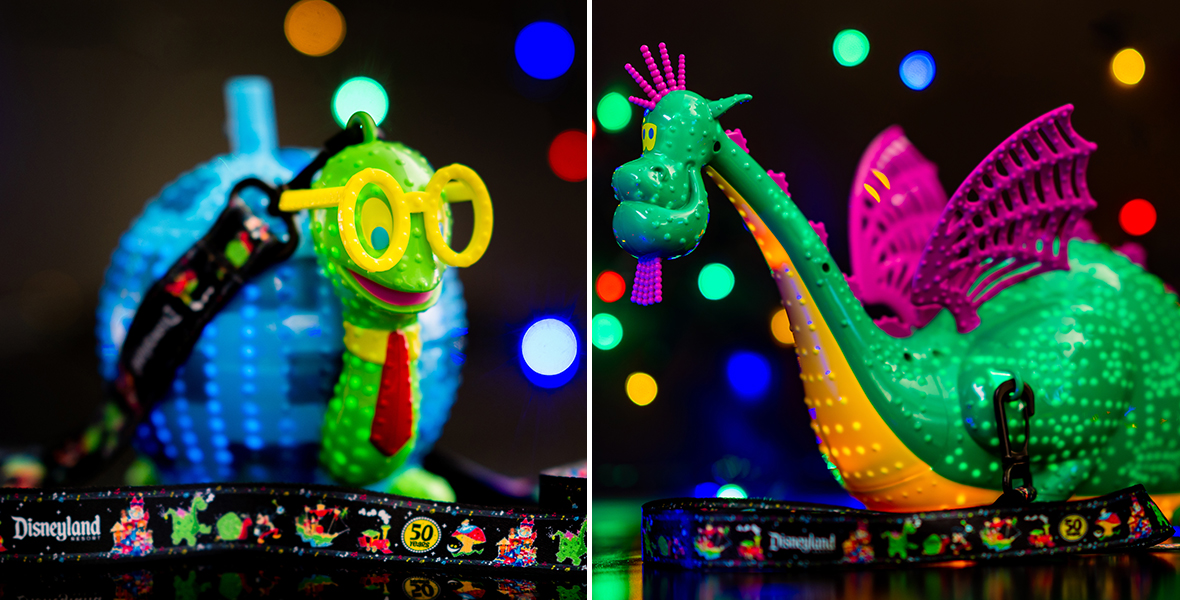 Available at Various Locations Throughout Disneyland Park Throughout the Summer Season:
Light-up Turtle Premium Sipper (Limit two per person, per transaction while supplies last. Availability may vary throughout the season.) (New)
Light-up Elliott Dragon Premium Bucket (Limit two per person, per transaction while supplies last. Availability may vary throughout the season.) (New)
California Adventure Park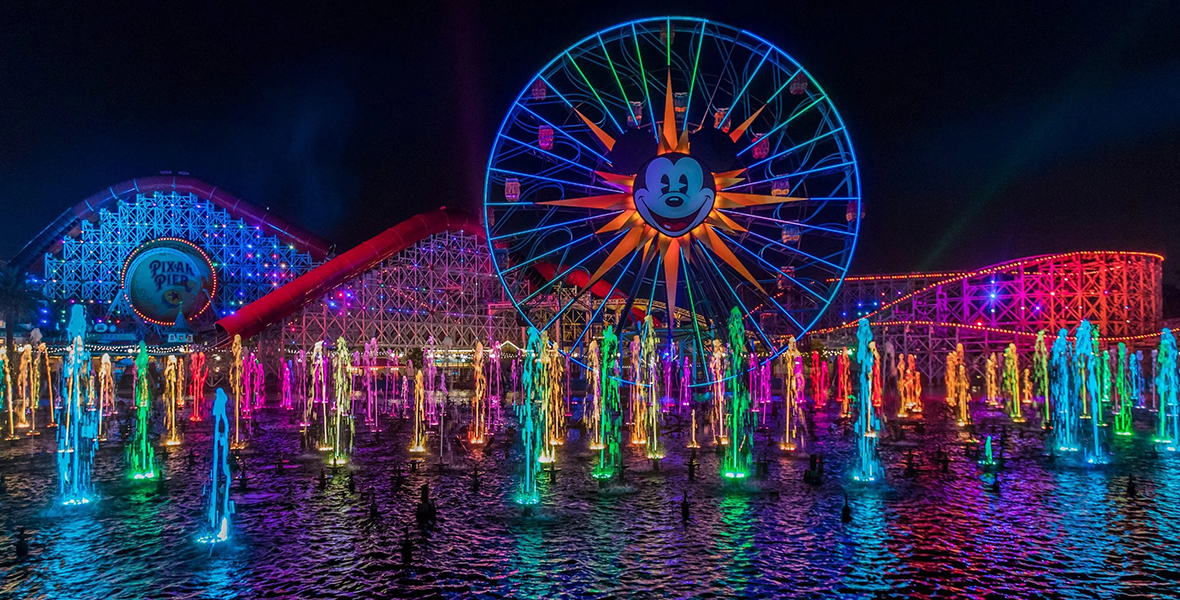 Beginning on April 22, World of Color returns to Disney California Adventure Park, bringing animation to life with the help of powerful fountains that create an immense screen of water. Combining the elements of music, fire, fog, and laser effects with memorable animated sequences, the multi-sensory show immerses viewers in legendary Disney and Pixar stories. These include scenes like WALL-E and Eve zipping through the cosmos, Pocahontas exploring just around the riverbend, and Jack Sparrow battling on the sea. The mega-scale spectacular illuminates all of Paradise Bay, with water reaching heights ranging from 30 feet to 200 feet—higher than the top of Pixar Pal-A-Round! A soaring musical score incorporating familiar Disney melodies and a contemporary version of the 1960s TV theme for Walt Disney's Wonderful World of Color accompanies the stunning display.
There are several delicacies celebrating this reopening for parkgoers to enjoy.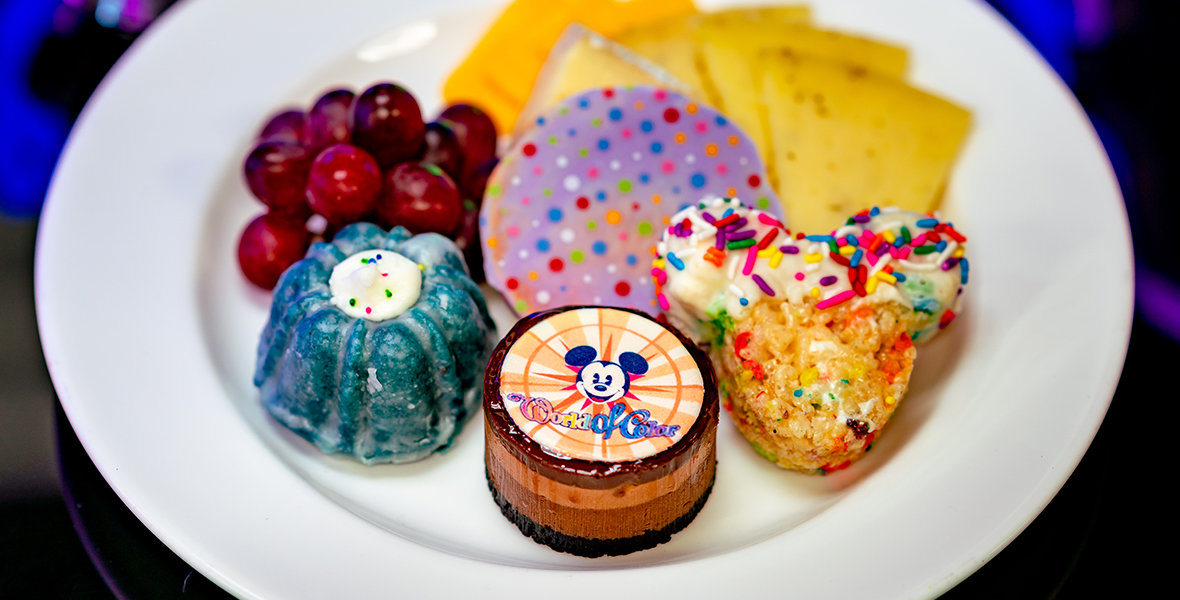 Paradise Gardens Park
World of Color Dessert Party: Indulge in sweet delights including raspberry cookies, cheesecake, and Mickey crispies.
Wine Country Trattoria
World of Color Dining Package: Prior to the show, enjoy a delicious three-course meal, including dishes such as chicken parmesan, fettuccine alfredo, salmon, and roasted vegetable lasagna, to name a few—plus tiramisu and more. Simply check in with your host or server about upgrading your reservation to the dining package!
Disney's Grand Californian Hotel & Spa Storytellers Café
World of Color Dining Package: Indulge in an all-you-care-to-enjoy dinner buffet with specialty sweets and a non-alcoholic beverage followed by reserved seating for World of Color. Upon arrival for your reservation, just let your server or the host know you want an upgrade to this exciting enhancement.
Be sure to check out the Disneyland Resort app to stay up to date on the latest nighttime entertainment and schedules, as well as food and merchandise at Disneyland.com and the Disneyland mobile app.