By Zach Johnson
The coming-of-age dramedy Doogie Kamealoha, M.D., which premiered on Disney+ September 8, is, of course, inspired by the hit medical series Doogie Howser, M.D.—something that will no doubt be immediately obvious to fans who watched the original drama, which aired on ABC for four seasons from 1989-1993. For starters, the theme song—a fresh take on the original—is performed on ukulele by Hawaiian artist Jake Shimabukuro.
"There were a few key things I remember from growing up watching the show, and one of them was definitely the theme song," Kourtney Kang, creator and executive producer of Doogie Kamealoha, M.D., recalled last month during the TCA Summer Press Tour. The reimagined theme song was always part of her vision, which is why Kang feels "lucky" that Shimabukuro helped make her dream a reality: "He is the best ukulele player in the world!"
Doogie Kamealoha, M.D. follows the adventures of Lahela "Doogie" Kamealoha (Peyton Elizabeth Lee) as she juggles a nascent medical career with the everyday trials and tribulations that come with being a teenager. With the support of her caring and comical family and friends, she is determined to make the most of this time and forge her own path.
In addition to referencing the original theme song, another element Kang was keen to borrow from Doogie Howser, M.D. was creating a BFF like Vinnie Delpino (Max Casella), who famously felt so at home with Doogie Howser (Neil Patrick Harris) that he would climb through the young doctor's window rather than use the front door. It's a quirky tradition that Steph Denisco (Emma Meisel) continues in Doogie Kamealoha, M.D. "As we were looking for the perfect house for the Kamealoha family to live in, in Hawai'i, I kept saying, 'It has to be two stories,'" Kang said. "Steph loves her so much that she's climbing up two stories to crawl through this window. It's just not the same if it's a one-story house." Doogie Kamealoha, M.D. also updates the journaling scene from the end of each episode of Doogie Howser, M.D., with Lahela recording video diary messages about her day.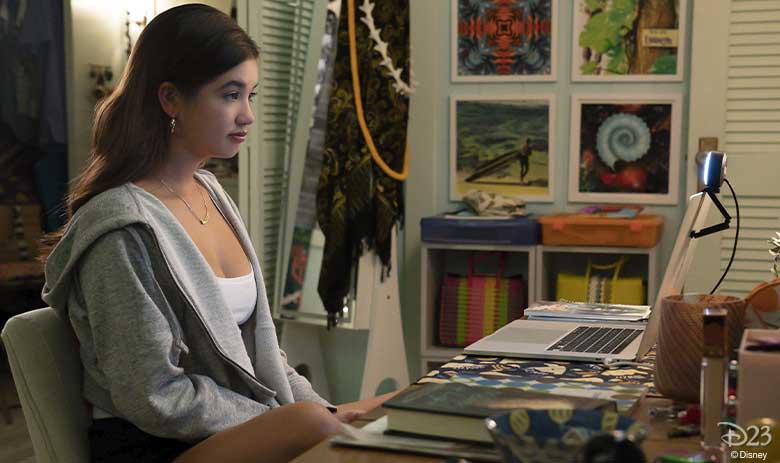 As for how Lahela gets the "Doogie" nickname? Doogie Kamealoha, M.D. is set in a world in which Harris was an actor who played a character named Doogie Howser on television. "Apparently, this is a thing that happens sometimes to young doctors," Kang explained. "They get nicknamed 'Doogie,' so we thought it was fun that she gets nicknamed 'Doogie.'"
Lee said she had "not personally spoken" to Harris, but she "would love to" do so one day. "We need to connect Peyton and Neil!" said Kang. "And yes, we have been in touch with Neil. I worked with him for nine years on How I Met Your Mother. He is so wonderful. As soon as this all started coming together, we reached out. He has been so supportive of this project and so lovely. We were trying to get him to come out in season one and do something with us." For a number of reasons, it didn't work out. But hope is not lost, said Kang: "He was like, 'In season two'—if there's a season two—'I would love to come out.'"
Although Doogie Howser, M.D. creator Steven Bochco passed away in 2018, his widow, Dayna Bochco, and his son, Jesse Bochco, continue his legacy by serving as executive producers of Doogie Kamealoha, M.D. Jesse said he was "blown away" by Lee, and Dayna praised the creative team behind the new series, saying, "Steven would love these people."
"We felt very confident going forward because they were always respectful of what Steven had done and were also respectful of the ideas behind the concept: a child prodigy who doesn't fit in either world," Dayna said. "He would have loved the show. I know he would."
New episodes of Doogie Kamealoha, M.D. stream Wednesdays on Disney+.