By Jim Fanning
If in 1954, 20 years after his June 9, 1934 debut, Donald Duck demanded, "What's the big idea?!" the answer was television. That year, as Walt Disney became the first major Hollywood producer to enter weekly television, his biggest and noisiest star waddled into a new kind of celebrity on the TV screen. "The national ratings," revealed Disney Legend Jack Hannah, the premier director of Donald's theatrical cartoons who also directed Disney's Duck-centric television episodes, "showed that the programs with Walt and Donald would get the highest ratings. That's one of the reasons we did so many of them. People loved the Duck, just like they had in movie theaters." As Donald commemorates his 85th anniversary, it's time to tune into his classic TV episodes—many of them rarely seen—as well as his starring television vehicles of today.
1. "The Donald Duck Story"
On November 17, 1954, the Disneyland television series presented "The Donald Duck Story" as its fourth installment. For this and all of Donald's anthology series episodes (including 1956's "A Day in the Life of Donald Duck," pictured above), new animation was created by such Duck pros as Al Coe, Bob Carlson, and Disney Legend Bill Justice. This tell-all duck-umentary climaxes with Donald's own versions of such TV staples as the variety special, singing as only he can, "When You Wish Upon a Star," and the detective drama, wherein he spoofs Dragnet ("My name is Donald. I'm a duck. This is the city…"). Phone calls about Donald's unintelligibility threaten to end his TV career before it begins. But Walt asks the control room to add subtitles, and a video star is born—even though the tantrum Donald throws at program's end scrambles the TV signal.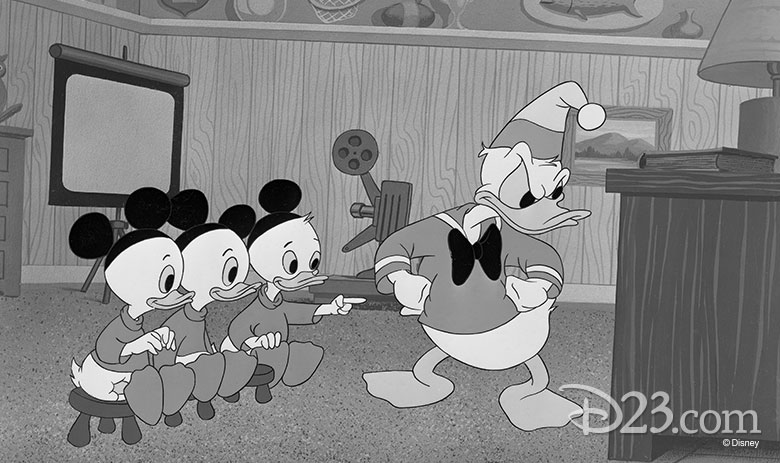 2. "At Home with Donald Duck"
In this fun 1956 entry, Donald is infuriated when his nephews Huey, Dewey, and Louie don Mouseke-ear hats to watch Mickey Mouse Club on television rather than sit through a screening of Donald's own films. The crafty Duck races to the TV station and hijacks the "Mousekartoon" portion of "Big Ears'" TV show to telecast a Donald Duck cartoon. Donald's voice since the start, Disney Legend Clarence Nash, acts (or quacks) up a storm in all these vintage video rarities.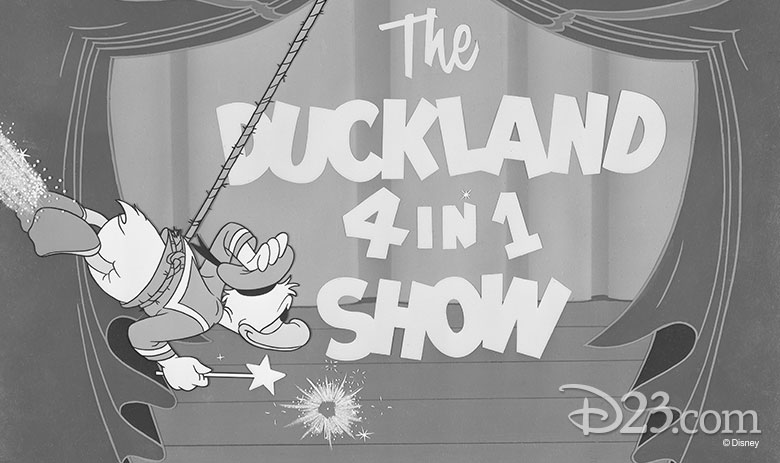 3. "Your Host, Donald Duck"
When Donald appeared in the live-action setting in Walt's office, director Hannah used a cardboard Duck "stand-in" to indicate to the camera operator where the animated star would later appear. As for Walt, said Hannah, "He could really see the Duck there and responded accordingly. He would ad-lib with Donald and that would take me by surprise, and we'd have to go back and revise the storyboard accordingly." In this 1957 episode, Donald pipes in pre-recorded professional narration through a hidden speaker so that Walt allows the normally unintelligible Duck to emcee. The hammy new host renames the series, "The Duckland 4 in 1 Show," squawking "Scram!" as he shoos Tinker Bell away with a fly swatter. Donald's nephews scramble to play the correct narration recordings—performed by Disney Legend Paul Frees, the versatile voice artist famous as the Haunted Mansion's Ghost Host—as their "unca" takes on varied guises to host the show's various segments, such as a British explorer for "Adventureland."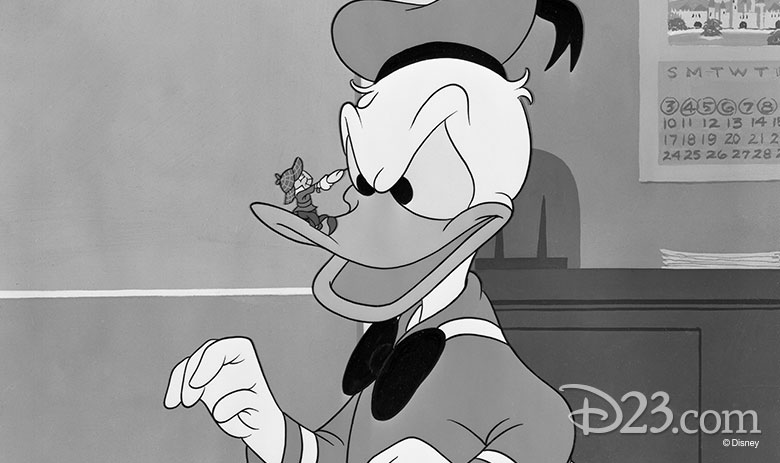 4. "Donald's Award"
A cavalcade of Disney characters, including Pluto, Daisy Duck, and Pete, get in on the act in all-new animation created for this 1957 installment. Walt observes that though his cartoon characters are like a family, there is a "problem child"—and in the case of the Disney gang, it's guess who. Promising the delinquent Duck a Good Conduct Award if he behaves for one week, Walt deputizes Jiminy Cricket to look into Donald's outrageous behavior. "Doggone tattletales!" mutters Donald as Chip and Dale detail his naughtiness. The desperate Duck even disguises himself as Mickey Mouse in his attempts to sabotage Jiminy's investigation.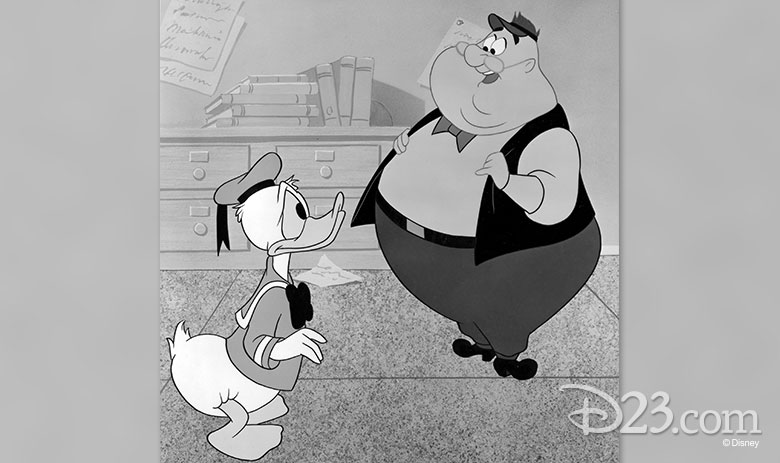 5."Duck For Hire"
Fed up with the demands of showbiz, prima donna Donald decides to quit his Disney job in this 1957 outing. He heads to the Ajax Employment Agency, lured by its promises of paid vacation time, short hours, and coffee breaks aplenty. The employment agent—who looks and sounds (thanks to prolific Disney voice artist Bill Thompson) exactly like Ranger J. Audubon Woodlore—rattles off the Ajax slogan: "You Get Fired, We Get You Hired," adding "We specialize in quitters." After a series of jobs and business opportunities predictably end in disaster, the agent sends the overjoyed Donald to an employer called Walt Disney Studio in search of a duck, shrugging, "I certainly hope he can hold this job."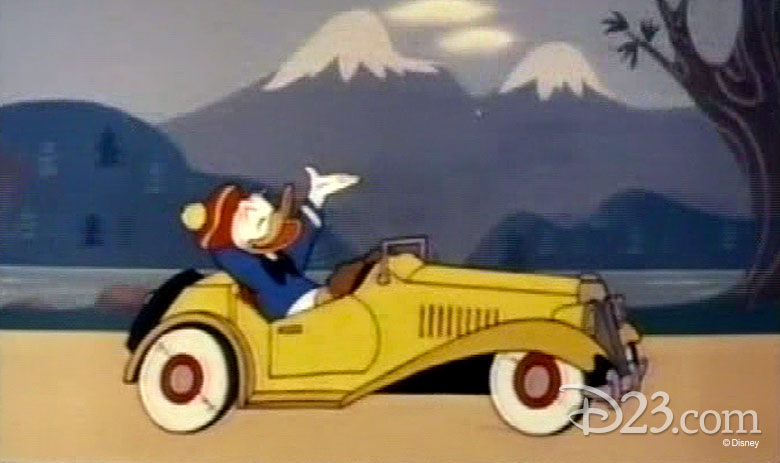 6. "Duck Flies Coop"
As this 1959 broadcast opens, Walt receives a message from Donald stating that he has ducked out for an impromptu vacation: "I know you have a lot of work lined up for me, but you'll just have to give it to Mickey or Goofy." Left in the lurch, Walt playfully directs the publicity department to plant stories that since Donald has waddled out of his contract, a replacement is waiting in the wings. Paul Frees and legendary voice artist June Foray vocalize the various Hollywood reporters, columnists, and stars who comically criticize his sudden departure in the news broadcasts Donald hears over his car radio. After holing up with Humphrey the Bear and Ranger J. Audubon Woodlore, the peripatetic Duck gets a telephone call from Walt. "Walt who?" Donald demands. When the response is a terse "Disney," Donald hightails it back to Burbank to headline the new picture Walt has waiting for him.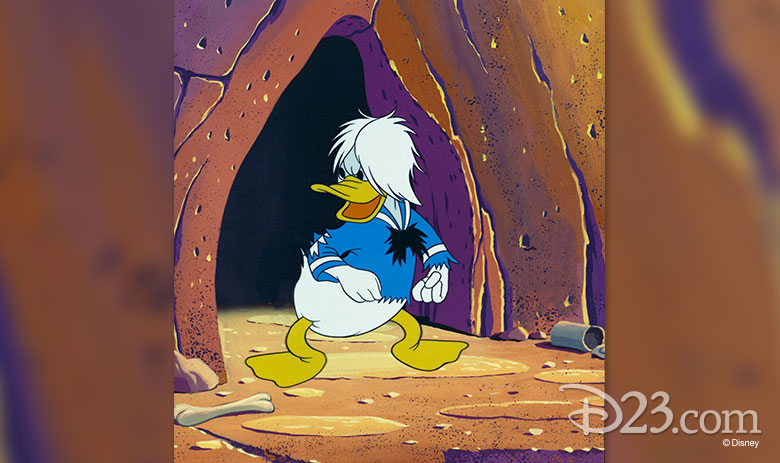 7. "The Mad Hermit of Chimney Butte"
One of the few Disney TV hours featuring Walt beyond the program's opening, this mad, mad, mad jab at modern life originally aired on the very significant date of April Fool's Day 1960. The satirical story centers on the mad hermit who is, of course, Donald—although storyteller Walt never mentions him by name, except to say, "This guy has always been a little mad." The web-footed wild man has sequestered himself in isolated Chimney Butte where he scares off all comers to his cave, right down to an ant. Walt traces Donald's devolution into a raving madman back to the big city, where his intrusive next-building neighbors demand he change TV channels so much that his TV set explodes. Insanity ensues as the Duck moves from suburbs to country to ghost town. When Chimney Butte turns out to be an explosives testing ground, Donald is blown to Disney's office, where the now-reformed hermit greets Walt with hearty "Hi, neighbor!"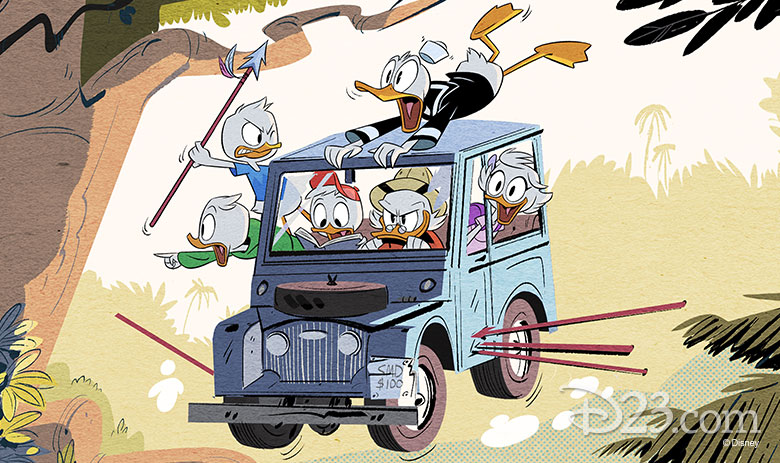 8. DuckTales
Though Donald appeared in several episodes of the original and beloved DuckTales TV series that premiered in 1987, he is restored to a prominent role alongside his nephews and his uncle, Scrooge McDuck, in the smash-hit reboot that debuted in 2017. The surrogate father of Huey, Dewey, and Louie, observed co-executive producer Frank Angones, "is Donald Duck. And everything goes wrong for Donald Duck. So he's going to try to protect these boys as much as humanly possible. He's going to become this kind of helicopter parent. And so the boys cause trouble because they're just acting out from his restrictive parenting style." Disney Legend Tony Anselmo, who took over quacking responsibilities from Disney Legend Clarence Nash in 1985, gives vocal flight to the foul-tempered fowl in both the original DuckTales and its present day iteration. A third season of these new DuckTales adventures is being produced to debut on Disney Channel this year.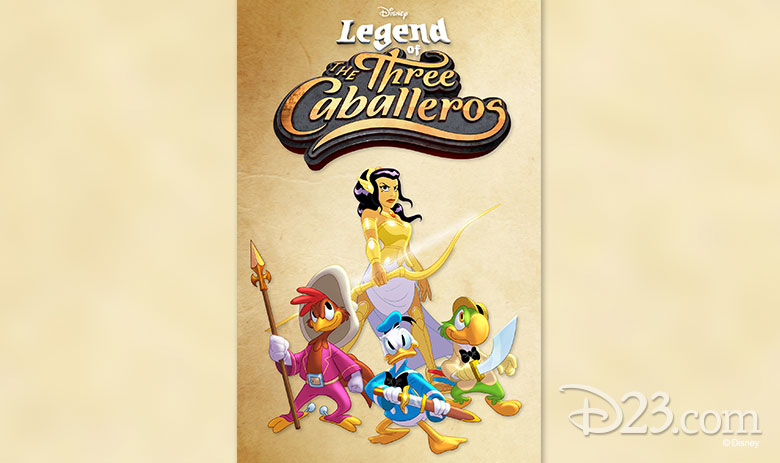 9. Legend of The Three Caballeros
Donald's latest TV venture is also one of his most thrilling. Legend of The Three Caballeros reunites Disney's top duck with his two amigos from The Three Caballeros (1945). In this animated series, Donald releases Xandra, the Goddess of Adventure, from an enchanted Atlas. Suddenly the Duck, José Carioca, and Panchito find themselves battling mythical monsters around the globe, from the Egyptian pyramids to Mount Rushmore.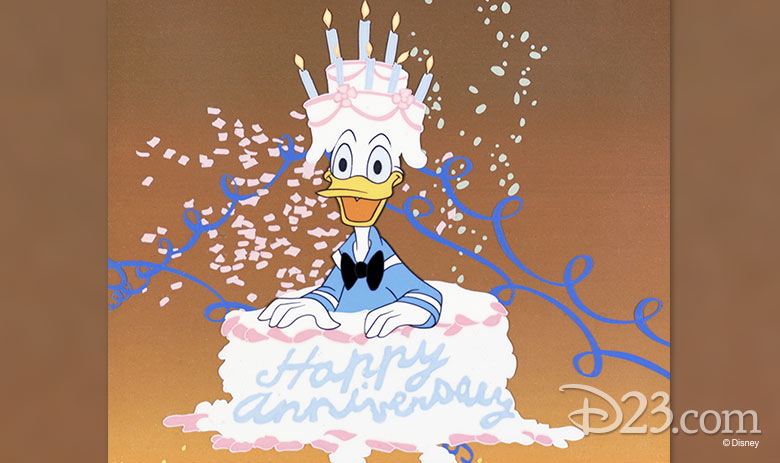 10. "Donald's Silver Anniversary"
This unique 1960 installment of the Disney TV hour utilized mostly actual film footage. A Studio memo reported that, in a February 11, 1960, meeting held to discuss this special anniversary episode, Walt said the story should be "told with the benefit of newsreel clips [and] newspaper headlines" to provide historic context to Donald's career. New animation by Bob McCrea, who often worked on Disney's animated TV episodes, featured Donald being treated to an anniversary cake. But it's Walt's words from this episode that serve as a ducktacular tribute for all time: "Here at the studio we feel both privileged and proud to have been associated with Donald over the years. His perseverance, his loyalty, and unshakable devotion to his chosen profession in the entertainment world have endeared him forever in our hearts… Yes, Donald is a duck of distinction. But of all Donald's accomplishments, we're most proud of his efforts in spreading goodwill throughout the world. You might say Donald speaks a universal language. That is, no one can understand what he says in any language. But the whole world laughs at him."