By Karina Schink
For 10 years, Disneynature films have given us an incredible look at some of the wonderful and wondrous things that call Earth home, right from the comfort of a theater or even our own living rooms. To celebrate, we're taking a look back at these unforgettable films, all leading up to today's release: Penguins.
Earth
What better way to start a Disneynature marathon than with Earth? It is, where it all began, after all. Earth follows the story of three animal families—polar bears, elephants, and humpback whales—as we watch their remarkable stories unfold. And, for what it's earth, this Disneynature feature was narrated by James Earl Jones, who also lent his iconic voice to Mufasa and Darth Vader.
The Crimson Wing: Mystery of the Flamingos
Narrated by Mariella Frostrup, The Crimson Wing: Mystery of the Flamingos is a story of love, courage, and survival, starring our favorite flock of festively flushed fowl. With all of that in one movie, how can you resist watching it? And we highly recommend that you do. Don't make us put our foot down.
Oceans
Since we've already learned about the Earth as a whole, it's time to dive a little bit deeper and get pacific—uh specific. Oceans lets you venture into the depths of, well, the ocean, getting an up-close-and-personal look at the creatures that call the saltwater home (no scuba training required). Narrated by Pierce Brosnan, Oceans features state-of-the-art underwater filmmaking that we guarantee will take your breath away.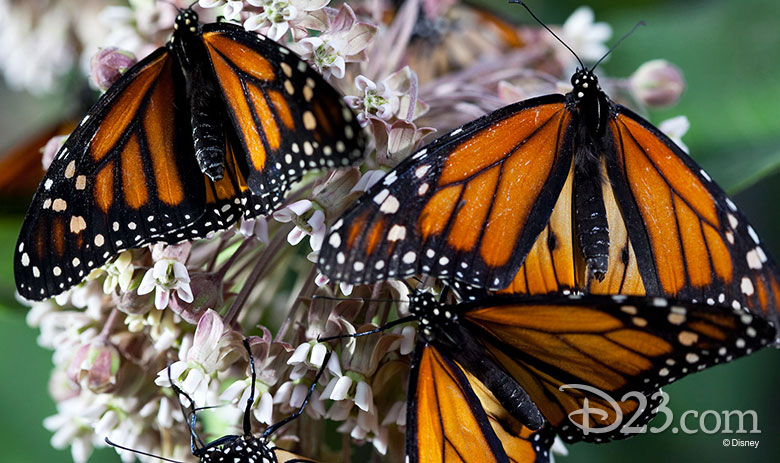 Wings of Life
Academy Award® winner Meryl Streep narrates this stunning look at amazing winged creatures. From butterflies and hummingbirds, to bees and bats, Wings of Life celebrates these fascinating species that you can find in the sky. And we have to say, we think this Disneynature film is pretty fly.
African Cats
Narrated by Samuel L. Jackson, African Cats follows Mara, a lion cub; Sita, a cheetah who is a single mother of five newborns; and Fang, a leader of the pride. Now this isn't a joke, and we're certainly not lion, this Disneynature film holds a tremendous supply of heart, humor, and love.
Chimpanzee
Buzz Lightyear himself took a break from battling the evil Emperor Zurg to narrate the Disneynature film Chimpanzee.Tim Allen narrates the story of Oscar, a young chimp who has a rather entertaining approach to life. With the world as his playground, there's no telling how far he'll go as he navigates the terrain of the forest in this 2012 film.
Bears
John C. Reilly lends his voice to Bears, the 2014 Disneynature film that introduces us to a particularly adorable family (seriously they're so cute, it's unbearable). We join mother Sky and cubs Amber and Scout (who don't eat as many Scottish pastries as we'd imagined) in their Alaskan home as the trio faces everything from bitter cold to hibernation as they learn to live life to the absolute fullest.
Monkey Kingdom
In Monkey Kingdom—narrated by Tina Fey—we travel all the way to the jungles of South Asia to meet Maya and her son Kip. These two clever macaque monkeys know a thing or two about swinging through life, but it isn't always easy. In this Disneynature film, we get to take a step inside their magical world of ancient ruins in the storied jungles of South Asia to witness all the love between this mother and her son.
Born in China
Now, we don't want to start any pandamonium or anything, but Born in China explores three animal families—panda, golden monkey, and snow leopard—in their natural habitats in China. From the frigid mountains to the bamboo forests, this film brings an incredible unseen world to the big screen in a way you never imagined.
Penguins
Now that we've broken the ice for you, and you've become acquainted with some of Disneynature's earlier animal adventures, you're ready for the latest chapter. Steve is the star of the latest film from Disneynature, Penguins, which debuts in theaters today. In this coming-of-age film, the Adélie penguin joins millions of fellow males in the frozen Antarctic spring on a quest to build a nest and raise a family. Narrated by Ed Helms, Penguins is the eighth theatrical release from Disneynature, and we're sure you won't want to miss it.
Plus, we're all invited to join Disneynature to make a difference and help protect the planet. For every ticket sold during opening week of Penguins (April 17–23), Disneynature will make a donation to the Wildlife Conservation Network to protect penguins around the globe. You can get your tickets here.