By D23 Team
Every April, The Walt Disney Company celebrates Earth Month as a way of honoring the wonderful place we call home. Whether you're marveling at the beauty of nature or practicing ways to reduce plastic waste, there are countless ways to be part of the Earth Month celebration with us! All over the world, you can join Disney in spending this month working to make our world a little bit better—and more magical! How will you be celebrating the Earth?
Walt Disney World
Guests at the Walt Disney World Resort can celebrate Disneynature's Penguins while learning more about the impact plastics can have on marine environments. The nonprofit organization Washed Ashore has created a striking nine-foot-tall sculpture of an Adélie penguin made completely from recycled marine trash, such as bottle caps, plastic utensils, and even golf balls. You can see the sculpture in person during the 2019 Epcot International Flower & Garden Festival from now through June 3 in Epcot's Future World. A second enormous penguin sculpture is also on display at Disney's Animal Kingdom Theme Park in celebration of Earth Month, April 1–30.
Disneyland Resort
Disneyland Resort cast members are getting creative to showcase their love of the environment in the fourth annual Environmentality Art Challenge. Individuals and teams are building, sculpting, painting, or drawing their own project that illustrates why Environmentality is important to them. The art challenge finalists will be on display at Redwood Creek Challenge Trail April 8–22. Guests and employees vising the resort are invited to see these amazing creations in person and cast their votes to help determine the winner.
Disneyland Paris
Throughout April, enjoy a special projection pre-show featuring jaw-dropping scenes from Disneynature films, all projected on Sleeping Beauty Castle! Marvel at the beauty of nature every evening from March 30 to April 30, 2019 with clips from Bears, Born in China, The Crimson Wing, Oceans, and other favorites. You'll have a roarin' good time before you enjoy the dazzling Disney Illuminations spectacular.
Shanghai Disney Resort
At Shanghai Disneyland, guests can enjoy stunning photos of wildlife as part of the WildAid Wildlife Photo Exhibit. Once again, Shaghai Disneyland has partnered with the environmental nonprofit WildAid, this time with a photo gallery of some of our favorite stars of nature.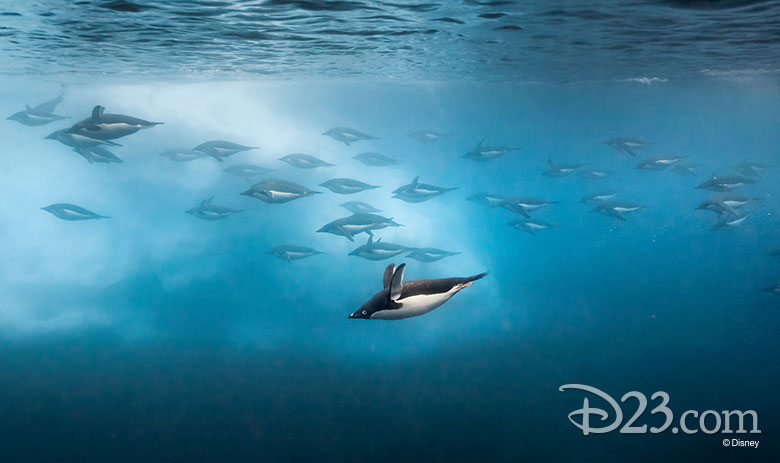 Movie Theaters Everywhere
From April 17–23, everyone is invited to waddle on over to their nearest movie theater to see Disneynature's Penguins. For every ticket sold in its opening week in North America, Disneynature will make a donation to the Wildlife Conservation Network to help protect penguins across the southern hemisphere. Meet Steve, Penguins' leading bird, at Nature.Disney.com/Penguins, and learn more about the film and the Disneynature label, which celebrates its 10th anniversary this year.