By Beth Deitchman
Chip 'n' Dale may be tiny but they do everything on a grand scale, whether they're helping themselves to all of Pluto's acorns, playing babysitter to a big group of babies on the playground, or eagerly inspecting every single one of their neighbor's mail order packages on their quest to locate a nutcracker (while discovering fun uses for drones and smartphones in the process). They're the same delightful duo that we first met in the 1943 short Private Pluto, but the new original series Chip 'n' Dale: Park Life brings modern sensibilities to the chipmunks' new adventures. The 12-episode series arrives on Disney+ on Wednesday, July 28, with new episodes debuting weekly.
"We wanted every story to root into relatable domestic issues or stories that we can all relate to," director Jean Cayrol says. "We wanted to know more about them and their life; like what do they have for lunch every day? Do they really eat acorns? Do they have a small tiny sofa they sit on and that kind of stuff." In each story, those everyday issues give way to bold, slapstick comedy. Cayrol explains that Chip 'n' Dale: Park Life is ultimately about "two friends living together and sharing some space and big, cartoon-y madness… Everything is fun working with Chip 'n' Dale."
Disney fans likely remember that Chip is distinguished by his small black nose (which resembles a chocolate chip) and his single buck tooth; while Dale's nose is larger and red, with his two teeth separated by a large gap. Cayrol and the team from Xilam Animation, the France-based production company behind Chip 'n' Dale: Park Life, wanted to make sure that the two chipmunks' personalities were also distinct in the new series. Cayrol explains, "[Chip is] kind of anxious and overthinking everything… Dale is the more laid-back, chill, acting-before-thinking type of character." The best buddies are the perfect odd couple, and Cayrol believes that audiences will easily relate to the dynamic of this dichotomous duo.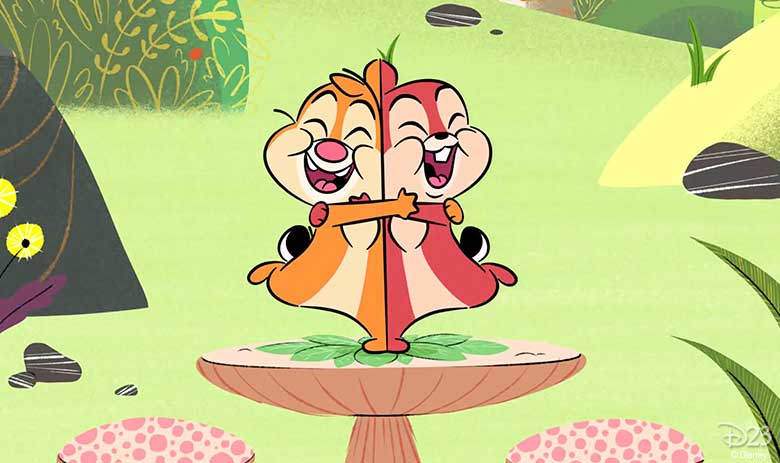 The collegially contentious but always loving relationship between Chip and Dale is sure to have universal appeal, and so will the stories—which feature no dialogue but loads of over-the-top comedy. "Language is a big part of communication for humans," Cayrol notes. "So at first we were kind of scared that it was going to be difficult to translate that in a nonverbal series. But very quickly we realized that with the power of 2D animation and with the expertise of Xilam Animation, which is kind of well-known for its nonverbal shows like [the international hit] Oggy and the Cockroaches, everything went very smooth." Between the characters' facial expressions, the stellar animation, and expert voice acting, the story is always completely clear. "I think everyone will be able to enjoy the show in France, the U.S., Russia or anywhere, really. The slapstick humor is universal—you don't need to translate that," Cayrol says.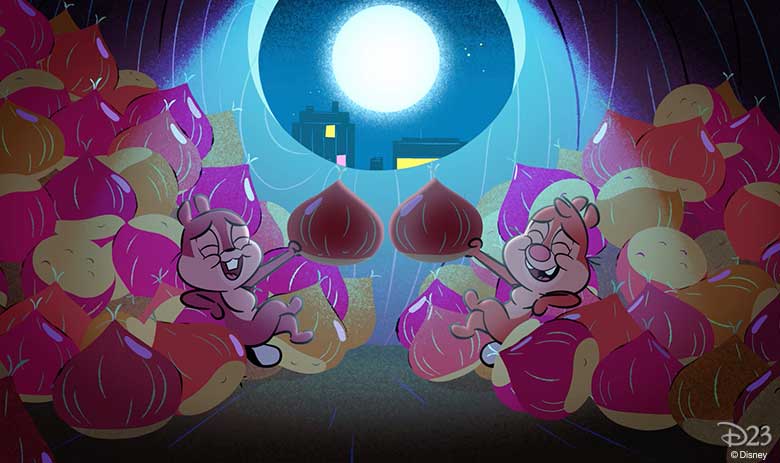 That said, Chip and Dale do speak their own language… even if humans may not comprehend the words the chipmunks are uttering. Cayrol shares what he describes as a "big production secret," revealing that voice actors Matthew Géczy (Chip) and Kaycie Chase (Dale) created their own chipmunk language for the pair. The Chip 'n' Dale: Park Life writers scripted actual dialogue that the characters performed out loud. "And then I said, 'OK, now do exactly the same—same intention, same energy—just go chipmunk,'" Cayrol shares. He emphasizes that it's the actors ability to "go chipmunk" that truly brings these characters voices to life, and that little, if any, sound effects came into play. The Chip 'n' Dale: Park Life cast also includes Disney Legend Bill Farmer, who the director was thrilled to work with on the series. "Every single one of his takes is amazing; even if it's just barking, it's super funny," Cayrol says. "I think the hard choice for a director is to have to choose between three excellent takes every time."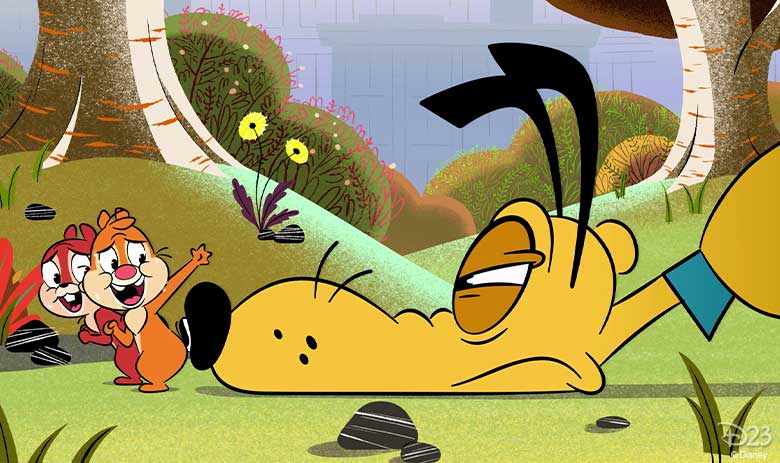 Each episode of Chip 'n' Dale: Park Life is comprised of three seven-minute stories that have been brought to life through striking 2D animation. Cayrol explains, "For the backgrounds, we knew we wanted to have that kind of old-school vibe, but with a new flavor added to it." The animation was created on a computer, but in a style that reflects a hand-drawn style as much as possible. That approach also led to boldly drawn characters with hyper-expressive eyes and a "malleable, stretchy kind of vibe" that Cayrol believes is perfectly suited for slapstick comedy. He notes, "The beauty of 2D animation is that you can do whatever you want. You're not restrained by the 3D model that you cannot move a certain way. It's 2D, so you pretty much can draw whatever you want—there are no limits."
There are also no limits to the trouble Chip 'n' Dale will be getting into—or the fun that will ensue—on Chip 'n' Dale: Park Life. Stream the first episode Wednesday, July 28, only on Disney+, and then look for new adventures (and misadventures) every week.