By Zach Johnson
Sprig, I have a feeling we're not in Amphibia anymore…
When season three of the Emmy® Award-nominated series Amphibia debuts Saturday, October 2, at 9:30 a.m. ET/PT on Disney Channel and in DisneyNOW, it will find Anne (voiced by Brenda Song) transported from Amphibia back to her hometown of L.A. She will be joined by the Plantar family, who must learn to navigate the complexities of this new world while trying (and occasionally failing) to hide their identities as talking frog people. If they work together, can the Plantars—Sprig (voiced by Justin Felbinger), Hop Pop (voiced by Disney Legend Bill Farmer), and Polly (voiced by Amanda Leighton)—make it back home?
"Season three brings a complete role reversal in an extremely fun way. The Plantars have been looking after Anne this whole time in Amphibia, and now she gets to look after them in L.A.," says creator and executive producer Matt Braly. "It's very rewarding to see the shoe on the other foot, as it were." Although season three feels "like a different show" in some respects, Braly says, "It feels like a logical progression of the story we were telling."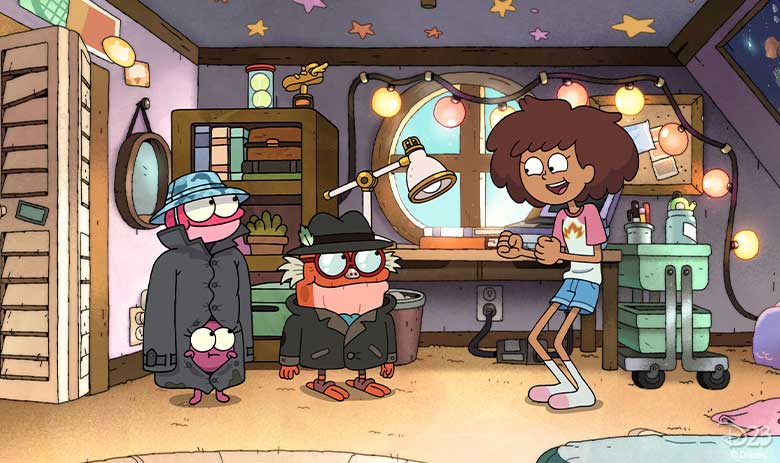 As one might expect, adjusting to life in modern-day L.A. leads to some hilarious hijinks from the Plantars. "It's easy to forget, but these guys come from a medieval-era frog world," Braly explains. "Our modern world is new and amazing and surprising to them. It's really fun to see the Plantars enjoy future comforts, like microwaves and massage chairs, and come to grips with a concept like the internet, which is something that would be very hard to explain to a 15th century peasant." Luckily, the Plantars pick things up pretty quickly. "It's really fun to see them interacting with our world, in the same way that it was fun to see Anne interacting with their world," he says. "It's almost like a cultural exchange."
From Anne's perspective, not much about L.A. has changed. If anything has changed, it's Anne, given everything she's experienced in Amphibia. "Anne is a much different person now," says Braly. "The biggest example of this is seeing how her parents interact with her. They have very clear opinions about the person she was when she left, and throughout the first episode, they realize that she's not the same person. It's very rewarding to see Anne, having grown so much, return to L.A. and have to experience it through a different lens."
Not to mention, Anne has a lot on her plate these days. She wants to help the Plantars return to Amphibia; defeat King Andrias (voiced by Keith David) once and for all; and make up with her best friends, Marcy (voice of Haley Tju) and Sasha (voice of Anna Akana), and bring them back to L.A. Oh, and there's also the matter of Anne's mysterious new powers…
"You can tell at the end of the first episode that Anne is a little overwhelmed," Braly says. "But what's so great is that this was a girl who had very low expectations for herself, and now she's basically got a to-do list that is impossible. I think that speaks volumes to how much she has changed, because she's taking the bull by the horns. For the first time, Anne is leading the narrative—in a way that she didn't in the first two seasons—because she's finally become a responsible person who is being a bit more proactive with their mission."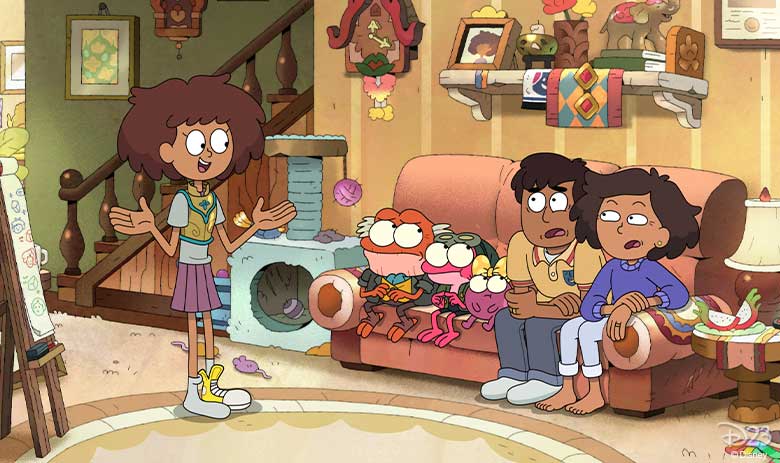 As for Anne's powers—which she herself doesn't quite understand—Braly admits it was a "tricky" thing to introduce at the end of season two. "But it's become so key to the storytelling in season three, where her powers are sort of a metaphor or a mirror for her own personal growth, where the more she is becoming sure of herself, the better she can use these powers. Something we wanted to be careful with regarding her powers was to make sure they never felt like a quick fix. We wanted to make sure that every time she used them, she was really tuckered out, and it didn't feel like something that she could just pull out anytime she needed it. You want her to still feel like a 13-year-old girl who's trying to come to grips with all this crazy stuff that's happening around her. What's so nice for Anne is that she's the last person who expected to have these powers and these responsibilities."
Without spoiling the rest of what's ahead in season three, Braly says "a good chunk" will be spent in L.A., and the rest will be spent in Amphibia. "But first, before they can return, Anne needs to make good with her past," he says. "This is a chance for Anne to really get to know her parents better and reflect before she launches in to this very dangerous mission."
Don't "froget" to tune in for the season three premiere of Amphibia on Saturday, October 2, at 9:30 a.m. ET/PT on Disney Channel and in DisneyNOW. New episodes of the series will premiere every Saturday through November 27 on Disney Channel and in DisneyNOW.