By Courtney Potter
After a splashy premiere at the El Capitan Theatre in Hollywood, Disney's The Princess Diaries debuted in cineplexes around the country on August 3, 2001—which means this fan-favorite film is celebrating its 20th anniversary! Hard to believe it's been two full decades since we first met shy, awkward teenager Mia Thermopolis, as portrayed by Anne Hathaway, and followed along as she learned that her late father and his family are real-life royalty…
The film's anniversary got us to thinking about all the memorable times Hathaway brought her talents to various corners around the worlds of Disney. Below, in chronological order, are nine such occasions; do note that several of the following titles are available on Disney+, so don't miss out joining us for some chock-full-o'-Hathaway festivities!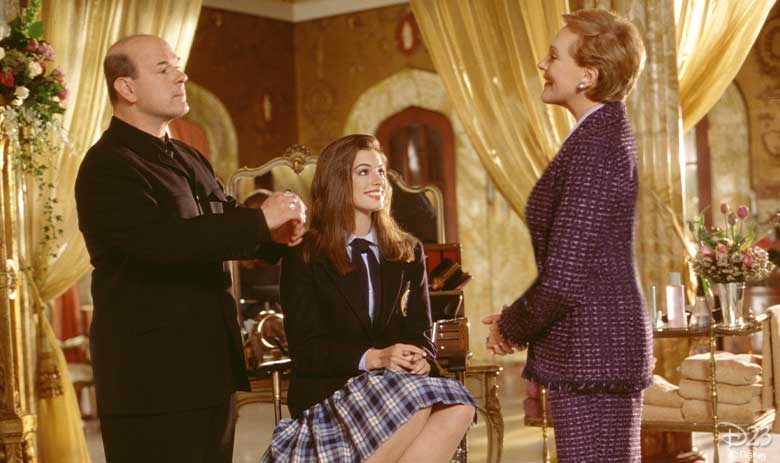 The Princess Diaries (2001)
The Princess Diaries stars Hathaway as Mia, a mousy, unpopular teen in San Francisco who receives the shock of her life when she finds out she's the heir apparent to the crown of Genovia, a small European principality. Disney Legend Julie Andrews costars in the comedy—Hathaway's big screen debut—as Mia's formidable but warmhearted grandmother, Queen Clarisse. Based on a novel by Meg Cabot and directed by Andrews' fellow Disney Legend, the late Garry Marshall.
Ella Enchanted (2004)
Distributed by Disney's Miramax Films, Ella Enchanted stars Hathaway as the title character—a young woman who, as a baby, received a visit from fairy godmother Lucinda (Vivica A. Fox) and was bestowed with a magical "talent" that requires her to obey anything that she's told to do. Obviously, this proves to be more of a curse than a blessing… particularly once her mother dies and she's forced to live with the cruel Dame Olga (Joanna Lumley). Eventually, Ella embarks on a journey to find Lucinda and break the spell, accompanied by the handsome Prince Charmont (Hugh Dancy).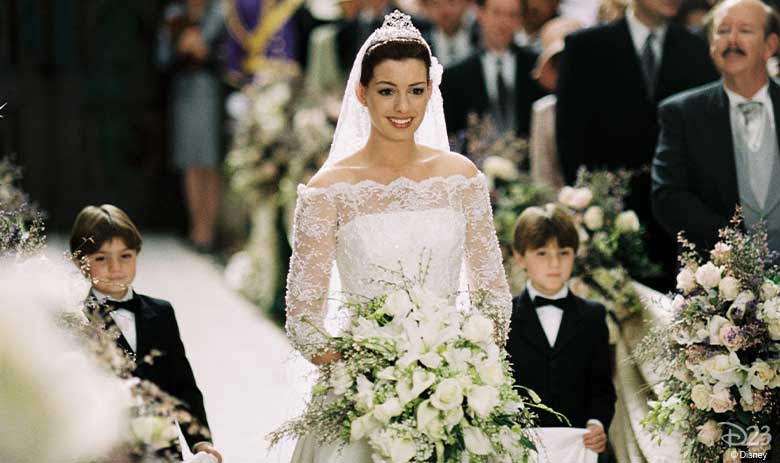 The Princess Diaries 2: Royal Engagement (2004)
This Princess Diaries sequel finds Mia almost ready to live life as a full-time princess when she's suddenly faced with having to assume the crown from grandma Queen Clarisse—but when she finds out she's got to marry before she can, she's forced to choose from a parade of suitors, including the handsome Nicholas (played by Chris Pine in his feature film debut). Much of Royal Engagement was shot on Disney's Golden Oak Ranch in Southern California.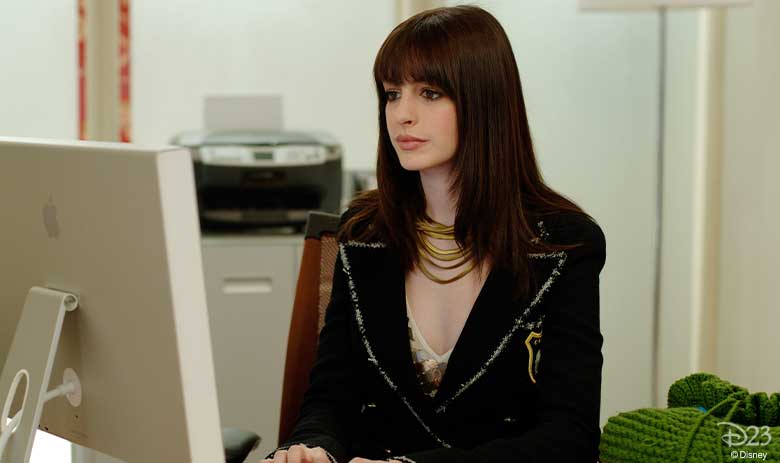 The Devil Wears Prada (2006)
This iconic 20th Century Fox comedy-drama, based on the 2003 novel by Lauren Weisberger, follows aspiring journalist and newbie assistant Andy Sachs (Hathaway) as she navigates her way around ultra-demanding Runway magazine editor-in-chief Miranda Priestley (Meryl Streep). Also starring Emily Blunt as Andy's fellow assistant and Stanley Tucci as Runway's sympathetic art director.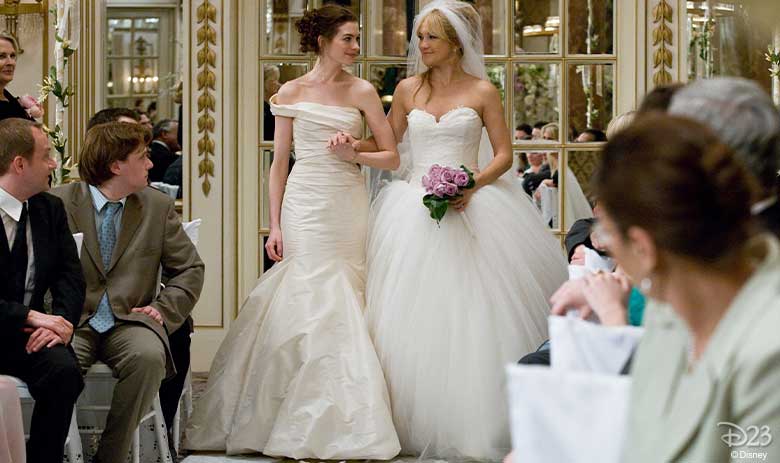 Bride Wars (2009)
Another Fox entrant on the list, Bride Wars stars Hathaway and Kate Hudson as lifelong best friends who've pledged to plan their respective weddings together. Shenanigans ensue when a clerical error puts their weddings on the very same day… and when neither will compromise, they declare war and set out to sabotage each other's nuptials. Will either of them actually walk down the aisle?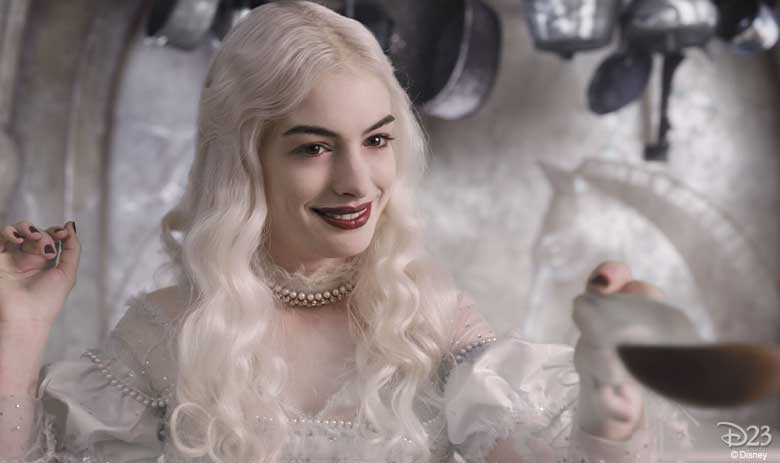 Alice in Wonderland (2010)
Hathaway was featured in Tim Burton's ultra-unique take on the classic Lewis Carroll tale as the White Queen, or Mirana of Marmoreal—the rightful ruler of Underland, if it weren't for her eldest sister Iracebeth (the Red Queen, portrayed by Helena Bonham Carter), who has commandeered and claimed the crown as her own. Thankfully, young Alice (Mia Wasikowska) helps restore order to the kingdom.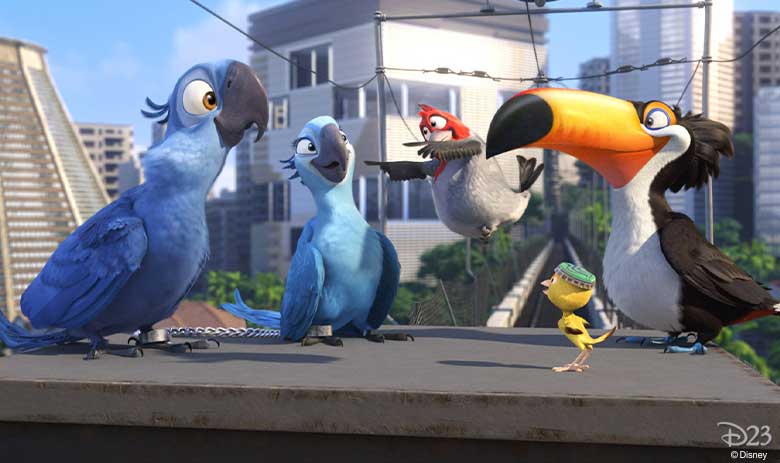 Rio (2011)
From 20th Century Fox and Blue Sky Studios, Rio is an animated adventure about Blu (voice of Jesse Eisenberg)—a macaw who never learned to fly, but lives a happily carefree life in Minnesota with his human friend, Linda (voice of Leslie Mann). Blu is thought to be the last of his kind… but when word comes that Jewel (voice of Hathaway), a lone female, lives in Rio de Janeiro, Blu and Linda travel to meet her. Unfortunately, smugglers wind up kidnapping the macaws—but the brave duo soon escape and begin a perilous journey back to freedom, and to Linda.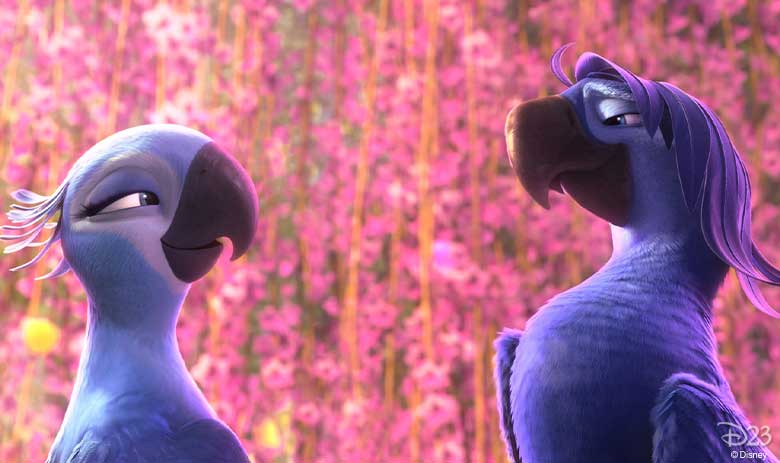 Rio 2 (2014)
The sequel finds Blu, Jewel, and their three kids comfortably settled into family life—but perhaps a bit too comfortably. Jewel fears that the children are becoming more like humans than birds. So, after learning that she and Blu may not be the last blue macaws after all, Jewel decides that their family should visit the Amazon jungle; it's there that Blu meets his imposing father-in-law (voice of Andy Garcia) and ruffles the feathers of archrival Nigel (voice of Jemaine Clement).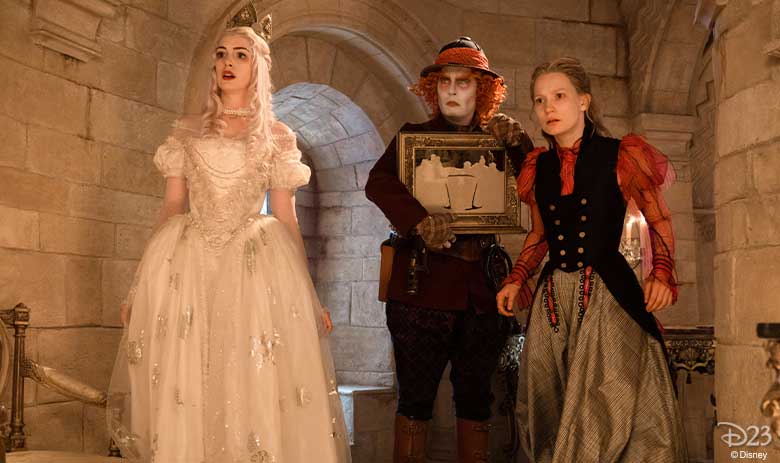 Alice Through the Looking Glass (2016)
In the sequel to the '14 film, Alice slips through a mirror and finds herself back in Underland with all her pals—Hathaway's White Queen among them. Turns out that the Mad Hatter (Johnny Depp) is in a depression over the loss of his family; hoping to save his loved ones, Alice steals the Chronosphere from Time (Sacha Baron Cohen) to travel into the past… and while there, she encounters the younger Hatter and faces off with the already evil Red Queen.