By Zach Johnson
This Friday at 8 p.m. ET, the new Disney Channel Original Movie Spin will introduce audiences to Rhea (Avantika), a relatable Indian American teen whose journey of self-discovery empowers her to find her true love: creating and producing beat-driven music infused with the rich textures of her South Asian culture. Rhea's busy life revolves around her eclectic group of friends, Molly (Anna Cathcart), Watson (Jahbril Cook), and Ginger (Kerri Medders), and her tight-knit, multigenerational family: dad Arvind (Abhay Deol), brother Rohan (Aryan Simhadri), and grandma Asha (Meera Syal)—not to mention her after-school coding club and her job at her family's Indian restaurant. But everything changes when she meets Max (Michael Bishop), a new student who is also an aspiring DJ.
"I love that we get to see this multi-generational family," director Manjari Makijany tells D23. "I love their dynamic; it feels contemporary and modern." As for Rhea's friends, Makijany says, "We had a lot of expression workshops with the characters. We gave each one a backstory, and it informed what the actors brought to the table in a meaningful way."
Before Spin premieres, the cast helped us get better acquainted with their characters: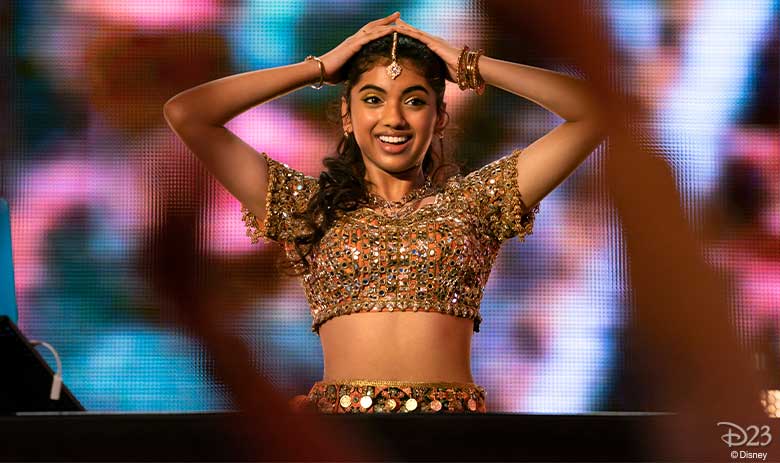 Rhea (Avantika)
While Rhea is "a really big dreamer," according to Avantika, she is also a "really big" doer. "Rhea is a really ambitious person," she says. "She is so determined, and she wants to do so many things." Between coding, deejaying, and waitressing, she's created "a really chaotic life." As she learns how to "balance everything perfectly," Rhea discovers a new sense of self. Says Avantika, "Hopefully she can give people the confidence to navigate their own obstacles—and overcome whatever's going on their lives—in order to find their passions."
Max (Michael Bishop)
A charming new Jefferson High student, aspiring DJ Max catches Rhea's eye from the get-go. Their blossoming friendship is driven by their love of music and creating and mixing electronic dance music. "At his heart, Max is a good guy," says Bishop. "He's really passionate about deejaying; he just loves creating music. And I think anyone who is so invested in doing something or creating something, there's an obvious attraction to that. I think it also helps that he has a charming British accent! That definitely adds to the attraction. But he's just so fun, and I think anyone who's fun has a bit of charm in them."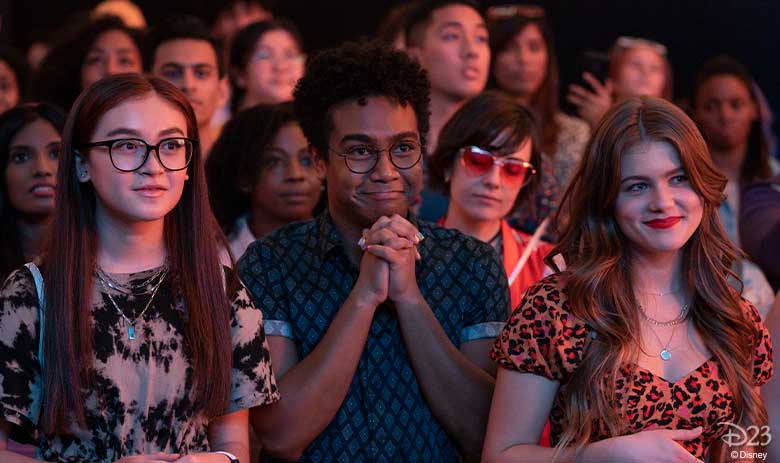 Molly (Anna Cathcart), Watson (Jahbril Cook), and Ginger (Kerri Medders)
A loyal member of Jefferson High's coding club, Molly is Rhea's supportive and quirky best friend. She's especially close with Watson—so much so that Cathcart and Cook gave them a ship name: Wolly. "We were together in all of our scenes, side-by-side," says Cathcart. "I feel very lucky that my scene partner for everything was someone I became close friends with in real life." Stylish and outgoing, Watson is also member of his school's coding club and a loyal friend. When Rhea's jam-packed schedule makes her feel as if she's spinning out of control, she can count Molly and Watson to remind her of what's truly important in life. "You don't have to be one thing," says Cook. "You can have really eclectic interests and make it work." The effortlessly cool Ginger, meanwhile, is a social media influencer. She loves her followers and is fiercely protective of her best friends. "We wanted to make her really grounded, because we didn't want to be strictly about social media and the pressures behind it," says Medders. "Ginger doesn't ever like to be called 'an influencer.' She will always say, 'I'm a content creator.' What's so cool about Ginger is that she's passionate about her friends and passionate about what she does, and she shares that with the world."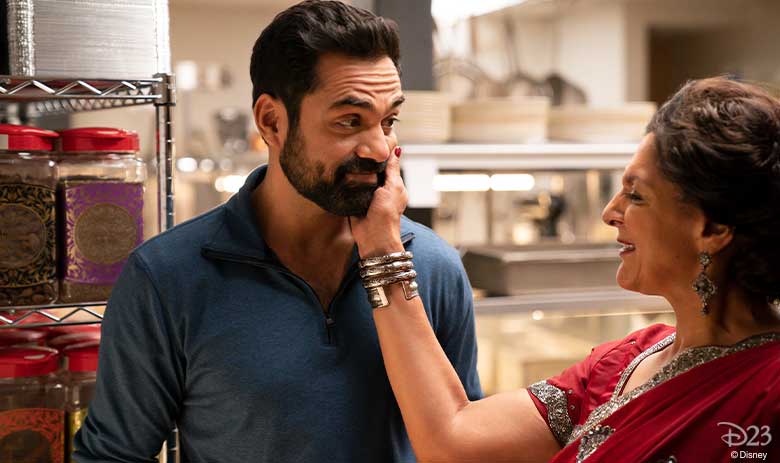 Arvind (Abhay Deol)
A widower of eight years, Arvind has devoted himself to his kids, Rhea and Rohan, and to the family restaurant, Spirit of India. "The sweetest thing about him is that he still hasn't gotten over the loss of his wife, which is why his mother-in-law, Asha, keeps trying to push him towards moving on," says Deol. "He pretends like he has, but he hasn't." Because Rhea is a dutiful daughter, he presumes she "wants to be just like him." In reality, he says, Arvind doesn't see that Rohan "is the one who wants to be a chef." Understandably, Deol adds, Arvind "has become more focused on his family and his career in order to deal with the loss of his wife. That's become a world of distraction, to not face the truth that he needs to move on. But moving on isn't easy. I think a lot of adults will find that relatable about him."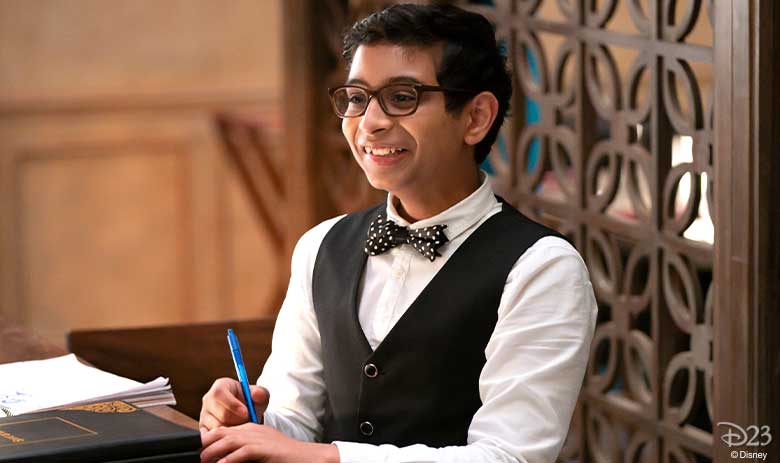 Rohan (Aryan Simhadri)
Ambitious and innovative, Rohan is a restaurateur in the making. "Rohan loves creating these fusions, very similarly to how Rhea does with her music," Simhadri says. Rohan's plans include adding Tik Tacos to the menu and renovating the restaurant—if only his father will take his ideas seriously. Unfortunately for Rohan, the Tik Tacos were a prop, so he didn't get to try them outside and decide for himself. "They smelled so good," he recalls. "It had either paneer or chicken in it, and I think there was mint chutney in it as well. I definitely remember there being a lot of green—and some lettuce! That's what I mainly remember."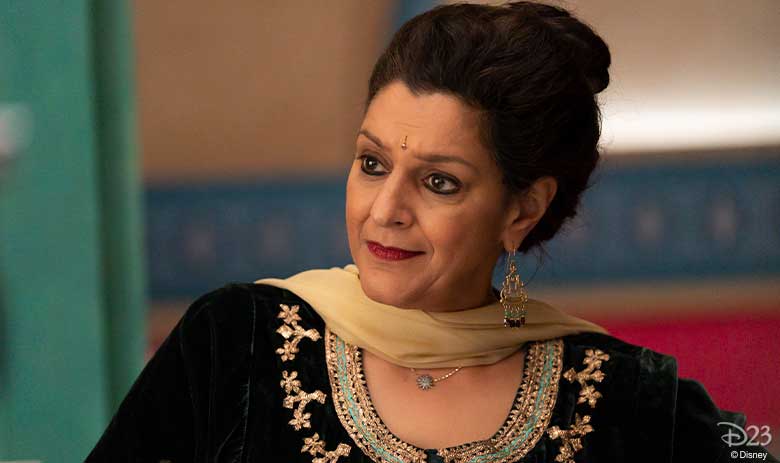 Asha (Meera Syal)
Since her daughter Mira's passing, the gregarious Asha has become the emotional compass for her tightknit family, always ready to offer her sage advice. She is Rhea's biggest fan and a Bollywood dance enthusiast who enjoys performing impromptu numbers at Spirit of India.