By Jim Frye
The savory aroma of a smoked turkey leg at Disney's Hollywood Studios; the sweet taste of churros at Disneyland; the tangy deliciousness of a DOLE Whip at Magic Kingdom; or the cool, refreshing pleasure of a Mickey Premium Ice Cream Bar on a warm summer afternoon. The ever-evolving, always-enticing food stands and eateries at Disney theme parks have become can't-miss stops—offering everything from fully immersive experiences to high-end dishes prepared by world-renowned chefs. But it hasn't always been that way.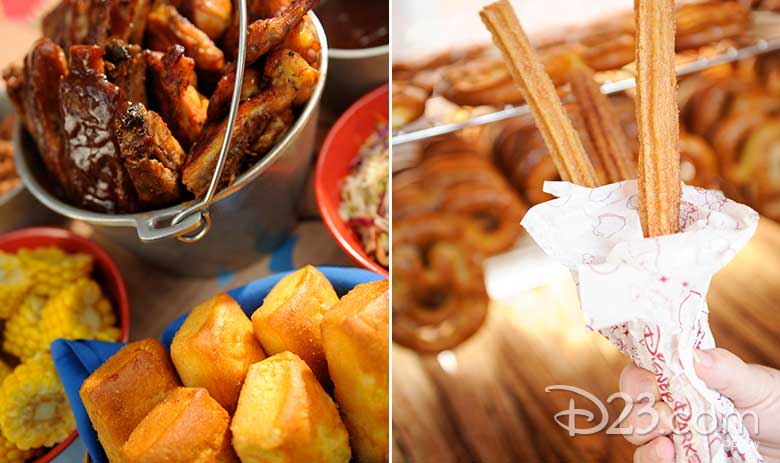 EARLY DAYS
Dining in Disney theme parks has changed dramatically over the years. These days, the parks in the U.S. use more than 49,900 different recipes at just over 710 food and beverage locations, including more than 130 table-service restaurants and 420 quick-service restaurants. To put that in perspective, if Walt Disney World and Disneyland Resorts were a single restaurant chain, it would rank as the 30th largest restaurant chain in America. And consider this: If the number of churros consumed annually at Disneyland Resort were laid end-to-end, they would stretch 1,162 miles and could line the Disneyland Resort Monorail Track 468 times. Also, if the number of Mickey-shaped soft pretzels sold annually at Walt Disney World Resort were laid ear-to-ear, they would stretch 352 miles and could circle Spaceship Earth at EPCOT 3,600 times.
How things have changed. In the early days when Disneyland was first opening, comfort food was the name of the game. Walt Disney brought in a number of outside/sponsored restaurants. "Walt was successful surrounding his brand with other well-known established brands, such as Carnation, Coke, and Sunkist," says John State, culinary director, Disneyland Resort. "These brands boosted guest confidence, as they aligned with what was familiar."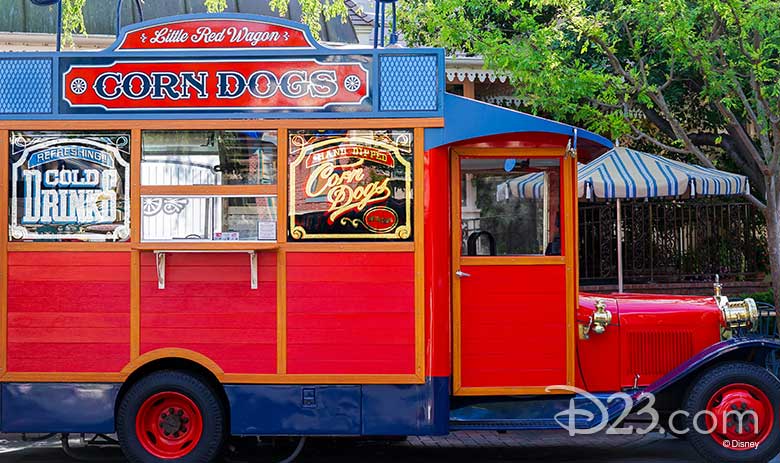 Those early sponsored eateries included Swift's Red Wagon Inn and Swift's Market House, Carnation Company Ice Cream Parlor, the Main Street Refreshment Corner sponsored by Coke, Chicken of the Sea's Pirate Ship Restaurant, and Welch's Grape Juice Stand. But, according to Robert Gilbert, culinary director, Magic Kingdom Park at Walt Disney World Resort, there was always a push to develop food into something more exciting. "It is said that Walt knew food could be much more than just something that you ate," Gilbert says. "It could also be entertaining and part of the experience. He wanted his food to be part of the show and help tell stories."
Robert Adams, culinary director, Disney's Hollywood Studios, agrees: "Walt was a great storyteller and restaurants were themed to the lands they were in," he says. "Eventually, performance-theming was developed in order to have the cast really play a part in the show of the restaurants. Guests have always considered Disney restaurants more than just a place to get a meal. They often plan their vacations around making sure they experience certain restaurants, much like they plan for the attractions."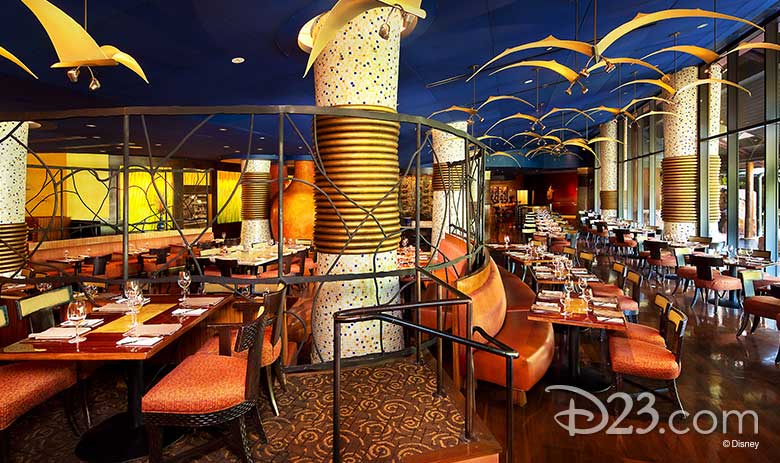 THEMED DINING EXPERIENCES
As Imagineers began to rethink food in Disney theme parks, Disney dining became as much of an experience as the attractions—sometimes even more so! At Disney's Hollywood Studios, the waitstaff at the 50's Prime Time Café tell guests to get their elbows off the table and wash their hands before eating. And the dining area is designed to look like your mom's or grandma's old-school kitchen. The Sci-Fi Dine-in Theater Restaurant—where diners sit in "cars" at an "outdoor theater" watching classic '50s sci-fi film clips—is a throwback to the glory days of '50s car culture and outdoor movie theaters. Elsewhere, Jiko—The Cooking Place, tucked into a section of Disney's Animal Kingdom Lodge, feels as though you're sitting on a savanna, enjoying authentic African cuisine and wine.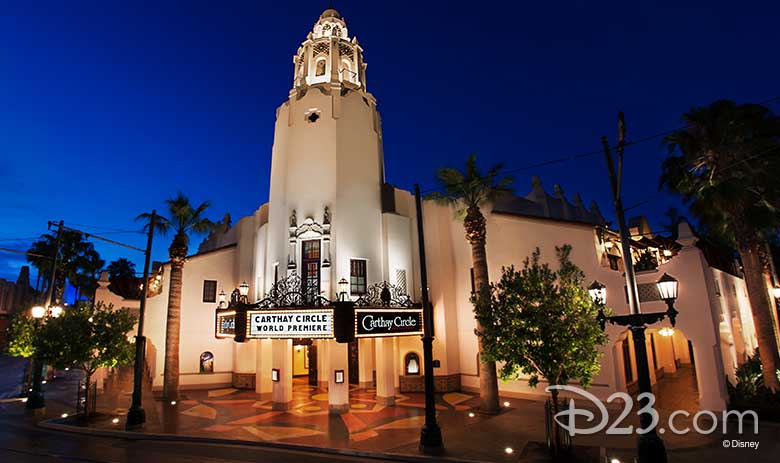 Carthay Circle Restaurant, at the hub of Buena Vista Street in Disney California Adventure, invites guests to step into an oasis of well-crafted California-inspired menu items in a dining room filled with Hollywood nostalgia—the entire restaurant is a replica of the original Carthay Circle Theatre, which premiered Disney's first animated feature, Snow White and the Seven Dwarfs.
"Starting with the Golden Horseshoe Revue at Disneyland, which opened in 1955, on up to Trader Sam's Enchanted Tiki Bar at Disneyland Hotel in 2015, these restaurants help support the surrounding stories and bring the show to life with theme food, décor, and creative cast members," says Karlos Siqueiros, project manager, Food and Beverage Concept/Product Development, Disneyland Resort. "It's a Disney destination dining experience brought to life."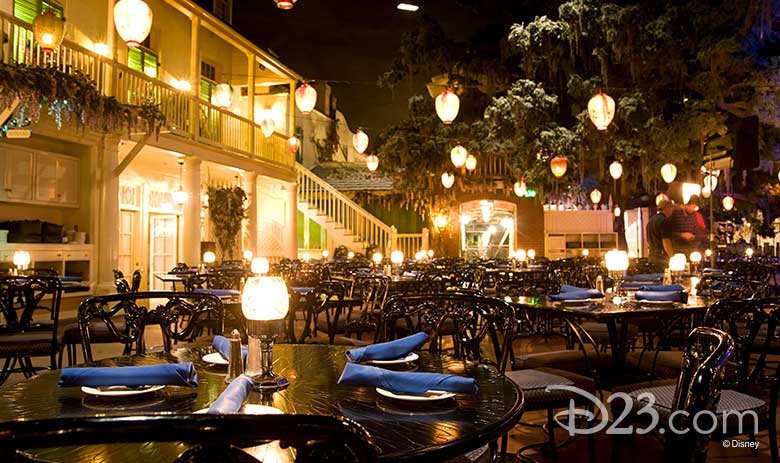 DINING ELEVATED
As Disney parks expanded and opened additional properties—and resort hotels—dining options changed to meet the variety of palates and appetites. At Disneyland, the Plaza Inn opened in 1965, originally designed to be an elegant restaurant for the whole family. The Blue Bayou Restaurant, which sits along the "banks" of the waterway that ferries guests through the Pirates of the Caribbean attraction, first opened its doors in 1967, meeting the growing demand for a high-quality restaurant in the park.
"Disney has transformed theme park dining, and has been recognized by both consumers and industry experts for exceptional, innovative, fun, and healthy dining experiences," says Siqueiros. "From immersive dining that brings guests into the stories they love to the broad range of options, varying from five-star restaurants to quick-service choices, Disney parks are moving the culinary industry forward."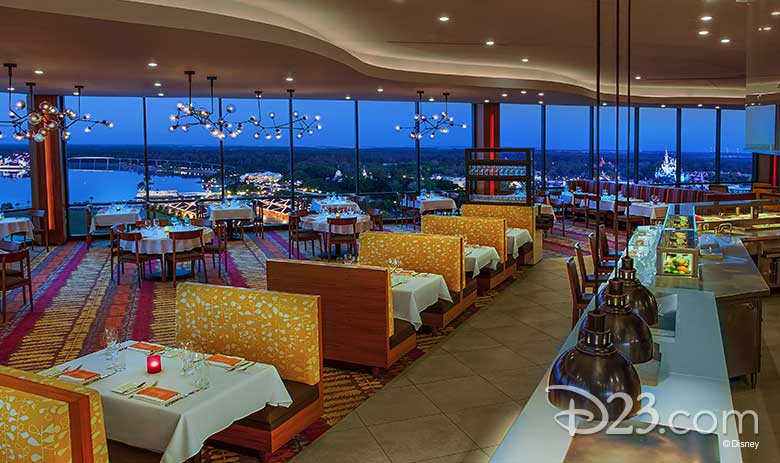 According to Adams, fine dining at Walt Disney World, as it was defined at the time, started at the Resort Hotels soon after opening. "The Contemporary Resort had the Top of the World dinner show, as well as the Gulf Coast Room that was created out of a banquet space on the second floor," he says. "The Empress Lilly's Empress Room came on line with Walt Disney World Village around 1977. Theme park fine dining [at Walt Disney World] really did not exist until the opening of EPCOT with Paul Bocuse at Les Chefs de France."
Speaking of EPCOT—which is currently undergoing its largest reinvention ever—it's hard to imagine a trip inside the Walt Disney World Resort's second theme park without savoring all the scrumptious offerings around World Showcase. This promenade of international pavilions offers an unparalleled selection of foods from around the world, including some of Disney's most exceptional restaurants. These include Le Cellier Steakhouse inside the Canada Pavilion, Monsieur Paul at the France Pavilion, Restaurant Marrakesh in the back of the Morocco Pavilion, and the San Angel Inn Restaurante at the Mexico Pavilion, to name just a few. This is also the location of the super-popular EPCOT International Food & Wine Festival.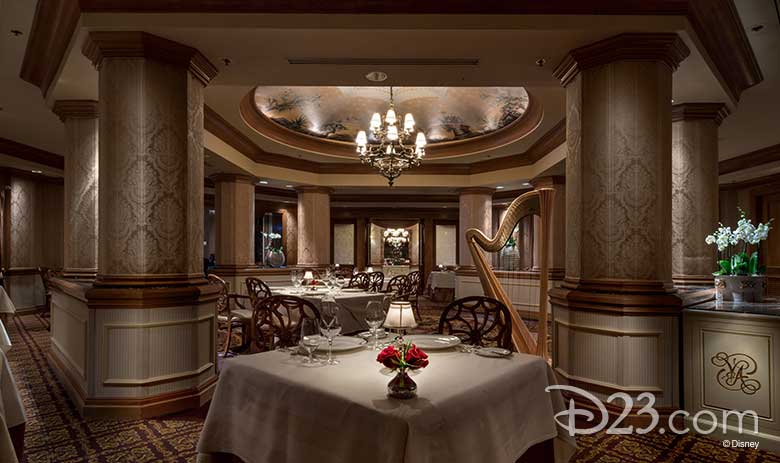 Eventually, the desire to create the finest dining experiences available produced the most elegant, high-end restaurants ever seen inside the theme parks and the surrounding resort hotel properties. These included the intimate opulence of Victoria & Albert's at Disney's Grand Floridian Resort & Spa beside Magic Kingdom Park (the Chef's Table provides an exceptionally immersive meal), Napa Rose inside Disney's Grand Californian Hotel & Spa, Steakhouse 55 at the Disneyland Hotel, and even Cinderella's Royal Table inside Cinderella Castle at Magic Kingdom Park in Florida.
"We have our fair share of hot dogs (which, I might add, are great, high-quality, all-beef hot dogs), cotton candy, popcorn, and DOLE Whips," says Gilbert. "But we also have a restaurant in Cinderella Castle that offers a feast fit for a prince and princess or a queen and a king."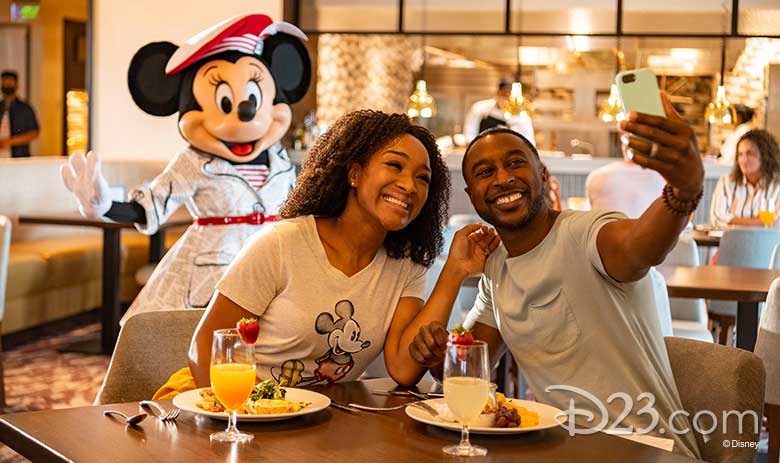 CHARACTER DINING
Perhaps no other dining experience is as celebrated at Disney parks and resorts as the chance to eat with your favorite characters from Disney animated films. "It is my recollection that the first character dining was a buffet banquet experience at Disney's Contemporary Resort, and soon afterward they tested the concept at Empress Lilly at the Fisherman's Deck," says Adams. "It was a huge success and drew in the local crowds, especially on the weekends. After several months, they started to re-concept restaurants in the Contemporary, Polynesian, and Golf Resorts with character dining."
The 1980s found Goofy inside Goofy's Kitchen at the Disneyland Hotel, along with breakfast with Winnie the Pooh or Minnie Mouse and Friends at the Plaza Inn at Disneyland. Both options are still available to this day. Guests can find Mickey and his friends at Mickey's Tales of Adventure Breakfast Buffet at Storytellers Café inside Disney's Grand Californian Hotel & Spa. Or, if Donald Duck is your favorite, head on over to Donald Duck's Seaside Breakfast at Disney's PCH Grill inside Disney's Paradise Pier Hotel. At Walt Disney World, character dining can be found at Story Book Dining at Artist Point inside Disney's Wilderness Lodge, Chef Mickey's Buffet at Disney's Contemporary Resort, the Garden Grill Restaurant at EPCOT, Cape May Café inside Disney's Beach Club Resort, and many more.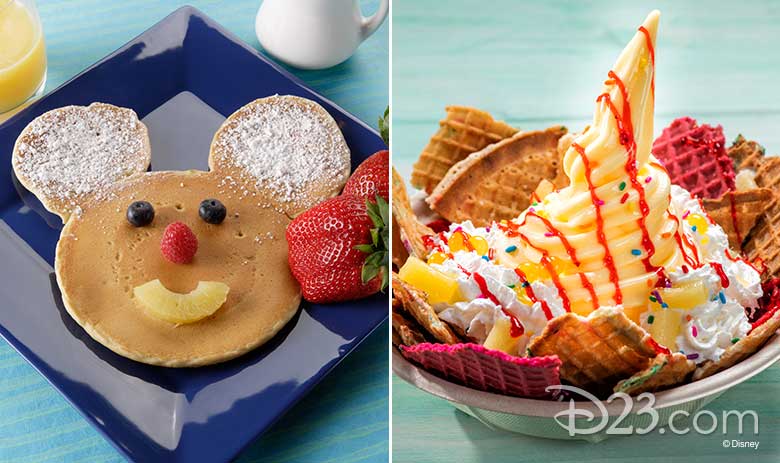 To the delight of fans both young and young-at-heart, Disney characters show up and delight guests at dining establishments all across the theme parks—and Disney Cruise Line, too! "Character dining is popular, unique, and sets us apart from other brands," says State. "The great thing about character dining is that we have so many themes to tie together and likely more to try. This brings so much joy to our guest of all ages, but particularly our youngest."
Eating has come a long, long way at Disney parks. What started as simple comfort food provided by outside vendors at the opening of Disneyland has grown into a collection of world-renowned dining destinations and culinary adventures sure to please the pickiest of palates.
Whether it's grabbing a corn dog at Corn Dog Castle at Disney California Adventure, or dining on the savanna while watching graceful giraffe grazing nearby at Disney's Animal Kingdom Lodge, the opportunities to satisfy your appetite are nearly endless.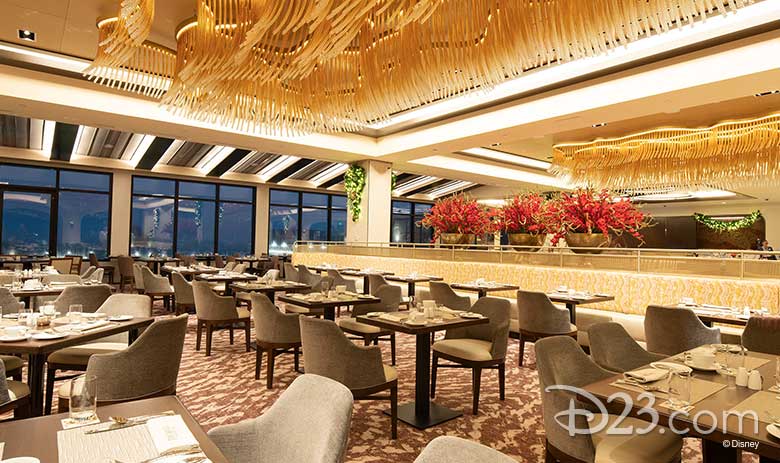 CHEF'S CHOICE! DISNEY RESORT HOTEL RESTAURANTS NOT TO MISS
As Disney resort hotels continue to develop dining locations to delight travelers from across the world, it can seem almost daunting trying to figure out which ones to visit. Not to worry, though, because Chef John State has put together his list of seven marquee hotel restaurants that guests simply cannot miss.
Disney's Contemporary Resort: California Grill
Disney's BoardWalk: Flying Fish
Disney's Animal Kingdom Lodge: Jiko—The Cooking Place
Disney's Riviera Resort: Topolino's Terrace
Disney's Grand Floridian Resort & Spa: Victoria & Albert's
Disney's Yacht Club Resort: Yachtsman Steakhouse
Disney's Grand Californian Hotel & Spa: Napa Rose Restaurant