By Zach Johnson
Set foot in any Disney theme park and you'll find attractions and experiences inspired by the most beloved characters and stories in cinematic history… and in some cases, those very films may have actually been made inside a Disney theme park! Over the years, the parks have appeared in a number of film productions, including D.A.R.Y.L. (1985), Quick Change (1990), Separate but Equal (1991), Marvin's Room (1996), and Kermit's Swamp Years (2002).
As D23: The Official Disney Fan Club celebrates 65 years of the Disney theme park, we interviewed cast members who—in addition to producing commercials, series, and specials in the parks—had a hand in making some Disney movie magic. Rest assured, the experiences of broadcast production director Matt Sites, broadcast producers Rob Matheison and Nicole Zamecnik, and retired cast member Barb Nicolson are as varied as they are entertaining!
"We walk the line of giving a production company as much access as they need and minimizing the impact to the park guests," says Matheison. "There's a lot of logistical coordination. More than anything, our job is being a conduit of information between the production company and the theme park." Zamecnik agrees, saying it's "always a dance" when productions aren't accustomed to accounting for ambient noise, sprinkler systems, etc.: "What makes shooting in our parks so unique is the balance of finding a way to get them the content they need in the extremely tight parameters in which we have to do it."
Fortunately, Zamecnik says, "It's really hard to not make our parks look good."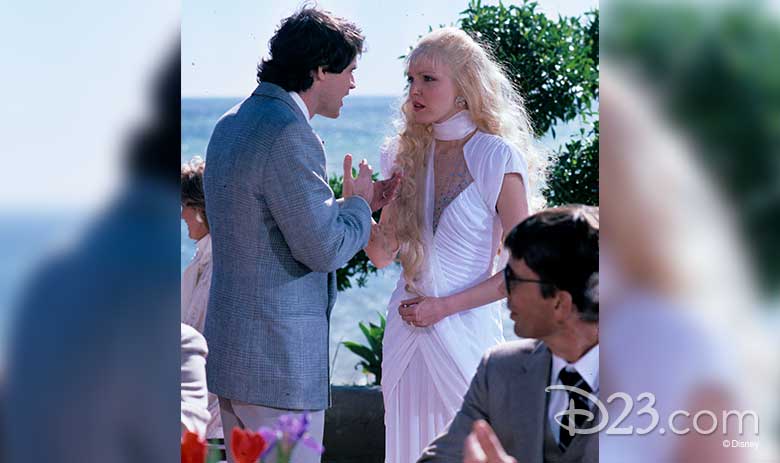 Splash, Too (1988)
Directed by Greg Antonacci, the made-for-television sequel to 1984's Splash was broadcast in two parts as part of ABC's The Disney Sunday Movie. The comedy, which starred Todd Waring as Allen Bauer and Amy Yasbeck as Madison Bauer, holds a special place in Disney history for being the first movie to be filmed at Disney-MGM Studios (now known as Disney's Hollywood Studios). Another filming location included EPCOT.
At EPCOT, Sites says production actually shut down The Living Seas (now known as The Seas with Nemo & Friends) in order to film. "That very seldom happens nowadays," he explains. "It was for a cocktail party scene when all the cars were pulling up. You wouldn't know it's The Living Seas unless you're a real Disneyphile!"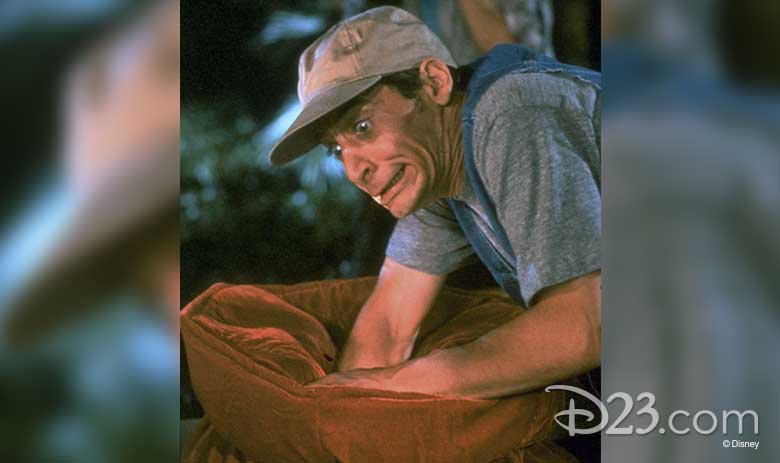 Ernest Saves Christmas (1988)
The holiday comedy, directed by John R. Cherry III and starring Jim Varney, holds a special place in Sites' heart. "Because we were opening a studio lot," Sites explains, "they sent me out to California to get up to speed on how movies were made." Distributed by Buena Vista Pictures, the Christmas classic features a familiar pathway to one of Walt Disney World's theme parks. "We used EPCOT Center Drive, which goes right by EPCOT towards the Magic Kingdom off of Interstate-4. It was for the scene where Ernest is driving back in the taxi, bringing 'Santa Claus' in from the airport." Production received permission to shut down the entire road for a full day, but according to Sites, the shoot went longer than planned. "They asked my permission to close it for a second day. I was very naïve and still learning the business," he recalls. "I never checked with anybody and so I said, 'Sure! No problem!"
Within 10 minutes, Sites was pulled into an emergency meeting with Disney Legends Bob Matheison and Bob Allen. Sites soon realized his mistake and learned a valuable lesson. And in the end, "They got their second day and got all their shots in!"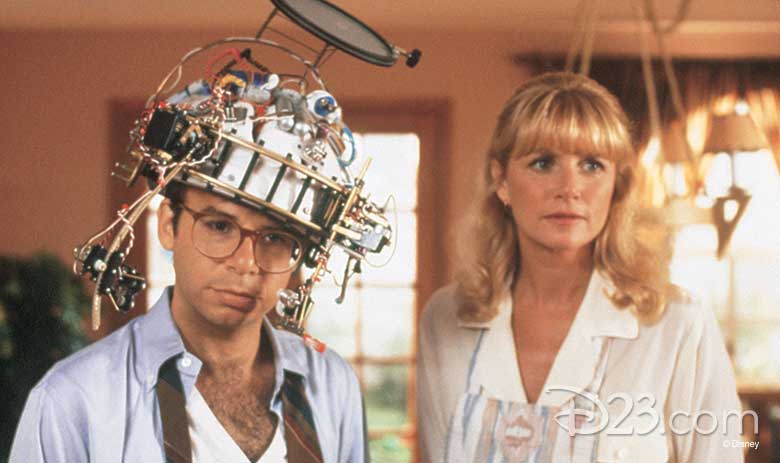 Honey, I Blew Up the Kid (1992)
The sequel, which saw Rick Moranis reprising his role as Wayne Szalinski, was filmed primarily on the West Coast—but a few memorable moments were shot at Disney-MGM Studios! For one scene, Matheison says, "They built a false wall between two of the buildings on the backlot. Wayne's van bursts through it and blows through a gate when they're trying to escape from the science lab." Another scene was filmed in the theme park's distribution center. Teases Sites, "Look for a long corridor of things stacked forever."
That scene includes one of Matheison's favorite Easter eggs: a reference to 1981's Raiders of the Lost Ark. "As they're going through this huge warehouse, at one point you'll notice a crate that's labeled something like: Ark of the Covenant. Top Secret. Do Not Open," he says. "I think the folks in warehouse services still have the prop in their lobby when you walk in."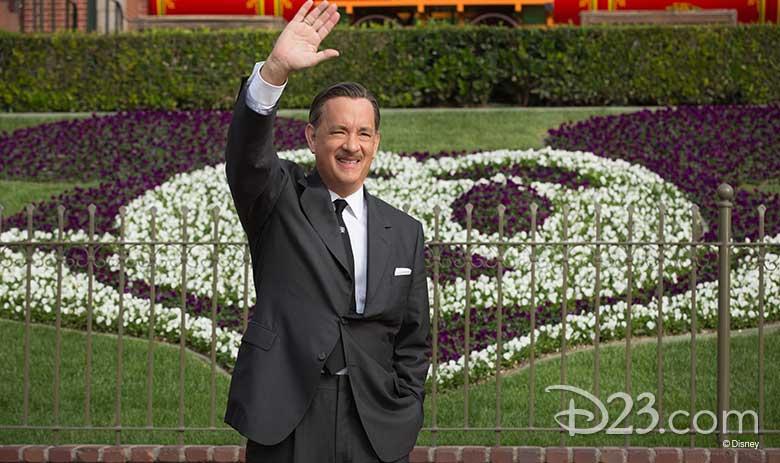 Saving Mr. Banks (2013)
The period drama about the development of the 1964 film Mary Poppins stars Emma Thompson as author P. L. Travers and Tom Hanks as Walt Disney. Directed by John Lee Hancock, the film follows Travers as she travels to Los Angeles, where she mulls selling the screen rights to her beloved novels. While being wooed, Travers visited Disneyland for the first time—and for the team behind Saving Mr. Banks, that meant temporarily remodeling parts of Disneyland in 2012 to resemble Disneyland in 1961. For starters, Nicolson says, "The area in front of Floral Mickey had to be redone." In addition, Imagineer Vanessa Hunt worked with the film's set decorator to determine which attraction posters would line the fence, and fellow Imagineers Josh Shipley and Neil Jones then produced color-accurate reproductions of the posters. Adds Nicolson, "The film's production team did a lot of research with Walt Disney Imagineering and Walt Disney Archives to get the looks right."
On the morning of the first shoot, Nicolson couldn't believe her eyes: "The gates opened and you saw all the extras wearing the costumes of that era. They looked great! Some of the extras were cast member's kids who'd signed up with agencies, so that was very cute."
In some cases, things didn't appear "much different" than they did in 1961. Still, production often hid "things that would ruin the magic," she reveals. "If you see a flower cart in the middle of Main Street, U.S.A., that was to block something someone would have noticed!"
Part of the two-day shoot required closing Fantasyland for a few hours. Realizing guests were wondering why (and had likely heard about filming), she says, "We put up a sign to let them know it would reopen later. I still have that sign… and Tom Hanks even signed it!" But one of her favorite scenes filmed in Fantasyland pertains to King Arthur Carrousel. "All the horses were white in '61. You can't repaint all the horses, of course, but they did take Mrs. Disney's favorite horse, Jingles, and repaint it," she says. "I just remember the guy who painted it was so excited! You make so many people happy when you do these projects."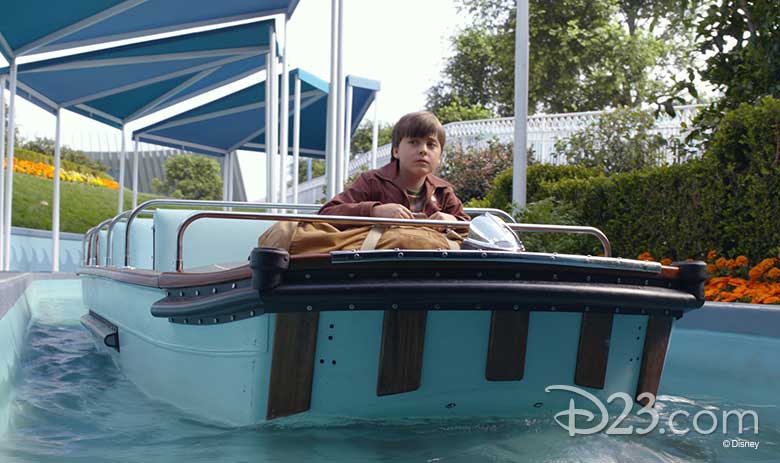 Tomorrowland (2015)
The live-action adventure, starring George Clooney as Frank Walker, was filmed in not one but two Disney parks! In an early flashback scene, audiences meet a young Frank (Thomas Robinson) at the 1964 New York World's Fair, where he's given a special pin and persuaded to ride the it's a small world attraction—which transports him to the futuristic cityscape of Tomorrowland! Prior to filming that scene at Disneyland, Nicolson says, "The boats had to look right, so we sent them up to Vancouver to be outfitted properly. We also had a boat that was set up for the camera, and it had to have all this special rigging. They brought it in and everybody was excited. We put it in the water… and it sank!" she says. "So, that had to be fixed." Once everything was in order and filming began, some lucky guests got to see the cast and crew at work. "For the most part, once shooting begins, you're watching. You might as well entertain people and give them background," says Nicolson. "Guests love that. The more they know, they more they'll respect it and be interested in it. Like, 'This is the only day in my life I'll ever get to be at Disneyland and see them film Tomorrowland!'"
When Tomorrowland filmed in Magic Kingdom at Walt Disney World Resort, Zamecnik was over the moon. "Tomorrowland was a really great experience because it felt like the days of having a backlot," she says. "It was one of the rare occasions that we were able to shut down an attraction because of the size and scope of the project." In a scene that didn't make the final film (but is available as a bonus feature in the digital edition), Walt Disney's Carousel of Progress was featured. "We worked with WDI to make sure it was going to shine on camera," Zamecnik says. "It was fun working with WDI to make sure the Audio Animatronics® figures were looking their best and that we replaced the fur on the dog, the curtains were working, and the lights look good."
Zamecnik is still amazed at the scale of the production. "We normally have a talent compound; that's not unusual. We normally set up a catering tent; that's not unusual," she explains. "But Tomorrowland was just massive. It was like a mini circus had come to town!"
And for Matheison, the son of the Disney Legend mentioned in Sites' Ernest Saves Christmas anecdote, getting to feature Carousel of Progress was a full circle moment. "I just have a personal affinity for that attraction," he says. "As I've explained to my children, if that attraction was not a success at World's Fair, none of them would exist. My dad worked on the World's Fair for Disney. If that had been a flop, we never would have moved to Florida, Walt Disney World would never exist—and I would have never met their mother."
Make sure to check out all the ways we're celebrating 65 years of the Disney theme park—including even more digital content right here on D23.com—all month long!